lish's new car: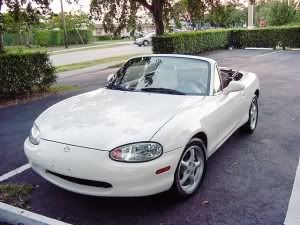 (click for larger images)
'99 miata LS, automatic, ABS brakes, white exterior, tan leather & tan top, bose stereo, cd *&* cassette, cruise, "spoiler package" (which apparently doesn't mean a spoiler per se, which is fine since i hate them), tires so new they still have the hairs on them (yes, i do know what those hairs are actually called), alloy wheels, power steering/windows/locks, air bags.
at the urging of
a friend
, i started checking out miatas, & it turns out they're incredibly good cars. they're as much of a Lish Car as corollas (ie very reliable & low maintenance, JUST LIKE ME). i thought the insurance on them would be restrictive, but i called my state farm agent & made her do the math &... well, if you compare this car to my '99 corolla that was destroyed, i'm actually going to SAVE FIVE DOLLARS each month. so, what the fuck, i bought a miata.
i picked it up yesterday. it's very much fun to drive.
I'M COLORING ALL OF YOU JEALOUS RIGHT NOW.