ok, so you all need to watch
this
,
this
, &
this
. i'll wait.
...
you're welcome.
so it's been a while since i've updated; this dates back to the end of december.
with the long holiday break, & excitement from the Canada addition, i had more time to work on the Grammy Memorial Tattoo project. since i finished the countries grammy & i visited together, the countries we know 100% that she went to, & most of the countries that joe & i really want to visit, i can go to work on the nearby places we could pick up along the way. :)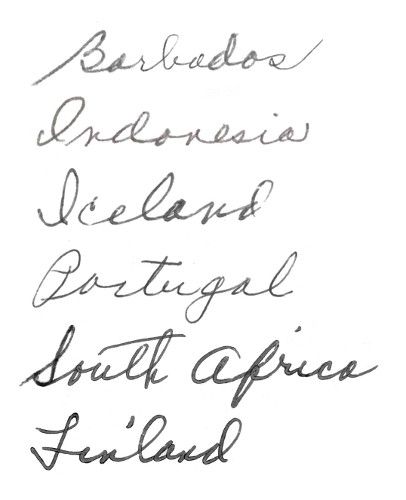 apparently Bali is just a province in the country of Indonesia, so i turned Bali into Barbados & reclaimed the l & i. (i had to use two different cards for all the characters, but i made it work way better than my first one-card attempts.) i like Portugal in this list because the r-t-ug-a all came from "granddaughter". i'm not sure how i missed Finland before now, but it was easy to put together with "lan" consecutively from "Atlantic". South Africa was a pain though, & took nearly as many tries as Egypt before i had something that looked natural.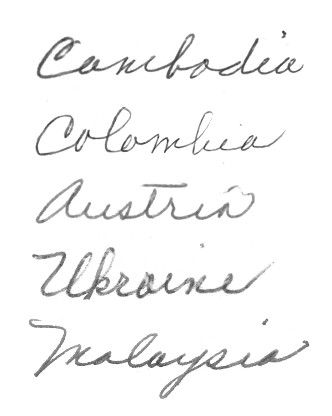 Cambodia & Colombia both took multiple attempts, though Malaysia came together easily. Austria was also pretty easy, but i tried to make Albania at the same time & it's still not right. so strange how some are five minutes & some take multiple chunks of thirty... whatever, it's all worth it. :)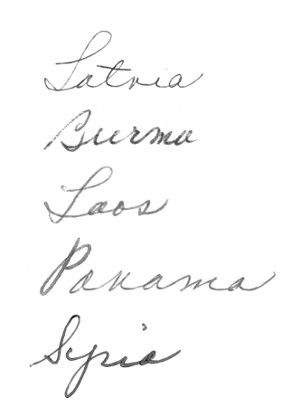 these were some simple ones - especially Panama, as it was made in just three pieces from Penna & Grandmama. i opted for Burma over Myanmar only after some research into the etymology.
& for fun, here's a current map of countries i've made the names for: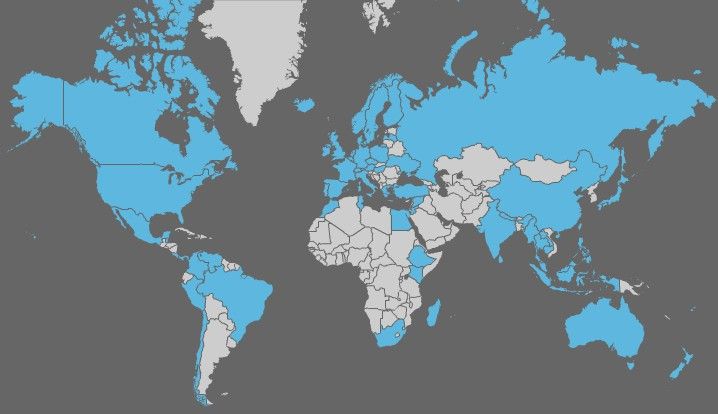 (US excepted, of course, as that's not "travel".)
in january, i attended a special tattoo appointment with
impatient_hands
, wherein he
quoted me
permanently onto his body: "great changes always leave us scars." what an honor, right? several of my pieces are [at least partly] in tribute of others, including
sic737
's & my tiny friendship tattoos, but it's pretty impactful to have
my words
put in someone's flesh.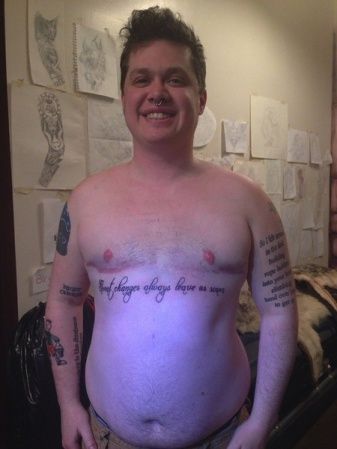 (photo approved to post.) what's more is he had it done in the same font i've been using lately on
my images
. it's a damned pretty font, & i love how the exact center of the piece has a yin/yang thing going on with the "l" & "y" in "always".
in business news, i finally signed up for a stupid facebook for luciferins -
http://www.facebook.com/Luciferins
. & hey, there's
a pre-order
running right now! yes, this has been taking about 90% of my free time this week, & i dig it.
in more business news, i was promoted to department supervisor at my day job, which is pretty fucking rad. who put me in charge of 20-40 people & why?!@! but i've been rocking it, & i actually enjoy it more than i thought. randomly (& then retitled to celebrate my promotion), we went to
poppy
with
robinhoodvandal
&
impatient_hands
, & it was
amazing
. i split with joe
(
Collapse
)
so that's the quick catch-up... & the current holyshitexcitement is over
OUR UPCOMING TRIP TO IRELAND!
that's right, we signed up for
another groupon
, & it's going to be an epic fucking roadtrip in another country! six days, four irish cities, driving on the wrong side of the road, upscale accommodations, another country on the GMT (in blue, since i visited ireland with grammy many years ago), kissing the blarney stone (second time for me; joe's first), & all the rolling green hills we can stand. & it was only about a hundred bucks more to fly out of seattle instead of new york, with a layover in amsterdam where i will try my hardest not to breathe the air. *nods* august cannot come soon enough. :D