events this month:

we had another sleepeating incident: hummus. this is especially odd because joe hates hummus, & especially hates the pine nuts on top of this particular hummus. i'm pretty sure that DrunkJoe thought it was peanut butter, because it was left out all night next to a jar of his jam & some of his bread.

i reopened jessie's nostril & hand-bent a pink bezel-set gemmed nostril screw for it. she hadn't worn something in there in years, but if a piercing ever healed, i can reopen it, & so i did. she is ever so pleased to have a bejeweled face again.

(i also helped her make an EXCITING PRESENT for a certain someone. i can't detail it yet because it doesn't arrive to him until next week, & he's fully capable of reading my lj, but rest assured i will let you all know as soon as possible.)

i had my second appointment on crotch & armpit lasering, which i haven't yet mentioned for no particular reason. finally i found a place that will do permanent hair removal on my *entire* crotch & not just the bikini line, & it's been going swimmingly. i'd say i was down about 40% of my hair after the first sitting; i can't judge the second appointment yet, as you don't see immediate results, but have to wait for the hairs to push out of your body before you can tell that the follicles have been destroyed. i'm having my armpits done as well simply because the place was running such a good sale for that part that i couldn't pass it up. the idea of not needing to shave anymore is fully awesome to me.

in ear news, i did reach my 3/4" goal, & it looks great. i bought some more plugs this week: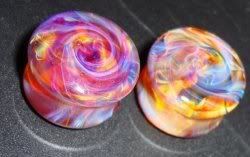 frozenfire on etsy.com - i signed up to this site solely to buy work from this guy. he's highly amazing.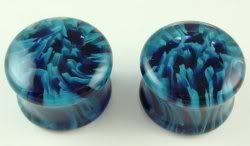 frozenfire again - how could i turn these down? they're horribly underpriced, & bill combines shipping, too.


i also am waiting on a custom pair of ebony eyelets from paulsplugs.com, which i am hoping to be my daily wear jewelry. i may well go back & purchase these from him, too - inlaid eyelets in ebony/bloodwood?!? holy crap.

joe took off work tomorrow, & we're hoping to see the new resident evil movie with jessie, chris, & chris's girl katie who is briefly back in town. my job is much better since my promotion; i was never meant to stay at the ground floor in anything i do. seattle's getting cold, but i have a warm joe & a lot of fleece & life is good.