here are some copies of recent picture posts about things i've been doing to myself. all cuts are photo-heavy & strictly regard my dreads & piercings, so just skip this entirely if you're not interested.



11 month old dreads - http://community.livejournal.com/get_up_dread_up/4928838.html:
it's been a while! i just redyed them again. joe says my hair's been dipped in blood. they're about eleven months old now.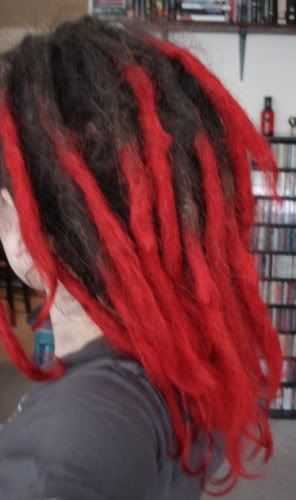 i combed out some in the back last month due to bad sectioning. for as undeniably awesome as i am at sectioning others' heads, it's fucking difficult to do the same thing to yourself. especially at the length of hair i had last year when i started this set. so i finally reached critical mass irritation with my own sectioning job & restarted nine dreads. they're coming along beautifully. you can see the four skinny braids i left, too - i may end up keeping those; i kind of like how they hang.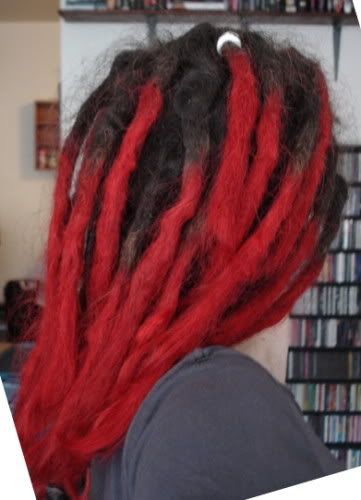 yes, my dreads grow insanely fast.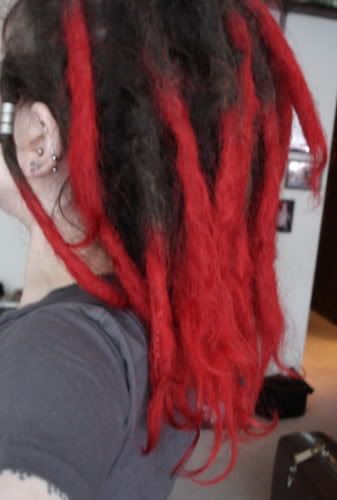 flipped!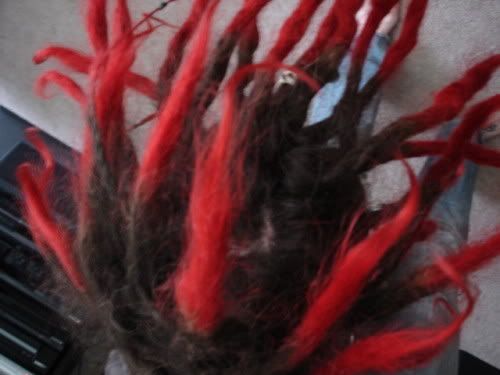 & i've been keeping white bangs with this color.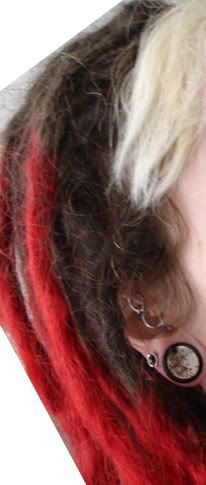 for those interested in my ears, i bought these recently. they were mostly for joe's benefit, as he's the skulls-raar-death type, but i like them much more than i expected to & now wear them often. he's clearly nom'ing my earlobe in the third pic.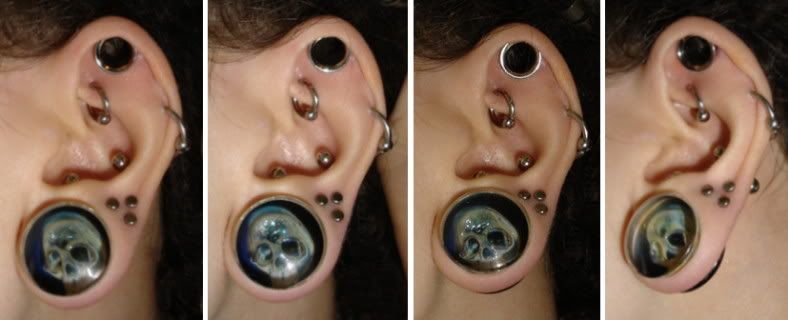 matching lobe jewelry - http://community.livejournal.com/stretched/4521724.html:
bill awesomeness, new in-ear pics, more pics to come! storytime + a shitton of new pics:


so it's getting to be common knowledge that bill can make DF plugs into SF for a nominal fee, but what i want is to have LARGER flares on my GWS mars. you know, the amazing ones i just posted about. i don't wear them as often as i'd like because they look tiny compared to my other 3/4" stuff. now, i worked in a glass art gallery for half a decade & then for a world-renowned contemporary glass artist for another couple years, so i know something about glass - while he probably couldn't add glass to them without creating some imperfections, veils, bubbles, refraction, stuff like that, i figured he could probably remold what glass is already a part of the plugs. & conveniently, they're also longer than i need them to be, so i thought it might work.


he responded he can totally do it, exactly in the manner i'd theorized, for $10. TEN BUCKS! hi, awesome.


so at the same time, i asked to order a bunch of matched 4ga singles for my upper lobe:
- orange dichro on white to match the pair he made me, like these
- teal dichro on clear, like this, to match the gorgeous IS blue trans i bought
- blue glass to match this pair i bought from him


then i asked for some i wasn't sure he could do:
- in the style of the GWS mars plugs i'm sending for reshaping
- a GWS blue moon pebble plug to match these (2nd pair down on the left)


i said i know the mars & blue moon & even the blue plugs he made would have little to no detail in them, but that's totally fine by me. it's just so fun to have a matching plug for my 4ga upper lobe that it doesn't need to be able to stand by itself.


but sadly, bill couldn't do them. he doesn't know how the GWS plugs are made, & doesn't have the materials for the blue pair i bought from him ages ago. & he offered to do my reshaping for FREE, since i'm ordering other stuff from him, but when it came down to only two 4ga plugs, i refused letting him reshape for free.


i then mailed ryan/gws about the mars & pebbles. he didn't know how they'd come out that small, but seemed intrigued. i haven't heard back yet, but am hoping he'll give 'em a shot!


so i took before pics of the mars & i'll post with those & afters when they arrive back. i'll also post pics of my new 4ga matches. in the excitement, i've taken a ton of new pics of matching 3/4" & 4ga plugs i have. i only bothered photographing my right ear, the one with the 4ga upper lobe; here's my left ear for anyone living under a rock.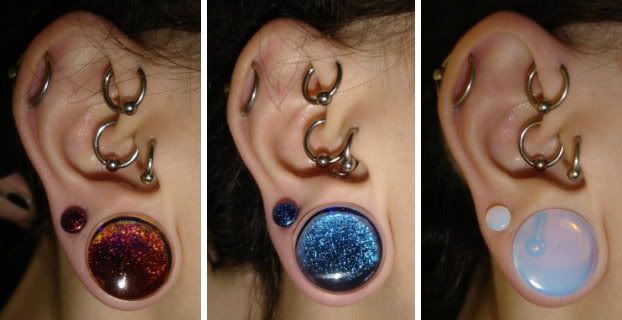 IS red & blue crystal dichros with IS regular dichros, opalite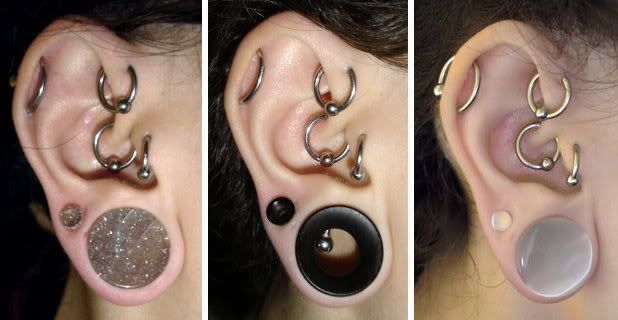 clear superglitter, custom ebony eyelets from paul's plugs with solid ebony, white cat's eye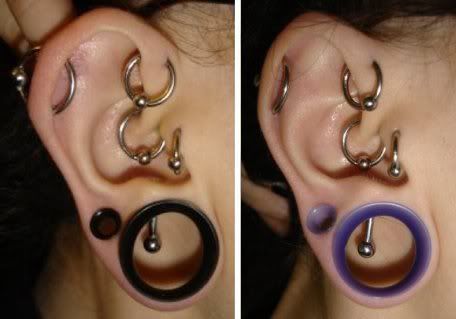 kaos black earskins, kaos uv earskins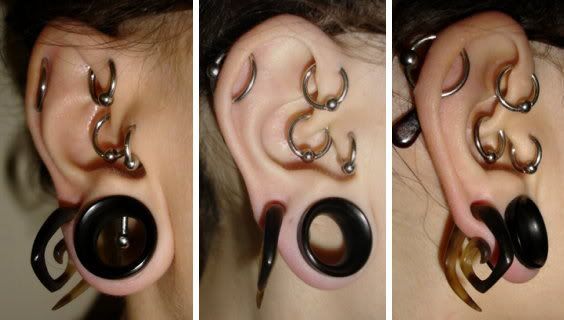 black buffalo horn with black/golden horn spiral, partly because it fits the theme, but mostly because i think splat requested this a while back. i have a matching spiral in all black, but this one works better against my hair.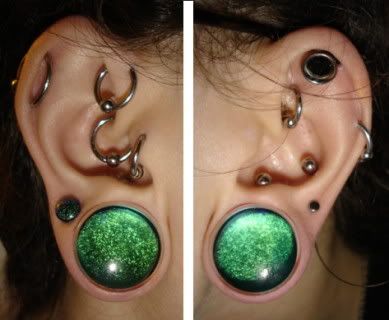 & here's an older pic (pre-lobe triangle) of my IS green crystal dichro with regular dichro.


i have matching white jade too, but need to file down the DF on the 4ga. i also didn't photograph my steel eyelets again because derr boring.


more matching jewelry - http://community.livejournal.com/stretched/4556842.html:
more matching plugs because i am hilarious:


since it's clear that my new challenge is to match all my 3/4" plugs, here are pics of my new acquisitions.


i received my order from body modern, & i think the lapis matches my sodalite very well. the labradorite doesn't match as well, but it does kind of give a fade effect when i angle the 3/4" plug the right way, as you can see below.


i did have to sand down some of the stone DFs, but it wasn't difficult. i used a ~120 grit dremel tip, then 600 grit sandpaper followed by a polish with steel wool. worked like a charm, & now i have several 4ga DF plugs with a nice mild back flare.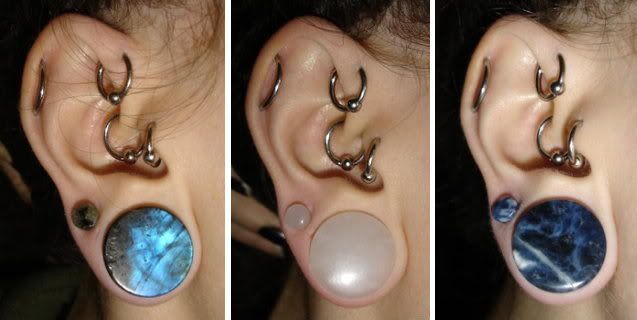 labradorite, white jade, sodalite with lapis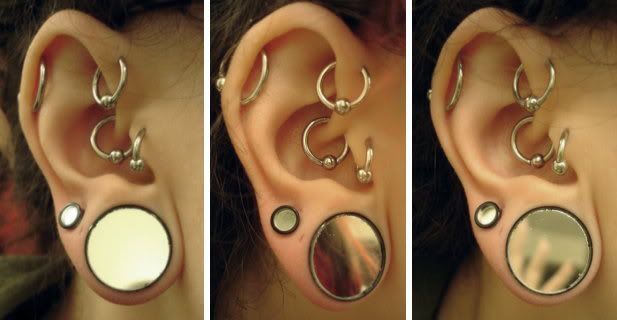 mirror plugs from bodymodern, reflecting my dreads in the second pic & my fingers in the third. do you guys realize how tough it was to take a picture of them reflecting anything but the camera? haha. the things i do for this community. :D


i do have a couple more matches coming in the mail, & y'all'll be highly entertained when they arrive...



a few more - http://community.livejournal.com/stretched/4581520.html
so as i posted, i sent my GWS mars plugs to bill to have him enlarge the front flare & concurrently shorten the wearable.


i also received my relic plugs!


here's the mars before, in comparison with bill's usual flares, which i'm accustomed to.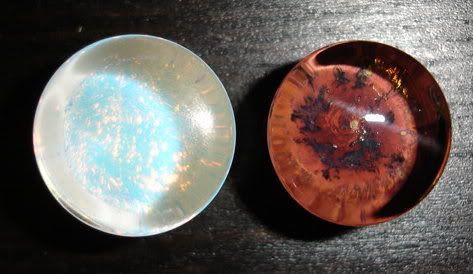 length & flares before bill: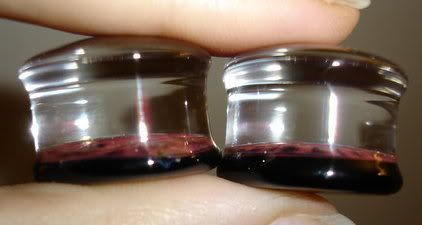 comparison after bill - now they're the same: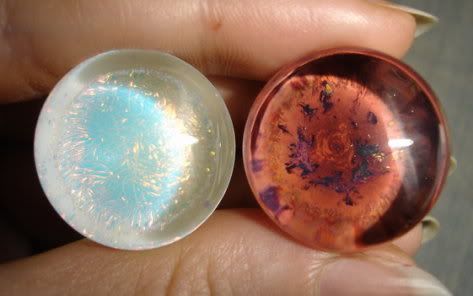 length & flares after bill: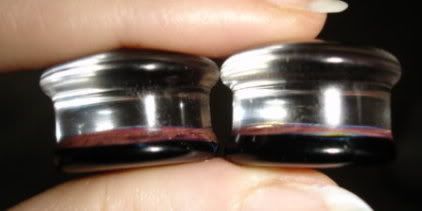 it's an appreciable difference out of ear, but i think it's even more noticeable in-ear. before pics:


& after: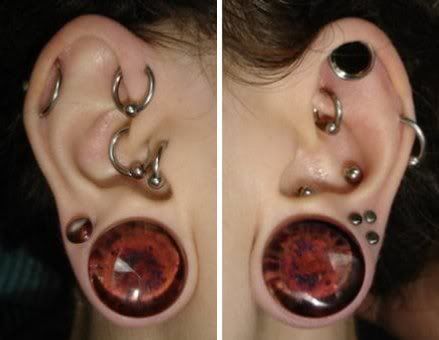 now they look like they should. :D YOU MAY ALSO NOTICE in this pic that ryan was able to make my 4ga mars complement! i am so entertained, as clearly i fully enjoy having matching plugs. here's a closeup: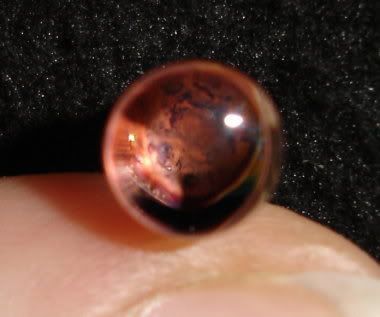 in-ear closeup: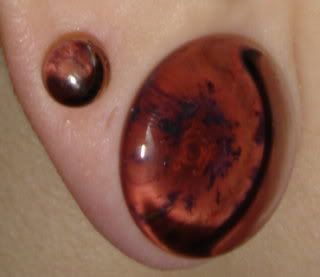 he was ALSO able to make my 4ga pebble plug complement! so awesome!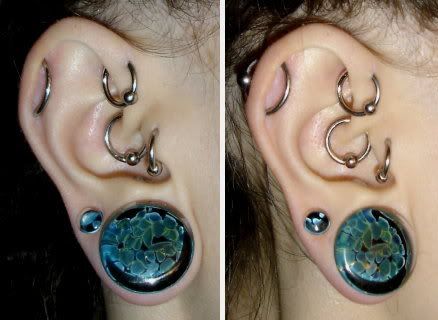 closeup: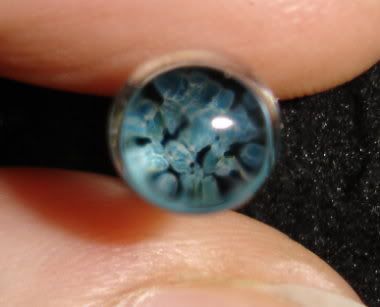 next are my new plugs from relic stoneworks. they were shipped in a black velvet bag - a very nice presentation.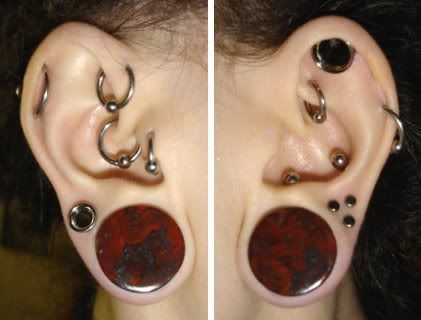 mary ellen jasper, over 2.4 billion years old. it's awesome. the sides you're seeing match better, but i can't help but love this big X on one of the backs: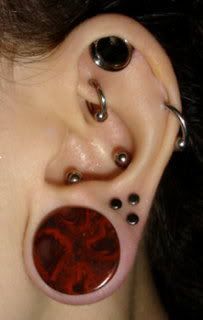 it'll probably be up front some days. :D no match for those since a single 4ga was cost-prohibitive (small plugs take more effort than the big plugs; i'd rather save the cash & buy more 3/4" from leo), but im sure i'll find a cheap red jasper to go with them soon.


& finally, the other two 4ga matches i had bill make for me.


teal dichro on clear to go with my IS blue trans, & orange dichro on white, matching the 3/4" he made. the teal dichro is crazy, it matches sometimes & doesn't other times, but though the in-ears were tough to take for the lighting, they do seem to match pretty decently more often than not:


edit: i have acquired a true 4ga IS match. :D pic updated.


yay for bill & ryan & leo! & for me, because i am awesome. :D



some matches i made - http://community.livejournal.com/stretched/4651683.html:
so, you guys certainly know by now that i'm going insane finding & making awesome 4ga plugs to match my 3/4" primary lobes. here are two more i totally DIY'd which i'm quite proud of. :D


i asked at work for any old analog watches people had laying around, & i got some awesome ones. you know what's coming...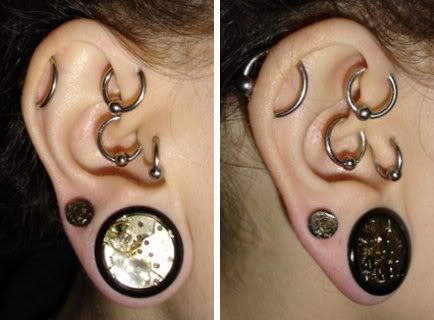 WATCHFACE MATCH. HELL YEAH. it's an acrylic plug with some gears & such superglued to it, & many thick coats of clear nailpolish over the front to mimic the resin coating of the real plugs. here's a close-up: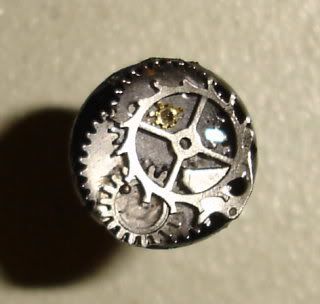 i used a large, flat gear on the bottom, two gears which interlock & a random machined piece of a watch on the second layer, then my favorite gear on the top. i was originally just going to use my favorite gear, but while inspecting my watchface plugs, i realized just one gear would look dull, not merely simplistic. i think it's a very good match now. they're not easy to photograph, so here are two more close-ups: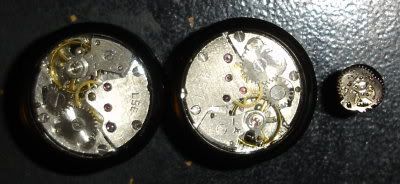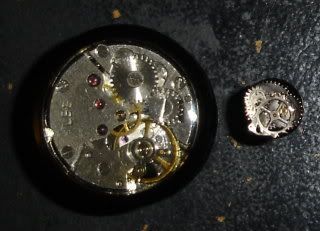 & when i tore apart one particular watch, i found a tiny circuit board in it with a tiny chip on it, which means...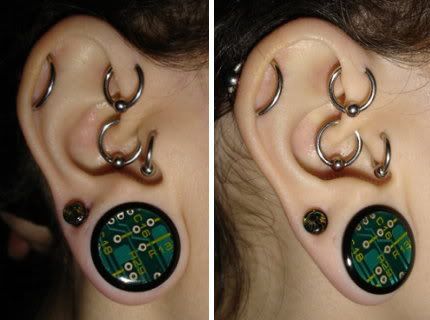 ELEKTROPLUG MATCH. I RULE. i used this miniscule set of pliers i have to break the board into a round-ish shape, then filed the edges with 120grit & 600 grit sandpaper. it's superglued to an acrylic tunnel & also covered in clear nailpolish as faux resin. close-up: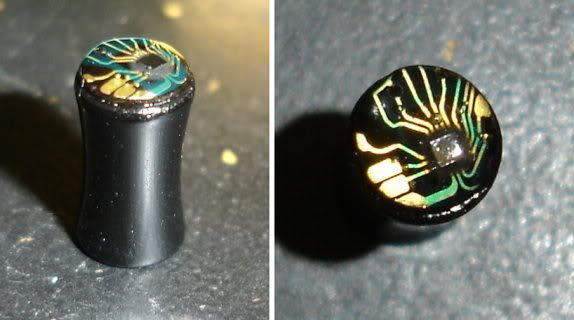 i could've chosen a different piece of the circuit board which would've matched a little better, but i couldn't turn down using the littlest chip evar.


in the above pic, you can see a few bubbles in the nailpolish, but realize they're smaller than the TIP of a pin in reality - even with my anal-retentive QA eye, i didn't see the bubbles until i saw that pic, heh. & here's one more: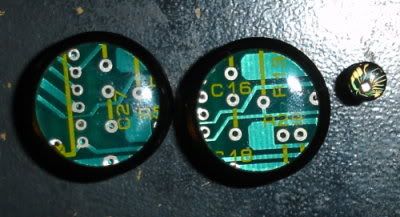 amusingly, i also found this in one of the watches. tell me it's not the tiniest DF eyelet you've ever seen. :D those lines are my FINGERPRINTS.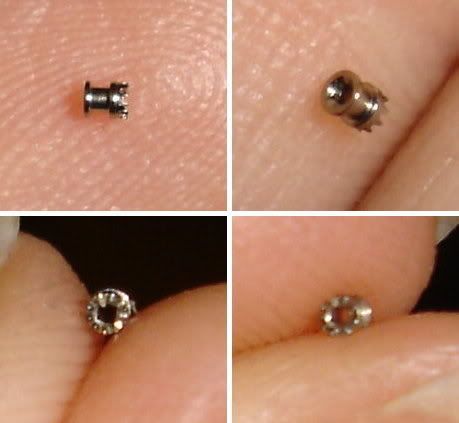 one year old dreads - http://community.livejournal.com/get_up_dread_up/5143597.html
my fourth set of dreads finally hit a year at the end of october. this makes a combined nine years i've worn dreads on my head, heh. i celebrated with a quick round of maintenance, & here are lots of new shots.


i updated my own page on my hair site for this set, so you can click there for the early pics. right before i started them a year ago, i trimmed my hair to barely chin length overall, so yes, they've grown ridiculously. here's what my dreads look like now:


since the front ones are finally long enough, sometimes i wear them half up. ignore the faceblock - i wanted to leave my bangs in the pics, so i couldn't just crop.

robinhoodvandal knit me this lovely wrap for no particular reason. i presume she had sex on it or something, but it sure is comfy! these pics are from october.


& a few pics from september with a hat that
meowkat knit for me. i got
robinhoodvandal to take the top of it out, since it was cute on me right after i cut my dreadhawk, but there's no way it'd fit me now - or any time in the next several years, heh. (i blurred out my sleeve tattooing as usual; deal with it.)