most notable this month: i'd posted about the flameworking lessons given to me for my most recent birthday, & jessie has finally had time to instruct me. it's been awesome. plugs are pretty well out of my abilities, but i've become a master at dread beads. i gave one to
kaikea on sunday for her wedding. :D pics later, maybe. or just come over.



speaking of people coming over,
japolo &
daddykatt were both in town this weekend. we ate, we hung out, we ate more, wandered around town, ate some more, & i repierced rj's ear again. i'm still so exhausted & full that i'm only 95% looking forward to the fifteen-to-twenty-person corned beef st patty's party nina & joe & i are hosting here this weekend. we'll basically have an entire cow in & on our oven. this will be epic.


also i'd like to take this moment to proclaim my love for the crock pot. omg,
gorthok.


so in lieu of any more exciting news/events/happening, what follow are a shitton of posts about jewelry. this is what i'm writing when there's downtime at work, heh.


neptune match - http://community.livejournal.com/stretched/4888527.html:
you probably remember my neptune "match" from ryan, which came out like a little pluto. he tried his best, & even sent his other attempt for free, but they were both just way too blue. so i bought a cheap acrylic paint set on ebay, & i painted myself a match right onto the front of the glass.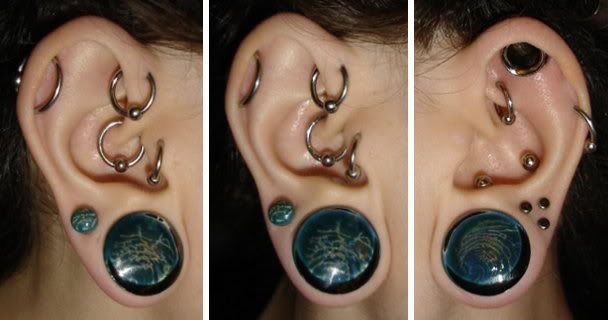 close-ups: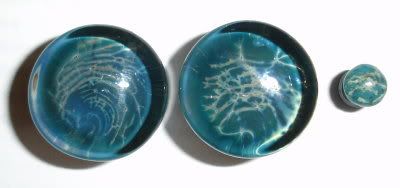 DIY dime plugs, DIY acid plug match - http://community.livejournal.com/stretched/4893994.html:
i posted about this one before, but i've finished making my mercury dime plugs. i was going to use my blue superglitters as the base, but the dimes are ~17mm, so it looked weird. i instead used wildcat's clearance ikon plugs in 20mm, which outline the dimes nicely. i sanded down the fronts so the dimes would lay flat.


i did end up buying the half dime as referenced in the afore-linked post... & a week later found a miniature mercury dime at 7mm. so i picked up that one too, & used it instead. haha, oh well. anyone want to buy a 6mm half dime for DIY work? you could easily pick up a match on ebay, heh. :) anyhow, as mercury dimes are 90% silver, i was able to use my polishing cloth to shine them up (i'm sure coin collectors everywhere are crying) so they matched the pure silver miniature for the 4ga. i'm pleased with how mine came out.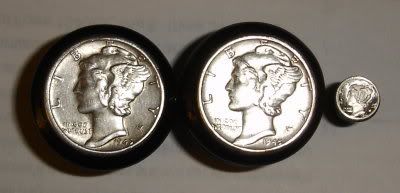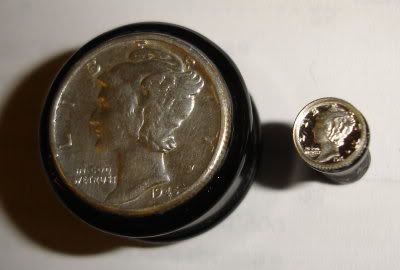 note i had to take this pic in low light so the silver wouldn't glare.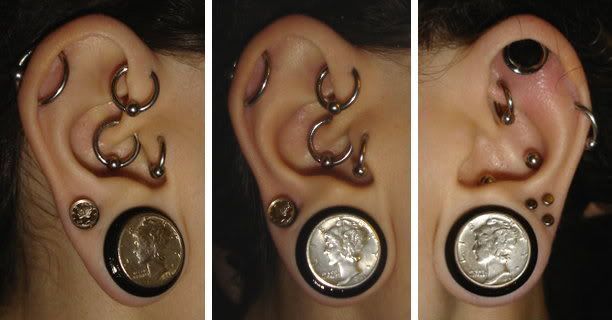 so, i had my first failmatch in TRYING to make a match for my wildcat blue/red acid plugs. i picked up the smallest acid plug made in that color & attempted to cut out a section using a dermal punch. turns out that the holograph in them is this super thin sheet glued to hard plastic, encased in the outer acrylic plug, & filled with soft resin. it's not at all like the holographic honeycomb or the other video plugs wildcat sells. so i was able to cut through the resin, but upon reaching the hard plastic, everything shattered. it MAY be possible to sand the whole thing down to a 4ga with my dremel, so if i decide to risk another $5, i'll try that. if sanding works, i can glue a core of it into a steel eyelet & wear it that way.


update: i decided to risk another $5. :D i bought a bigger plug so it'd be easier to handle, & got to work with some dremel tips. holy crap it stunk. i was able to sand it, but to stuff it into an eyelet would make it way too tiny to hold. so i made it a perfect 4ga, then wrapped it in bondage tape & superglued an o-ring to the front as a "flare". all things considered, i'm happy with it! i have about five eighths of the plug leftover if anyone wants to make their own tiny acid plugs.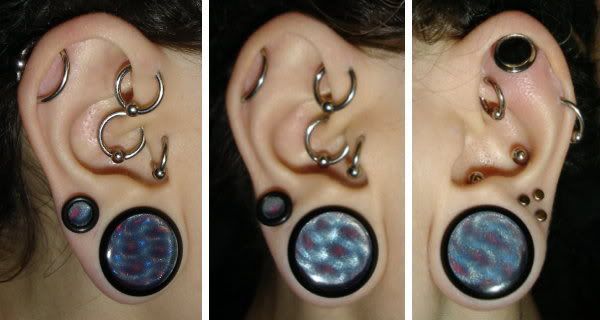 i also made a short video since it's SO impossible to imagine how these things move if you haven't seen them. click for mpeg & ignore the clicking sound in the background - it was so quiet you can actually hear the camera keeping its focus!


lish teeth plugs - http://community.livejournal.com/stretched/4902207.html:
i'd asked
atrophie about a year ago if she could encase my baby teeth for me in resin within 3/4" eyelets. she agreed, & i bought the perfect acrylic eyelets for the job. it took forever for me to get around to actually working out the details. it was partly laziness, but partly wanting to make sure i was staying at 3/4" before committing my teeth to it.


some of my baby teeth had cracked in half, but i superglued them back together & they looked fine. i took a piece of papertowel & rolled it into a tight spiral, then stuffed that halfway into an eyelet so i could lay out the teeth on a flat surface midway into the eyelet. (for those who don't know, baby teeth don't have roots, so the back of each tooth is flat & kind of hollow.) this gave me a great idea of how the teeth would actually look floating in resin. i placed them, then adhered the teeth together with a small drop of superglue between each. when that dried, i took the teeth out of the eyelet, put slightly more supportive superglue on the underside between each tooth, & reinforced the cracks i'd repaired. each section fits perfectly into its eyelet with room to completely encase the teeth both front & back. i didn't glue them TO the eyelets, figuring it might be easier for her to work & clear air bubbles if she had the option to drop in each tooth structure; she confirmed it's better this way.


before atrophie: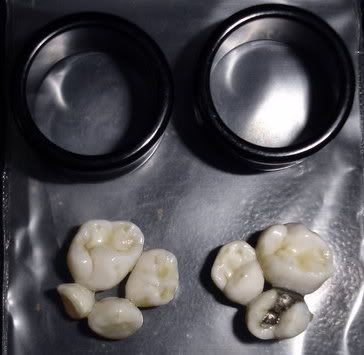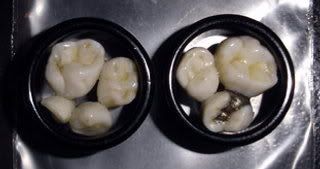 & also note that a 4ga black eyelet has juuuuuust enough room for a bottom front baby tooth to fit. MATCHING LISH TEETH PLUGS OMGZ. this is the pic i sent lindsay for her opinion of whether the front or back of the tooth should show. we both agreed the back fills the plug better.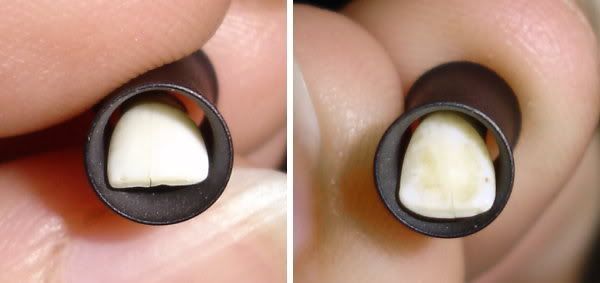 & finished! they're totally awesome, as is atrophie. :D & they came out just like i wanted. she rules, you guys! as if you didn't know.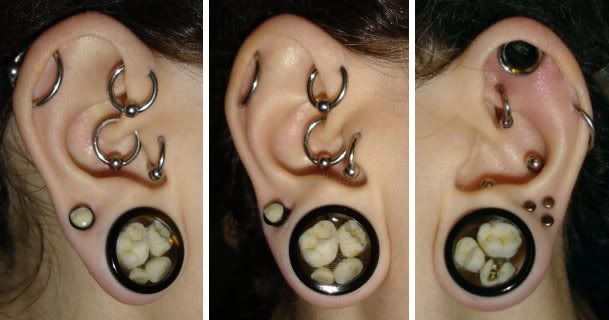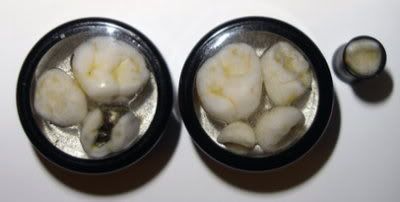 (backs, for those curious)


trichroic match - http://community.livejournal.com/stretched/4910119.html:
i involved steelnavel in a trichroic match, using gg's new conical plugs. gg custom made me an accidental pair in 4ga, so i went ahead & bought both so i could pick the best color match. poor jason said he almost sanded off his fingers making them so small, so i sincerely doubt he'd make them again...at least not at the price i paid. of course ska took the other one, as we are 4ga buddies. :D


ignore that my vertical conches are bent - the trichroics are so thick they bang into them. i may eventually have jason shorten them widthwise.


these are blue/green/peach, shots with flash: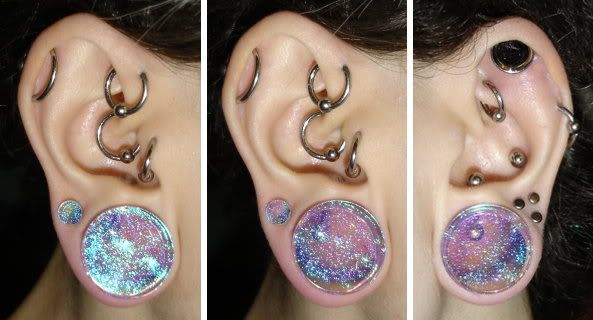 i posted these two before, but here's an older shot where you can see the trichro in natural light: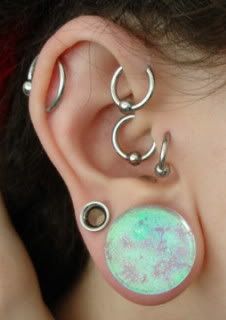 & the series showing how they change:



OMG MY MARS. MY MARS, OMG. but can it be fixed? - http://community.livejournal.com/stretched/4917084.html: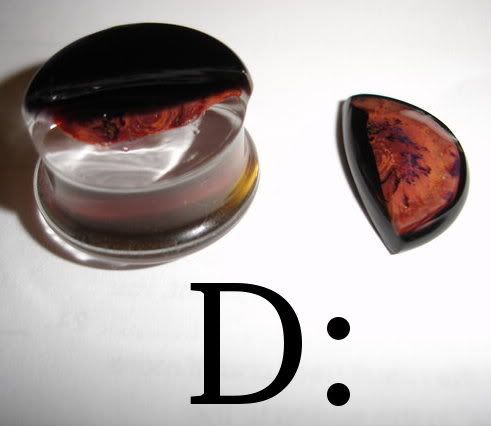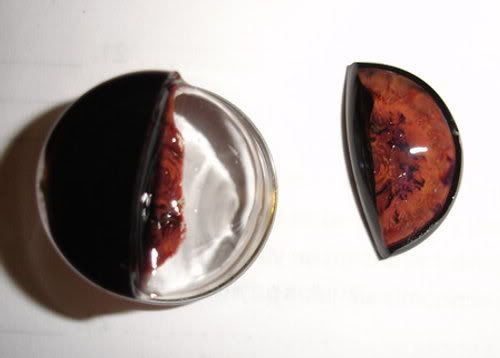 the pics above show half of my 3/4" perfectly matched mars plugs on which i had bill reshape the flares. shown here on the left: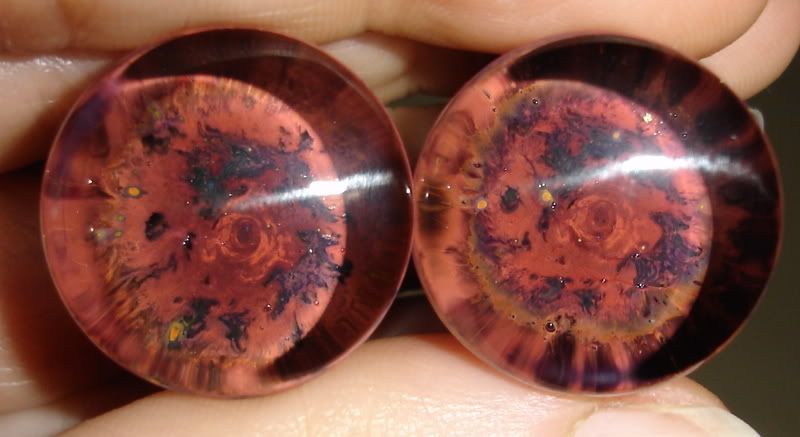 how'd it happen? i had just come home from work. i keep the day's plugs in a little pouch i made when i have my headphones on. so i pulled out the pouch, undid the snap, & took them out... & the second one slipped from my hand & landed on the only piece of metal in the general vicinity - a screwdriver. the fracture was immediately apparent, but the two pieces didn't separate until i picked the glass back up. they just sort of slid apart in my palm. it was heartwrenching.


i already knew bill couldn't fix it for me, but fortunately, i know a man who repairs $100,000+ glass sculptures as part of his living. tom & i were good friends at the glass art gallery i worked at for half a decade in florida. i contacted him about the UV glue he uses, & how difficult it is to work with. he responded quickly that it's very expensive, very tricky to use properly, & can take a week to cure... & then he said it'd be his pleasure to repair the plug for me. :)


so the patient returned home from surgery today, & tom said it's safe for him to return to normal activities, heh. can you spot any repair lines? i sure as shit can't!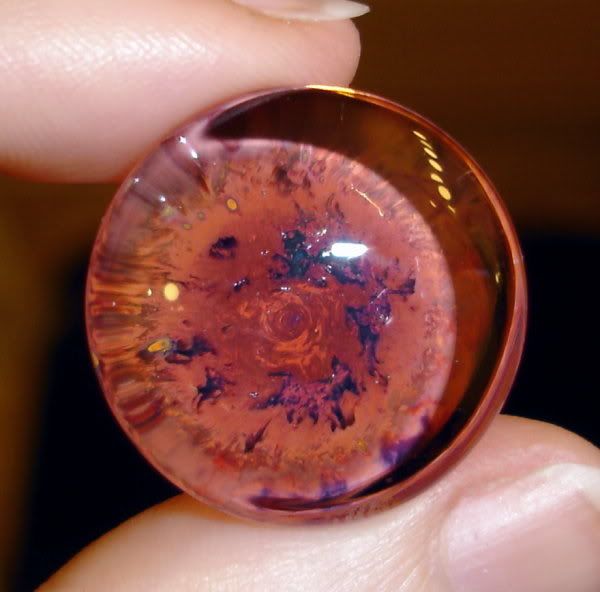 there's a mild battle scar on the back: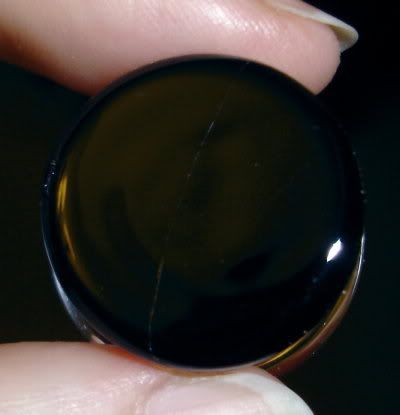 i couldn't be more pleased. if you're wondering, the glue is hxtal. you can google for it if you like; in short, it's not affected by heat or moisture, will never yellow or otherwise change color, & will never separate on the repair line.


important notes if you ever break a piece of glass you can't replace:

1. do NOT try to glue it yourself unless you know what you're doing.
2. superglue does not dry clear. only UV glues can dry completely clear on glass.
3. if you try something else & fail, you can wreck any ability to use UV glue for a real repair. i've seen too many people attempt to glue broken pieces themselves, then hand it off to tom... so he has to pick off the drugstore epoxy or cyanoacrylate or whatever, & removing the glue inevitably destroys the nice clean edges that would've allowed for a seamless restoration.

so don't be afraid to research a professional repair if you break a plug & your heart at the same time.


green ocean jasper - http://community.livejournal.com/stretched/4923798.html:
you all know i'd ordered a pair of green ocean jasper from leo based on these plugs. my brother picks good presents by sending me cash. :D so they're here! they're almost like natural serpentinas.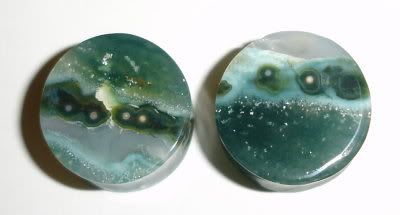 other sides: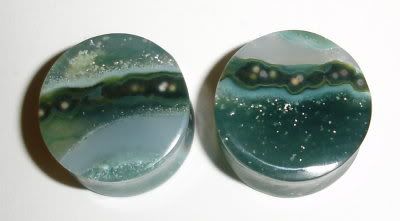 i nabbed some jade plugs from bodymodern so i could pick the best for a cheap match, much like i did with my sodalite/lapis match. (the extras will be for sale on
gaugetrade.) & just like before, one side of the three plugs is very decent, so i sanded down the back flare as usual (<3 dremel) & here they are together.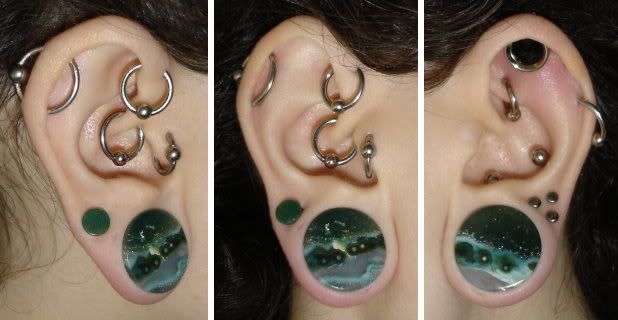 & i picked up a pair of 4ga diablo ebony eyelets so i could have a real match for my paul's plugs custom pieces. the 4ga have a nice mild back flare, which you can see in BAF's pics - i'm very pleased with them. i updated the pic below, which also shows my clear superglitter & white cat's eye matches. (i have plans for the other 4ga ebony eyelet... but it'll be a month before those pics are up. ;) )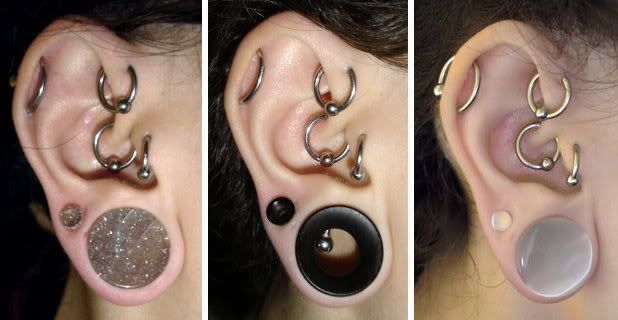 spinal captives, un-anodizing work, TONS of pics - http://community.livejournal.com/stretched/4927026.html?#cutid1:
so i know this makes some of you incredibly jealous, but
splatterhouse & i have SWAPPED SPINAL CAPTIVES.


why, you ask?


so we were talking in this thread some time ago. in short, splat wanted to use her 8ga spinals as permanent jewelry for secondary lobe piercings, which she'd be piercing just for those. i said my 10ga spinals would look better for that purpose, because they're small enough to be unobstrusive, yet you can still see there's something different about them, whereas the 8s would draw too much attention away from her firsts all the time.


i had purchased my spinals basically because they were the only ones left in the market, & i did always love that design. at 10ga 3/8", though, i didn't have anywhere to put them & they looked kind of puny hanging off 3/4" earskins in my lobes. so while i wanted the bigger spinals for myself, it was truly my honest opinion that the 10s would look better for the placement splat wanted. i'm about honesty above all else (including kindness).


at splat's request, i took some pics of them so she could see the perspective of 10ga versus 8ga. as they're unworn rings, & i also promised this to the studio doing the anodizing, i scrubbed down my 4ga clear earskin & took these pics for her: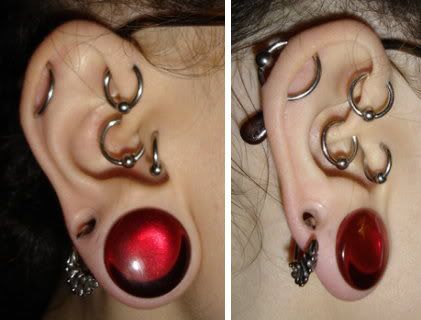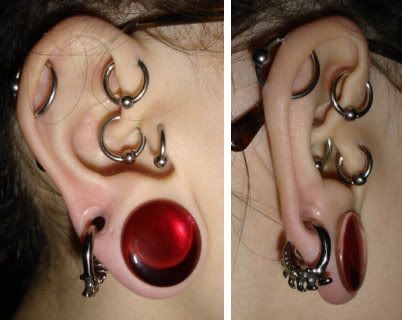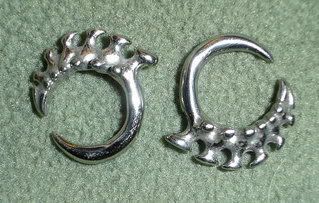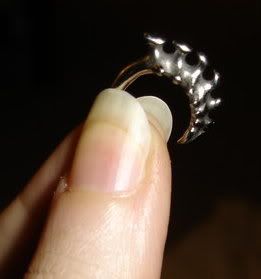 that's when she agreed they'd suit her better, & i sent them off to be (sadly) colored teal with blue for her. i hate anodized jewelry, which also left the question of how to UNanodize hers. i've taken anodization off of Ti before in a shop environment, so i know the process. it's not difficult - anyone who's worn colored Ti longterm knows the oxidation will wear off after a while anyhow - but the question was who i could trust to do the work without "losing" (ie stealing) the captives. the shop anodizing them is where we both purchased them originally, so i trusted them - but they weren't set up to buff color off.


however, they suggested that i could do it myself with a soft dremel wheel & some polishing compound. brilliant. i'm very skilled with a dremel - i've used them on everything from sanding down the flares on my own stone jewelry to doing detail work on $100,000 glass sculptures, heh. i just hadn't even thought of doing it myself. so i bought some soft tips & some compound, & went to work.


before. these are splat's pics, followed by mine. somehow, the color is competely different in hers, but they're better pics than what i got on top of my workspace.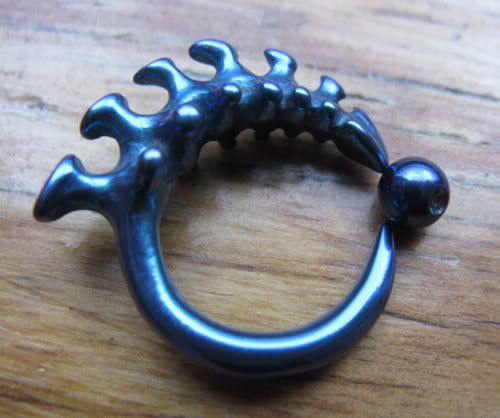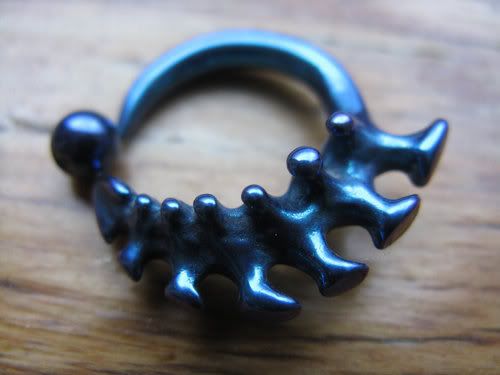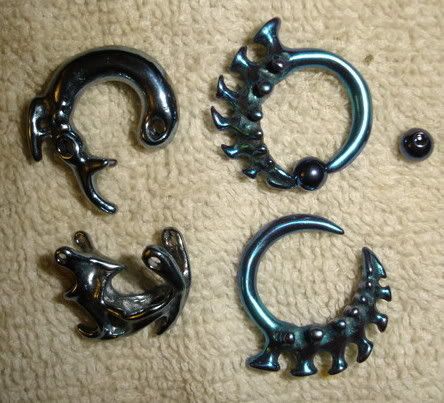 i also needed to uncolor the 4ga interlace captive i bought from her at the same time, & which you can see above.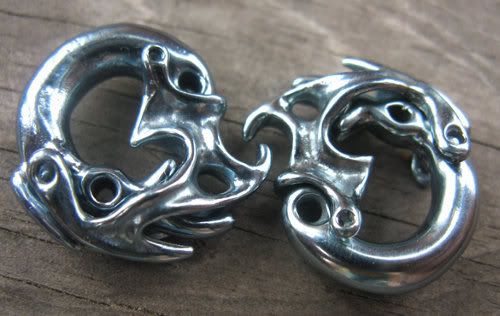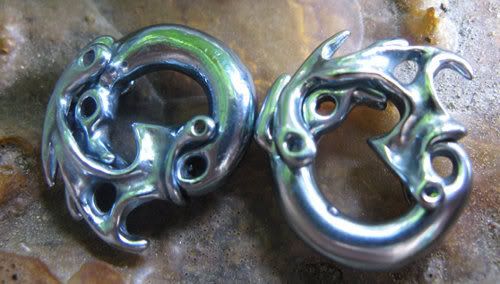 again, splat's pics, but these pics are a LIE. it came to me ice blue. & let me say this: fuck you, splatterhouse, for your ice blue anodizing. it was tough as shit to see whether it was off or not under the smudge of the polishing compound, & i had to wipe it about five times as often as the spinals. fuck you fuck you fuck you. (just kidding, <3 you splat)


anyhow, a metric shitton of progress pics follow. i did most of the work with felt pads & polishing compound, then moved to a nylon bristle brush to get in the tight areas.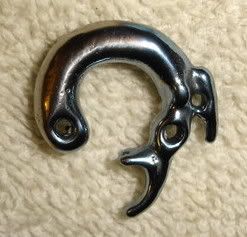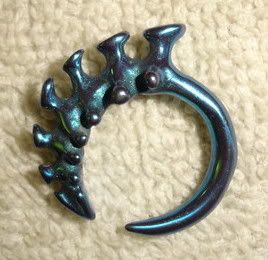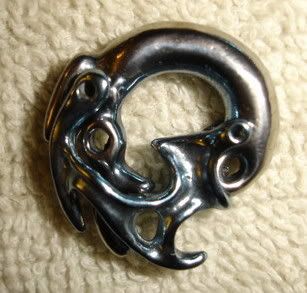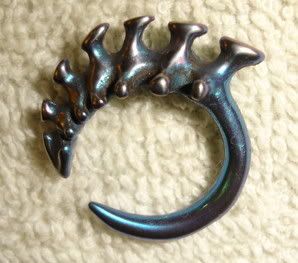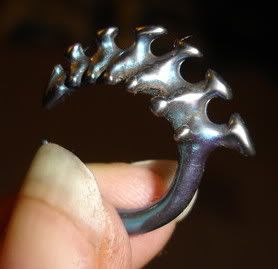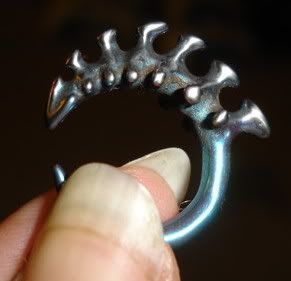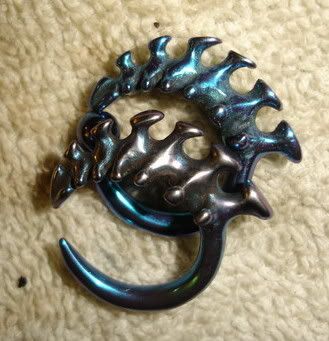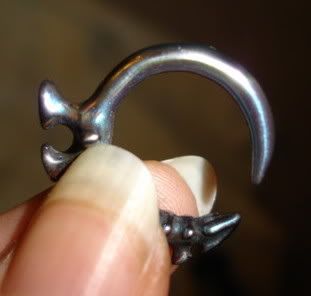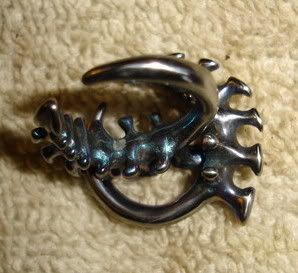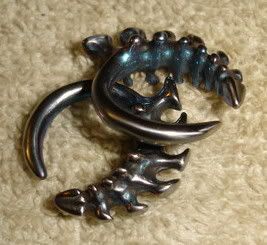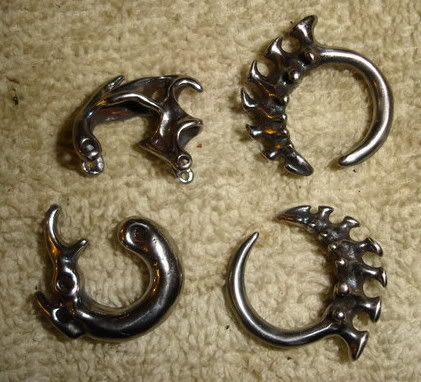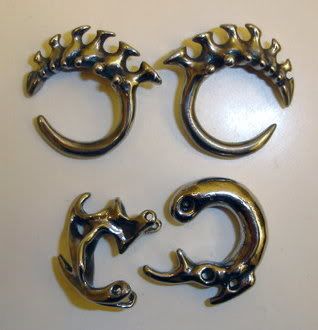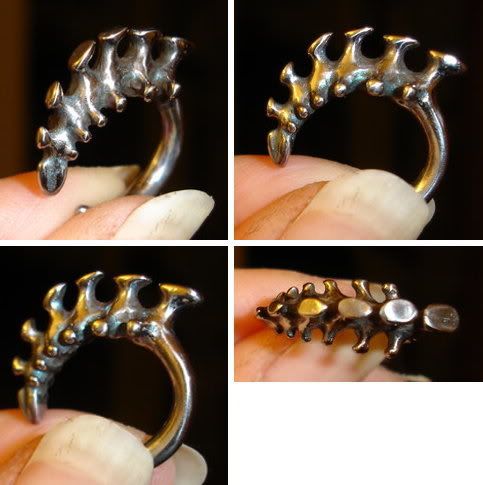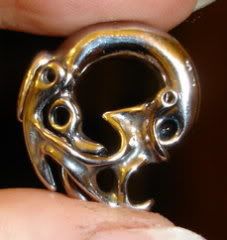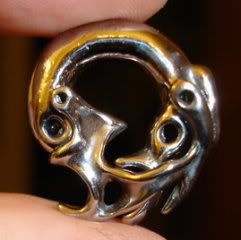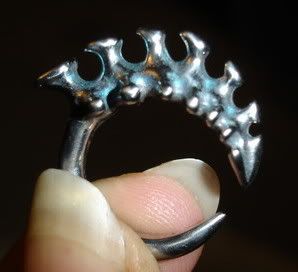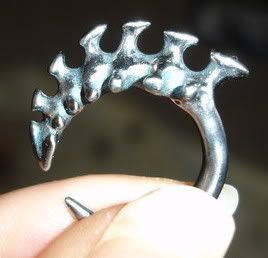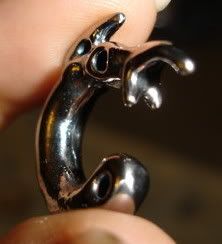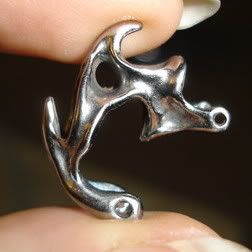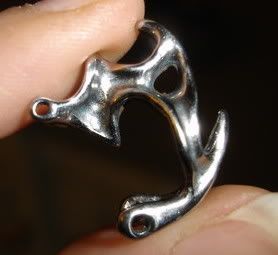 & finally done. i'd say it took about six hours total to remove the color from all four pieces. they're not *perfect*, but the color that's left can't be seen in-ear without a camera's flash; hell, i can barely see it with my naked eye, & i'm pretty anal-retentive, heh.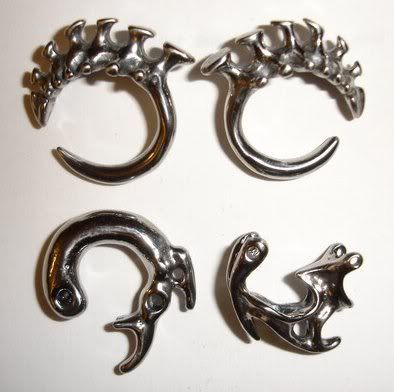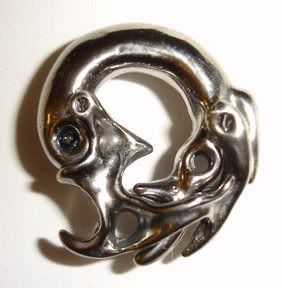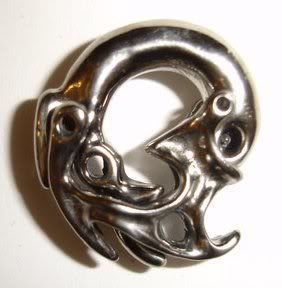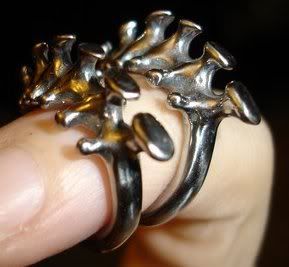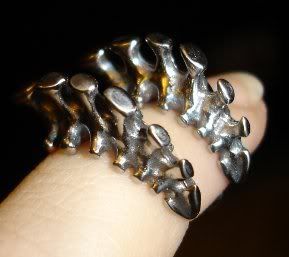 as it's nearly impossible to get balls into them, i bought BCD rubber balls from BAF & modified them for captive use. i don't need to use them, though - the spinals have such a small opening that they actually need to be "loaded" into the eyelets first, then my ear pressed through the gap, then the eyelets placed into my lobes. so there's no way they'll even be able to come out unless the eyelets somehow fell out first.


so here are the in-ear pics of my spinals! i'm STILL waiting for splat to pierce hers, but maybe we'll get that accomplished in april... ;D the pics below feature horn eyelets. the first set has the spinals' tips to the front; the second has them to the back. i prefer the front.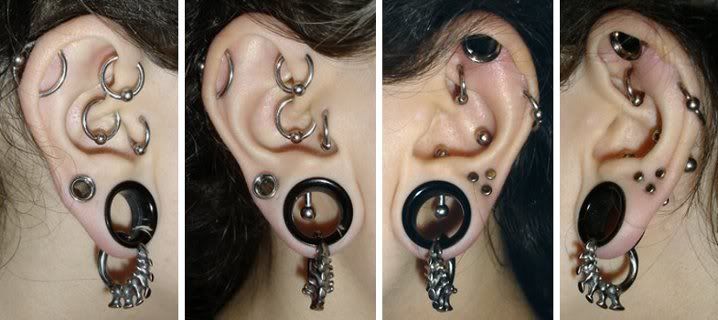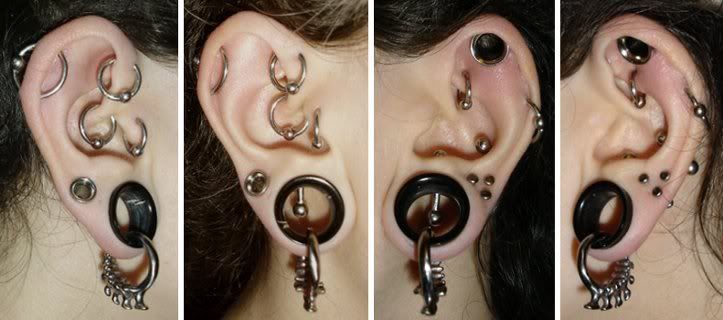 & here's the 4ga interlace captive, worn here with a reversed GWS plug.
gorthok says it looks like a tiny dragon coiled in my ear. again, the two sets show the two ways to wear it; my preference is the first set.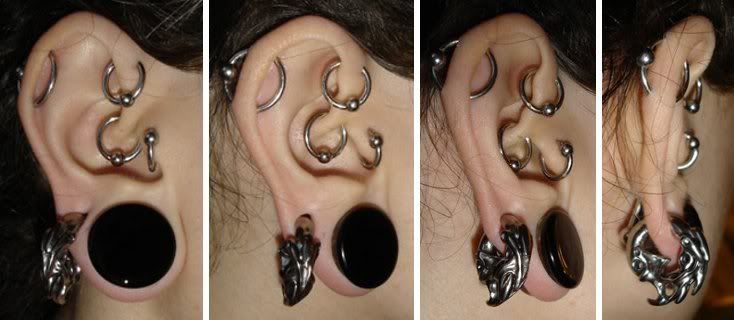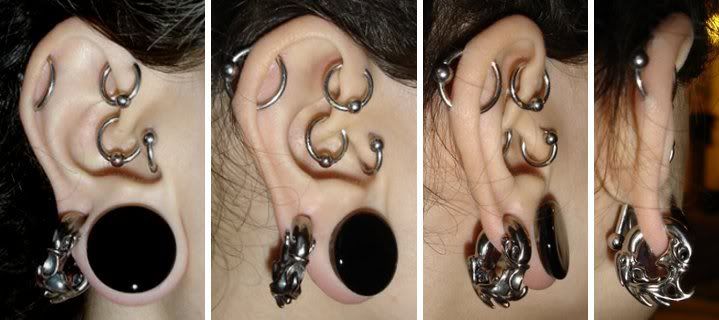 older pics of my triskelion eyelets. these were my magic $10 purchase on gaugetrade. splat's pair cost $145 from kolo. I LOL MALICIOUSLY.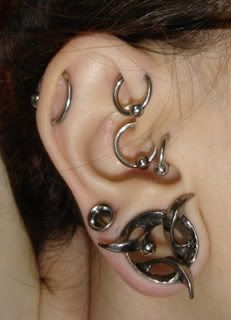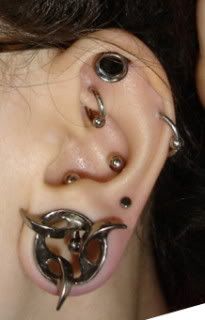 & here are splat's:


& just for
aferalgoldfish, here is something awful: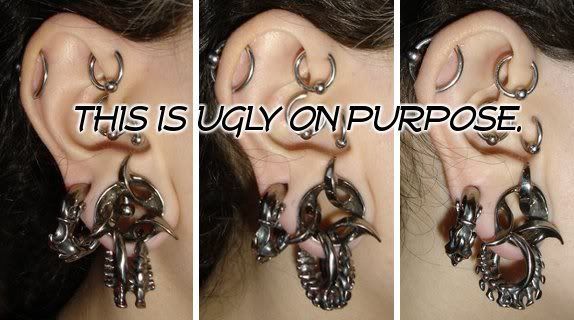 spinals through triskelion with interlace. OW MY EYES. IT'S SO UGLY I HAD TO TAG THE PICTURE AS SUCH. I PROMISE TO NEVER EVER DO THIS AGAIN.


so if you're looking to undertake a task like this yourself, here are some tips:


1. learn which way the dremel rotates & use that to your advantage.
2. use lots of compound. a nylon wheel against metal won't do shit without polishing compound.
3. it's much easier to hold small pieces like this with needlenose pliers. be sure to wrap the pliers in grip tape first.
4. expect to find color even when you're sure it's all buffed off. shiny parts are easier to polish than rougher bits (ie between the spines in this case).
5. keep an old toothbrush around for scrubbing. any old soap will break down the animal products in the compound.
6. check your work under a UV light or natural light, not your yellowing fluorescent bulb, or risk discovering your nice shiny Ti is still blue when you go outside.


mirrorback porn - http://community.livejournal.com/stretched/4932488.html:
ok guys, here are my mirrorback plugs, shipped lovingly autoclaved from club tattoo in arizona. both pairs are a small 5/8", which is the largest these plugs were ever made. so, it's taking a bit more work than just making matches. let's start with pics of the mirrors. these are the most accurate-to-life pics i could get of the color.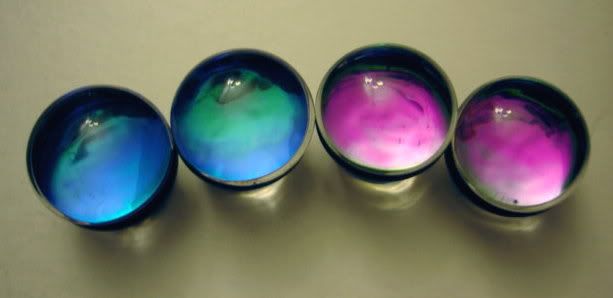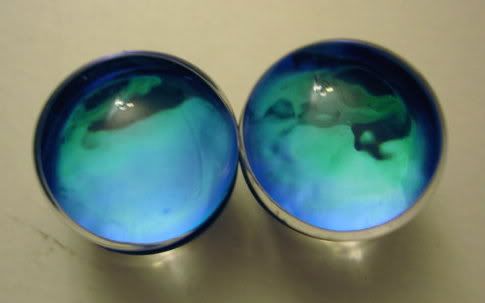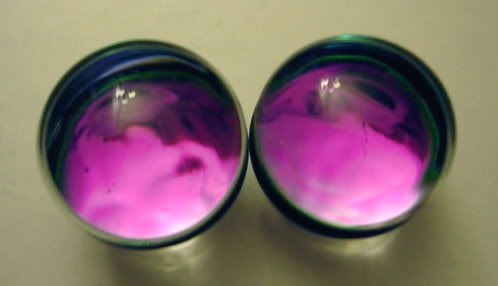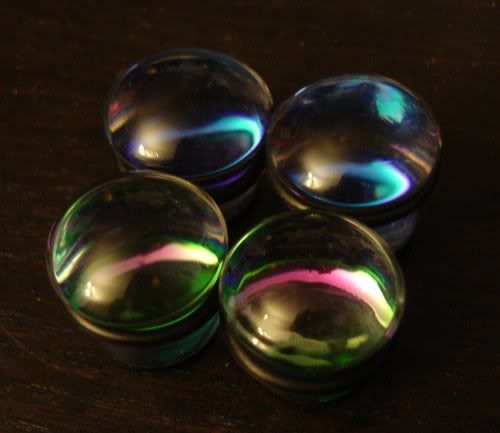 with a flash, they look very different: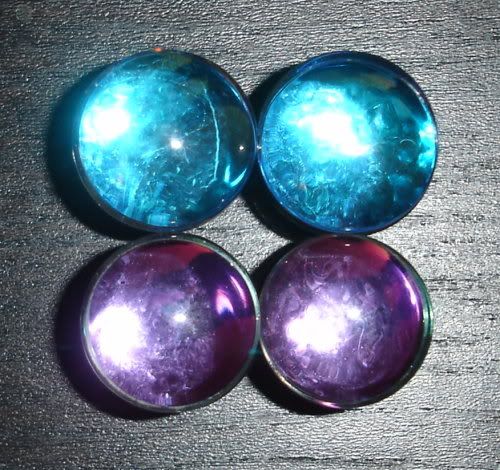 as for the matches - while they did make 5mm mirrors, it's even more impossible to find them than the bigger plugs. so a while back i had purchased a pair of 4ga mother of pearl inlaid in horn... & a bit of sharpie/nailpolish work resulted in fairly good matches imo! it's tough to tell in the pics, especially in-ear, because MOP doesn't flash every direction like the mirrors do. also, the mirrors change color significantly under different types of light; but that said, the color match in-person is almost perfect.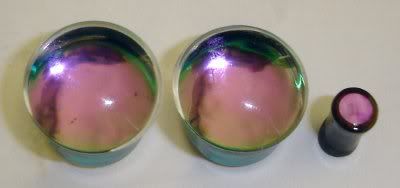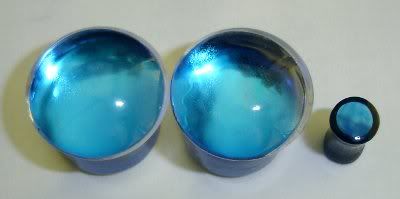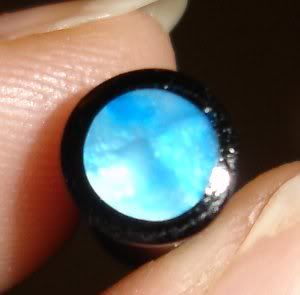 ok, regarding fixing the size: my original idea was to get some super short 3/4" eyelets & just fasten the o-ring on the back of the mirror plugs, but the mirrors themselves are shorter than i expected. so i bought some slim horn tunnels & tried dremeling them out, but they got too thin. then i started trying them in whatever i had laying around. i found they fit in my steel IS eyelets, my cheap assed BAF black acrylic eyelets (the same ones used with my baby teeth plugs), & - most unexpectedly - in IS pyrex eyelets!


i figured i'd just use black silicone to secure the mirrors into acrylic, but then i started thinking about it & i decided to get your thoughts & opinions first. so here are in-ears of the three versions, with my pros & cons for each.


steel eyelet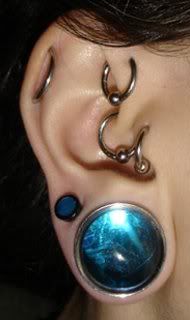 pro: no glue needed! the o-rings fit securely on the back of the mirrors against the steel flange.
con: i generally don't like "swap out" plugs.
pro: my steel tunnels would see more use; i don't wear them much now.
silly con: doesn't match my match. ;)


acrylic eyelet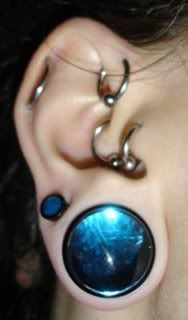 pro: are comfortable & fit my ears perfectly.
con: will have to use silicone.
pro: acrylic enclosure means i can wear the mirrorbacks in all weather!
silly pro: already matches my match.


glass eyelet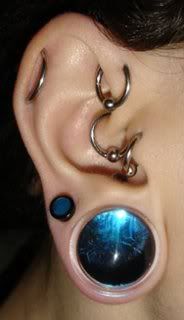 pro: would make for all-glass plugs, which is pleasantly consistent.
con: looks like a big dumb clear o-ring. (i COULD use satin dichro eyelets, but WOW that'd be overkill, haha.)
con: would have to locate two pairs & maybe have them shortened.


which aesthetic do you like? thoughts welcome! [ lish note: this contest is over now, please do not call. see immediately below. :D ]



inlaid mirrorbacks, emblem lizards! - http://community.livejournal.com/stretched/4946916.html: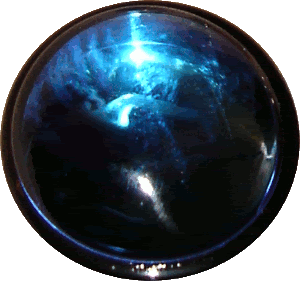 mmmm...


but first, the lizards. :) so i posted about these plugs when jake put them up on etsy, but they've finally arrived!


i'd only seen him do single geckos, & i requested a pair. i didn't want one poor lizard to be lonely in my plug box. :D i basically said "red geckos, silver fume on black, run with it" & this is what jake came up with. the 4ga is just a background match, as any lizard parts on it would look eerily disembodied. i'd considered asking him to put a tiny fly or something on the 4ga, but having adorable glass lizard plugs with adorable glass lizard food would just be a bit too much adorableness for one ear.


here are jake's pics: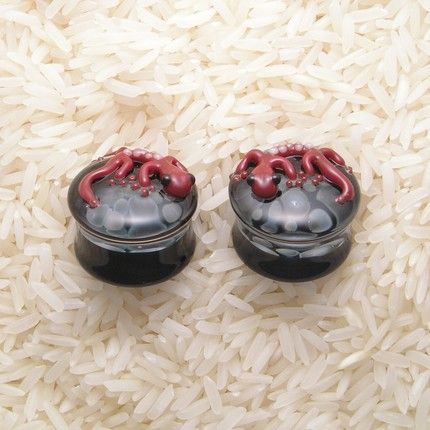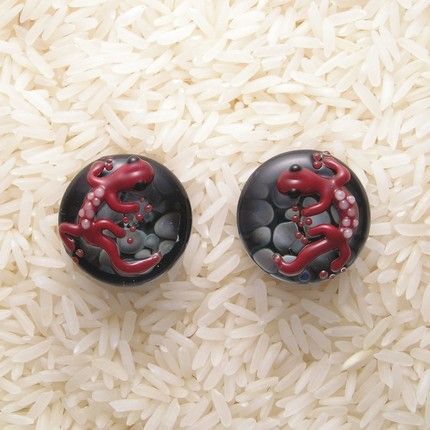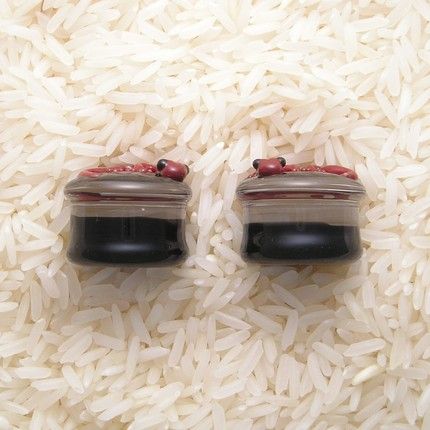 & the background match he made. as he noted, this is brighter in person, & actually matches rather well.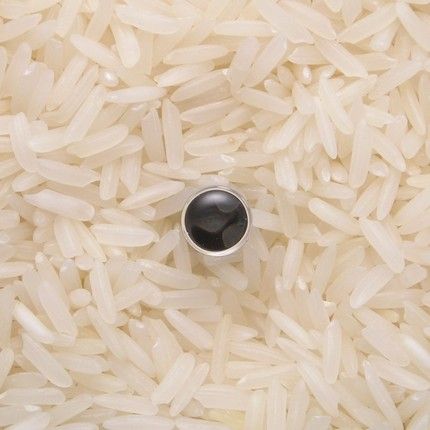 & the in-ear shots. i love them, they fit my lobes just right.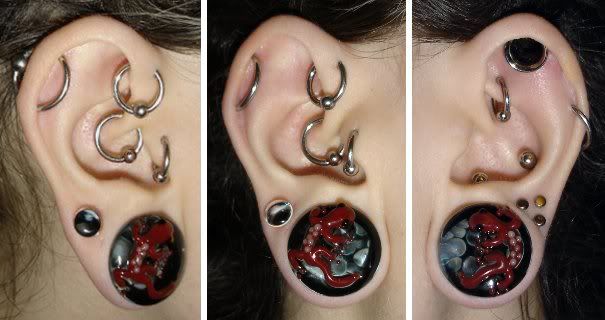 they might actually look a bit better swapped per ear, but then they might also appear to be running away. ;)


now on to the mirrorbacks. you've already seen some pics of them, but now i've completed the resizing/inlaying.


not only were the acrylic eyelets voted 4:1 over steel & 32:1 over glass (hah, just one vote for glass), they were what i figured i'd go with all along. so i did. i used the same black eyelets as for my baby teeth plugs, & secured the mirrors into them with black silicone. i could work them out if i need to, but they're very firmly placed. i can shake them quite violently & there's no movement. i don't at all fear they'll fall out.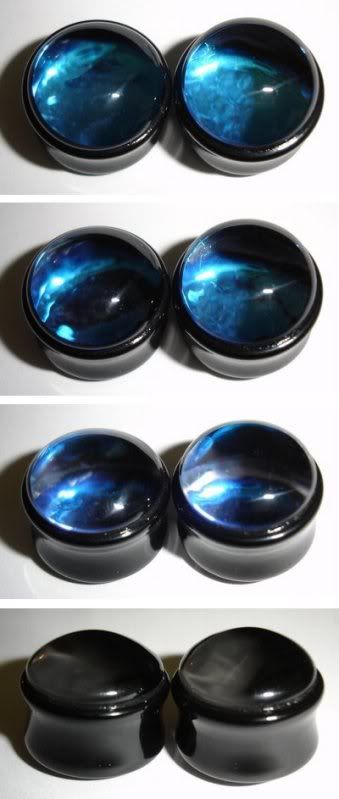 & from the side: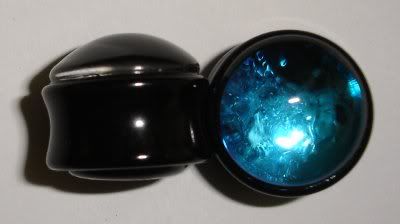 the silicone wasn't too bad to deal with; it's stinky, but it wipes off completely in the first five minutes, which is plenty of time to clean up a single plug. i applied it around the middle of the plug, then twisted the eyelet forward, backwards to spread a bit, & then up to the flare. i wiped it carefully & used a q-tip to clean up the groove between flare & eyelet. i didn't fill the entire width of the eyelet on the first go because i wanted to make sure the inside part could dry. later, i went back & carefully filled in against the back of the eyelet, which made it even more secure.


the in-ears below show various light at various angles. these things are CRAZY. & i didn't photoshop the color on the match - the MOP somehow changes color tones just the same as the mirrors!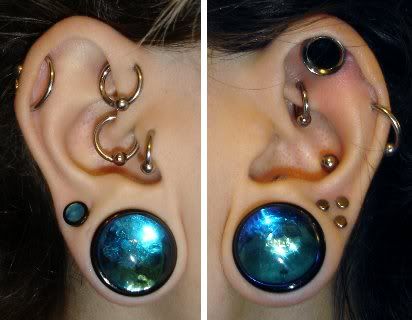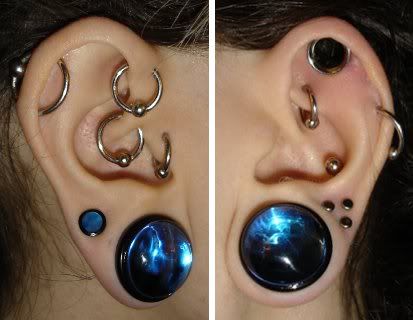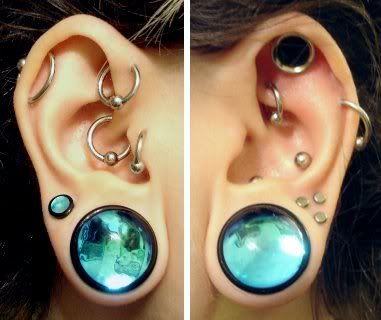 for now, i've only set the blue mirrors - i need to order more acrylic eyelets (i had this pair on hand), & also i think i'd like to trade the purples for orange. i might try wearing the purple ones in my steel eyelets first just to see how the color "feels" in-ear.


to those who've worn mirrors on a regular basis, how stable is the back coating? it looks like fired enamel to me. has anyone found a difference in putting some clear nailpolish on there just as a precaution? has anyone *gasp* damaged their mirrorbacks? i have concern that my vert conch barbells may bump & eventually hurt the enamel.


anyhow, enjoy. :D i'll have my blackheart organics post up next!