splatterhouse came to visit this weekend from boston. barely. so here are the things that went wrong:


her 20 minute public transit trip from boston turned into an hour;

she thus missed her flight & had no protection for a standby;

she didn't want to pay another $360 for a nonstop jetblue ticket i immediately found which arrived an hour later than she should've arrived anyhow, so she dorked around at the airport trying to find something cheaper, & ended up paying $350 for a flight the next morning, plus $35 in internet charges to find it;

the bottom fell out of her backpack;

her pants had become slowly & slyly shredded from bicycling & chose this moment to bust open movie-style;

she got a fairly significant nosebleed;

all while not sleeping for two days because she was trying to make sure she could sleep on the 8 hour flight. which she didn't;

then the flight was an hour late arriving, & i still ended up circling the airport for an hour because HRH couldn't manage to find OUTSIDE where all the other millions of people were streaming to catch their rides, so like a salmon she lept upstream & ended up calling me from the parking garage while i'm waiting like a dumbass at ARRIVALS. (no, this still wasn't as bad as when jenna came to florida & waited for me at departures. DER-PARTURES.)

but after that, everything went really well for a while:


i fed krystle at bagel oasis to start. omg so good;

i took her around to jewelry places all over town. she bought some satin eyelets, a pair of tiny anodized triskelion eyelets she may well be able to wear in her cartilage (this pic is of her ear, not mine, though i also have a pair of uncolored trisks), & found some honey amber with gorgeous inclusions. all items are attractive rarities, which was the point of the quest;

we took her to queen sheba for dinner & brought along
sic737,
robinhoodvandal &
impatient_hands,
miriena & her SPOUSE who it was lovely to finally meet,
cowgoesmootwice,
kaikea, &
gorthok of course, all of whom got along smashingly & we had a fantastic time;

after dinner, i fed everyone the horrifying cake that i made as a splat honorific/birthday thing for jenna. note icing circumcision scar. plus i made a jitty cupcake to go with it! (the writing is in reference to something jenna was called on the street once. i determined that she wasn't being insulted, it's just that she was in the international district & the guy clearly had mistaken her for his friend, trannie ho.) it was actually really good - i used a dark chocolate cake mix & chopped up a 75% cacao chocolate bar into it. the cupcake didn't have the extra chocolate, which is why it was just for joe - he's allergic. also, ookie cupcake?;

the next day i did some ear work on krystle, redirecting her lobes & adding a vertical helix (likely to become a curved industrial, but which may just be fitted with a little spike like i used to wear) while joe sewed a leather patch onto her backpack, repairing the giant rive;

we ate smoothies from emerald city & drove around to a bunch of other silly/fun crap where we bonded further;

we introduced her to the awesomeness that is shorty's;

we then feasted at marrakesh. holy shit i love marrakesh. it's a five course moroccan dinner, shared among the table, eaten with your fingers while sitting on the floor. $20 per person flat (unless you order drinks).

course 1: homemade lentil soup, served at that perfect temperature that feels like it's going to burn your tongue but totally doesn't, & just spicy enough to not quite make your nose run;

course 2: chopped salad - zucchini, cucumbers, tomato, lettuce - with cold, delicious eggplant dip, served with their mildly sweet bread, & eaten by mashing chunks of the bread into the dip & salad to scoop yum;

course 3: ground chicken/egg/veggies thing wrapped in lots of filo dough & covered in powered sugar & cinnamon;

course 4: main course - selected from the menu: slow roasted lamb with eggplant (my favorite), chicken with prunes (cinnamony & omg so good), lamb or beef kebobs, chicken with apricots, cous cous with chicken & veggies, rabbit (which they've always been out of), i forget what else. with 3+ people, they'll do a "king's feast" which means they pick the dishes & you receive one entree more than the number in your party for the same $20 flat per person;

course 5: dessert - fruit salad with this vanilla cinnamon soak, or a milk pudding which is "traditional" & is shockingly good.

they can do everything in vegetarian versions, too. i fucking love it there & go as often as i can.


after that, we went straight to the airport with plenty of time to spare... not realizing that things had gone wrong again, as she had inexplicably decided to leave her driver's license at the restaurant. no, we didn't find this out until i drove her TO the airport & we're standing at departures hugging. well, i suppose it's a good thing she realized it before i drove away. so she grabbed her boarding pass, threw her shit back into the trunk, & we raced downtown & then AGAIN to seatac. she had about ten minutes to make it through security, & i mandated that she keep me updated via text so i could pull over & turn around if necessary. the security line was huge but moved quickly, & i eventually received an exhausted message that she was ON THE PLANE;

then she was going to meet with
sleep_monger for airport bar drinks during a long layover, but someone broke into sarah's car & snapped something off in her ignition;

& while that wasn't happening, i was succumbing to some kind of summer cold which wrecked our fun monday plans;

splat also succumbed to the same cold;

she then realized she'd lost her phone charger somewhere;

plus i forgot to mention krystle had a mosquito bite right at her lipline which looked like, as she said, "a bug herpe".

i think that covers it. phew. philly next weekend. in the meantime, here are more pics of stuff.

updated pics of travel box, mirrorbacks, + silliness - http://community.livejournal.com/stretched/5021070.html:
because the sun was shining on my happy head, i managed to acquire a 4ga blue mirrorback single. i think we can now all agree it's gone too far. :D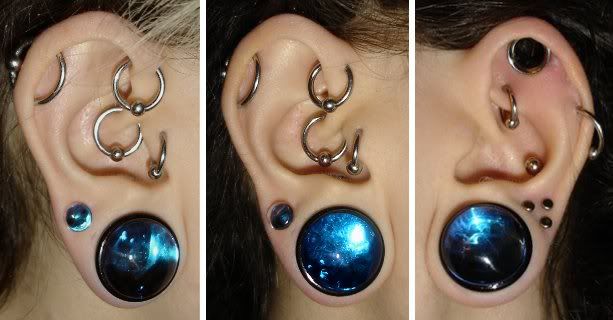 i also reworked the padding on my travel plug box as i'd noted i was considering. instead of redoing so much felt, i was able to just peel off opposing halves of each long row & restick the felt to either side of the dividers. here's a new pic of this: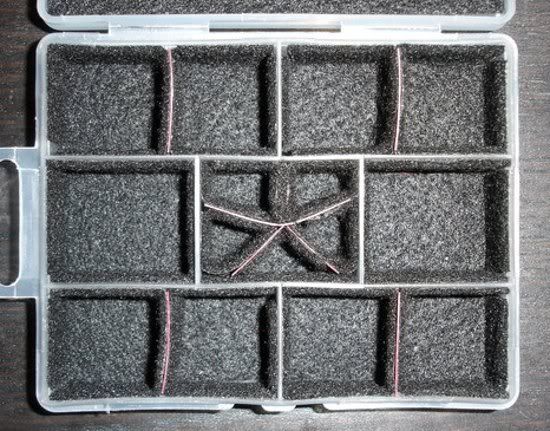 & a pic of the box full of dichro: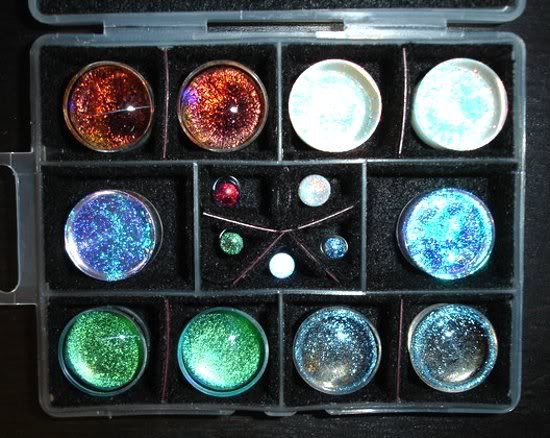 next, we were in the most awesome stone store a week or so ago - they have this spectacular center slice of blue brazillian agate that i'd drool to have leo make into plugs if only it were thick enough. i only got mediocre pics of it since i didn't have my real camera with me, but here's a phone pic of
gorthok posing badly next to a 00000000000000000000000000000000000ga sodalite plug: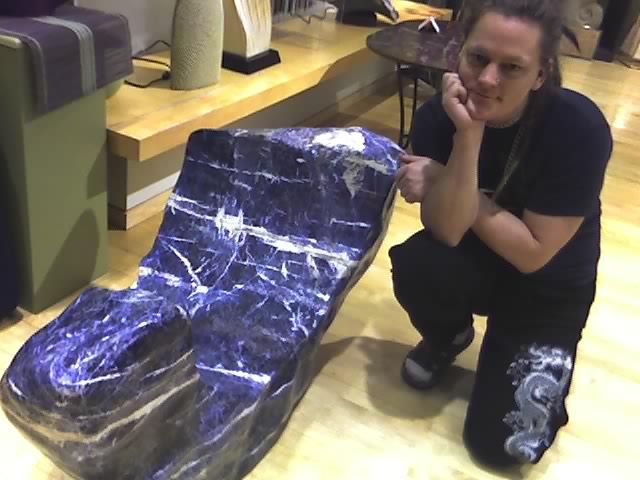 & since i'd never done one of these, i figured it's about time. here's a through-the-lobe with a 3/4" kaos earskin. obviously mine's a bit different from the usual shots into a mirror... ;D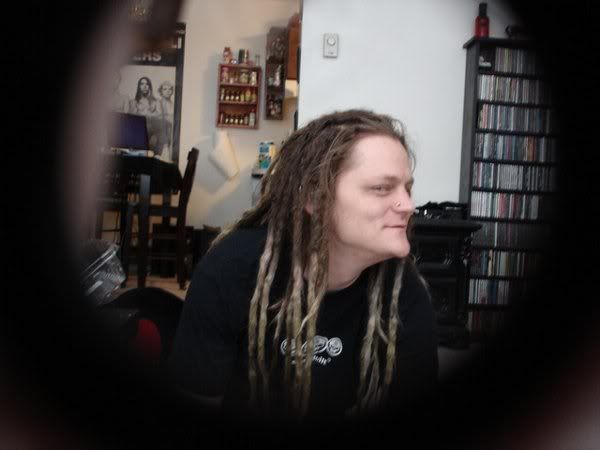 (plus he's relevant to our interests!)


more prizmatic cabs! - http://community.livejournal.com/stretched/5025767.html:
i couldn't hold back, & bought another set of of 21mm cabs (plus a 7mm match) from prizmatic. here's mandy's pic:


these are mounted the same way as my red fanciful swirls. it's kind of sad that i can now tell different makers' acrylic apart solely by the smell it produces when dremelled. :)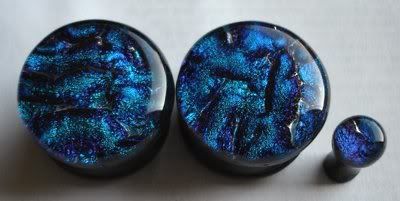 & in-ears!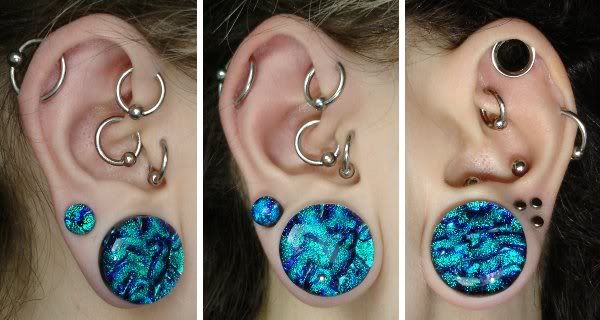 the flash makes them look more teal than they are, but they're seriously impossible to capture in images. in reality, they show cobalt, emerald, & plum - somewhere between mandy's pics & my out-of-ear pics are the most true. i dig them!



ladybugs! - http://community.livejournal.com/stretched/5026880.html:
in a fit of silly springtime-is-coming-ness, i ordered some enamel & sterling ladybug earrings cheap off ebay. i had a pair just like them in early high school back when i was wearing stud earrings, & i really liked having a to-scale ladybug hanging out on my ear. it's probably as 'cute' as i get. anyhow, i found them for $8/pr shipped on ebay, then happened upon a three pair auction for ten bucks total - but the bugs were pink, blue, & white. ladybugs that lived too close to the power plant, i guess. anyhow, i figured i'd just paint them, & paint them i did. i used red & black enamels, then sealed them with clear nailpolish.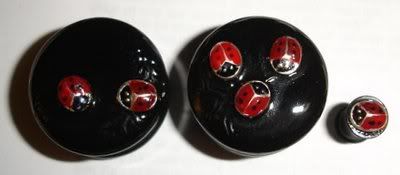 the plugs are 20mm clearance ikons from wildcat's sale, painted over with black enamel. i trimmed off the earring posts, dremelled down the stumps, then superglued the ladybugs to the plugs directly. the 4ga is the little acrylic tunnel that failed as the first try for my red rock candy match. i filled it partly with black silicone, then sank an earring (with post) into it.


i got a bit of superglue on the black enamel, so i overcoated it with clear nailpolish - which caused the enamel to ripple funny. i actually like what it did - the backgrounds have a bit more interest now than just being glassy smooth. it almost looks like black grass they're sitting on. you can see this in the non-flash pic: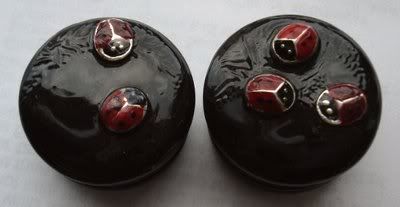 here are the in-ears. & i like that they're unbalanced, so don't ask me to swap the plugs to have 3+3. ;)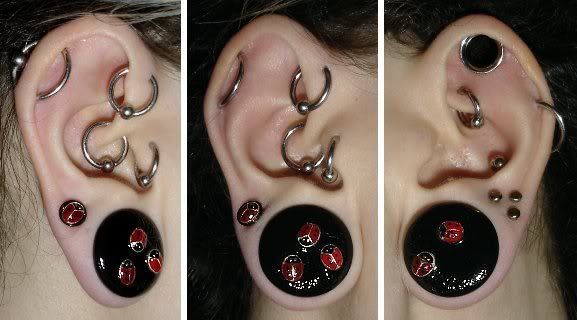 i had a pair of scorpion plugs a while back, but never wore them. i like scorpions, & couldn't come to terms with wearing their corpses for aesthetics only. so now i get to wear ladybugs, which i also like, but i don't have to feel bad about such a superficial use of real bugs' bodies.


enjoy! next post is my finished cartilage timeline. :D



lish's cartilage timeline - http://community.livejournal.com/stretched/5028228.html:


& my lobe timeline can be viewed here: http://compunction.org/lishtimeline.jpg.



may - new dreads pics - http://community.livejournal.com/get_up_dread_up/5656479.html:
ok! first off, i finally updated my site with new pics of two gudu members. both had recent maintenance appointments.

pippi_az: http://compunction.org/hair/wilma.html

shampshi: http://compunction.org/hair/stephanie.html


secondly, i have a slew of pics of my own locks, now a full 1.5 years old. i redid my dye job this week, so i had to take some new photos.


indirect lighting:


& in the rare sun of seattle:


in the previous pic, you can see the tiny embedded braid in one of my dreads, off to camera left. i did that just a couple of months in.


a flipped shot. imagine my forehead is the camera.


i love my roots.


in the above pics, i'm wearing these plugs. today i'm wearing these, & laughed when i saw they match my hair perfectly.


& while setting the dye, i realized i was doing a decent impersonation of
sin_aesthetic. ;)


note that i haven't rebleached since i started this set, which means the brunette you see is 100% new growth. fear it. :D


& i just posted these three pics of joe & me, if anyone's interested. the third is SFW risque.

also, i feel it necessary to share this spam with you. as jenna noted, "that is some awesome spam. I feel like i really know cate now."

---------- Forwarded message ----------
Date: Tue, 28 Apr 2009 18:45:41 -0800
From: Lynnette Travis <dishwasher4144@telnor.net>
To: crank@got.net
Subject: Philip Hankovsky

a conversation today
remember how i was so proud that my room was clean and i was knitting well i
still am
and my wheels are turning with projects to put together for a locals
knitting class.
and again when you are at a good weight and having regular cycles you can
absolutely add in a lot more whole wheat and whole grain foods as well as
all fruits and vegetables and other good carbs like beans if your cycles get
a little kooky or you gain weight thats when you know you need to reduce again
and it's so yummy

the back is mostly white with a strip of the red and aqua from the front.
i want to raise sheep on a farm in the northeast and knit by a fire all day!
i never thought life would then take me to utah to attend byu and then off
to serve as a missionary for a year and a half but it did and it was hardest
most surprising most rewarding experience of my life
but i couldnt stop looking at the picture because it shows the place where i
played for the first 12 years of my life
ready to share the love
she's cute
but we feel more blessed and amazed than ever at life's unexpected twists
and turns. and how happy we are that there is a loving heavenly father that
understands the little picture we have in our minds for our lives, and
gently and lovingly helps us change our vision to a masterpiece. i really
love life. what an adventure it is.
let's give a hand to the world, for everything it can do!!
cate and i went through some of the free options around the web for
valentines to download and print
cate: did you love disney games on the computer when you were five?
this week i am getting all my ducks in a row so that this weekend i can hole
up and sew myself some desperately needed skirts for church and summer
this is what cate's room looked like two days ago
and as ive been laying in my misery ive been thinking a lot about that penny
and just how lonely id be if she wasnt there with me
grant and i listened and danced to his music on valentine's day.
cold winter morning + hot cocoa + one tiny ray of sunlight + cate
corned beef is cheap meat, a head of cabbage is less than 50 cents, and i
bet you have all the ingredients for the bread in your cupboard. you should
make this meal tonight!
im loving babies & mamas sunshine happy rooms and cool colors
lunch whole wheat pita with tuna or deli meat or a big salad with grilled
chicken
 video
cate: what did you play on the computer, then?
just a phone call one night she had an aneurysm and although this was a
surprise of the worst kind it was the most spiritual time of my life much
good and understanding has come through that loss
and again, when you are at a good weight and having regular cycles, you can
absolutely add in a lot more whole wheat and whole grain foods, as well as
all fruits and vegetables and other "good carbs" like beans. if your cycles
get a little kooky or you gain weight, that's when you know you need to
reduce again.
i am so excited about the response to the project! it is going to take me a
bit to organize all the emails and get back to everyone, so be patient if
you are waiting to help and send things! i'll get there! this morning i've
been researching the answers to the questions that have arisen so i don't
make mistakes putting these together. here's a clearer breakdown of what i
need. i know this is long, but if you are wanting to help please read it all
before deciding what you'd like to help with:
Quilt kits finally all done
project 31 is rolling along. i have donations for every single item i need
for the 31 newborn kits and lots of fabric donations and i will sew until
there are 31 baby quilts too! thank you SO much, i was overwhelmed by the
awesome response. packages are starting to arrive! i will be sure to post
some pictures when i get it all together and ready to take to the
humanitarian center. my heart is happy.



ok, off to watch the end of prison break. no spoilers!@ & oh hey, if anyone has any good movie recommendations for our flight next weekend, you should comment with a sentence or two in description.