i took joe to philly this month. we ate at mrs marty's deli & jim's, briefly hung out with
jesuscrux (who [accurately] compared joe to the microbes that live in radiation or acid for successfully being my boyfriend), met
splendidgeek &
sleep_monger (both gorgeous & so much fun to be around), visited the mütter museum, ate more at rita's, bought up a shitton of tastykakes (what hostess would make if they understood that flavor != more sugar; omg so good), & went to longwood gardens with my grandmother.

my grandmother is the most awesome being on the planet. this trip was primarily to see her. she's ninety-four this year (born in fifteen. FIFTEEN!), almost completely still with it, totally a fighter. she's been to fifty-three countries & has the motto of "i'd better not sit down too long or i might not get back up - so let's go!" my favorite story about her is from a few years ago: i usually call her every week or two, & i just couldn't reach her on the phone. i tried a few more times, then finally got her a week later. i asked where she had been, & she goes, "oh, i was feeling kind of down... so i went to poland." WUT. like, most people go to the MALL or go buy a SWEATER or see a MOVIE when they're down. she goes to poland. awesome. anyhow, gardening is her most beloved pastime, & she couldn't stop exclaiming how much she enjoyed seeing those big gardens again.

so joe finally got to have a real philly cheesesteak, & he immediately understood that the piece of sloppy, oily, overcheesed crap with giant hunks of fatty beef on a gum-lacerating french roll from the place down the street isn't it. joe liked jim's so much we actually went back later that night & bought a couple more sandwiches for the plane. we're bastards.

speaking of joe, we also stopped by infinite & installed some new jewelry. there're only a few spots i'm not comfortable making holes on a guy myself, so you can guess where his new jewelry is placed.

& he's out for the weekend on some weird revel thing, so tonight i made myself an "i don't want to leave the house" giant salad for dinner using all organic ingredients from last week's bin delivery. lots of spinach, an entire butter lettuce, two wiggly carrots which still crunch now that they're cut up, a bunch of halved cherry tomatoes, half a pint of strawberries & two big handfuls of firm green grapes. i always forget how good italian dressing tastes on a vegetable salad with a bit of fruit in it. i was considering putting some kind of animal in the salad as well, but that would've required leaving the house. half of it is left over & i'll probably have it tomorrow if joe isn't back in time to cook for me. :D

also, i found a mutant tastykake. i emailed them about it, & am hoping for hundreds of dollars in online webstore coupons to compensate me for the horror. now on to the jewelry.



okay, you knew this was coming - http://community.livejournal.com/stretched/5071363.html:
TRISKELION MATCH.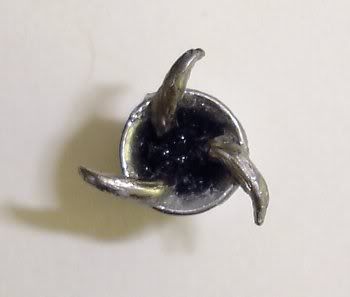 ok! walkthrough:

i made the spikes from pushpins. i bent the pins into C shapes, used wire cutters to remove them from the plastic, & dremelled down the sharp ends a bit.

i took a 4ga eyelet & half filled it with black silicone, then set the spikes into it on their sides. the silicone made it really easy to place the spikes properly. (i tried just using a dab on each spike, but it wasn't enough to hold the spikes the way they needed to be. i also considered using clear silicone, but it tends to look like snot, so i ran with black. no one's looking into a 4ga eyelet stuffed with spikes, anyhow.)

once the silicone dried, i reinforced the placement with a touch of superglue gel, applied with a toothpick, where each spike connects with the front flange & where they meet in the middle.

then, since the superglue made the spikes look connected in the middle, i added a drop of black paint in the center to disguise this.

i cleaned everything up with some 600 grit sandpaper, & it's done.



in-ears: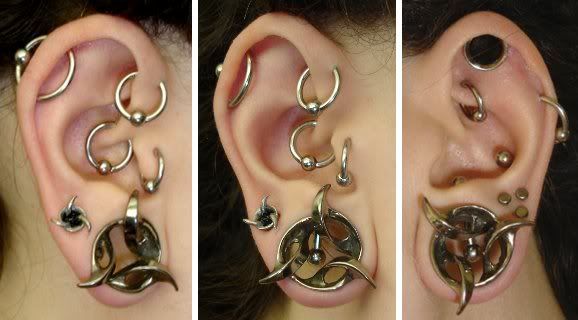 i was ALMOST able to show the internal loops like the big ones have, but i really would've needed thinner spikes, & thinner metal would've looked less proportionate. i think the black paint does a good mock job though.


yeah, so i'm pretty sure that's a recognizable achievement. also,
splendidgeek's response was basically the ideal reaction i was seeking:


o_o


-_-


more on the DIY spirals, plus burnt emeralds - http://community.livejournal.com/stretched/5072093.html:
you all saw my red spiral dichro DIY plugs. here's the bad news: turns out the spray acrylic can't hold up to being worn. though it was only on the front of the plugs, the heat of my earlobes & being close to my face made it soft enough to take fingerprints & fuzz & marks from hair/headphones/et cetera. so i was only able to wear them twice before the faces started to become cloudy.


the good news is that there were a lot of smart suggestions in my threads on other ways to DIY these, so i went & bought some transparent stained glass paint online. i wanted to be able to coat it with clear nailpolish, which i've had great success in using as a sealant. i tested thoroughly, & found that while applying the clear polish just after the trans paint dries would result in puckers like on the background of my ladybug plugs, waiting for an extra week or two for stabilization eliminated that problem, provided i also applied the first coat of clear as quickly as possible without rubbing it around against the trans paint. finicky stuff.


in the pic below, they have two coats of paint & nothing more. with one coat, they were still just barely brownish; two makes them a little too dark unless the light's on them, though beautifully *red*. it's a trade-off. i'm going to test wearing them as-is, without a top coat, & see how the paint by itself holds up. if it's a problem, i'll turpentine it off & probably go back to the single coat with clear nailpolish.


i then went about making a new 4ga spiral match which would be brighter than the last. i had a 4ga GWS trans yellow dichro single & no other use for it, so i tried it. at two coats of red, the yellow isn't even visible, & i gave it a third to match the deepness of the others. the plug's clear back lets the light in much better than the regular silver dichro i used last time. due to the dome front on this one, i couldn't use the same masking technique i did on the nearly flat IS plug, but i freehanded a spiral & i'm satisfied. (if i have to redo it to get back to two coats to match the big plugs, the spiral will be heavier on black. hi detail-oriented.)


no in-ears until it's tested & done, but here's the pic: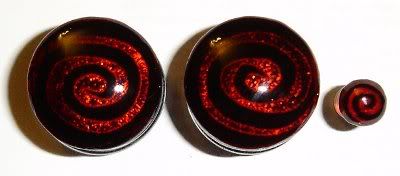 in addition to that, since i'd freed up the silver regular dichro, i was finally able to make a match for my weirdly burnt GWS emerald dichro that i love. it's sharpie & nailpolish worked in a few layers, & i'm quite pleased that the color matches in any light. the shots below were taken in sunny daylight, in-room flash (x2), & overcast daylight with a flash. (all are DF; the 4ga is just propped up on an o-ring.)



macro abuse:


in-ears: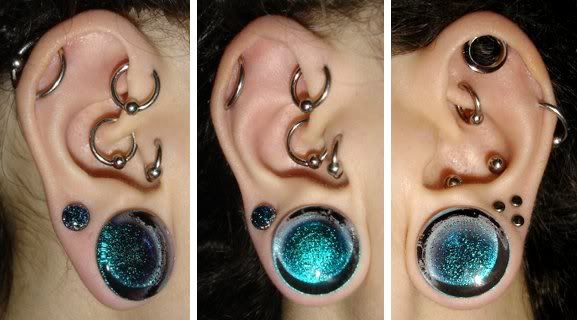 & finally, something i noticed when i went to put away my new 4ga DIY triskelion match late last night: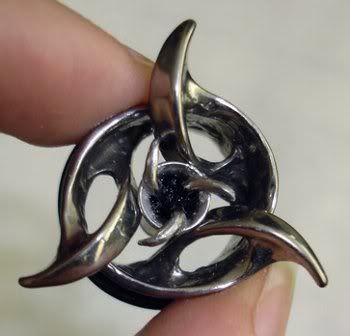 omg, it fits perfectly.


anyhow, i have a lot of the trans red paint left if any of you want your silver dichro made nicely red for a nominal fee. (
sapphiredonna, i'm looking at you.)



reshaped glass + another ridiculous match - http://community.livejournal.com/stretched/5074034.html:
i recently had bill resize some more GWS plugs for me. my super-long pebble plugs were made shorter by chopping off a ton of extra glass up front, & my neptunes were reshaped in the same way that he did for my mars plugs - essentially just making a bigger flare by shrinking the wearable a bit. now both have normal looking flares & fit my ears perfectly. :D


i don't have a pic of them before, but the neptunes looked just like the mars used to: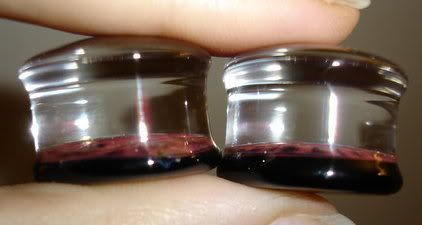 as for the pebbles before, i only have the pic where i used them to measure for my travel pouch, but it's pretty clear they were oversized: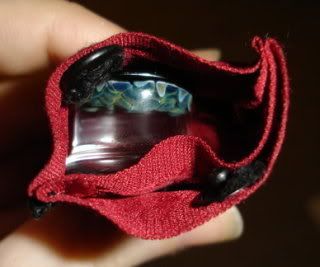 & after: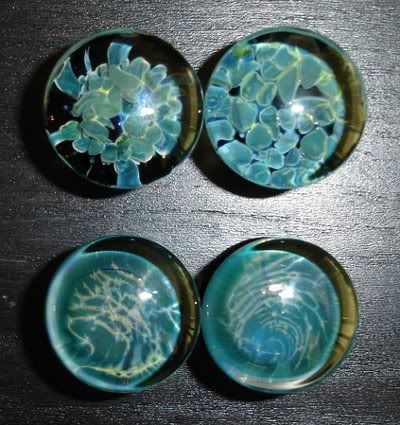 yay short!


as for the promised ridiculousness, bill also made me a 4ga match to the lattacino coils i bought off gt recently. :D :D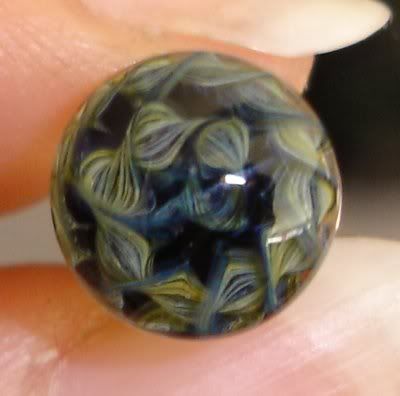 in-ear: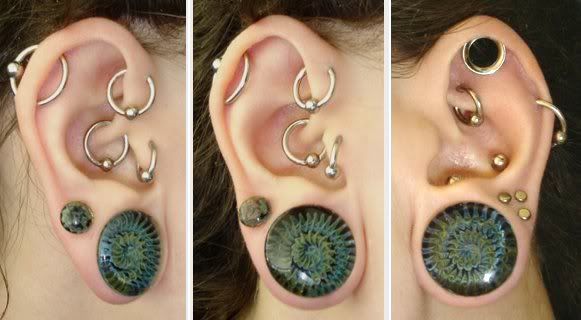 a surprising match, overtexted - http://community.livejournal.com/stretched/5093132.html:
IT'S COOL IF YOU JUST WANT TO SCROLL FOR THE PHOTOS. JERK. just so help you if you ask a question i already answered in here! SO HELP YOU.

so, much like with my trichroic match, i involved steelnavel in a match for my skull plugs. i hadn't been able to figure out a way to mock anything up myself for these, so i finally got SN to contact glass distractions directly. i asked if they could make an eye socket, a tooth, an entire tiny skull if possible, or even just some of the same silvery color into a 4ga for me. they couldn't mold any skull parts so small (not that i could blame them), but agreed to do a color match.

three months produced two crappy plugs which SN rejected on my behalf (one was apparently MOSS GREEN. wtf? hi, we're going for SILVER. for twenty bucks you can try to hit the right color at least), & then we gave up. cripes, GD is worse to work with than tawapa - at least tawapa responds all smarmy/snarky when they sell you crap, & grudgingly replaces it, sometimes. GD was all but mute. anyhow, completely over GD, i went & contacted my favorite fume artist, jake of emblem glass, & he said he could do it.

while we were working that out, i also asked him about resizing the skulls overall. the fumed skulls are one thing GD did brilliantly, but they obviously used the glass jig they purchased from IS for the general shape of the plug - which makes them really ridiculously oversized. no one needs a 7/16" wearable with a 13/16" total length. while i love them, i don't wear them very often because of the size.

as the majority of the plug was clear glass with the skull at the back, jake said he could resize them for me. unlike those bitchass solitude studio boys, he responsibly put a disclaimer on it: he doesn't know the plugs' history, so it IS a risk to rework them. but he felt confident he could do it, & so i took that gamble.

here are my before pics: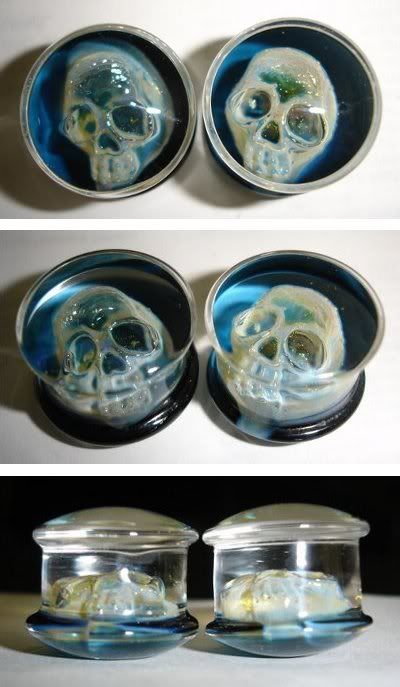 jake asked me how i'd like the flares, & i said i'd be good with either retaining them as they are, or doing his usual flares; my main concern was the wearable length. so i made a quick photoshop job to show each of these at my ideal: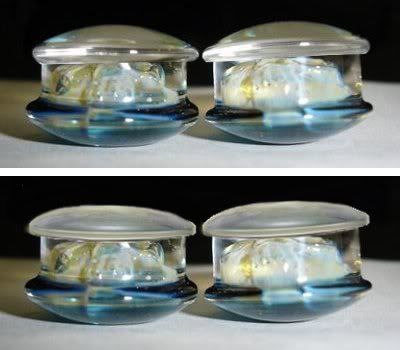 & then i sent them off. while they were away, steel navel announced they're dropping GD entirely, & put everything on crazy discount. so, in a fit of paranoia, i grabbed the other 3/4" pair of silver skulls for half of what i paid originally. i promised them to splat if my pair arrived back safely. :D (i think mine are nicer, but hers aren't bad for half price!)

& safely they did arrive! here are jake's finished pics: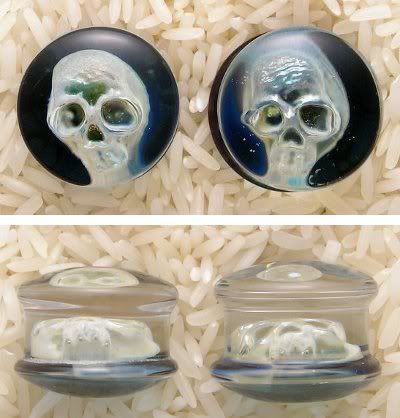 he noted:
"Okay, here they are. The plug on the right has a couple areas of small bubbles that migrated toward the center after removing excess glass. These bubbles were in the very outside perimeter of the original flare. I think you can see them in the photo left of center of the plug on the right. I could rework it again to remove them but will have to add glass to compensate and sometimes the added glass is visible as a "line" where it was added. I just left it as is since I didn't know how much of an issue it would be for you so just let me know how you feel."

of course i'm thrilled with his modification of them, & SO relieved they survived. one's clearly longer than the other, but i totally don't care enough to risk putting them into the fire again. i complimented him profusely & said to send 'em out. i was also pretty confident a line from adding glass would show up a lot more in-ear - it could flash & catch light as my head moves, whereas the bubbles probably won't show at all except in direct light.

& the match! i love it. what's funny is how blue it is, but due to the fume, sometimes it flashes other colors. the blue you're seeing actually matches the blue behind the skulls surprisingly well.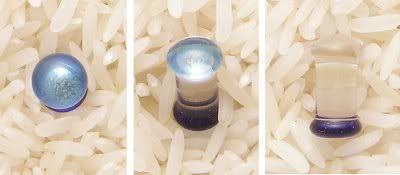 & here are my finished pics: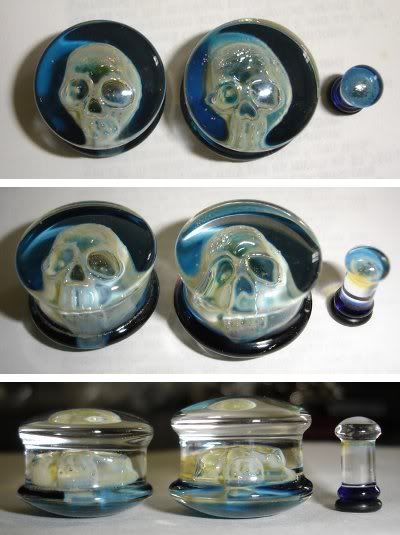 & in-ear: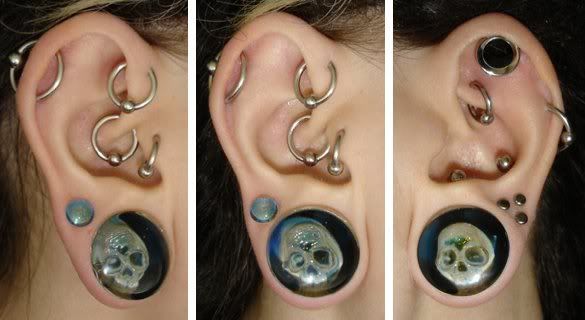 with their new 1/4" wearable, they fit so perfectly. now i can wear them any time i want, even on days i wear headphones, without them bashing into my vertical conches. yay!



my next post will probably detail the upcoming SKYDIVING ADVENTURE that joe & i have put a deposit on. :D