i'm encroaching on about 40% moved into the new system, i'd say - i've migrated irc, news, mail (outgoing not incoming yet), a good number of config files & all my custom programs, & have successfully set up a custom kernel, sound, & an x server (where i spend only about 5% of my time; i can do jpeg editing via commandline, but it's not exactly efficient, heh).
testing4l is coming this weekend, & he's got his work cut out for him as there are only a couple major amd64 vs i386 roadblocks that i don't know how to detour around &/or bash through. also: it's weird to see "forcedeth" in my dmesg.

fresh hot excitement this week is that we bought a juicer! we bought a really NICE juicer, which not only juices fruits & vegetables, but also does shit like parsley, spinach, & wheatgrass, & can make fucking cashew butter & pistachio butter, shaved ice, & sorbet from just frozen fruit. it's a masticating juicer, but joe calls it the kitchen panacea because it ALSO can shred stuff. yesterday, we put a bunch of organic produce through it that we weren't eating for various reasons, & it made us a lovely green cocktail. for the record, two red bartlett pears, a valencia orange (with pith but minus zest/exocarp), one fuji apple (sans skin as joe's violently allergic), a handful of spinach, & two celery ribs turns into two ~6oz awesome slushy juice drinks which smell totally like celery but taste sweet & pleasantly grainy from the pears.

both joe & i had a very strange reaction to this onslaught of nutrition: we got dizzy & had to sit down. i drank half, then ended up having to cut the rest 1:1 with water to finish it. felt great after that, though, & there were no further negative effects. (unlike our recent experience with 4oz each of wheatgrass - i'm good with 2oz, maybe 3oz, but 4oz gave me a queasy "nnnnrrrrgh toooo much greeeen" feeling for a couple hours.) tonight i juiced two oranges, two apples without skin (testing joe's tolerance), a handful of spinach & half a lemon for us. could've used the whole lemon, but it was delicious. also of note is that a little lish handful of spinach is enough to turn the whole thing pea soup green.

ok, as promised, upcoming fun listed in order of increasing awesomeness:

fun 1: we're planning to actually hit leavenworth this december. joe wants to see some stupid tree lighting. this is the least exciting (though still pretty exciting) because i have no idea what's going on with it & it's kind of joe's trip where i'm along for the ride. (this is highly uncommon for me.)

fun 2: skydiving! now we're getting into it. i got to do all sorts of crazy 360s & stuff last time & joe's tandem instructor didn't do that, so we plan on making sure he gets the whole ride this time.

fun 3: i convinced
robinhoodvandal &
impatient_hands to come out to silverwood with us. we're all taking off work early on a friday, driving out to idaho (6-7 hour trip), & staying overnight in a crazy good hotel deal i finagled. we'll be at the park all saturday, using half off coupons i stumbled across after we'd chosen the date (score!), & are driving home saturday night. there may or may not be a sleepover.

fun 4: hawaii! holy crap! it started because i was randomly searching vacation destinations one morning, & found we can get airfare to hawaii, a rental car, plus 5 nights in a pretty nice hotel for about $600 each. joe was immediately in. we'll be on the big island, since joe's already been to maui. we added a couple of extras to the expedia package, too, so we're pre-paid for a couple hours of seeing waipi'o on horseback & going on a four hour rafting & snorkeling trip. we're going to try to find some scuba action while we're there too, & i have two underwater cameras to use... underwater dreads photography? hell yeah! must remember to tailor my bikini so it actually fits since we're spending so much time in the water.

ok, that's done. oh right, now a couple of these things.

a simple, expected match - http://community.livejournal.com/stretched/5178446.html:
so, as i posted, i picked up a 20mm pair of wildcat's op art eyelets. i was hoping to deconstruct them into faux laboris eyelets, as i greatly prefer that design. surprisingly, the op arts are very well put together - i can't get them apart, & it seems like i'd ruin them to try. so i didn't bother; with only four rings, they wouldn't make much of an impact as laboris anyhow.

amusingly, they really are just a bunch of SF eyelets stacked together - three of the four SF eyelets that make up my op arts actually have o-ring grooves on the back. awesome. but all in all, they're a good cheap stand-in for a size refused by reign, & the short wearable is super comfortable.

anyhow, of course i had to make a match. i bought 4ga & 10ga SF eyelets off bodymodern, & assembled them with a drop of superglue gel.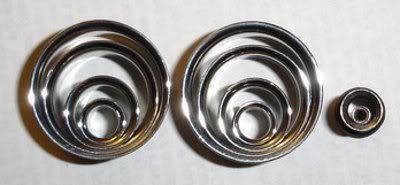 in-ear. haha, the camera flash in these pics make the innermost rings look like different sizes, but it's just a trick of the light.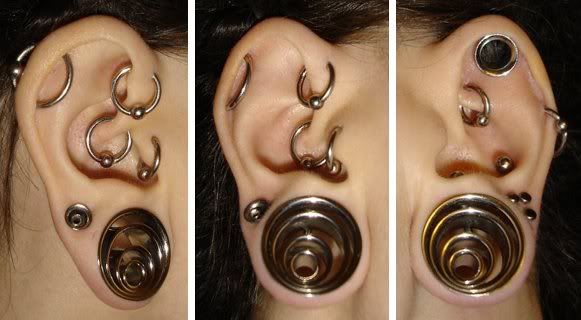 & here's a quickly mocked up idea of how this pair would look as laboris: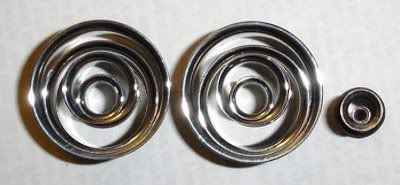 imo, not worth it. eh, if i really got the itch for laboris, i could make a five-ring pair from bodymodern eyelets, but they'd end up costing a bit more than the op arts. i'm happy with these as-is.



red leopardskin jasper + DIY match + extras - http://community.livejournal.com/stretched/5182508.html:
i wanted this pair of
skaforbreakfast's plugs since i first saw them. she called them mars/jupiter stone, & they weren't for sale. i tried to get leo to make a pair, but while he could ID them as red leopardskin jasper, he said it's too porous & problematic a stone to work with.

a couple years went by, & ska decided to sell after all. kindly, she offered them to me first, & i took her up on it - & totally made it worth her while. ;) i'm really surprised by how nice the finish is, especially in light of what leo had to say.

of course, i painted my match the day they arrived. wanna see? :D

the match is acrylic paint over 4ga glass sealed with clear nailpolish (as usual). actually, ska sent me the glass plug some time ago for free - it was crazy long SF, & i shortened it & made it DF myself in my flameworking sessions. :D

so here's the match with the sides i prefer: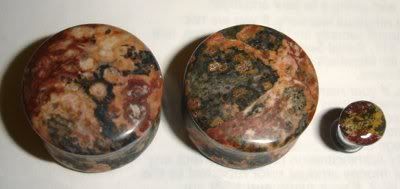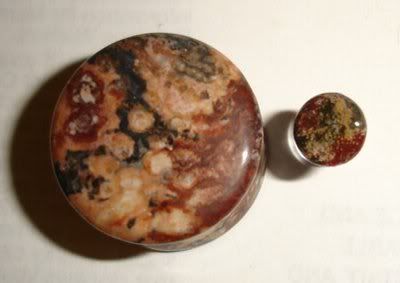 close-up on the match: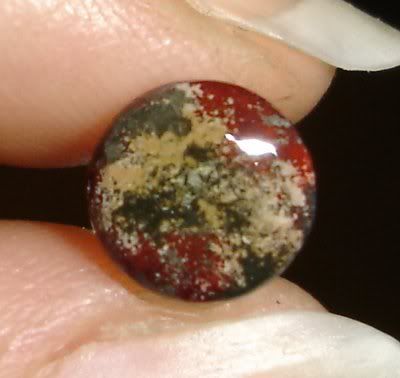 & the backs of the big plugs: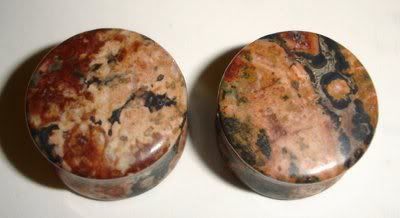 in-ears: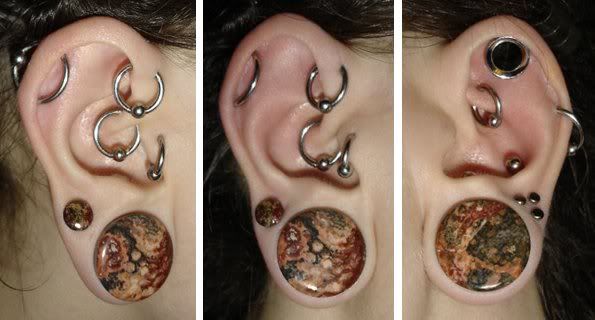 even though they have pink in them, i fucking love these. yay!

oh, & also i reworked my mary ellen jasper match - extra appropriate here because it's the stone i bought from leo when he couldn't make me a pair of red leopardskin jasper, heh. not wanting to spend $40 on a real 4ga match, i'd been wearing hematite with it (right pic):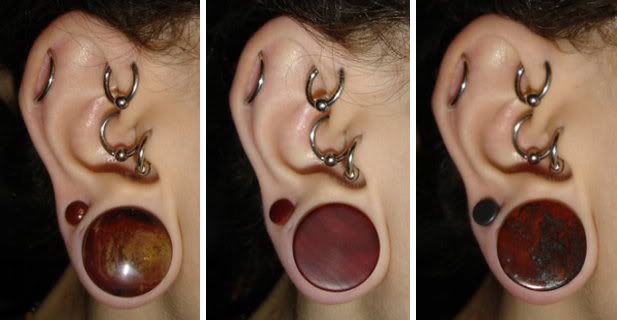 i realized the other day that i could add a bit of paint to make it a much closer match. so i painted right on top of the hematite with two shades of red to get a similar swirly effect, & the result: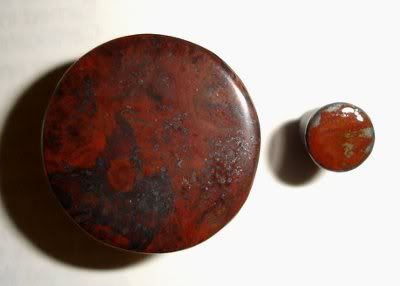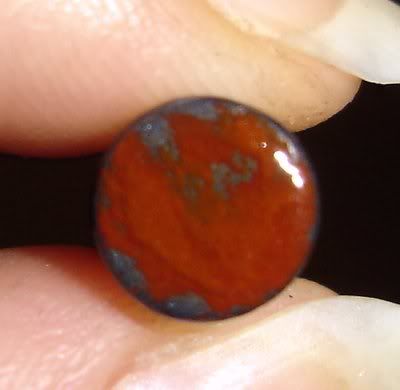 then i went a bit insane, & painted up the adventurine match i have for my relic green ocean jasper, too: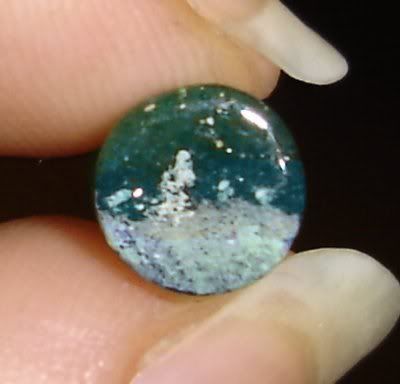 painting is such a lovely diversion.



now get out.