vacation 2009: hawaii - big island

asterisks denote photos presented below, among others. i'm too beat to find links; you have enough information here to google for yourself if you want to know more about something.

wednesday - started preparing & packing right after work. joe only had a couple hours of sleep the night before, so he napped on the sofa while i handled most of the packing. i stayed awake, watching frasier & making a secondary bangs dread (for those of you who care about that sort of thing) until chris picked us up at 4am. got to the airport in plenty of time, but barely made it to our seats & i was sleeping on joe. half hour layover in san francisco, back asleep before the plane took off. i awoke an hour in to find the middle row of seats on our 2+3+2 plane deserted, so i climbed over there & slept the entire six hour flight.

thursday - left the airport around noon hawaii time, immediately found joe's desired apple bananas at a nearby grocery store, bought lots of sunblock, shared a local passionfruit soda. it's fun to hear the garmin completely mispronounce things in hawaiian... in an australian accent. at the honokohau marina, joe bought some marlin jerky (lemon salted) which was transparent & strange, but pretty good. drove to kona & had lunch at the fish hopper. we split both the swordfish with apple chutney & raisins, served with mashed sweet hawaiian potatoes, & the blackened opakapaka with rice & guacamole - both prepared perfectly. (swapping plates midway through means you get to enjoy twice as much new food!) shopped in the area, we ate a delicious dessert of shaved ice flavored with black cherry, lychee, & li hing mui (a plum flavor) around vanilla frozen yogurt, & i bought a tiny ojami pony bead carved from boxwood*. the beads are really cool - the shop had several dozen different animals & every one was unique.

checked in at the paniolo greens hotel, discovered that i'd somehow snagged us a fucking 1400 sqft VILLA with a bunch of free groceries (local fruit, eggs, bacon, wheat bread, milk, juice, butter & local strawberry-guava jelly). they tried to connive us into a two hour timeshare course several times, but joe & i have no problem saying NO & hustling them mercilessly for more free shit (coffee & restaurant coupons).

friday - joe was up early to run on the beach & do a bit of body surfing - the sea ate one of his bandannas, but none of his jewelry. saw wild turkeys run across the back lawn*, then i made us french toast which was excellent with the guava jelly. we had planned a snorkeling expedition today, but they rescheduled us to sunday, so today became The Day to Drive Everywhere.

headed over to the hilo side of the island, which has far more rain & thus more lush greenery everywhere. joe bought weird looking dried lemon rings & hot file fish jerky, & i picked up a bunch of lychee jellies, then we ate lunch at the hot bar/deli of island naturals (basically a hawaiian trader joe's). left with a truckload of rambutans the produce guy gave us for less than a buck, & also a fresh organic dragonfruit. split a yummy dr. tima's honey-sweetened blood orange soda & i overloaded on ahi. joe bought strange kombucha made in the store, bottled in a mason jar.

found some horses far off in a field & stopped to snag a few pictures* - they saw us & all four came galloping over. i fed them the same grass they'd been eating, but the pieces that were slightly out of their reach & thus still had the prized seed tips. drove through & walked a bit around kalopa native forest state park*, which was deserted, then down to volcanos national park & walked through the thurston lava tube* (oddly, the garmin knew where it was) as dusk hit. saw a mongoose run across the street. had dinner at the hokulani steakhouse - local grass-fed NY strip with roasted garlic potatoes for me, mahi mahi fish & chips for joe. continued driving to the literal "end of the road" (there's even a sign), but couldn't try to see live lava as we didn't have flashlights. aiming to avoid any snacks that can be bought at home, i picked up a bag of "hawaiian cookies"* at a gas station, which were actually pretty good. we then tried for hours to locate the hot ponds; found the general vicinity but were told we'd again need flashlights to get to them "in the jungle". flaked off & drove home around 1am, freezing cold & barely awake.

saturday - a second batch of french toast, with sliced apple bananas this time. the hotel staff & my garmin both told us to take the long way around & not drive on 250 to today's destination, but we took it anyhow & it ROCKED. it's the winding pass up between the two main mountain peaks, great fun to drive, & we saw a fat hawaiian rainbow on the way back*. fuck anyone who told us to avoid 250.

rode in a six wheel drive german vehicle* out to where eight ziplines & a suspension bridge traversed the forest at the northernmost tip of the island; awesome experience & highly recommended. the last zip gets you up to 30-50mph & starts with a running leap off a cliff - fuck yeah i took video. they also fed us several native plants - some kind of sour raspberry-looking thing they called a happyberry, a very green-tasting medicinal leaf supposed to help with memory, a guava straight from the tree - & showed us the berries that become peppercorns when dried.

afterwards, stopped at a liquor store where joe bought some east indian rum & i picked up some dark chocolate (70%) from o'ahu. went in search of sushi for dinner - the zipline folks told us to go to sushi rock, but the menu was dull; the internet suggested kenichi, & we were sold when we learned they were having one of their half-off-sushi saturdays. over-ordered by at least double. i enjoyed the kampachi, which is hawaiian yellowtail & very different from amberjack; joe's tsubugai was nice too.

sunday - breakfasted on my leftover NY strip & a bit of sushi while joe swam again. mistakenly thought hawaii observed daylight savings time; was worried joe wouldn't make it back in time to leave for the rafting trip. it worked out, though, since he'd allowed an hour for the sex we then couldn't have. heh. sped into town*, bought him some trunks & me some sunglasses, then stripped down to my newly tailored bikini & joe rubbed my every visible inch of skin with SPF 50. (i should mention at this point that joe has been very vigilant about making sure i'm very sunblocked, & i thoroughly enjoy not having to apply that shit myself.)

the captain zodiac tour was fantastic - a long ride at high speeds on a pontoon boat out to a very secluded reef with a ton of fish everywhere; we also saw a morey eel. snorkeled for most of an hour (earskins stayed in just fine, but i should've put a retainer in my septum, as it messed with the seal on the mask), finally used the two underwater cameras i've had for ages for underwater dread photography (hopefully the film's still healthy; gudu post upcoming if so), & ate fresh pineapple & cookies back on the boat. rode near the coast on the way back & saw more small lava tubes, heard local legends about queen pele, & happened upon a pod of around thirty hawaiian dolphins (only 5-6' in length) who were being very charismatically in-character. joe said they were performing triple lutzes, heh.

zodiac was just across from where we were thursday, so we shopped more & revisited a couple places so i could buy a matau for chris. returned to the fish hopper where we split the crispy platter of mahi mahi, outstanding coconut prawns, & some of the best calamari i've had (cut in sheets, not rings), & the understandably expensive dish of blue nose sea bass topped with dungeoness crab, served with more of those amazing sweet mashed potatoes. found a VERY well stocked gem & mineral store where joe spent fifty bucks on two highly unique specimen of fluorite (an eight-sided block & a large dark obelisk), then i completely overdosed on urrrnnngh toooo much shaved ice. blue raspberry, cinnamon, & vanilla this time, SO good, could barely move on the drive back. never try to eat a small by yourself, it's not possible (& really i only managed a little more than half anyhow).

there's only internet access in a couple spots since the rooms here are so huge, but i was able to connect to some douchebag's unsecured linksys mifi hub while joe napped, then i lotioned his burnt back which will be a gorgeous toast brown tomorrow*, the bastard.

monday - mmmm, breakfast sushi. we ate the dragonfruit too, then went over to waipi'o for horseback riding. the owners had a couple of ridiculously cute koolie puppies who looked a lot like this guy with even more gigantic ears. we were driven in a four wheel drive van down into the valley on a 45-degree steep, winding, one-car-wide locals-only road with little to no guard rail. the whole area is privately owned or some crap, so no one's allowed to come down without a guide. it's beautiful & lush, with multiple waterfalls visible from the trail. joe rode "nitro", a bay, & i was on blonde "journey"*. we found a dozen wild horses* scattered about, saw lots of taro root, plus avocados, pomelos, guavas, castor beans & coffee beans growing on their trees, & waded through a river up to the horses' bellies. we were allowed to pick a couple of star fruit on the drive back, & almost took home a tilapia a friend of our guide's had JUST caught, but didn't end up bothering since we didn't have a fish basket (or even tinfoil) for the grill.

came back into town, spotting tiny wild black goats eating dry grass at the side of the road, looked around for a new restaurant for a late lunch; couldn't find anything worthwhile & didn't want to hit the fish hopper a THIRD time, so we stopped at the "monster burger" kiosk near the hotel. joe ordered the island burger with grilled pineapple, i asked for one of the eponomous burgers in a dimunitive size; however, they let us walk away with some other dude's very specific order (he'd shown up with a notepad), so joe ended up with a plain cheeseburger & i had a decent toasted club. (we're still wondering if duder had to wait twice as long, or if he took our bag & got yelled at by the picky wife.) we split a local pineapple soda & a "calamansi sweet lime" drink, & joe bought a bottle of dark rum made in maui.

tuesday - picked over the remaining leftovers for breakfast, then drove for the last time down queen ka'ahumanu highway (so fun to say) & hit a natural foods market. bought three ripe & three green apple bananas in hopes of smuggling the latter onto the plane (succeeded). joe also bought some weird acai & goji berry sambazon drink, & i got a made-in-store cinnamony fruit muffin for the plane (which turned out to be repugnant, but the airline gave us several snacks, so it was okay). drove around a bit more, dropped off the rental car, & were shuttled to the airport. tried & failed to brute force the secured airport wireless until we boarded. the flight was pretty bumpy but uneventful; ditto the bus train ride home once we realized the airport bus had stopped running.

it was an excellent trip & i'm pleased to report i'm completely without tanlines - or any appreciable tan whatsoever. also pleased to report i've learned the netbook's idiosyncracies & we have become friends.

on to the pictures, in mostly chronological order:

random occurrence of wild turkeys: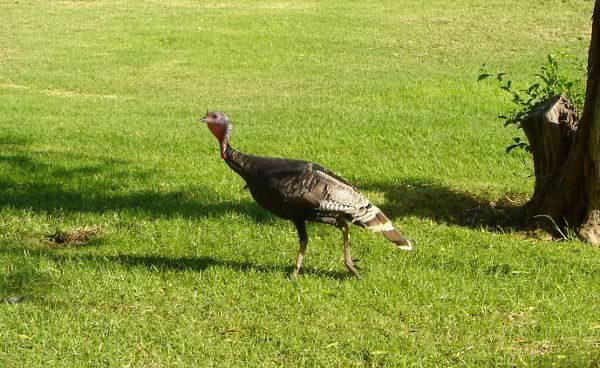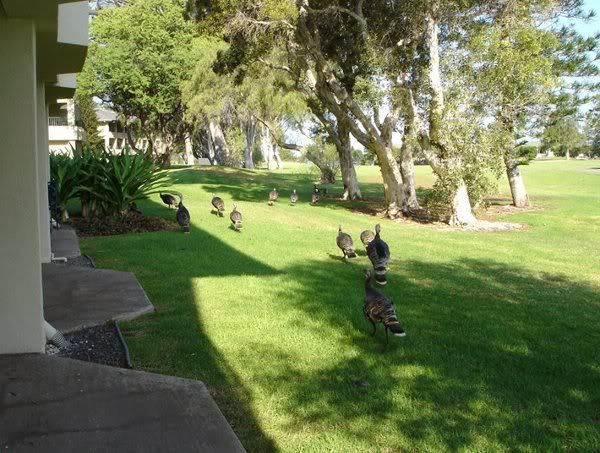 we didn't know hawaii had cacuses; joe got excited about it: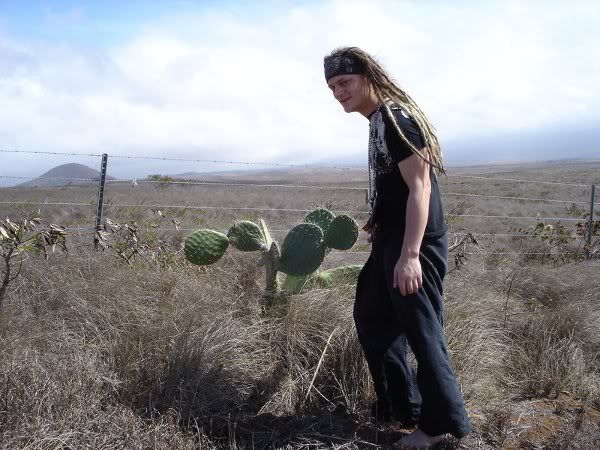 joe found this tenacious little plant growing all the way up through a signpost: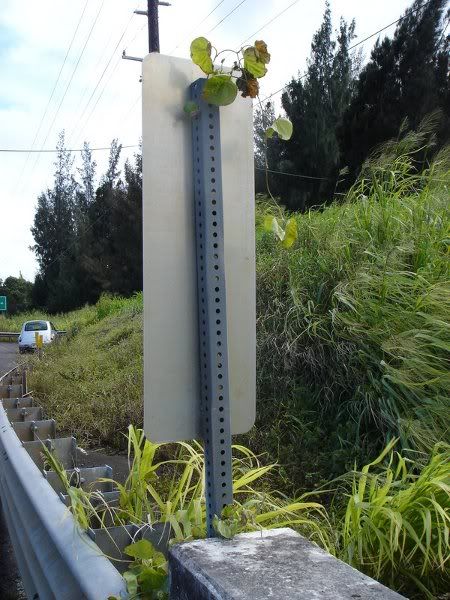 had to stop & stare over this bridge: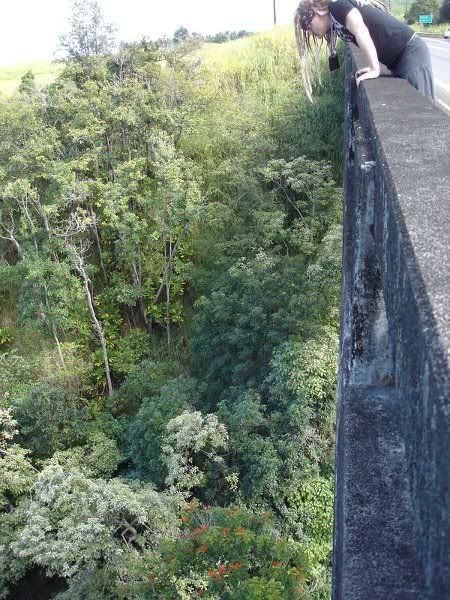 oh hey i was there too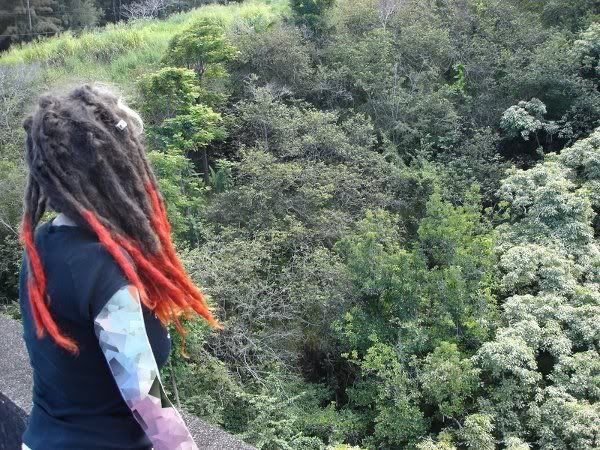 the ponies approacheth: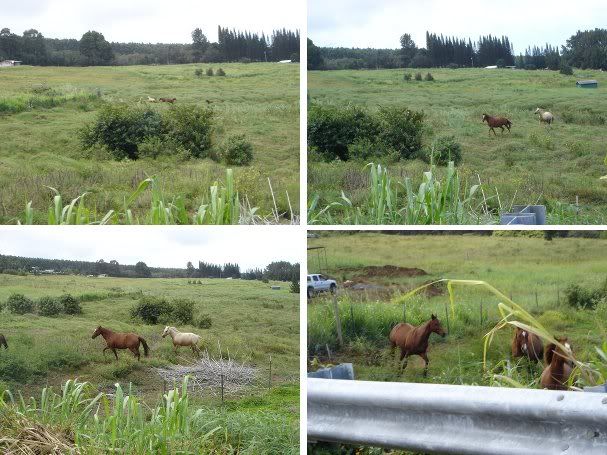 lish & the hungry ponies: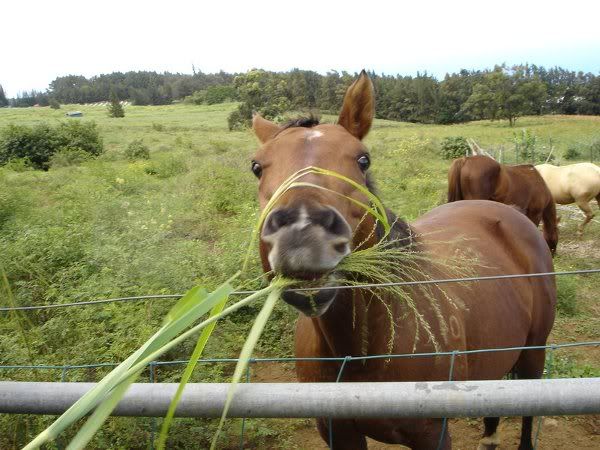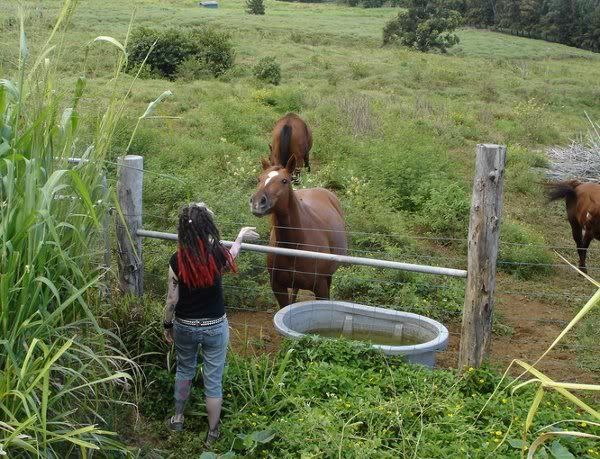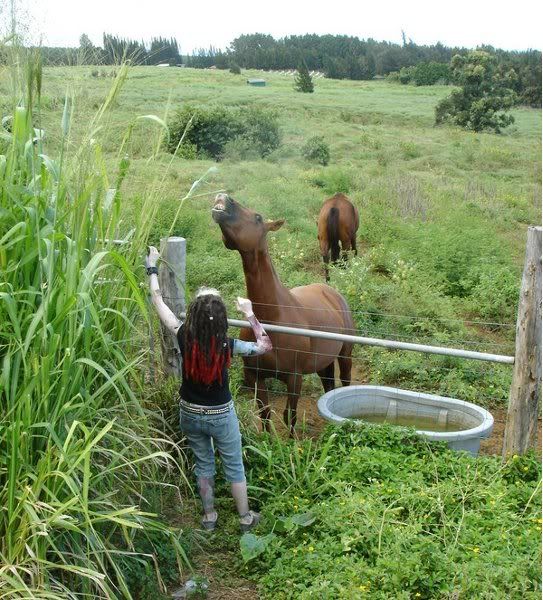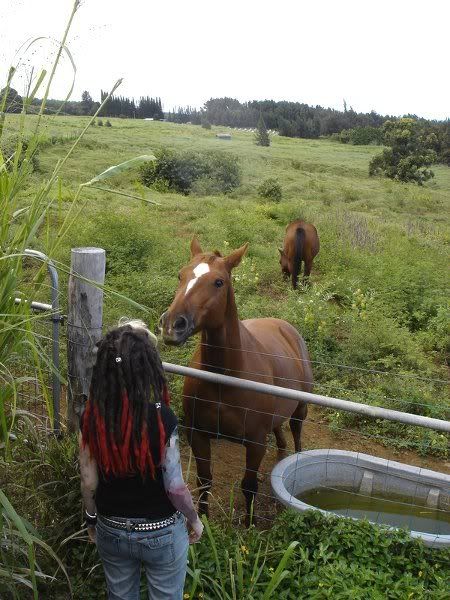 joe in his natural environment: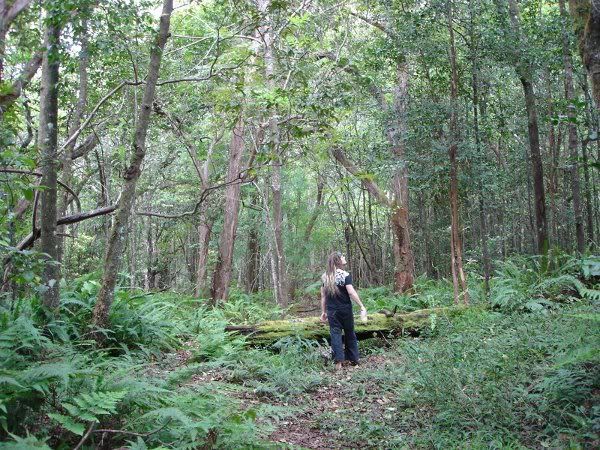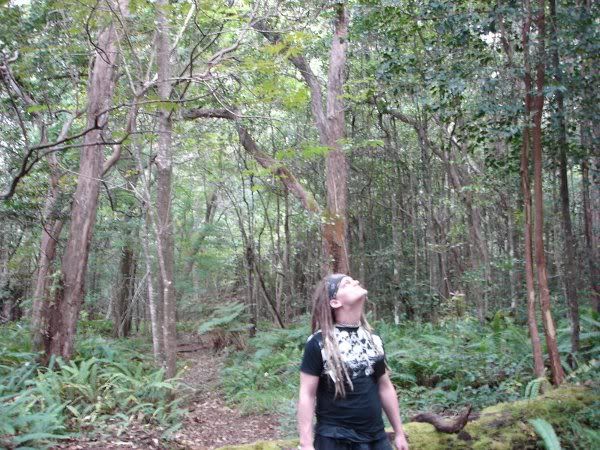 another bridge we pulled over to look off of: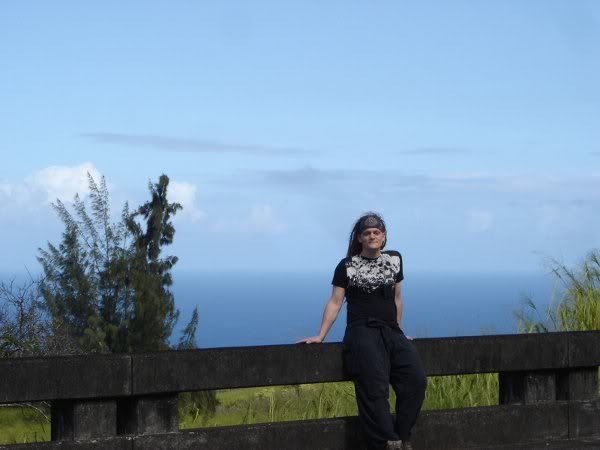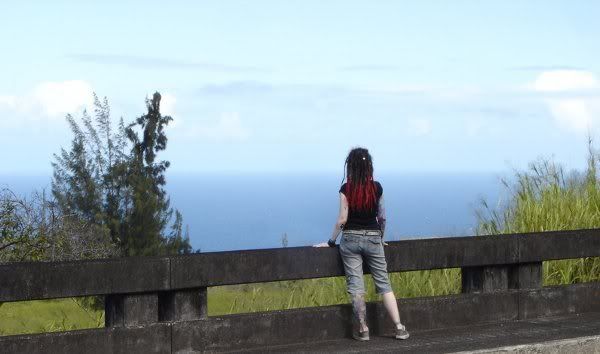 down over the bridge was this neat little inlet: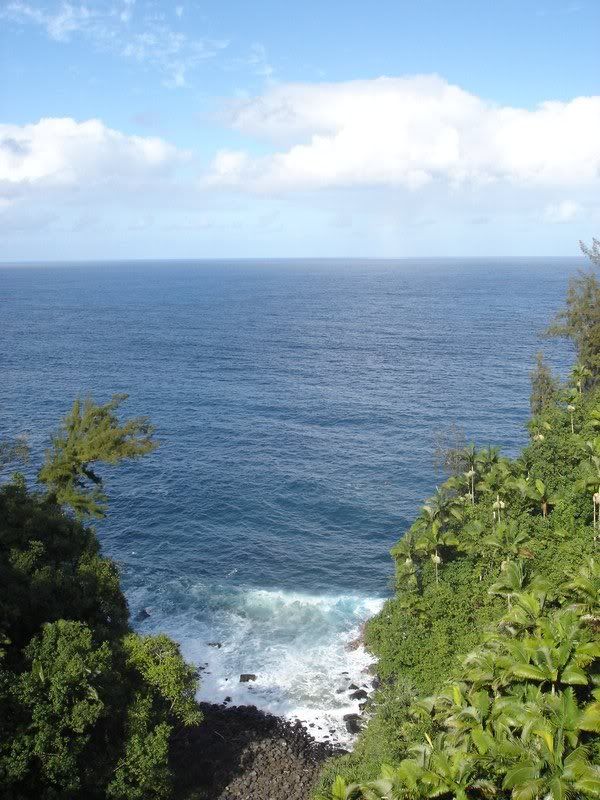 & to the left, someone hit the clone button too many times on the hill: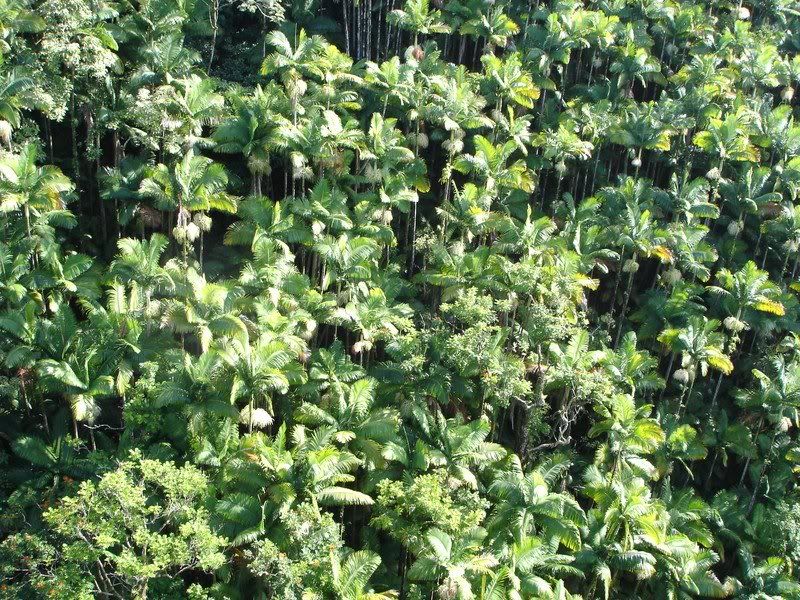 joe in the thurston lava tube: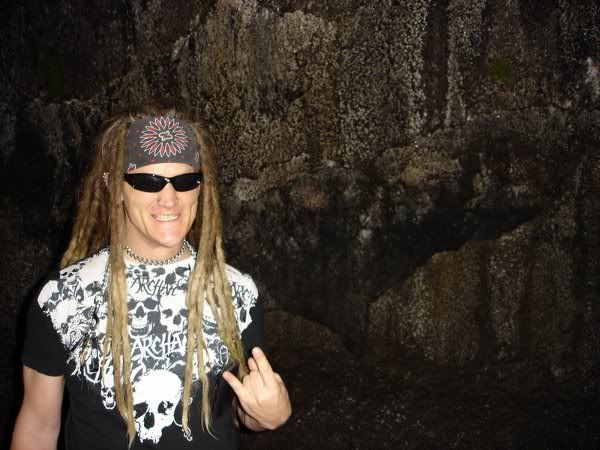 yes you're very important, holding up the lava so i won't get smashed: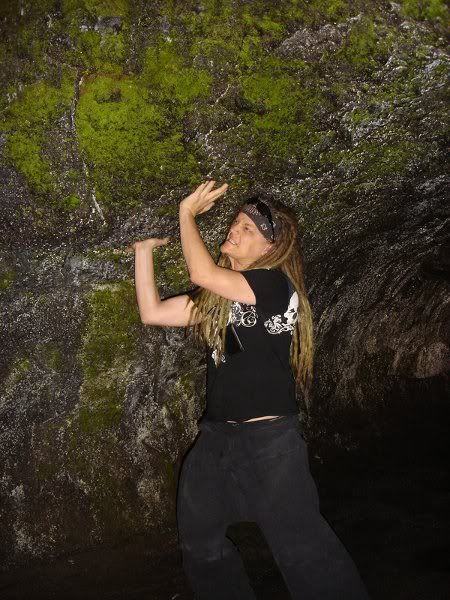 tiny lish in huge lava tube: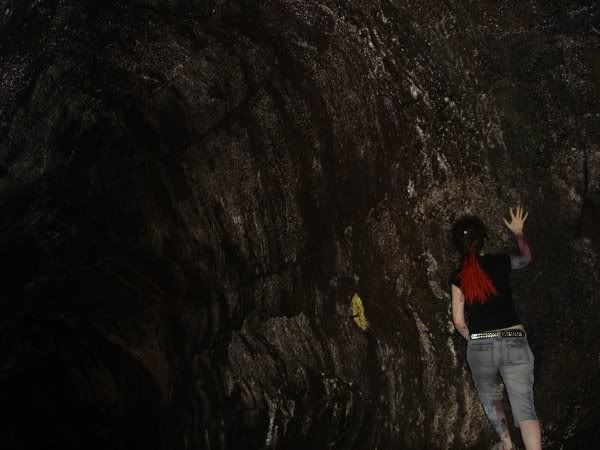 the 6WD truck: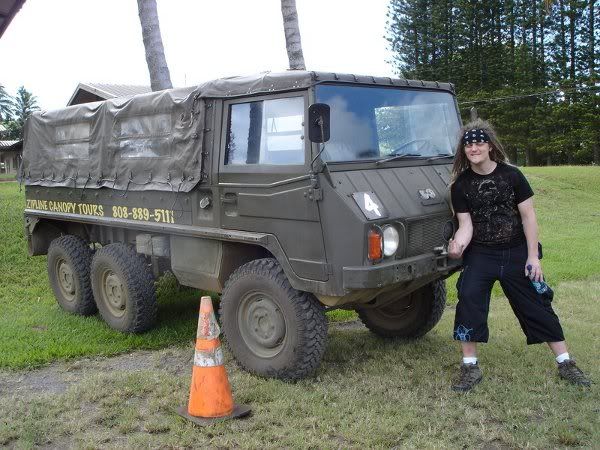 one of the waterfalls we saw during the zipline course: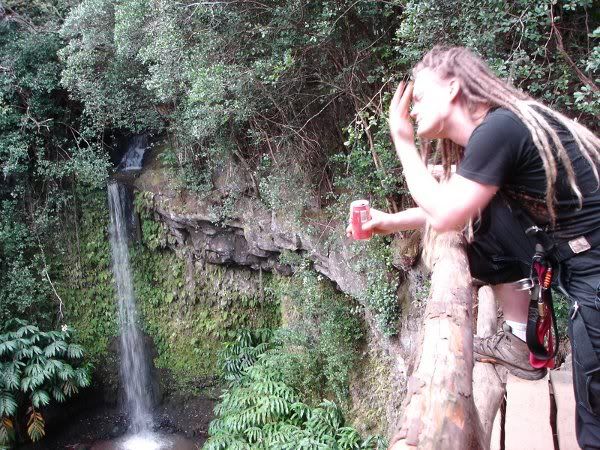 fattest rainbow i've ever seen: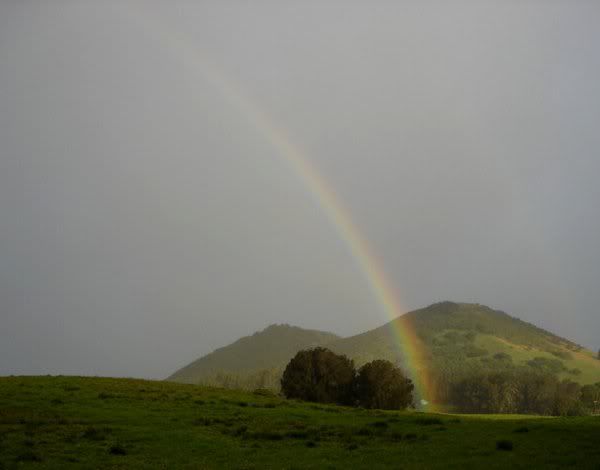 stupid hawaii postcard sunset, taken off 250: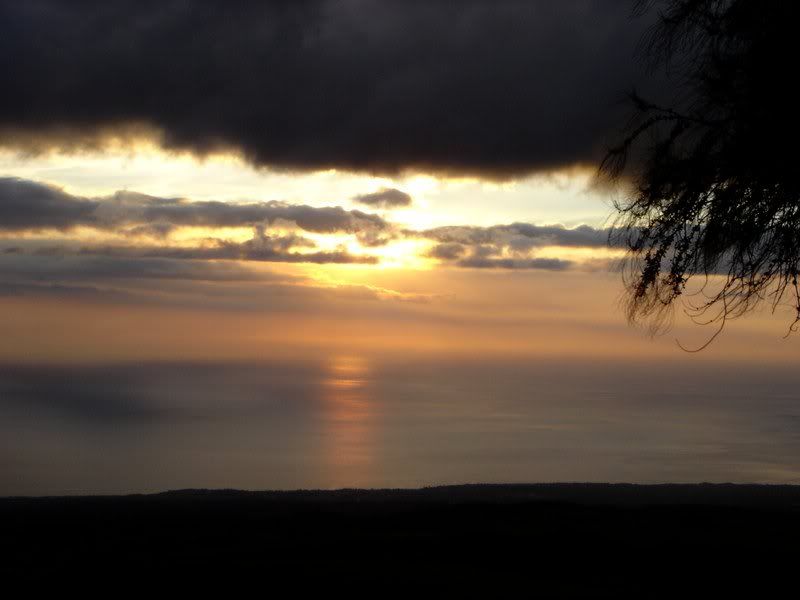 joe drying his dreads after a morning swim: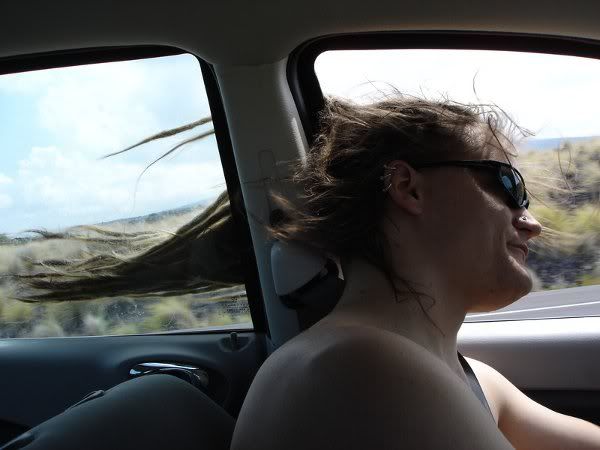 this photo taken strictly to mock joe for his late & obviously sloppy application of SPF 15: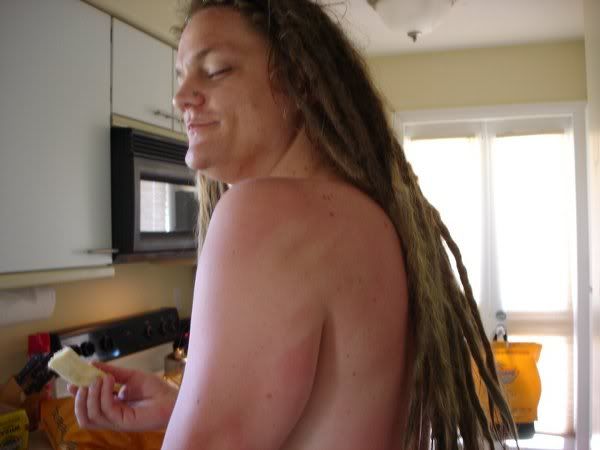 can you tell where his shorts covered?



hawaiian cookies, baked with HELO: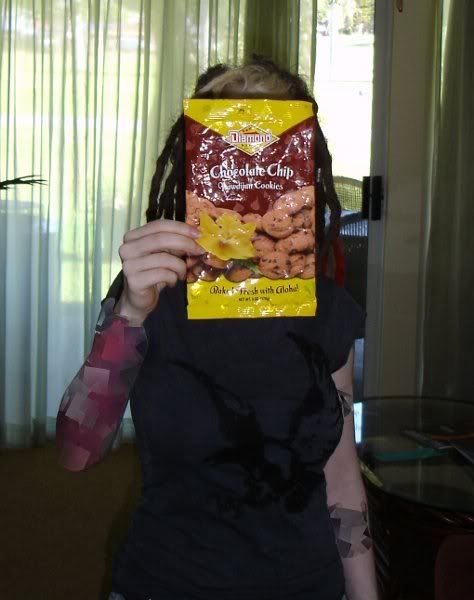 joe's first time on a horse: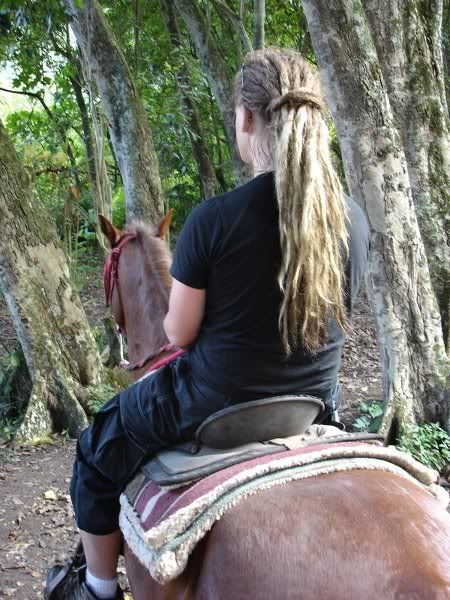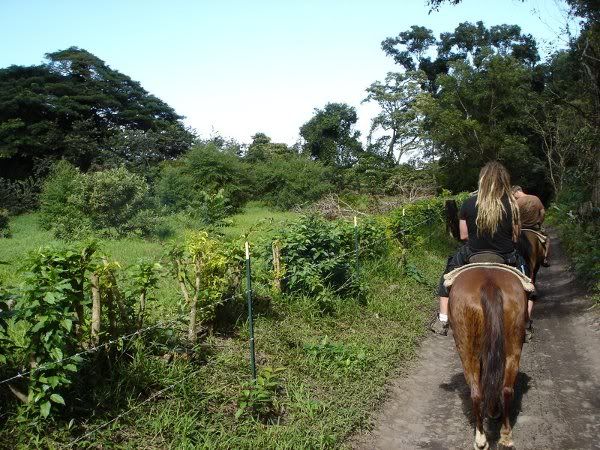 not sure what happened to this picture, just look at the scenery ok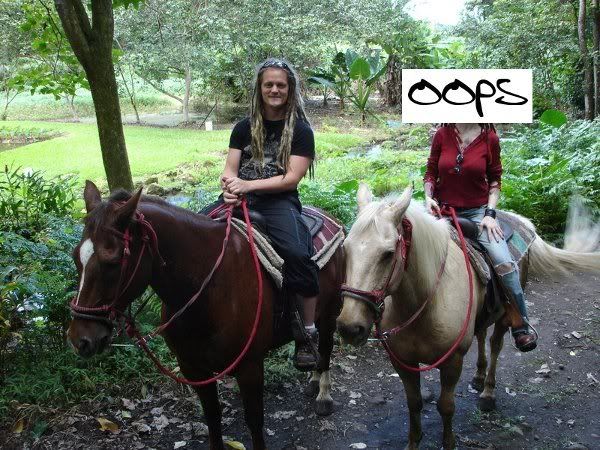 stop staring at my leafhead, i'm sensitive.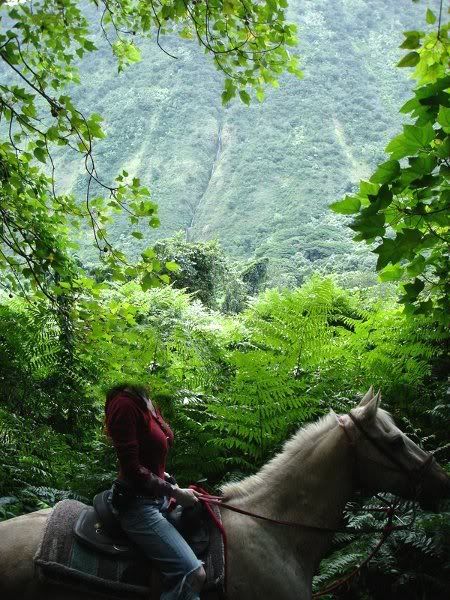 notice giant clump of scenery in pony mouth: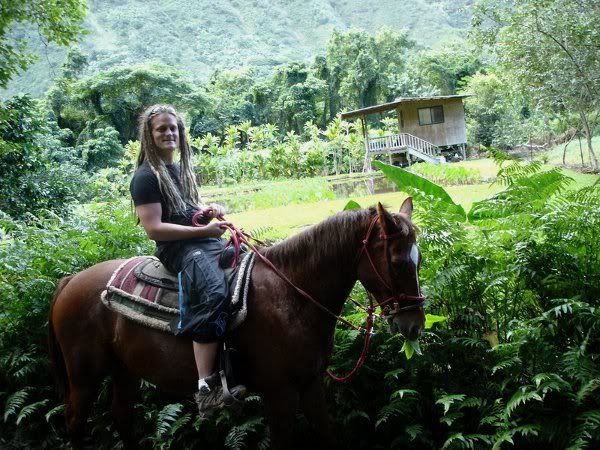 plod plod plod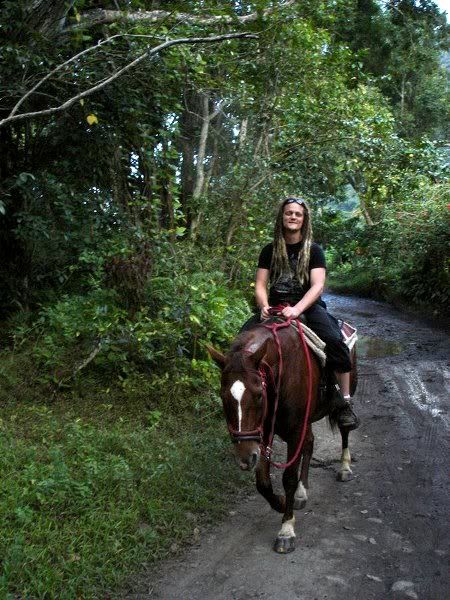 wild horses are very difficult to photograph while riding a horse:




joe's whale tail during his ongoing mission to drink from every natural river he passes: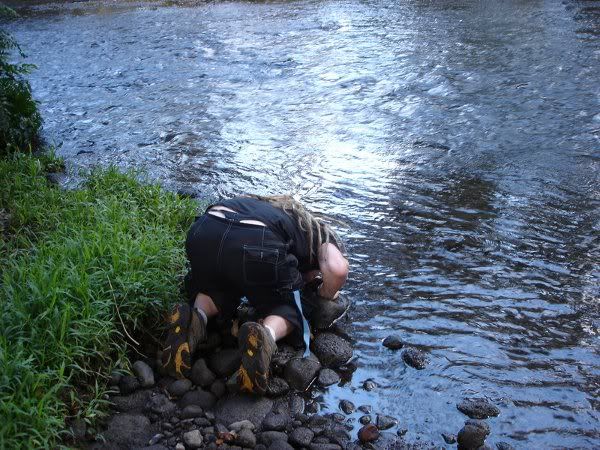 i own this river. i bought it from a native.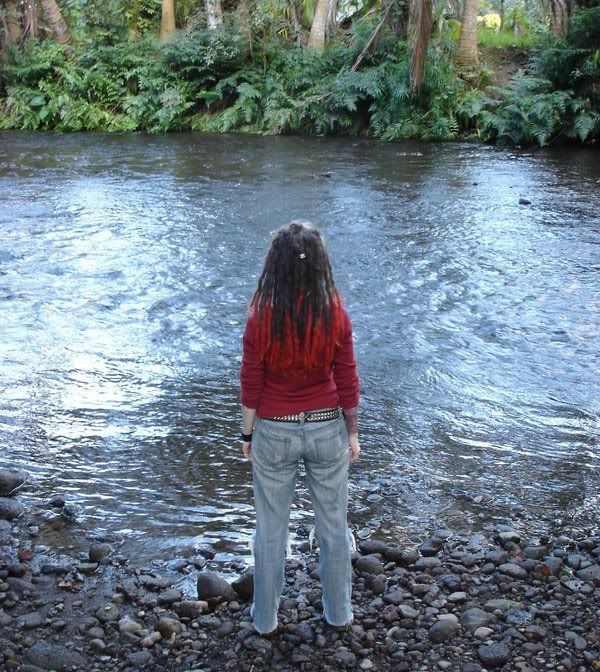 the other two rainbows we saw on this trip: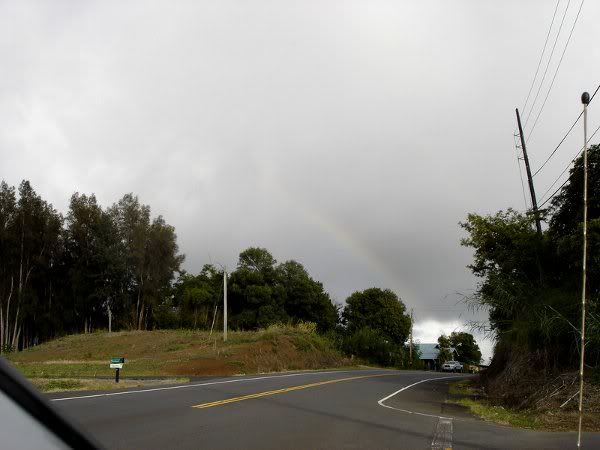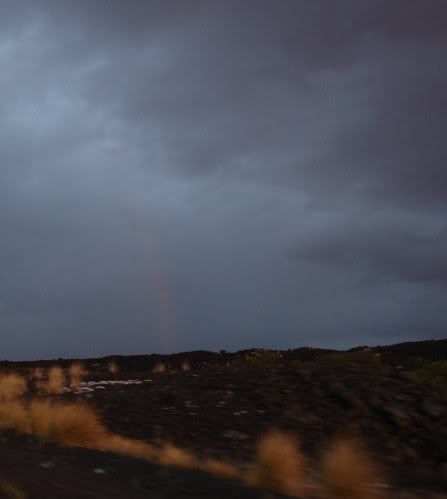 & the tiny carved ojami pony sitting on my finger: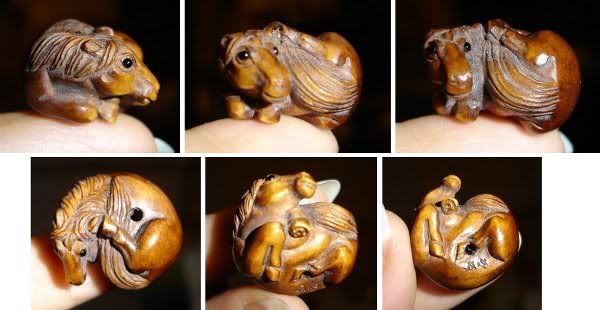 vacation 2009: extended cut

wednesday - still off from work, so i'd scheduled a rubdown with my fucking awesome masseuse. then joe was actually coming with me to see billy joel & elton john at the key arena - i'd been slowly indoctrinating him to joel's music from back when it was really good (ie, in the 70s, as opposed to the cheeseball era [which i enjoy, but understand when others don't] through the wtf "river of dreams" bullshit mostly heard on the radio) by playing some whenever he was a captive audience in my miata. eventually he was making requests for replays & even for a few select mp3s to be sent over to him ("the entertainer", "weekend song"). joe heard about the concert before me, a few weeks ago, & after i picked my jaw up off the floor, i found it was sold out. so i posted to craigslist & scored a $200 pair of tickets for $150. :D

however, we went to the pike for dinner beforehand, & ran into some friends who'd heard bad news - turned out the concert is postponed because elton has e coli from rimming some dude. or from recalled beef, whatever. anyhow, we've all been told to hold our tickets & for a possible reschedule, but our vacation ended there.

now to finish clearing the 4100 spam mails accrued last week, & perhaps even respond to some of these pushy assholes in my inbox.

edit: now with the stuff it took a year to add:

ziplining, awesome:


& snorkeling/underwater dreads pics! these were taken with disposable cameras, hence the low quality.