it was my birthday. :* to those who remembered, .|.. to those who didn't.

joe took the reigns for planning for once, & it was a well-appreciated break after being The Planner for hawaii & silverwood & leavenworth & joe's birthday & pretty much everything we do ever.

he started my day with breakfast at julia's in wallingford, which was fantastic. there were several calls that he left the table to take, but wouldn't hint me. back at the apartment, he cleaned everything up for the party (i knew it was happening but not who was coming) & let me sit on my ass in front of my computer & watch movies & not help. :D i made us some fresh juice while joe bought more stuff, & people started showing up around 5. we ended up with me &
gorthok,
sic737 & katie, sean & mika,
robinhoodvandal &
impatient_hands, joe's best friend jorj who is awesome,
melvillean, &
mrmagus.

the restaurant was just five blocks away, so we were going to walk. it was raining pretty heavily for seattle, & i'd been making palanquin jokes all day. jorj decided to MAKE THIS HAPPEN. he stole a pallet from the grocery store nearby, threaded joe's fire staff & another long pole through it, joe laid a comforter on top of the pallet, & handed me an umbrella. i rode to the restaurant, up the busiest street in capitol hill, on the shoulders of joe, jorj, chris, & robert. yes, there are pictures: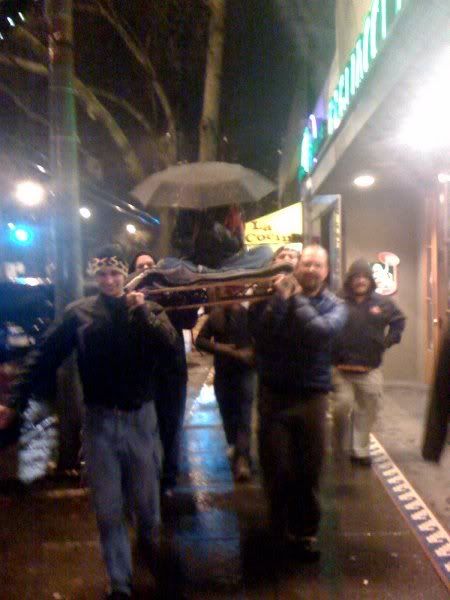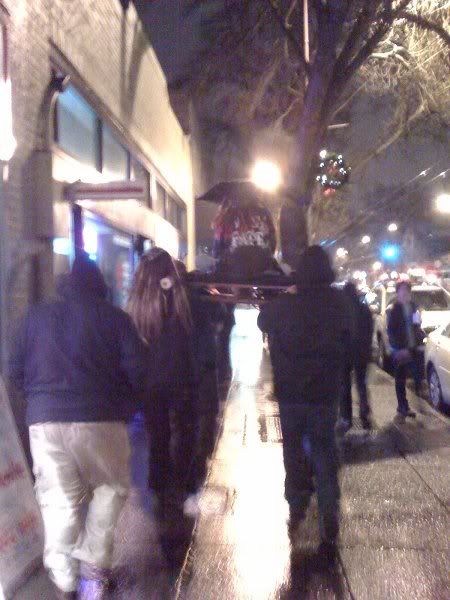 people in cars & restaurants grinned & waved at me, & i repeatedly told passersby, "it's my birthday, i'm not [this much of] an asshole!"

loooove the coastal kitchen & their rockfish with magic sauce. i walked home after dinner - it was scary enough riding uphill on wet pavement; i wasn't about to go downhill.

we went back to our apartment for cake, &
sheeep &
kyleprime showed up. oh, the cake. this is why joe had been taking calls during breakfast. this is why joe was MIA for an hour & a half early that morning. i uh... it's easier to just show the pics. way to go, thok!



my sleeve isn't flowers, but they did guess the correct arm!



brown hair with red tips, haha.



marzipan poonanny:


we then watched a horrible movie which we all snarked (poor marlee matlin), & everyone left happy & full of marzipan.

joe had tried to assemble a present for me which didn't happen, but i still found a bottle of massage oil under my pillow. what makes this an awesome gift, though, is he said i'm allowed to demand a massage any time so long as there's oil left in the bottle. i figure i'll hide the bottle so it never empties. :D he's also going to hand-sew a leather netbook bag for me, so that'll rule pretty hard. (chris already made me his present, & i was glad he didn't bring anything more!)

thanks everyone, i had a great day. & your sore shoulders & backs from carrying my palanquin are the gifts that keep on giving. :D

on sunday i had a hair client who was only in the area for a few days. i'd agreed to see her on my birthday weekend 'cause joe was going to be up a mountain then anyhow. she actually gave me a birthday present! it's a little bronze horse she bought for me in hong kong, how sweet is that. so thanks
bunnikins, you rock too. :D

& a quick followup on the last post, i found the ojami pony a home on top of my monitor. i superglued an old labret stud (minus the ball) to my monitor, then put a small square of fleece over it. tiny pony has a hole through him, so he rests perfectly & securely on the stud.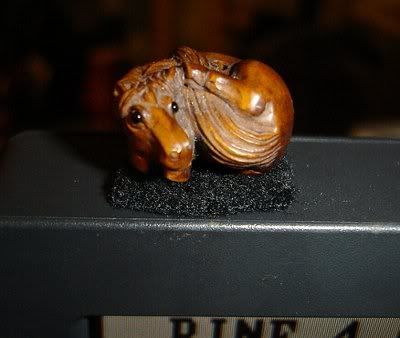 & now, other posts:

reverse pietersite, rock crystal, + a bit of rainbow lab - http://community.livejournal.com/stretched/5226106.html:
i actually wanted to wear my pietersite backwards the other day, but didn't because the 4ga wouldn't match. i'm very silly. so the solution, obviously, was to paint a secondary match for it. :D

i had a second flat-front steel plug, so the matches are identical except for the paint. you can click the link above to see the fronts if you like. as for the new match: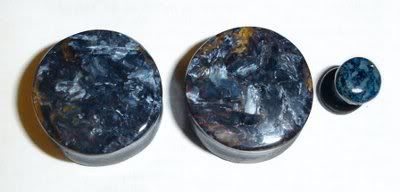 & in-ears this way: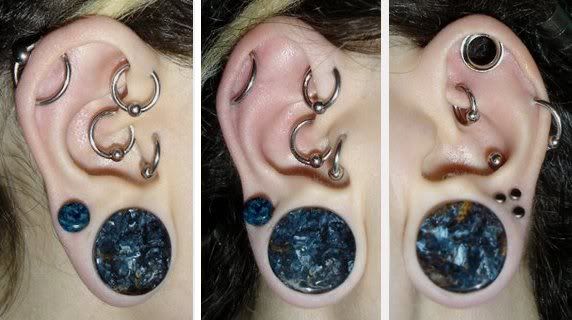 next...

so i bought a set of the rock crystal plugs on baf, requesting the most "fractured" pair. i got one plug that was very interesting, & one that was kind of blah. i was considering trying again for a good match, but it seems most people are getting completely clear plugs, so i decided to fix it myself...

here's the loser plug before: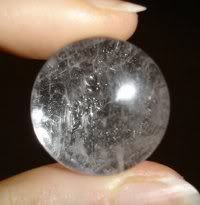 & the pair after i added a bit of paint to the back. the slightly yellowish one is the "real" plug: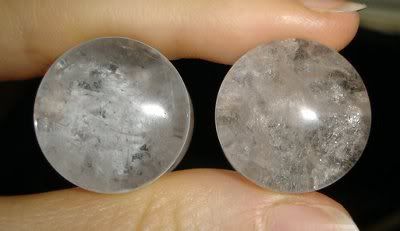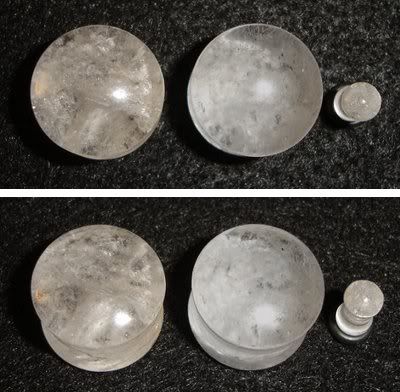 it's not a perfect fix, but i think i did pretty well, all things considered. i added some paint to the 4ga too, & sealed both with clear nailpolish.

in-ears:



& finally, i've found the perfect angles at which to wear my relic rainbow labradorite so they flash brightest from the front! (the blonde is one of my bangs dreads, not a sideburn. heh.)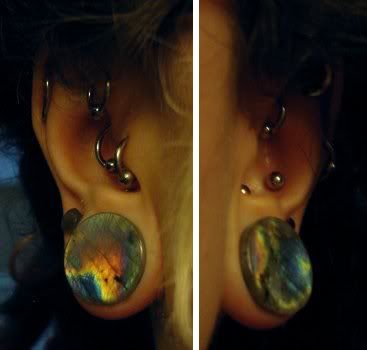 mmmmmmmm enjoy!


plus a fun fake: http://community.livejournal.com/get_up_dread_up/6041640.html
a community game: http://community.livejournal.com/get_up_dread_up/6064623.html
& some joe being totally fucking adorable: http://community.livejournal.com/get_up_dread_up/6053608.html

phew. good weekend.