thanksgiving was delicious. we invited my best friend
sic737 & his girlfriend katie over, & they seasoned & stuffed the game hens while joe & i worked on all the vegetable dishes. joe overstuffed himself like mad, being the only one to finish his hen, but it wasn't too bad since none of us had really eaten all day. like last year, here are our dishes, all made from scratch, with the organic bin parts asterisked:


rock cornish game hens packed under-skin with herbes de provence (including lavender) & filled with corn bread, ciabatta, & desem stuffing

honeycrisp apple* & yam* casserole (with a lovely sauce including freshly made apple juice)

basil* mashed russet potatoes*

glazed cinnamon carrots*

salad mix* with creamy viniagrette

&, of course, cranberry* sauce.


joe focused primarily on the labor intensive casserole (like he did with the crazy squash dish last year) & i worked on the other stuff. no one died.

i also made us some fresh juice spritzers while the hens were roasting. i wrote about the juicer when we first received it, but i apparently haven't said much since. i've used that fucking thing nearly every day & have been making the most amazing juices. i've juiced everything from oranges & apples to lettuce, red chard, peppers, spinach, ginger, garlic, & even onions. i've gotten really good at judging how much produce will make two glasses, & how much sweetness (carrots, melon, citrus) has to go in to offset bitter or unpleasant juices (beets & beet greens, squash, broccoli stems). joe usually chugs his down, but i savor. i mixed in some lime perrier with thanksgiving's batch to fancy things up.

no one cared enough to make real desserts, but joe had made a tasty banana bread earlier in the day, & there were several types of ice cream left over from my birthday. after food, we sat around & played brutal legend all night - i hate jack black, but this game is really pretty funny.

i also had time to finish a project...

mmm gunmetal - http://community.livejournal.com/stretched/5229480.html:
when
abcdefghijkimmi posted some flashy sodalite for sale on gt, i didn't expect to be the first to lay claim to them. i was fascinated a while back when i'd read on leo's site that he had sodalite with a gunmetal shine to it, but i like my pair too much to spend $150 on the same stone. though kimmi's were only 5/8" & would need to be inlaid, her $7 price was a-ok by me.

these 5/8" didn't fit as nicely into the eyelets as the moss agate did, but on the upside they're nice & short. so i basically had to dremel them into a tophat shape, then secure them into the eyelets with silicone.

here are kimmi's original pics, which are high contrast & only show one of them flashing: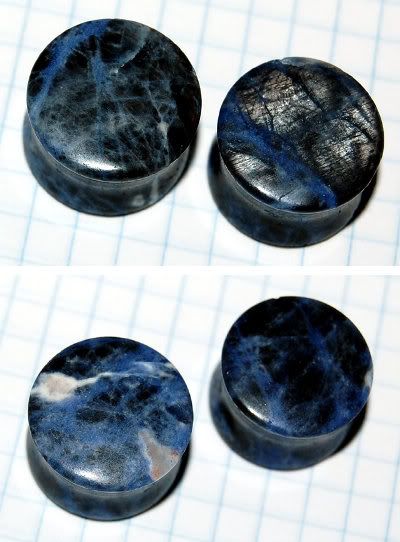 i was pretty stoked to find they both have flash though! it's been a huge challenge taking pics that showcase this; i ended up getting these on an overcast day with a camera flash: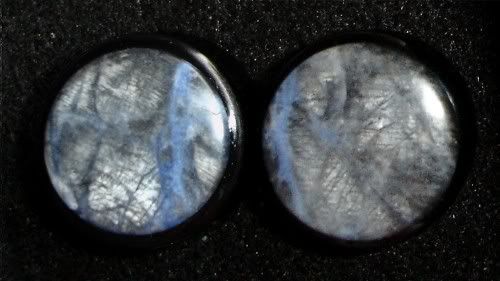 for the match, i bought a string of 6mm sodalite beads on ebay - i usually go 8mm, but figured a smaller bead would match better since the big plugs are inlaid. i noted to the seller that i really only needed one or two flashy beads if possible, but it turns out a good dozen of them had some fire, so i guess flashy sodalite isn't as uncommon as i thought. i dremel'd one in half, & glued it to a black acrylic plug.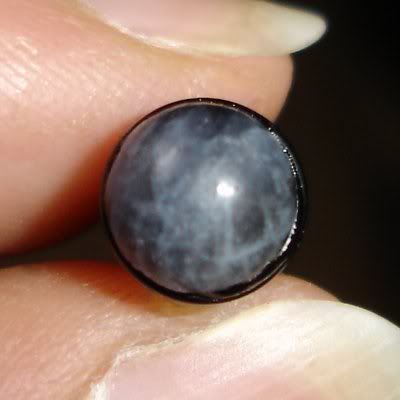 it's even tougher to get a pic of the 4ga flashing, but rest assured that all the gray you see is actually shiny. you can see a bit of it in the above pic.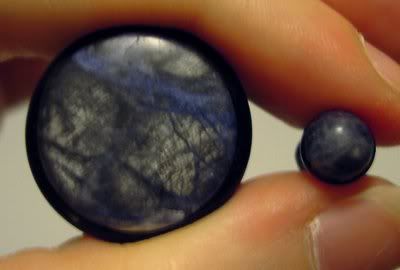 & here's one with flash where you can see their non-flashy colors: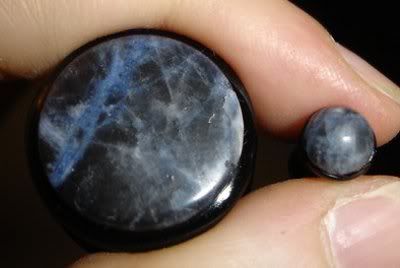 i love that they don't look much like my sodalite anyhow; these are much more gray with just a couple streaks of blue. so here are the in-ears, first with 7394723 light sources to make them shine: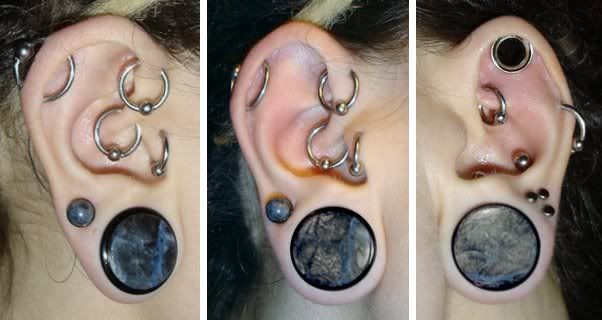 & a second set with just a regular camera flash: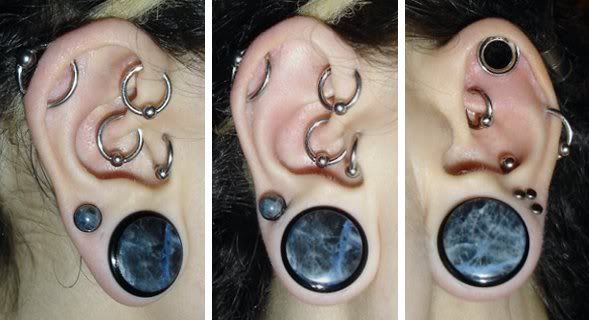 enjoy - i know i will!


so last weekend, we went to leavenworth. we took chris & katie with us to make it more fun & less dumb. there isn't a whole lot to note other than it was a great weekend & we saw the stupid xmas tree lighting... but oh man, we totally ate at king ludwig's for some serious german food. we had the family style platter, & holy hell it was good. as per their website: schweinshax'n (rotisseried broiled pork hock), chicken munich style (half a rotisseried chicken), two schweine schnitzel (breaded, pan fried pork cutlet), and two sausages, with bavarian potato salad, winekraut, rotkraut (red cabbage) and spätzle. all four of us ate our fill & still EACH had a decent meal left over for lunch.

the other point of note was the great b&b we stayed at, autumn pond. our room had this enormous tub where joe & i spent a good two hours, but you know it's breakfast that most won me over. we were served eggs scrambled with poblano & red peppers, thick-assed bacon chunks, & a couple of cheeses (jack & something) for the cheese-eaters; a hunk of kielbasa with a raspberry-chipotle glaze; sliced avocado with cilantro & lime chutney; fresh fruit (watermelon, pineapple, orange, honeydew, & a sliced strawberry); a huge slab of buttered & perfectly toasted italian bread; & passionfruit-mango-pineapple-orange-strawberry juice which was quite busy but very good. after breakfast we were also presented with individual apple crisps with oatmeal topping, loaded on with homemade whipped cream & drizzled with caramel. omg.

so our trips are done for the year; now it's just waiting for vacation to kick back in so i can fucking relax for a while. sort of, that is - i already have a bunch of hair clients booked for the break, heh.

ok, that's more than enough text for you, so i leave you with these, which fucking rule: http://kevinandamanda.com/fonts/fontsforpeas/