we've had a lovely vacation so far. for xmas i got up early to spend hours photographing the new
luciferins colors i just released, then made celery-pear juice (one of my favorites). midday, joe & i cooked. no major menu, but he did pick up a fifteen pound, free-range, organic hippie turkey which we roasted with rosemary, sage, fresh thyme & garlic under its skin, & filled with a sort of offhanded, recipeless celery, pearl onion, & mushroom stuffing. (it was set to include pomegranate seeds, but we totally forgot.) i also made an enormous pot of russet/carnival/delicata squashtatoes, & of course had homemade cranberry sauce with it. we then ate & watched a fucking incredible movie, "eating out: all you can eat". (don't watch it if you live near me & i like you, because it's totally showing at my next movie night.) the freezer is now stocked with sandwich-sized foil packets of delicious turkey which joe painstakingly stripped from the bones.

so on to OUR ANNIVERSARY. it's anniversary round three, & full_week+_off_work_together round four. joe & i don't do xmas presents, but we definitely do anniversary presents. in the past he's taken me to a bed & breakfast & to uber-fancy dinner, but he opted to start torturing me this year as i have him. i guess his latest birthday inspired him to new ends, as he'd displayed my present, wrapped, out on top of the tv for several days. i, of course, had immediately wrapped & displayed his similarly. he gave me permission to sniff his; i allowed him to listen to mine; & we each gave each other one instance of hefting.

early on the 26th we went & saw avatar in imax 3d. best movie of the year & we're going again this week. after that we went back to union. we split an appetizer of potato gnocchi with stewed rabbit (the gnocchi were fantastic but looked uh... interesting. i therefore told the waiter, "the larvae were delicious," which he laughed at), then joe ordered the medium-rare duck breast with roasted chesnuts & golden raisins; i had pork cheeks with brussels sprouts, miniature carrots, & parsnip puree. looooove their brussels sprouts, they're tiny & totally sweet like they should be.

the bus took forever to get us home, but then it was time. as mine for him was more of a to-do, he went first. the long, side-heavy box ended up being a bottle of cologne - totally outside either of our comfort zones, as i've NEVER worn perfume. however, it's a scent that i like & have complimented on a girl we both know, & joe said it "turns his head" every time he catches it on the air, so we'll see if it does the same thing to him on me.

as for my present to him...

about four years ago, joe's first suspension was filmed for a british documentary on body modification. he never had a chance to see the result, but figured they didn't use much of his footage because he didn't do anything "spectacular" - just went up, hung, didn't want to be swung around, & came back down.

in early october of this year, i received an email from my friend
icemem: Does Joe happen to be in a film called The Human Canvas? One of my best friends here in town (an artist who deals with extremes of body image) has been showing it to her friends all over the place for the last year and I've only just found out about it, if he is, that would be a -really- weird coincidence.

of course i knew immediately what that was, & jumped on him to send me a copy. he didn't have to - it's on YOUTUBE. & it was put there by the guy who actually made the documentary. so i emailed him via youtube, & he was happy to send a real copy, albeit in PAL.

unfortunately, i couldn't convert the PAL dvd in my computer or any of
sic737's, & it also wouldn't play in my "i will play all of your burns & avis & mpgs & even some movs, & also i have proven my ability to play PAL before" philips dvd player either, so i ended up ripping the youtube version & burning that to a disc that even our sony dvd player likes. it looks decent enough, & i figured i'd give him the PAL disc too, & he can try his compudork friends' computers.

so i made him fetch his present from the tv & unwrap several layers of bullshit to get to it. i had wrapped the dvd itself, then stuck it in a magazine & wrapped that, then shoved the magazine into airpack bubbles & wrapped that, then stuffed the whole mess into a box & wrapped THAT. (it was very cute when he thought the magazine was some sort of fancy book from italy because there was a dior ad on the back.) the disc i burned just said "happy third anniversary" or some shit, so even when his present was in his hands he didn't know what it was.

he didn't identify it immediately either, thinking i just got him some bodymod documentary... until he started to recognize the voiceover. he asked, "you found it?" a bit incredulously. i nodded & forwarded to his part, which is a full 7-8 minutes or so & even spans a commercial break. it was pretty great to watch him watch himself - especially since he's lamented often that he barely has any recordings of his hook work - just one pic of his faceframe (five facial hooks tied to a huge picture frame) & some poor non-flash stuff i & others have taken.

so it's sort of funny - i'd initially allowed him to listen to my present, which he eventually did; he had let me sniff his, which made sense at the end. anyhow, here's the youtube link for the documentary. joe's part starts around 40 minutes for anyone interested in seeing spacey, freshly-hung thok.

& just like last year, i also compiled another montage of webcam shots of us. again, edited for public consumption; again, they're all pretty well worksafe. :)




& a bit of jewelry:
dichro pron x3 + one other simple match - http://community.livejournal.com/stretched/5237561.html:
dichro pron #1: bill fucking rules. the SUPER CRAZY SO RED trans dichro jewels got dinged in an unfortunate windowsill incident & i sent them to bill to repair.

shit, he's good. i just asked him to match the flares as closely as he could. i'm not sure anyone would know that these were ever remelted.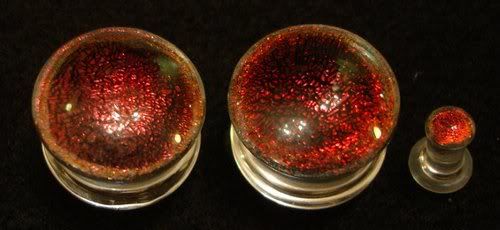 oh, did you want to see them larger?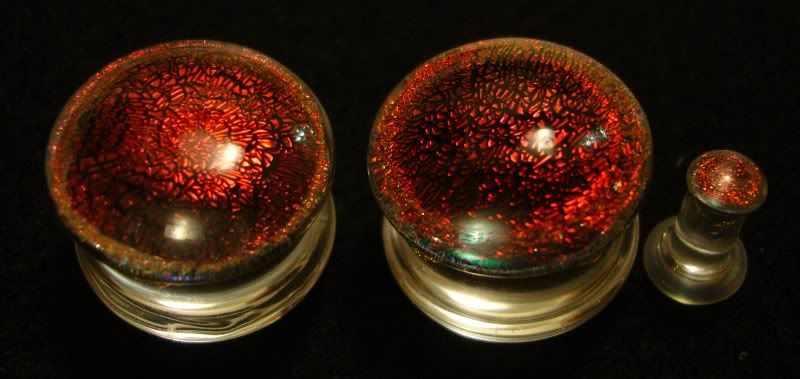 here's a backwards shot of all three: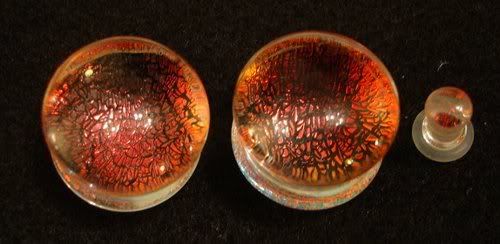 bottom line, now i don't think it was an unfortunate incident at all! don't ask about the meh-red trans they're replacing, though - they're already sold. ;)

dichro pron #2: i finally got some decent pics of a simple new glass match i made recently - i'd been wearing a white colorfront with my IS blue opal dichro plugs, but then realized i had an extra 4ga IS blue trans... one 99 cent bottle of white nailpolish later, & a proper match is made. :D it's really very difficult to shoot these though.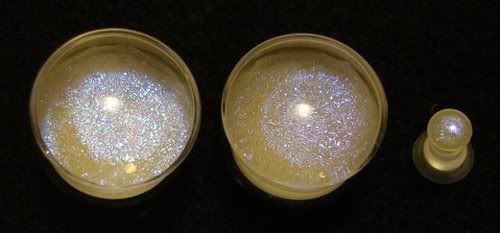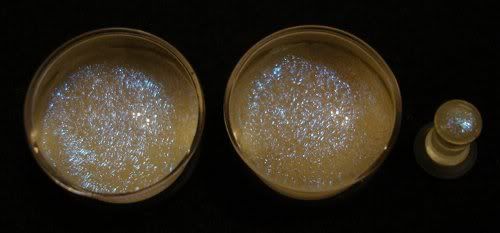 dichro pron #3: i once again remade my spiral match with a 4ga IS red dichro i bought on gt. the last one was weird on the big gws ball flare. no in-ears, but here's a lovely little group shot: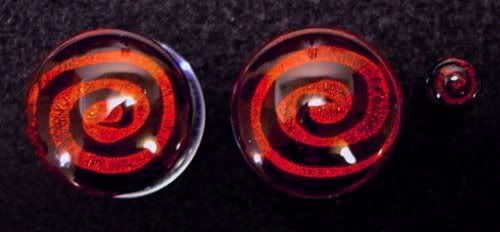 & a close-up: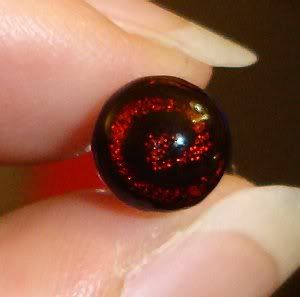 i also bought a match for the weird meaty-lookin' plugs i bought from
gwenzillaa. turns out they're just dyed howlite, but it certainly is a prettier dye job than any other howlite i've seen. (i had to dremel down the back flare a bit on the 4ga; why the hell are small gauge stone flares always so massive? howlite is very easy to carve, though.)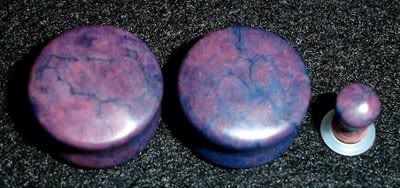 & the in-ears: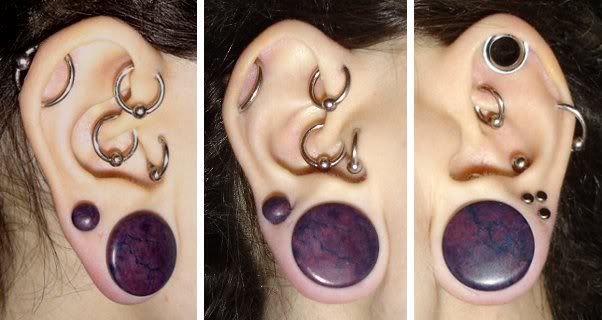 enjoy!

bringing the light - http://community.livejournal.com/stretched/5256971.html:
oh hey, no one's seen large on-white luciferins before. or tiny ones, for that matter!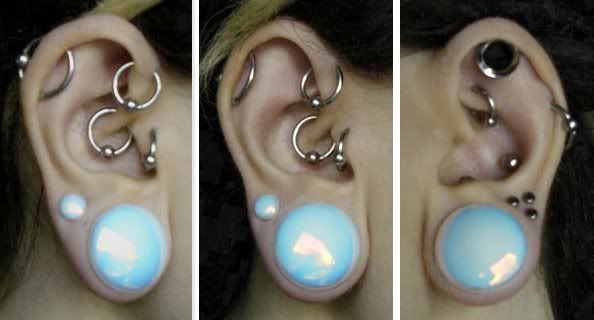 the pics are a bit grainy due to the lack of sunshine today, but here are 3/4" & 4ga DF red on white
luciferins. :)

& a soupcon of linkage for those obsessed with my hair:
http://community.livejournal.com/get_up_dread_up/6109801.html
http://community.livejournal.com/get_up_dread_up/6116652.html
http://community.livejournal.com/get_up_dread_up/6128669.html

also please everyone play this: http://vimeo.com/8338091

next up: spending all day working on two hair clients.