the chick-fil-a trip referenced in the last post did go off... the second time. what?

so SEVEN of us, in two cars, drove up a few weeks ago. we had
melvillean,
robinhoodvandal &
impatient_hands, their friend maia whose name we can never remember & end up calling "mumra" or "moira" or "moesha", me &
gorthok, & joe's work buddy christopher. we were delayed by about two hours leaving because of horrid traffic in town & on the way out, but made it there in time. in time, that is, to find that despite having called in advance to tell them exactly when we'd be up, they were CLOSED. FOR. SPRING. BREAK. fuck youuuuuuuuuuuuuu. we didn't know this chick-fil-a, the only one in all of washington, was actually inside western washington university. we ended up driving home VERY hungry, all snippy at one another because everyone had low blood sugar, & joe lost a piece of nostril jewelry at a QFC (even sweeping the parking lot didn't discover it). we finally ate at red mill, which was still pretty delicious, but it was no chick-fil-a forbidden rarity treat.

i was pissed, had spent $18 in gas for the car (it was my trip, so i paid for our car - andrew paid the gas on his car), & had no delicious chick-fil-a for my efforts. so i did what i always do - i bitched. i wrote to corporate basically saying what we were told, what actually happened, what we spent trying to get there, & that my suggested resolution was 10 free sandwich vouchers for me & my friends. corporate replied with the contact info for the specific location, & also forwarded my mail. a day later i got a very nice response from nicole, the GM of the WWU branch, saying she'd love to send us ten $8 coupons for food.

we were down to six on the new trip since jenna bailed like a loser, but got there with little difficulty & no traffic. not only was chick-fil-a awesome & everything we could want, but several of us took some home, too. (james & i were the only non-virgins to the deliciousness.) as andrew & i were the ones who'd paid all the gas both times, i split the extra coupons with him, & i ended up paying $2 for four sandwiches, a box of nuggets, a large lemonade & a packet of fries. (i totally looked like a bulemic with my giant overloaded tray, but ate only half the fries, half a sandwich, & some lemonade. the rest is currently split between my fridge & freezer. that's right, thaw-&-serve chick-fil-a. mmmmmmm.)

on the way home, we encountered a carnival up by tulalip, & several of us spent fifteen bucks each on ride tickets. could this day have gone any more exponentially better than the last time? obviously the absence of
robinhoodvandal makes things BETTER! (just kidding jenna we<3yew or some shit.)

in other news, i worked on something new & non-jewelry with resin this month which is going to be a small yet (i think) spectacularly effective present for someone. what someone? not
gorthok & not me, & that's all i'm saying. :D

i've also been working on finally finishing my ribpiece this month. it's been at 80% completion since 2005. oh hey, tattoos still hurt! you know, in case you were wondering. ok, anyone deserving of pics can ask.

speaking of pics, i played two april fools' pranks this year. here's the first:
subject: lish needs design assistance
my ears have pretty much looked like this, give or take some stretching, for over a decade now. it's time for something serious. in other words: lj-cut text="big changes coming..." HAE YOU GUYS I'M REDOING MY EARS WHICH OF THESE TOTALLY ORIGINAL DESIGNS DO YOU THINK WOULD LOOK BEST

DO YOU LIKE THIS IDEA WITH THE COOL HELIX SPINAL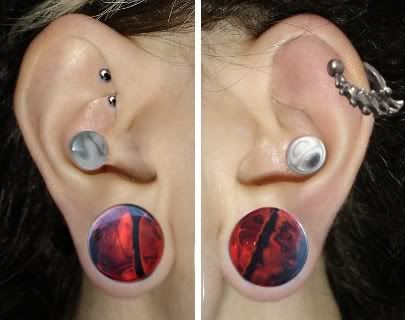 OR HOW ABOUT THIS WITH THE DOUBLE DOUBLES??? THIS IS MY DESIGN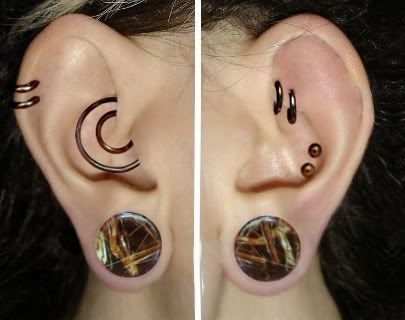 THIS WOULD BE FUN, I COULD HAVE SO MUCH JEWELRY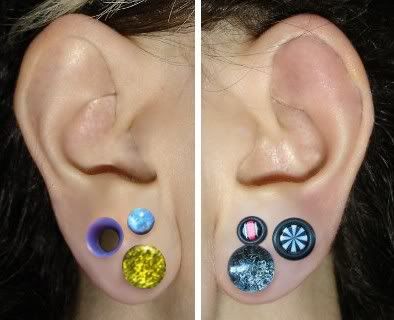 PERHAPS I SHOULD GET LIKE A DOZEN PUNCHES, HEY I PAID $150 FOR THESE TRISKS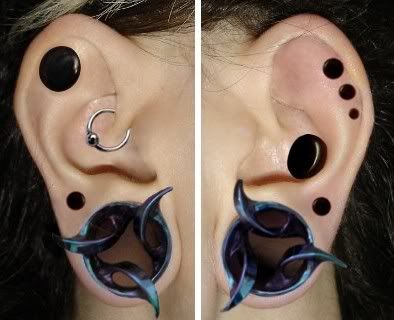 OR MAYBE I'LL JUST GO HUGE HUH, I COULD DO THIS IN 5 WEEKS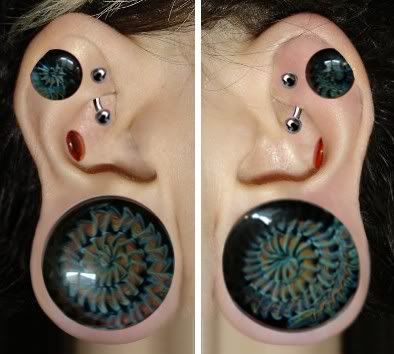 THANKS IN ADVANCE FOR YOUR MANY COMMENTS, YOUR OPINIONS MATTER

:D :D :D :D :D

source material - THANKS IN ADVANCE FOR THE COPYRIGHT INFRINGEMENTS!!! OH WAIT PARODY IS FAIR PLAY, HAHA SUCK IT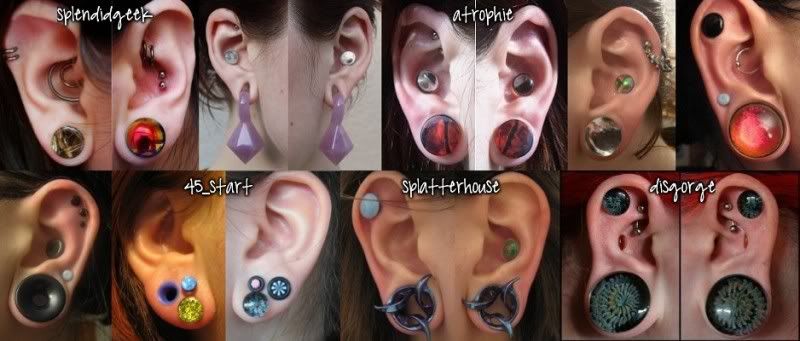 here's the original pic i used of my ears: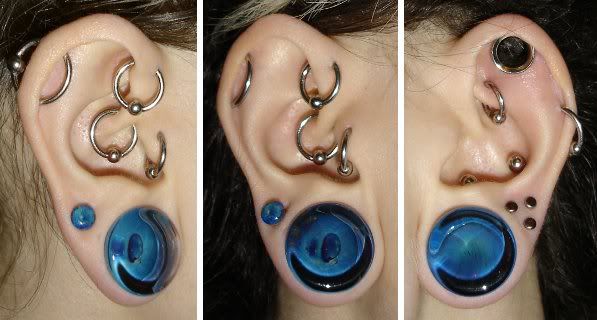 & here's the super weird blanked out pic if you want to merge your ears with mine. :D POST YOUR MONSTROSITY IN THE COMMENTS KTHX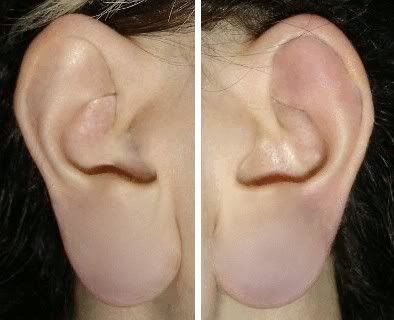 happy april fools' day :D :D

& the second:
subject: a combined eight & a half years of dreads...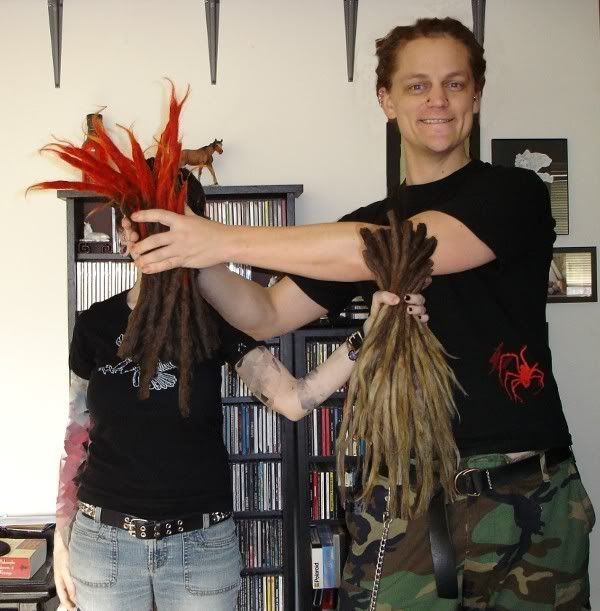 lj-cut text: HUGE timelines, never before seen pics, and an explanation...
APRIL FOOLS'!
of course we didn't cut our dreads off! how could you think such a thing?!@! PHOTOS LIE!@!#!@ don't you remember i've played this game before?!??!?

here are the constituent pics as proof we're still gleefully dreaded together:



joe held my dreads a bit too low, so i had to make myself shorter in the composite pic - this is my real height. :)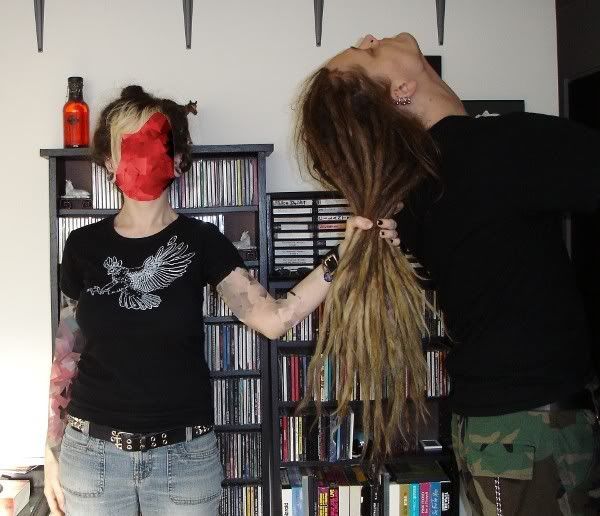 happy april first, everybody. :D :D

(& later i also posted this outtake. :D )

before i get to the usual array of eye candy, someone should explain these to me.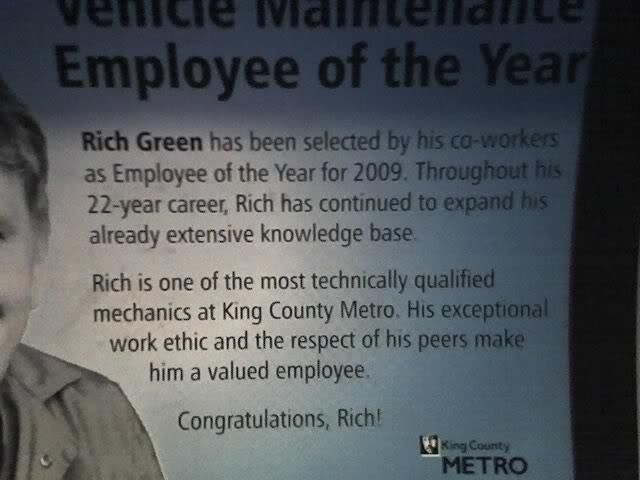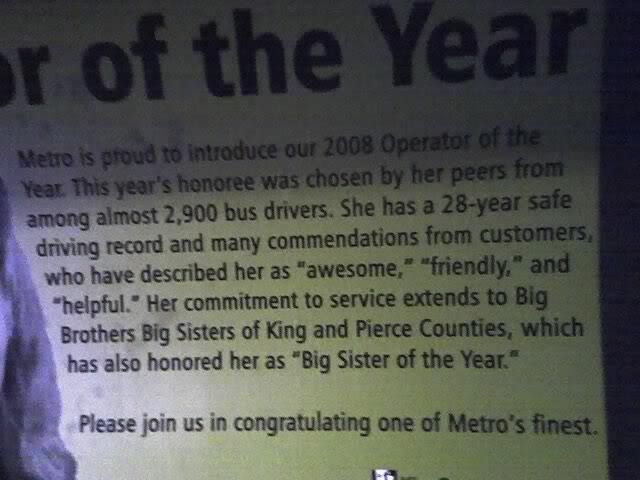 they're both camphone pics i took on a local bus, & both have a big picture of a person to the left. one has his name written to the left as well. can you tell me what the fuck the deal is?

now, to the jewelry posts:

apj for ld - http://community.livejournal.com/stretched/5342993.html:
so after The Drama, i decided to just keep the IS amber-purple jewels instead of putting them back up for re-auction. i'd found myself looking at them several times while waiting for oobug to pay, & since i figured out the perfect way to make a jewel match, well... let's just say i wasn't exactly heartbroken that she didn't follow-through.

for the big plugs, i wanted to assert the swirliness & kill the translucency (e.g., here's the 7/8" pair i sold, backlit - they turn a not-unattractive but boring reddish tea color), so i painted them with a few coats of white nailpolish first, then black, & sealed with clear. here are the pics from the original auction: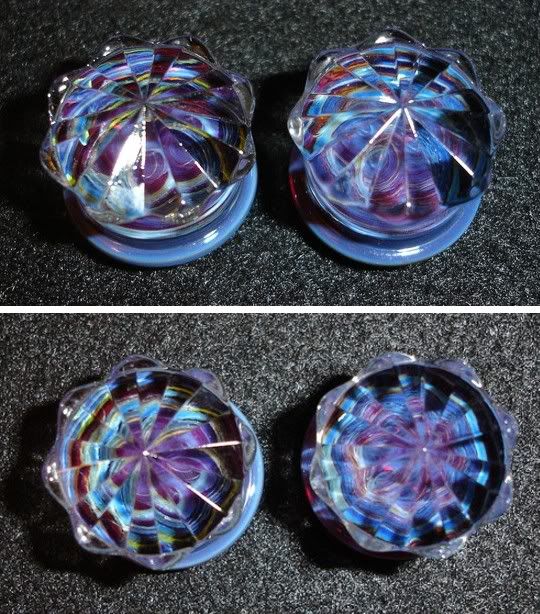 i had a couple spare 4ga DF glass plugs from the latest
luciferins preorder, & i used a clear one for this match. i painted it with a bit of acrylic, then worked it into the resin casting cup same as before. i was going to use a real a-p plug, but i figured trying to match them with paint would come out better than trying to see actual a-p swirls through the length of the plug *&* a resin cap, if it even matched at all. so i did it up the same way bill does small versus large dichro - i put all the 'information' in the front. here's the painted plug before being capped: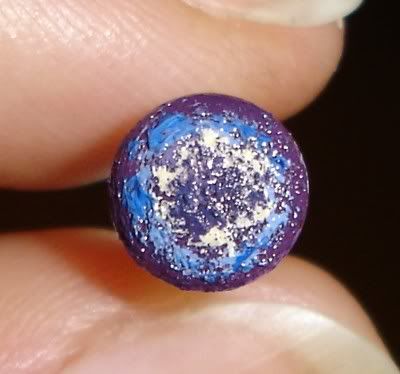 i figured it'd be better to have it come out too bright rather than too dark, & it did... but a bit of homebrew gray nailpolish (combined drops of black & clear until i got the right shade) fixed it right up.




& the "right" plug next to its match: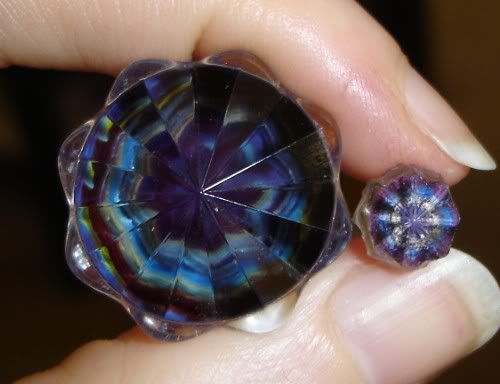 full in-ears: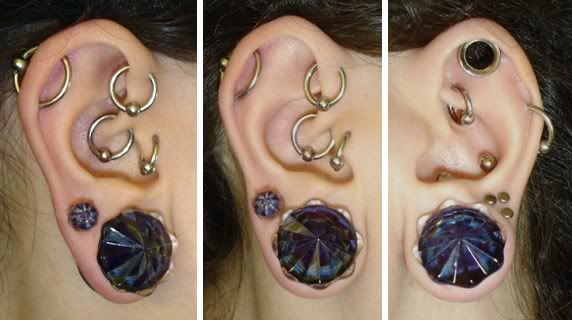 they're somewhat less exciting than the rainbow dichro jewels, but i do like them. they'll do best on a sunny day outside, which seattle is scheduled for tomorrow! :D



picasso marble - http://community.livejournal.com/stretched/5351233.html:
i've been wanting some picasso marble since it first showed up as "bakerit snowstone", which is a more interesting yet completely bogus name. the black & gray streaked pairs are the nicest imo (like
atrophie's pair - leftmost in this pic, & in-ear), but it's such a crapshoot trying to get that. & all of the examples & the customer pics on BAF's page are lame. however, there's now some on wildcat where all the examples are that black-on-gray, so i snagged a pair.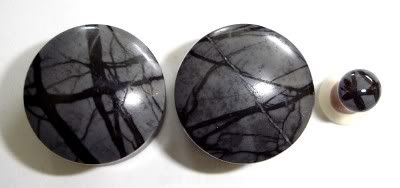 the match is obviously a simple one - i blended nailpolishes to get the proper gray, then painted black lines across it, & clearcoat to smooth.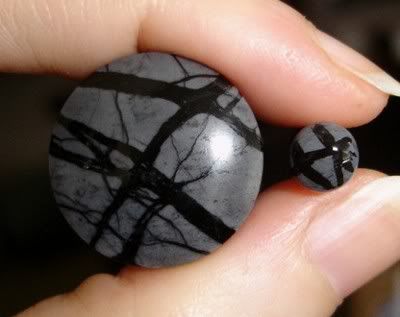 in-ears: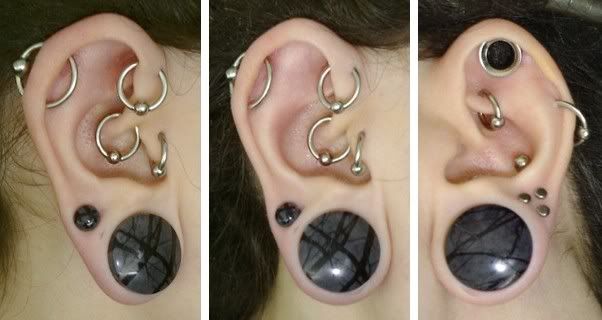 amusingly, i discovered while taking the pics that these plugs almost perfectly match my second favorite shirt, which i happen to be wearing today. :D

enjoy.


dichroooo - http://community.livejournal.com/stretched/5364635.html:
tonight i took some shots of the FF copper sparkle dichro on light cobalt that i bought from
splatterhouse!

this jpeg is cropped together from bill's pics, & it's totally accurate for what these plugs do as the angle changes. it's so impressive how they go from penny to lime to emerald; you'd never think dichro could shift like that!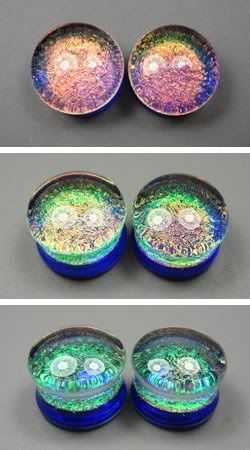 it's kind of impossible to take accurate in-ears, but rest assured they act as shown above. & i have no idea how splat got her weird yellow pics, 'cause they don't turn that awful color at ALL. :D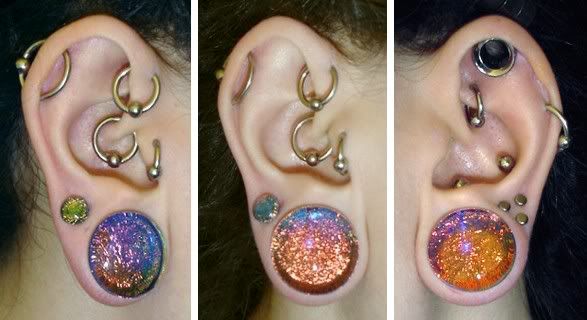 the match isn't great on these because it wasn't made at the same time, & bill explained that this particular dichro varies a LOT. but shrug, it still color-changes, even if it doesn't color change exactly the same as the big plugs, so i'm happy enough.

& more importantly: do you guys remember when
readysteadystop & i weren't friends? BANISH THE THOUGHT, 'cause our skies will never be gray again. :D suffice it to say, it's all because of her that i am the happy owner of a 4ga DF IS red crystal dichro match for my 3/4" pair. & i mean ALL because of her - i didn't ask for it, i didn't know it was coming, & it seriously made my day to receive this perfect little plug out of nowhere.

this is a much better match than the regular red i was using before; despite looking okay in the linked pic, in most light the 4ga was way too cherry to the 3/4"'s truer red. looooove the new one. :D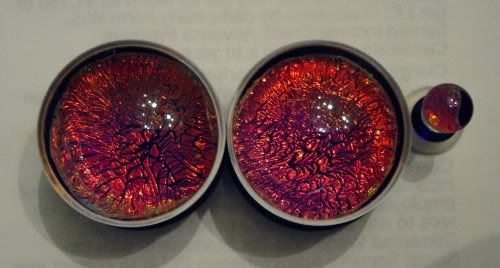 new in-ears: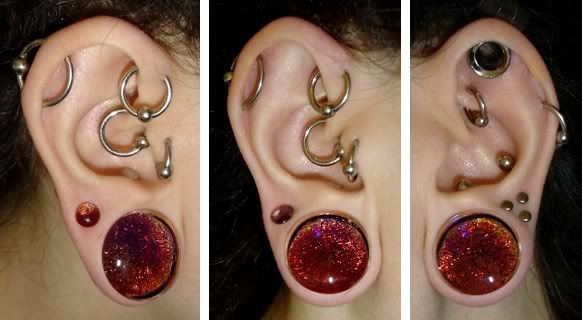 & a close-up on the perfect 4ga: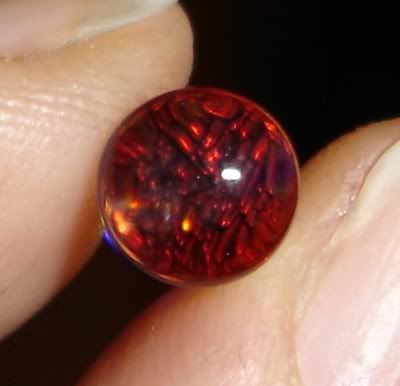 thanks again rss! you are whitewhite-level awesome. :D

enjoy!


earths! - http://community.livejournal.com/stretched/5365564.html:
i bought
ricaboo's earth plugs, & they're lovely! with my other planets, i had to have bill enlarge the front flares (by shortening the wearable, which was decently oversized), but these were properly sized to begin with. & i didn't realize from the sale pics that they're also VERY well matched - not disturbingly perfectly matched like my mars, but they're quite close, & mirrored!

see?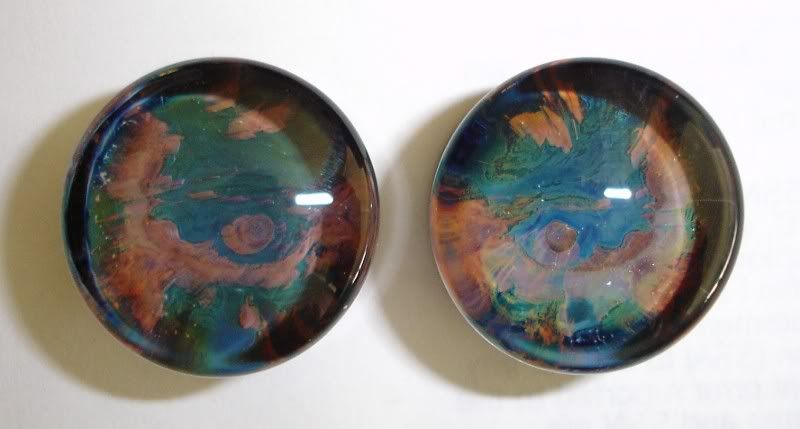 i painted the match as soon as they arrived - once again, acrylic paint on glass, sealed & smoothed with multiple coats of clear nailpolish.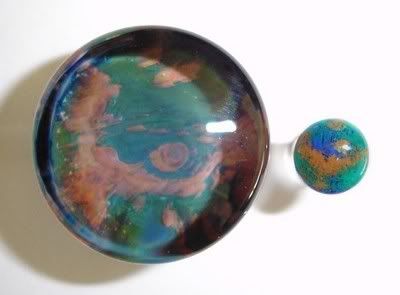 in-ears: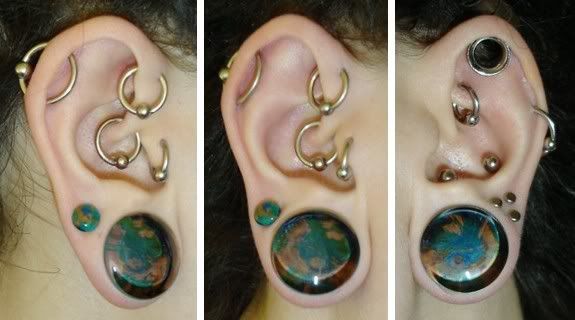 it was
splatterhouse's doing that i started liking earth plugs more - they seemed much too hippie-dippie-dipshit to me at first, but then she pointed out that wearing earths in my ears is like claiming my control over said puny planet. i can run with that! :D

& a hair post. enjoy.