joe's away this weekend, like he usually is away on memorial day weekend. best boyfriend award: he made himself a bunch of foil packet dinners to stick in firepits, & left one for me in the fridge with oven instructions. he always makes sure i'm fed. <3

i've been avoiding writing about peter steele's death last month, which even inspired a post from joe, but i promised some folks i'd tell this story, so i will:

in philly, in ...1995 (i had to actually pull out my pile of ticket stubs), i saw type o negative play at the trocadero. their performance was incredible, of course. since this was the troc & you could do things like this at the troc, we elected to hang around out back after the show to try to meet the band. it was november first, & starting to get pretty cold. our coats had all been left in the car, as this was before smart things like coat checks came into being at venues.

we didn't have to wait long before an enormous viking came outside to touch us & sign our shit. it was peter: gorgeous & immense. i waited my turn, & then my hand was fully enveloped in his giant paw. i handed him my softcover "bloody kisses" album insert to sign. he did so, then started to hand it back to me - paused, & looked me up & down. recall i'm 5'2 (which is 16-18" shorter than pete, depending on your source), barely a hundred pounds now & was a steady ninety-five then, no jacket, still a bit sweaty from the show, & shivering. as he handed back the insert, he said, verbatim, "you should put on a jacket before you catch pneumonia." i'm pretty sure i replied, "thanks."

peter steele cared whether i lived or died. over the years, i've told that story a lot of times & have always enjoyed it. i care if he lived or died, too. RIP pete.

ok hey, so in brighter news, we booked a trip to maui. i thought maybe we'd go somewhere out of the US this year, but joe & i both kept reminiscing so fondly about the big island that we decided a second was in order. another five nights around the same timeframe as before, & i'm STOKED. we are also flirting with visiting chicago this year.

pretty distractions ahead.

blue luciferins! - http://community.livejournal.com/stretched/5376239.html:
the first in-ears of the new batch...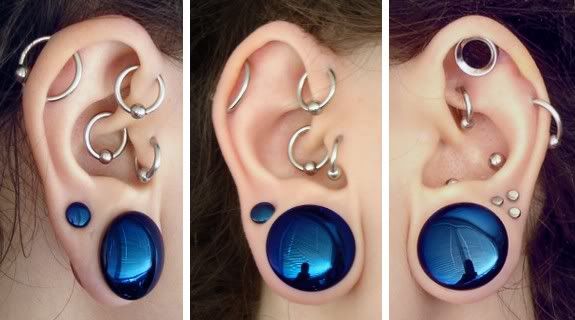 blue on cobalt
luciferins. my favorite of the new colors. :)



POWER PLUGS HELO - http://community.livejournal.com/stretched/5383501.html:
i've gone power plug crazy recently! four pairs have arrived to me - two from
sozepiggytails, & a pair each from
blurry_static &
heartcoffee.

blurry traded me her famous free bin red/black power plugs. they were in the free bin due to a small chip & a bubble in the back, which i corrected by wet sanding with my dremel's diamond tools. (i used to do this same thing on $100k sculptures as a day job, haha.) they're a poor match together, but i really like both plugs individually. they're also a very different shade of red from my other r/b pair - these are much brighter.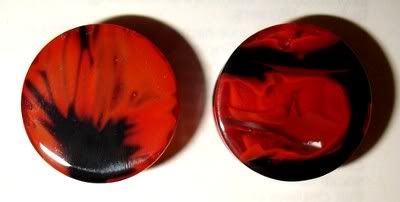 they look like a decent match in pics, but one plug is flat whereas the other is more 3D. i'm okay with this.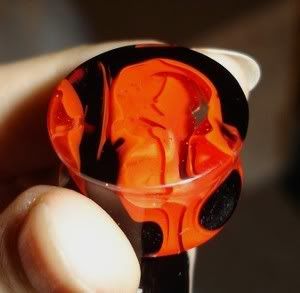 for the 4ga, i covered one of
ayanamisama's ugly purple colorfronts with black nailpolish, then laid down acrylic paint which i gently scraped off into the proper design. a few coats of clear & i have a tiny duplicate: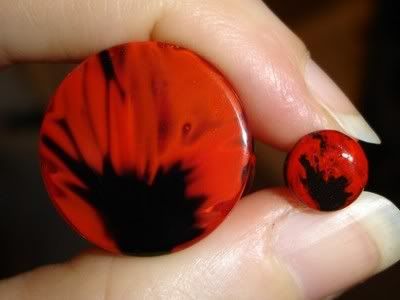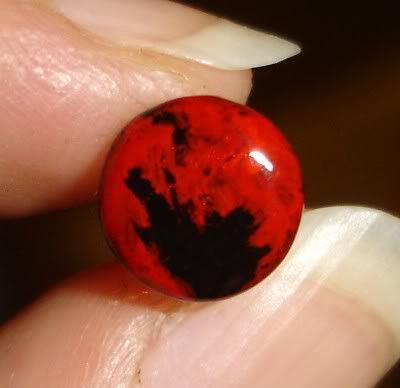 in-ears: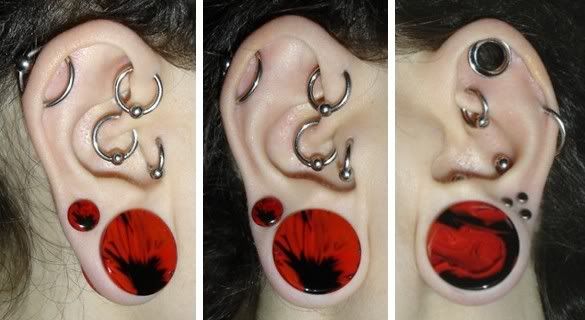 next, coffee let me bargain her down a bit on her discontinued purple power plugs. i'm not much for purple - it feels like a watered down, immature red - but since the plugs are translucent, they had enough possibilities for me to snag them. i had two ideas in mind - to paint the backs silver &/or to paint the fronts red. red/silver power plugs? who's interested?

well, i tried a couple things, but the purple is just too dark in-ear to work with. i don't know if i'll keep them or not.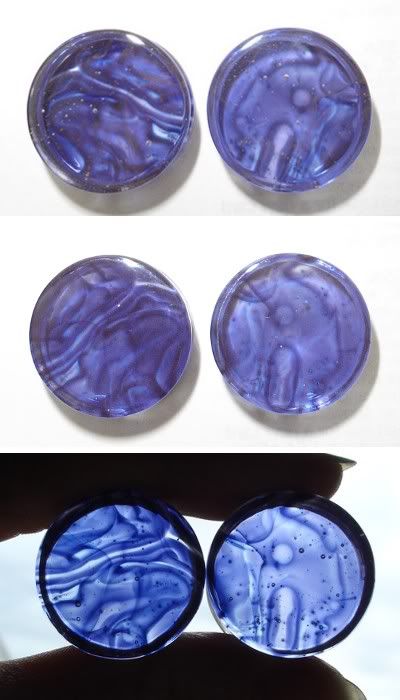 & soze gave me a great price on two pairs - a totally different red/black set (purchased before blurry put hers up) & a pair of new serpentinas!

the r/b are very different from the other two pairs & are a great match, but i'm not sure i'll be keeping them either. i wanted a pair that looks deep & 3D, but these might be a bit too... uterine for me. i might sell them & buy another pair on BAF in time. thus, no in-ears, but here are both sides: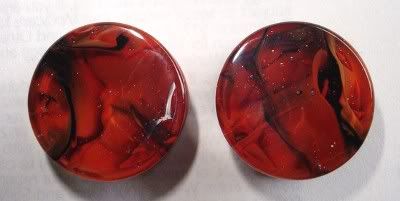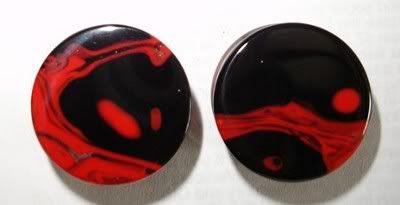 as for the serpentinas... ages ago, i owned a pair of jason's early serps - way beyond my size then at 15/16" - & i've been trying to find a similar pair since. i've owned serps from
lilitha, steel navel, & braindrops, & have resold all three pairs because they're just not as exciting. i mean, look at these things: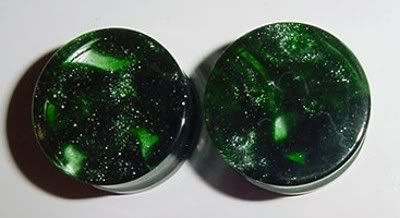 they're sparkly & deep & full of motion & delicious. had i known at the time, i would've kept them & had them resized... but i THINK maybe my new pair is it. they're tough as shit to photograph, but you can get an idea. the "right ear" plug, pictured camera left, is particularly 3D, but hell if i could capture that in pics.




& what i'm calling the "backs":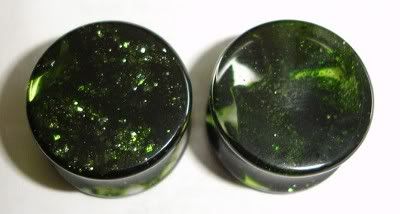 i haven't come up with a match yet, though i have ideas, so no in-ears for now. i'm wearing them today, & so far they feel pretty good.

while i was going CRAZY over here, i also remade the match for my #1 favorite red/black pair. why? 'cause i could! & 'cause i'm insane. but mostly because it was one of my first matches & my skills have improved dramatically since then. hell, i had painted it on the BACK of a black colorfront thinking i'd wear it the other way around with black jewelry. i didn't realize then that i'd end up with a 4ga match for every pair i own, haha.

this was the old match. & here's the new: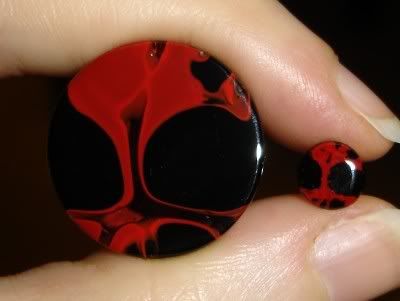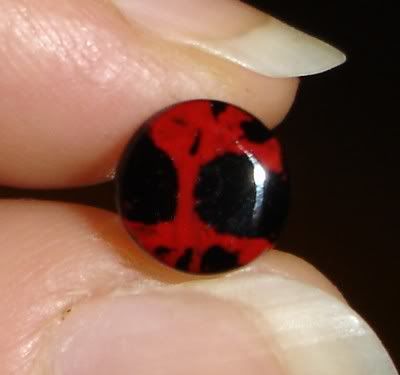 new in-ears: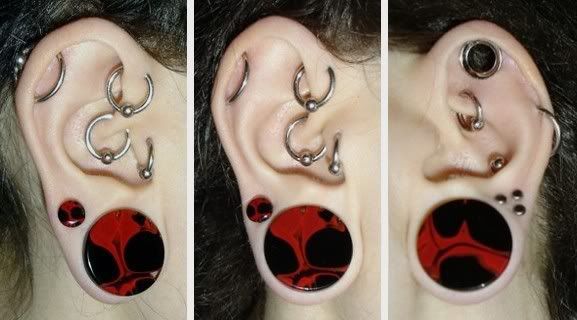 i considered making the 4ga match the left plug in each of the r/b sets, because it would tie the pairs together more, & also because matching the same plug in two holes makes them feel a bit manufactured... but really, you guys are the only ones who even notice my 4gas on a regular basis. anyone who's noticed them offline has always inquired, & then it's fun to point out that i painted the match. :)

happy saturday. enjoy!


drusy! - http://community.livejournal.com/stretched/5395334.html:
i presumed drusy was one of those things i'd have to see in person to appreciate, & i almost bought some off BAF a couple times. i've never seen it offered at my size (other than by pricey commission), but i kept watching
gaugetrade figuring i could snag some cheap & inlay it if i liked it.

there are many different kinds of drusy crystals, & titanium-coated drusy is apparently the most common for body jewelry. i took a 1/2" pair for thirteen bucks, & i sort of liked them - only "sort of" because the titanium coating makes the stone look cheap & fake, not nearly as exciting as i expected. but i hung onto the pair for a couple weeks to see if i could look at them without expectation, & i came around. when
ayanamisama mentioned a pair of 4ga drusy for sale, i said fuck it, bought hers, & decided to inlay the 1/2".

i took an extra pair of black horn eyelets i never wear (mostly because the walls were too thick for my spinal captives to fit through) & used a dremel sandpaper tip to enlarge the holes until the drusy fit. i set the stones in place carefully with black silicone, & i think the horn helps to "un-cheapen" them. you know, like dressing your whore mother in lane bryant's finest for a proper night out at the sizzler.

what was i saying? oh right, pics!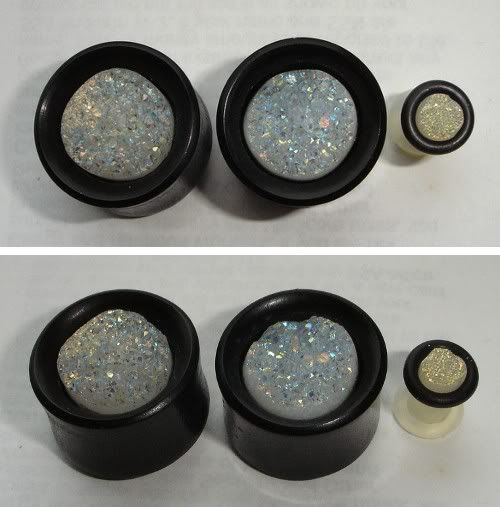 the 4ga doesn't match perfectly as it's more orangy (though not nearly as bad in reality as the natural light pic above came out), but there's a spot on the "right" plug that matches THAT, so it works for me. you can see this neurosis in the in-ear pic below:



enjoy.


so many sodalite pics here! - http://community.livejournal.com/stretched/5397148.html:
i bought a pair of 4ga sodalite on gt recently, meant to replace the 4ga denim lapis i'd been using with mine... but when the plugs showed up, one end was FLASHY. so in good conscience, i HAD to replace the DIY flashy cab i'd been using with that pair.

this was the old pic, with bodymodern denim lapis as a match. also shown is my now updated blue labradorite & white jade.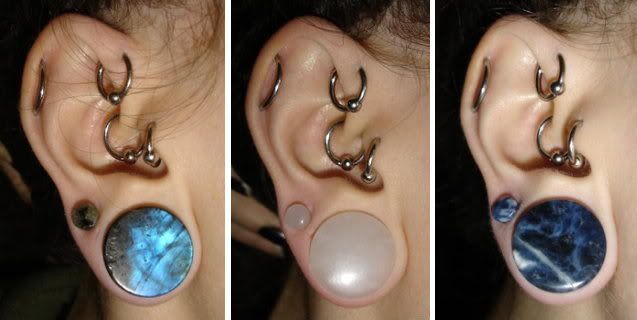 new pics of my regular pair of sodalite: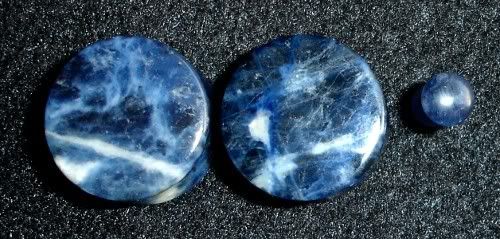 & in-ears: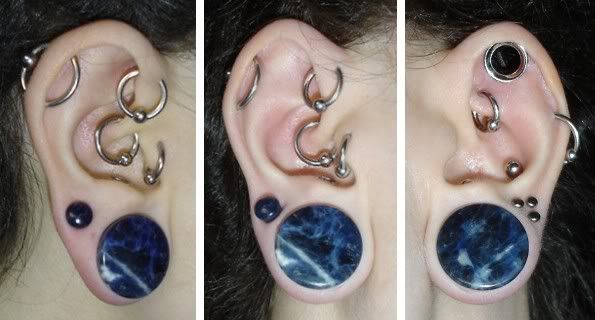 & next, my inlaid flashy sodalite plugs. i'm not going to take new in-ears since these were such a trial, but here's the new 4ga match with the old in-ear pics: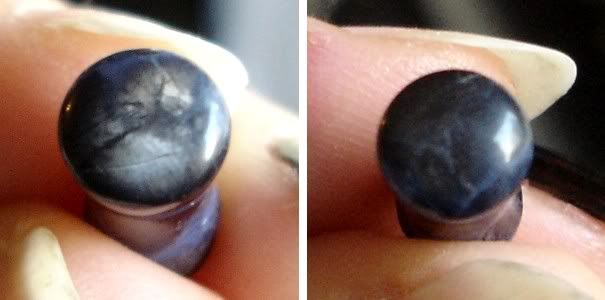 flashing: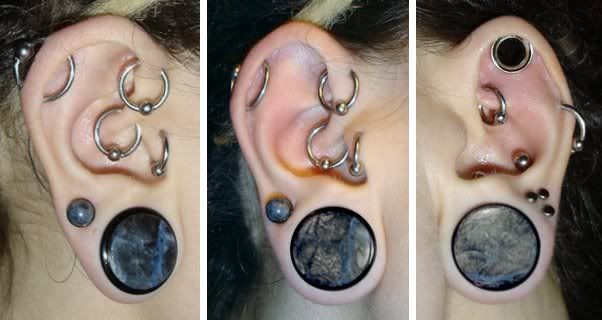 not flashing: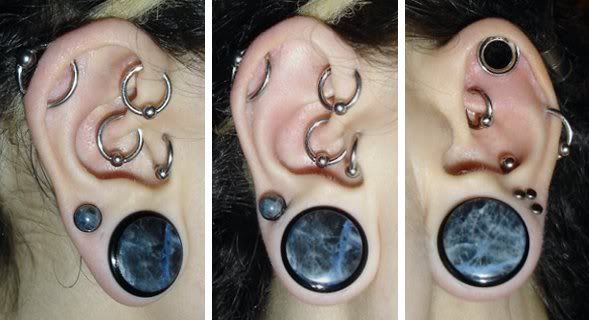 yay sodalite! ilu, blue stone.


@_@ - http://community.livejournal.com/stretched/5402539.html:
taking a short break from the ongoing group wear week, i just grabbed some shots of my new delicious blue shininess for you.

these are new IS blue dichro spirals
saramwrap snagged. i didn't think i'd want another pair of spirals than red, but holy blue i couldn't resist these. & since i'd recently sold my IS crystal blues, i had a spare 4ga IS blue dichro plug just sitting around waiting to be DIY'd into a tiny spiral. :D

i processed that the same as i did for my red spiral match (the big plugs were of course updated since that post). funny, the 4ga didn't really match the blue crystal, but it matches the blue of these spirals perfectly. PICS?

first up are saram's shots, since her camera is clearly superior to mine. this is the true in-person color - a beautiful deep, purple-based blue.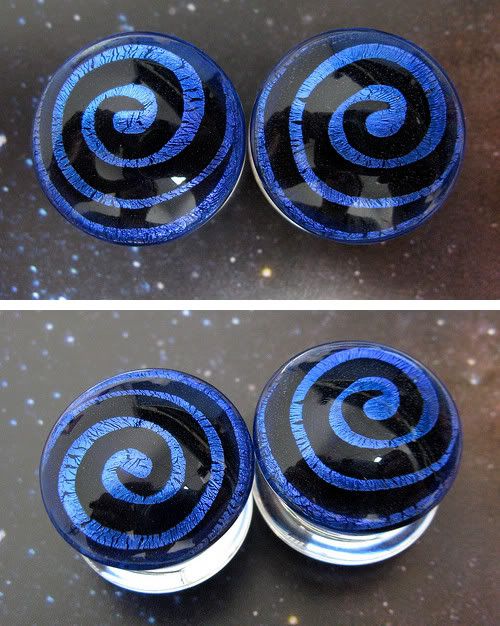 next, a pic with my DIY match: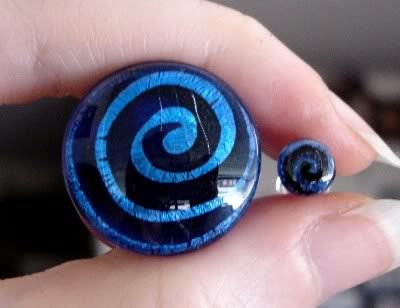 it's not easy to paint a spiral this small! a sparkly flash shot: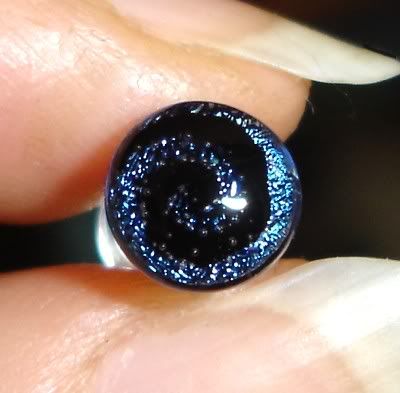 & in-ears. these have pretty honkin' flares, but they're worth it. :D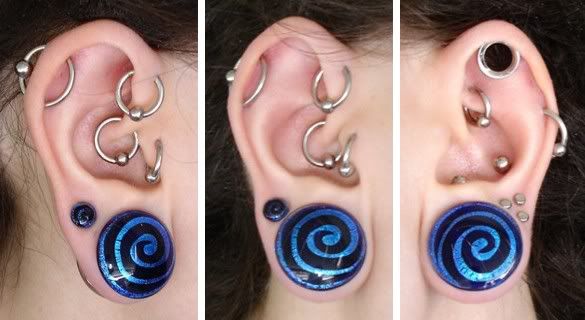 thanks again for thinking of me, saram my dear. :D


two more new pairs of dichro - http://community.livejournal.com/stretched/5408437.html:
for someone who doesn't wear much dichro, i sure have acquired a lot of it lately. you remember i recently gained some beautiful IS blue dichro spirals from
saramwrap - but i've also picked up two more new pairs!#!

teal on trans red is the most impressive color combination i've seen since people realized frozenfire could do more than the typical lineup. with three trans teal plugs from
gaugetrade & a half bottle of trans red paint, i could make this happen on the cheap with just a little DIY.

& so i did.




in-ears: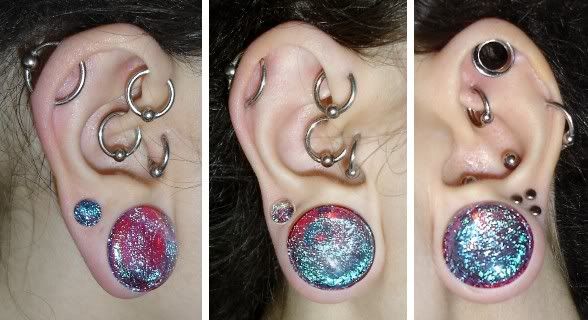 i love that red paint so much.

& next, my new GWS rainbow dichro bubble texture plugs. i bought these from BAF's APP sale, figuring they might be nicer than usual since they're show-off models, so to speak. i expected these plugs to either suck or be completely awesome, & i'm glad to say they're pretty fucking cool. go the properties of glass finally being used for the power of plugs!@

i like that these are excitingly refractive without having giant front flares, & i like that they're a totally different spectrum from my IS jewels too.

i posted this video during the group wear week, but here it is for anyone who missed it (or just likes being hypnotized):


the match is on a spare 4ga GWS yellow dichro plug i had laying about. i sharpied up the front sort of "purposefully carelessly", then protected it with clear coat; because of the blank areas between the colors, & the distance from the sharpie on top of the glass to the dichro under it, it has a bit of the same "motion" feel of the big plugs!

under fluorescent lighting, same as the video above: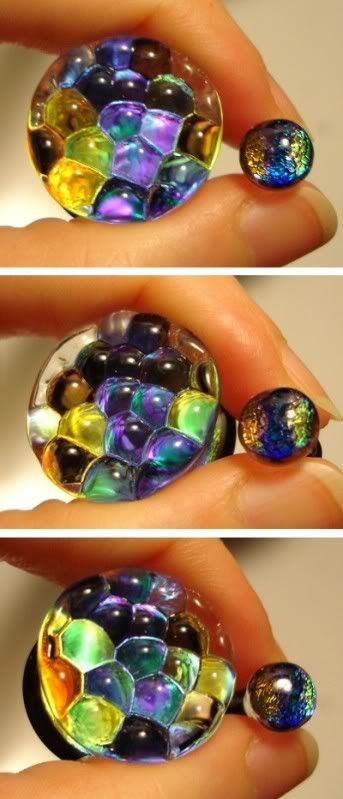 with a flash: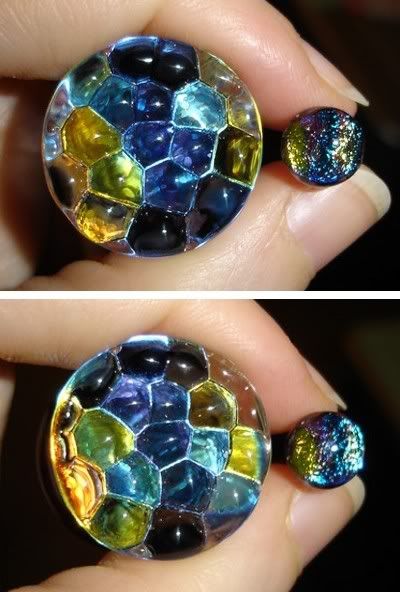 & in-ears:



enjoy. :D


DIY serpentina match - http://community.livejournal.com/stretched/5412333.html:
i posted about my serpentinas briefly before, but now the match is done &, as such, so are in-ears.

how do you make a DIY serp match? the upcoming bloated paragraph details it all! read it if you daaaaare

the base is clear acrylic. i mixed some metallic green paint to the proper tonal sense & applied that appropriately. i layered some yellow sharpie to correct the color, & clear coat to protect the sharpie. i next added some darker spots with a heavier black/green mix. after that, i took a greeting card i'd been given & scraped off a bit of the glitter - this in itself is a process, as glitter is my most hated substance on the planet & i don't have it in my home unless it's been safely encapsulated. so i first had to carefully lift the packing tape i'd used to seal the glitter to the card, then scrape a bit of it loose with tweezers, then reseal the card while keeping track of every speck of the fucking stuff. i tapped the tacky plug into the pile & then sealed it again with clear coat. once dry, i was able to pointillistically (har) dab on green sharpie, clear coat, then dab yellow, & clear coat.

i probably could've saved some steps in there by starting with the green, then adding the black/green, then the glitter & THEN the color correction, but i find it easier to correct as i go for the most realism. plus, the way i did it, all the extra layers of clear coat give it a slight 3-D effect, similar to what the big plugs have. i know, i know it's ridiculous & only
stretched would care, but it's just so much fun to achieve this shit. :)

the final result, in various lighting:




the pair again, as previously posted




& some new, better pics in natural light: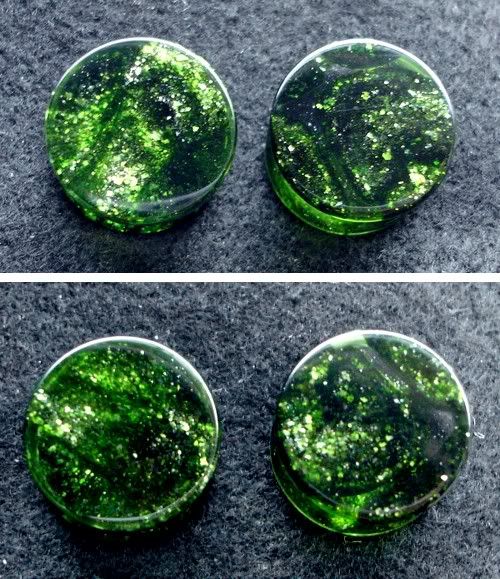 in-ears! these were incredibly hard to take, & i had to do it with a flash.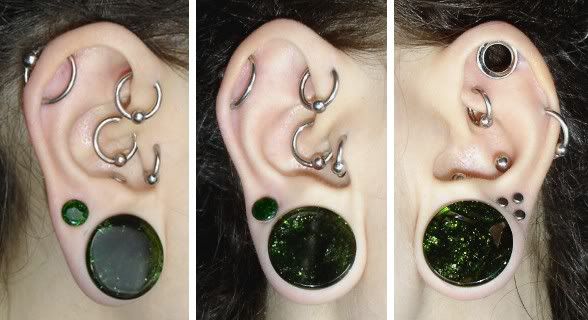 enjoy. :D

hair posts of note: bunches of pics, random shit, the return of my favorite skull bead, & a surprise that my dreads are hitting my waist.

& i'll leave you with this:

[gorthok] hahahahahahaha
[gorthok] http://www.lmgtfy.com/?q=cache:lmgtfy.com
[gorthok] sometimes when it's alone
[gorthok] the internet surfs itself

just put the code in once. :D