so JOE HAD A BIRTHDAY. & epic events happened. & a belated write-up. i am going to detail these events for you in bulletpoint format this year!

first, what i intended to happen:

saturday, july 31:

put joe in car, drive across kingston ferry (he loves riding ferries)

take joe to this amazing little cabin at the edge of the olympics

give joe his birthday present

joe hikes to his mountain-boy-heart's content while i play on wifi

stay overnight

sunday, august 1:

drive joe to mt ellinor, kick him out of car & tell him to go hike it

take joe to port orchard for dinner

tell joe we're going home, but instead go to this b&b, lilac room

stay overnight in luxury

monday, august 2:

have amazing breakfast by gourmet chef

take fauntleroy ferry home

but the cabin ended up some kind of sewage broken, so they canceled two weeks before his birthday. i went D: D: & replanned.

here's what actually DID happen:

saturday, july 31:

tell joe to go hike & be home by 5pm. he does so, source & snow lakes

start walking down the block with joe to somewhere we haven't been

enter location, walk through the apparent wedding reception to a back room

watch joe be shocked as twenty of his friends shout "FUCK YOU!" instead of "SURPRISE" (captured on video of course)

have bar food, watch joe receive many gifts of expensive rum before i give joe his birthday present

ENJOY THE MOST AMAZING CAKE EVER: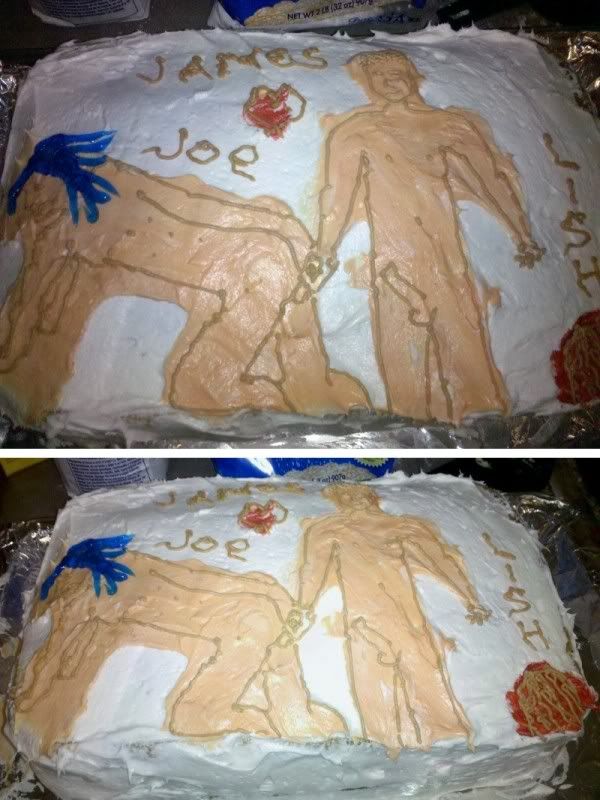 liquordrums's wife made the cake base as their present to him, & i did the decoration. for those who don't recognize the players, that's joe about to be buttfucked by my super-hot ex-supervisor, james. i'm in the corner, since it'd be cheating if i'm not there. here's the drawing that i was attempting to recreate in frosting: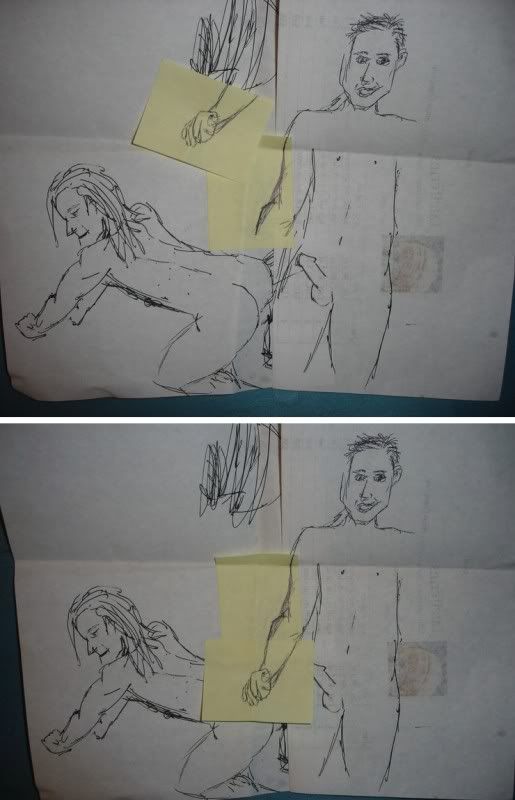 i think i did a pretty decent job of both the sketch & the frosting application. the original pics i used are these two. (yes, i modified the second one myself. :D)



here's a pic of joe licking james's frosting cock: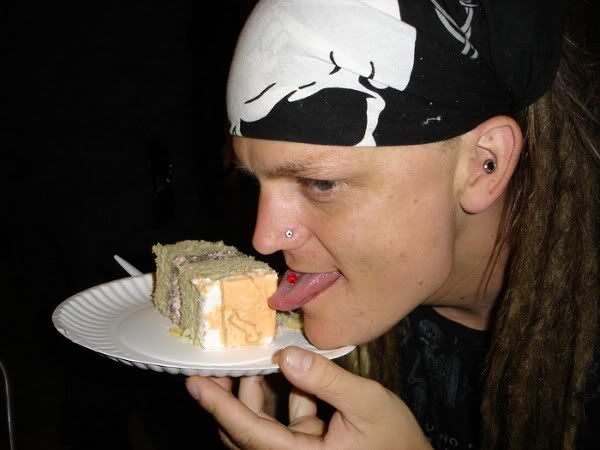 & for no discernible reason,
melvillean licking james's frosting face: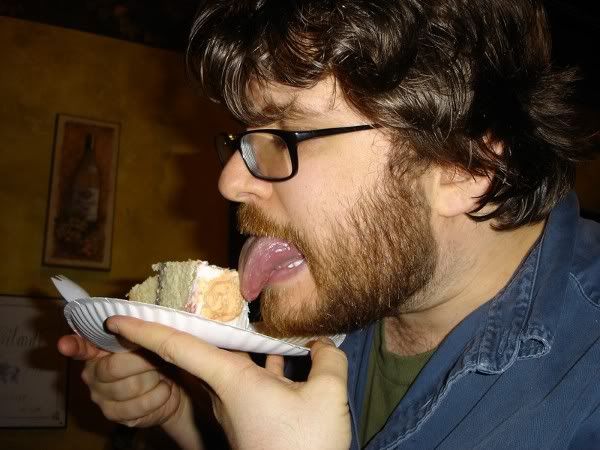 one of the best parts is that the weird raspberry filling in the cake curdled somehow, & turned the cake black. this went very well with joe's outlook on life, that all things should be some shade of black.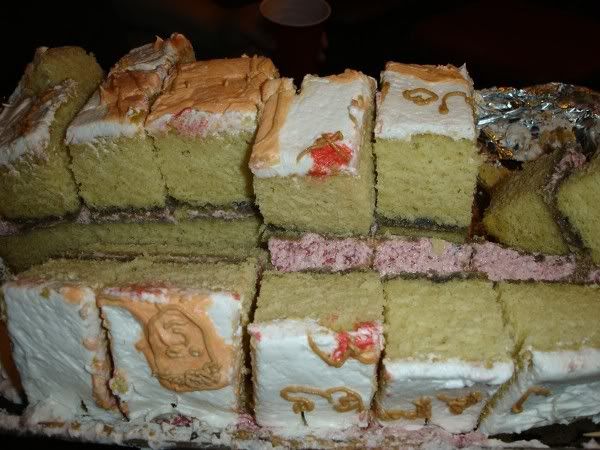 so that was the cake. it went pretty fucking well. :D

then:

return to apartment to watch one of joe's favored movies which i despise (ghostbusters 2)

stay overnight at apartment

while i initially gave joe the option of knowing what else is coming or being surprised by it, i ended up telling him so that he could better figure out what he wanted to hike. it was no longer as easy as "okay we're at the edge of the olympics, off you go" & i wasn't at all confident in being able to plan good hikes for him.

also, this is as good a place as any to detail the present i got for him. though i said last year that he wouldn't get another painting, he ASKED for one. so i commissioned a work for him with a bit of input from him & most from me. it's fucking awesome, perhaps the best of the four, & he LOVES it.

continuing on:

sunday, august 1:

put joe in car, drive across bainbridge ferry

drive joe to his hike at green mountain, gold creek trail, which he gleefully surmounts while i nap in the car

take joe to amy's on the bay in port orchard for dinner

head to this b&b, lilac room

soak in tub for two hours, stay overnight in luxury

monday, august 2:

have pretty okay breakfast by gourmet chef's husband

drive joe to wagon wheel lake (from devil's staircase entrance) to hike something he's been wanting to climb for years

take fauntleroy ferry home (which he'd never taken before!)

he was definitely a happy boy. it was such an intense multi-day celebration that i didn't even have the energy to write it up until now. so, there you go! happy multiple-of-11, babe. :D

now on to some other things.

being included = love - http://community.livejournal.com/stretched/5452702.html:
it's
disgorge's fault i bought these. i wasn't even interested in the material except that she kept going off about how much she wants these & then i started lamenting that these are carved into fucking flowers & how nice these would look to me without the giant flares, & damn if i didn't come across these & these & then this happened & i found myself emailing onetribe about green amber.

i've never owned amber anything; hell, i don't think i've even HELD an amber piece. it never interested me that much, except for some pretty cherry amber i once saw in a magazine, which was probably faux. with as many ways as there are to fake amber, i figured i oughta go all out if i'm goin', & that meant onetribe.

i couldn't believe the price they came back with - for a 3/4" included green pair *&* a 4ga match, i was barely spending $200. i expected a price twice that. it seems my preference for short wearables finally worked in my interest - using less of this rare material cut my costs.

these were the first sexy pics onetribe sent of the rough: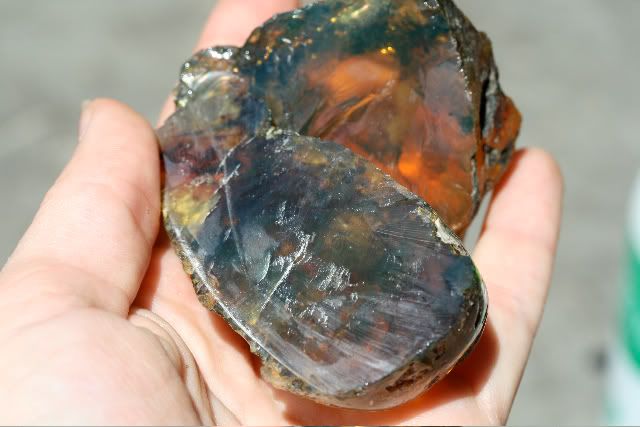 & a short while later, jared emailed me this: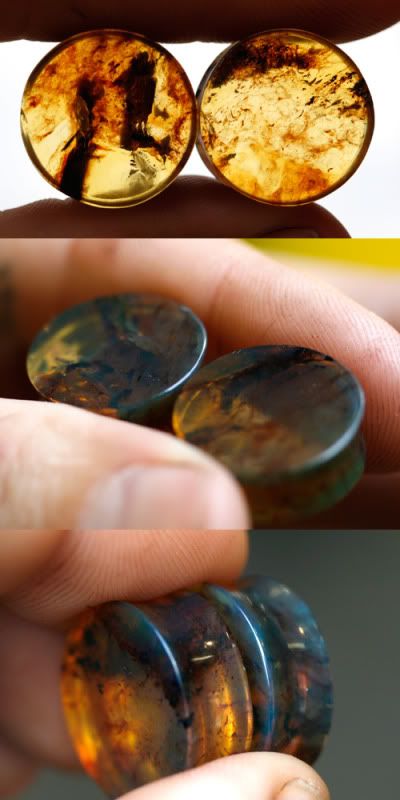 the inclusions are *spectacular*. he also put that pic on their facebook page, & i must admit the group jealousy pleases me. :)

here's what i took of the 4ga match: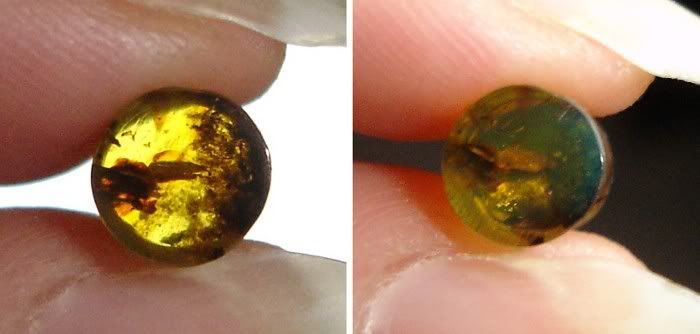 what he said on their fb is right - they're not green all the time, but flash it sometimes. they vary wildly, from a pale yellowish when backlit to a darker honey when my dreads fall behind them, & sometimes they're definitely greenish-blue. i love that they're thin enough (5/16" total length) to never look black in-ear - that's one thing i definitely wanted to avoid in buying amber.

ambient light + flash: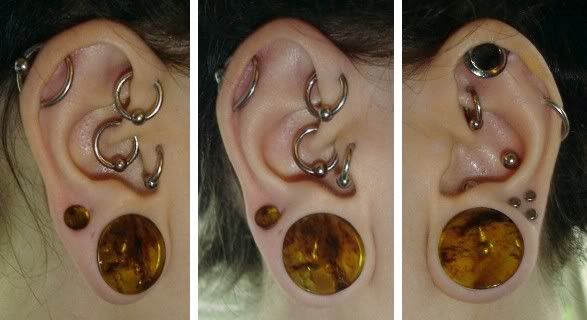 fully backlit, no flash: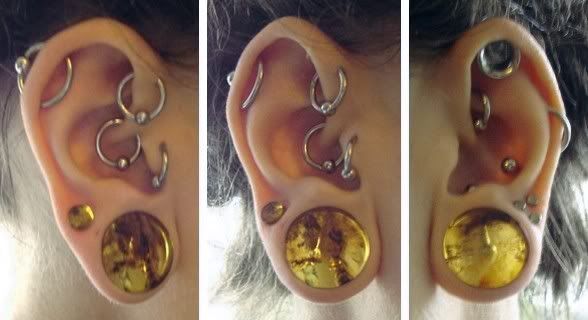 hard flash, no ambient light: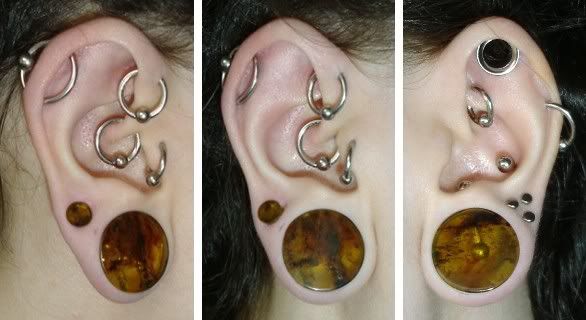 soft flash, no ambient light: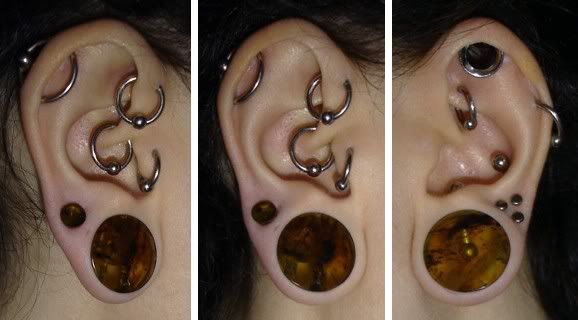 the chiapas area amber is estimated at 22-26 million years old. not my oldest plugs (2.4 billion years on those), but ...damn. this is awesome.



red red red - http://community.livejournal.com/stretched/5454054.html:
i went in on the latest metal mafia preorder & bought some "red serpentine". they're definitely not serpentine, just some kind of dyed stone - badly dyed, since the 4ga needed serious repair - but i'm pretty happy for $11!

this is MM's sale pic: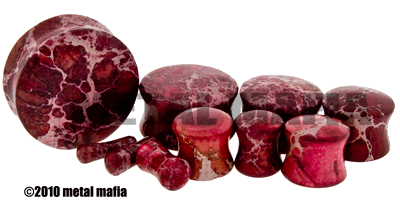 i knew they wouldn't look quite so hot & gory as the sample pics, but i'm pretty pleased with how my set arrived: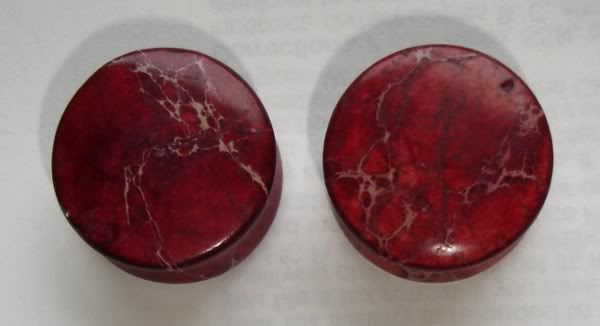 another pic, simply because i'm pleased: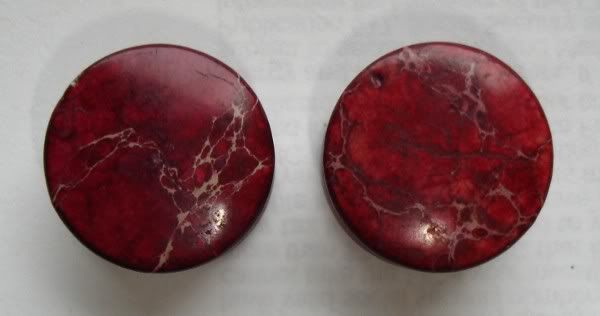 the backs are kind of crap, but who cares? they're the backs.



the 4ga match was TOTAL crap, the dye bath had settled funny on both sides. so i touched it up with some red & black nailpolish & used a toothpick to clear some of the veining. before & after:



& next to the big plug:



in-ears!



i'm bothered by listing it in my collection as serpentine since it clearly isn't, but the veining isn't indicative of howlite either. after an extensive google search, i've decided they're one of the following: hemme jasper (link); aqua terra jasper (link, link); regalite, which doesn't pull up much on google & may just be a brand; or most likely sea sediment jasper (link, link).

sea sediment jasper appears to be a common name for aqua terra jasper which isn't aqua, though this link also lists "green aqua terra jasper" & "terra cotta aqua terra jasper" right after they describe how "aqua terra" is for the blue & green toned stones, so it all seems bit silly. so i'm going to stick with calling them sea sediment jasper unless someone knows better.

anyhow, new stone is always good, & a good pair of cheap stone is even better. enjoy!


THIS IS HILARIOUS. - http://community.livejournal.com/stretched/5457200.html:
so when i posted about my honeycomb image plugs,
ryangws had commented that he could make me a 4ga match. lo & behold, it happened - & it RULES.

SO TINY!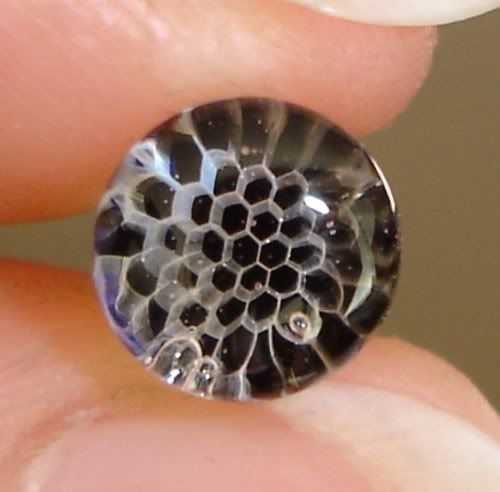 with a big plug:



& the new in-ears:



i had to completely retake the in-ears because the "left ear plug" ended up matching the 4ga better. such is the price i pay for completionism. :)

& since
atrophie came back to visit with her fancy DSLR, i also have more pretty chiapas included green amber pics to share!

so sexy. all of the following pics taken by
atrophie in rare seattle sunlight: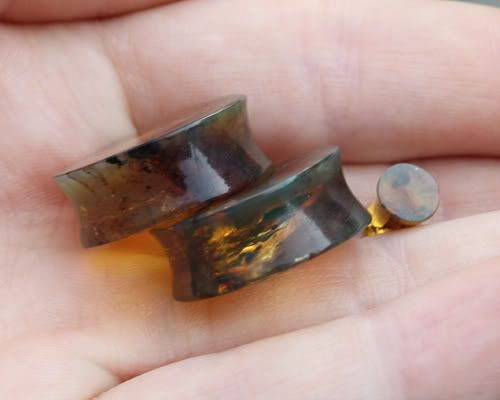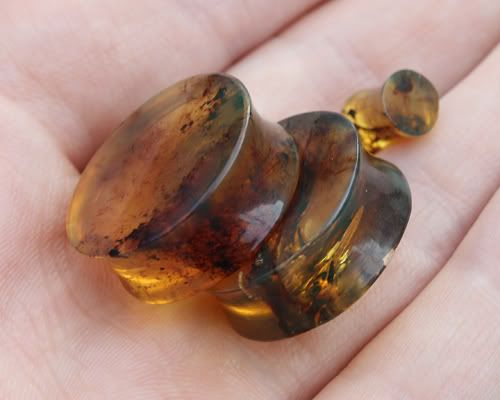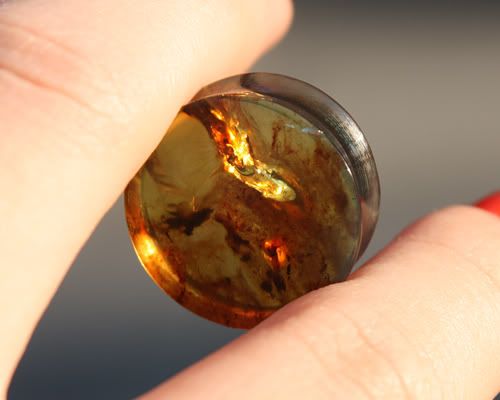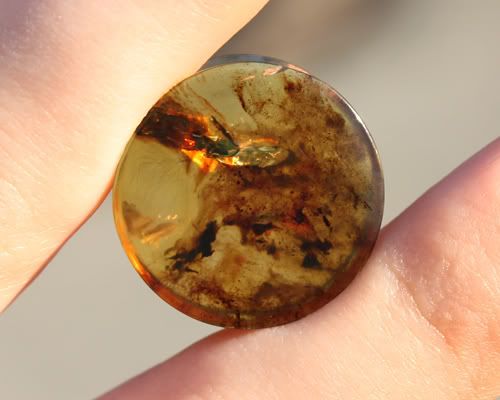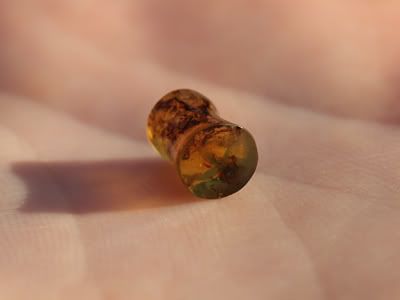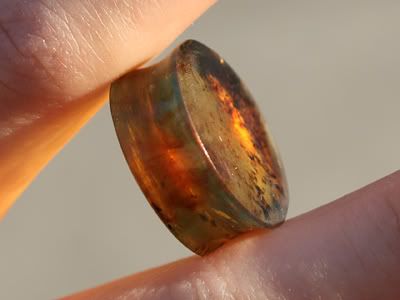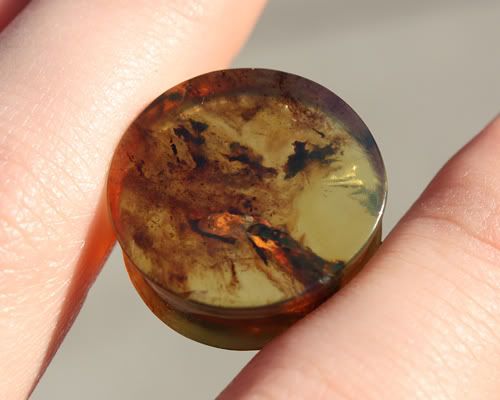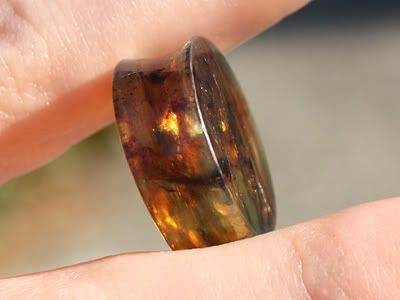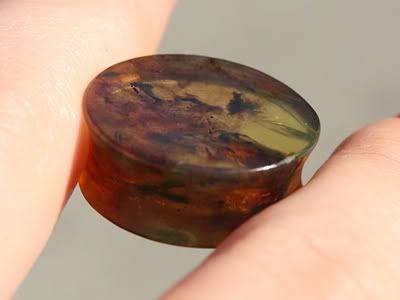 & i wasn't going to post these two because of the incredibly unfortunate shadow, but they just make the amber look SO honeyed & green: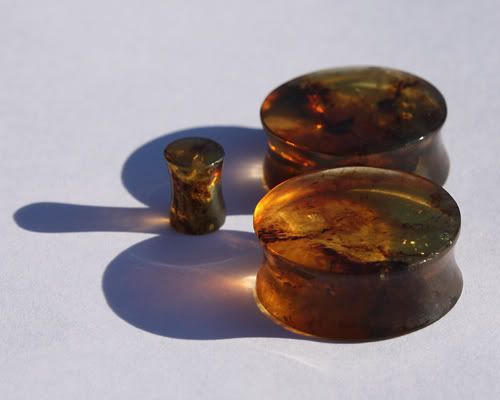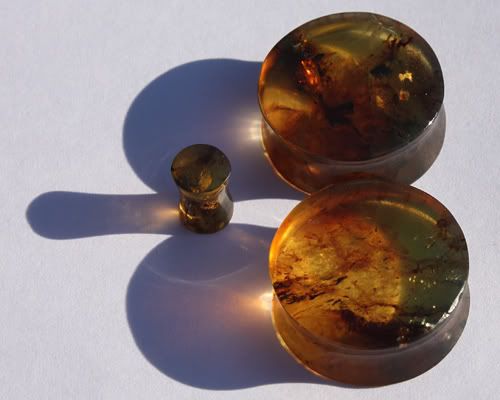 enjoy!


an extension of relic's section in my collection - http://community.livejournal.com/stretched/5458513.html:
i fell in hot lust with this pair of condor agate when i first saw them on relic's site back in january of this year. most condor agate is muddy orange, or orange/gray, or orange/blue, & it's just gross to me - but that pair, with the geode in the middle... *pant*. i asked leo to magically make some appear in 3/4", & he replied, "Well tell you what Lish. I'll just call Jesus and have him make another one in your size :)"

well, they must've been working hard together, 'cause seven months later, i received this email:

We looked through over 300 pairs of Condors and I was so excited to find two sets that were so closely similar to both the colors and shape of the pieces you referenced. Either set should work well for you in either 3/4" or 20mm wear. Let me know which one you'd like and we'll finish em out for you. Cheers buddy. Hope you're well!

& he included these pics: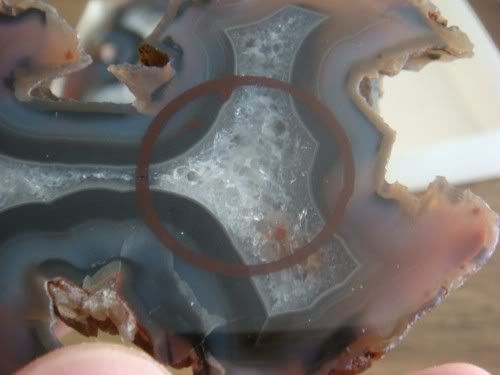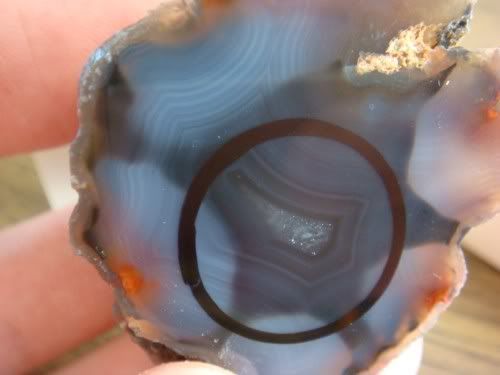 the first seemed overloaded with geode, but i was crazy excited about the second! i sent leo a truckload of dosh, & asked if it'll be the usual 6-8 weeks. he replied, "Psh. 6-8 weeks. I think not! Try two weeks. Can you dig it?" OH YES I CAN! & two weeks & four days later, look what arrived. :D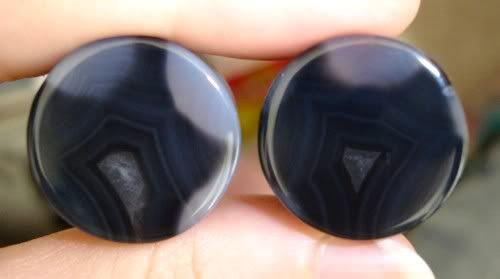 & the backs are pretty neat too: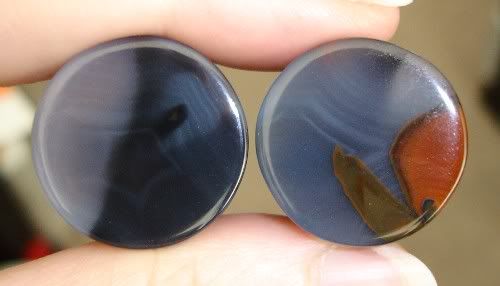 condor agate is AWESOME. though the fronts are polished glassy & perfectly flat, at an angle you can see planes in the stone at which the striations in them change direction, & they sheen. really cool stuff.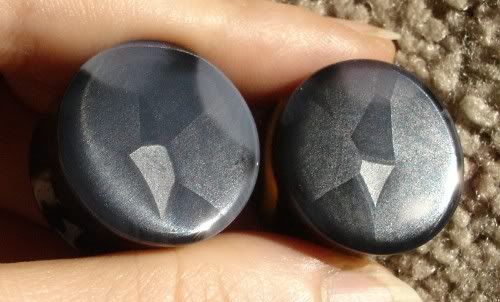 i had them made in 20mm; as i've documented, variation is healthy. i didn't have any 20mm stone in my collection (aside from a pair of cabs i DIY'd), so this seemed a good opportunity.

the match started as opalite! i masked it off & used nailpolish to paint the darker parts first, then mixed some translucent gray polish to take the opalite tones out of the edge bits. with a toothpick, i added several dots of opaque pale gray to the "geode", then re-added overall bluish tones of a natural shade everywhere except the geode.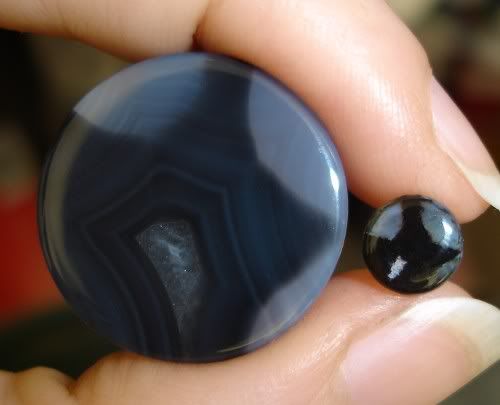 here are the two backlit together: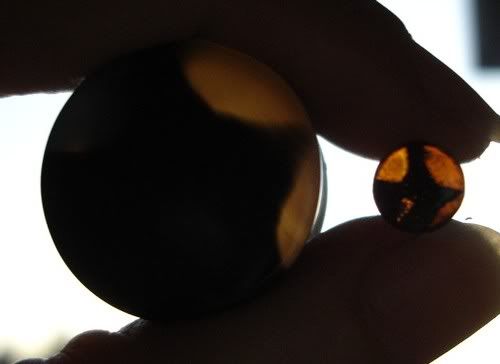 & it's REALLY difficult to get in-ears of these, but here's my best attempt in full sunlight: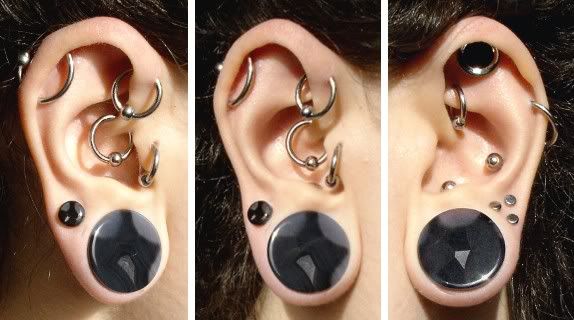 the bottom of my receipt read, "It's been an honor to make these for you." it'll be an honor wearing them, too. :)


SUCH a rave review for auris - http://community.livejournal.com/stretched/5459934.html:
when
xsourkittenx posted her DIY butterfly plugs, i was very intrigued for a couple of main reasons: i could choose any butterfly that can be purchased, & the way she's doing them fully encases the wing so i wouldn't have to worry about wearing them out in seattle weather. aside from that, the pair she made herself look great; while different from abaraka's, they're just as appealing.

so i did like i always do - i peer pressured her to go into business. :)

i'd recently discovered pearl morphos - they're almost like a real-life opal dichro. she was able to acquire one, & IT BECAME REAL, MAN.

so first off, melissa kept me updated on the entire process. she emailed with status reports & ETAs, & i never ONCE had to question what was going on or when they'd be here. indeed they were finished & shipped much faster than i expected. when they arrived, i found a fairly stunning presentation: on top, a care sheet with a lovely professional logo & intelligent instructions on keeping them safe. next, a letter from her detailing how to rehydrate & cut the extra wing parts she'd sent so i could make matches for each. (how fucking sweet of her to go to the effort!) & finally, within paper packing material rested a small metal box with a black gauze bow. the box was perfectly lined with a soft cottony/fiber material, & inside there was not one pair of plugs...

there were two. WHAT

she had THROWN IN an EXTRA FUCKING PAIR made from another butterfly she likes, just because she COULD. HOLY CRAP. have you ever heard of such a thing?!

the resin work in the cabs was absolutely gorgeous, crystal clear & with only very minimal microscopic bubbles. the wings all looked spectacular, & i thoroughly love that they're fully encased, completely protected from the elements. (& in seattle, there are a lot of elements!) however, the ebony eyelets she used had tiny 1mm flares, almost nonexistent for 3/4". as beautiful as they were, i knew i wouldn't wear them because of this. they looked like 5/8" & would surely fall out of my ears. i was torn between sucking it up, or emailing her to say OH HI, I REJECT BOTH THIS GORGEOUS CUSTOM WORK & YOUR AMAZINGLY GENEROUS GIFT BECAUSE OF LIKE 1MM, THANKS. cripes.

but i erred on the side of honesty, as i am wont to do, & figured she'd rather know & have a chance to change them than have them go unworn - even if she didn't KNOW they were going unworn! so i wrote up a gentle email about it, even getting
atrophie's help on wording so i wouldn't come off ungrateful or impossible to please, & asked if there's any way she could pop the cabs out & re-inlay them in something more standard-sized.

much to my relief, melissa made things wonderfully non-awkward, & responded quickly that she could totally do this & that she was glad i told her. "One of the reasons I even agreed to do this for you was because I know that you would give me a heads up on any little details you noticed so that I could further perfect my product." ugh, love it. she said to send BOTH pairs back & she'd reuse the eyelets for herself, since i hadn't tried them on (always measure first, kids) & she likes smaller flares. i made another suggestion too: using solid-backed ebony instead of eyelets, which she'd already decided to do. :)

so back they went to canada in their clever metal box. she emailed me when they arrived safely, & again kept me well updated on status. she quickly got the new plug bases in, but when they arrived, melissa emailed me the following:

Ugh. I don't have great news for you just yet. Your replacement plugs arrived today and I am just not happy with them. I uphold very high standards as to what I send people and these plugs are just not 100%. I mean there's handmade and then there's totally wonky.

I have to send them back and have them replaced, which means a further delay. I am so incredibly sorry and if there is anything I can do to make it up to you, please let me know.

seriously dude, are you KIDDING? i emailed back that she has NOTHING to make up for, & in no way should she ever apologize for holding to strict quality standards. that's a trademark of a trustworthy manufacturer! i did the exact same thing several times during the third run of
luciferins, & everyone understood & appreciated the QC.

it took a while longer for the third set of plugs to come in, but once again i was kept fully updated & had no questions. i just patiently waited for the awesomeness - which arrived friday.

both pairs. are. perfect. the resin, the cabs, the ebony - everything, down to the smooth concave solid backs. utterly professional work.

did you say you wanted some pics?

let's start with the pearl morphos. melissa sent some progress pics of them - here's the first excitement: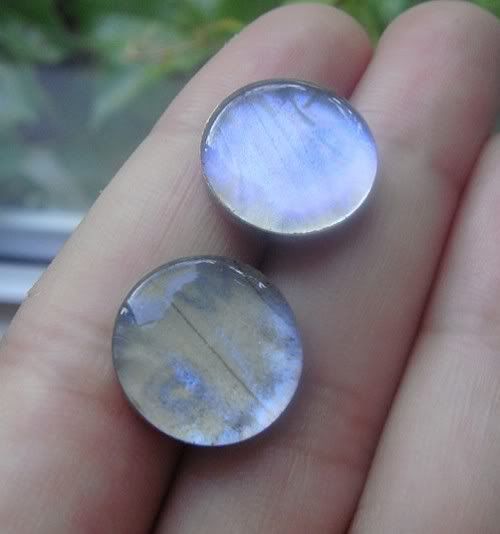 & now that they're finished, o m g. they're astounding & they change SO much. this is in indirect sun: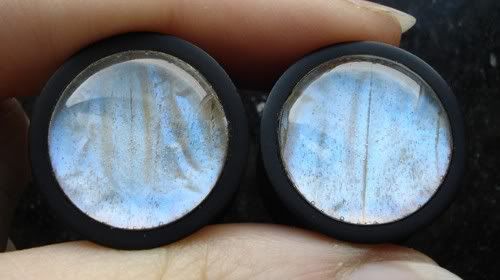 direct sunlight: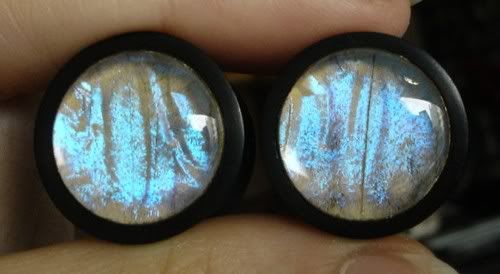 & they're soft & beautiful in even diffuse room lighting: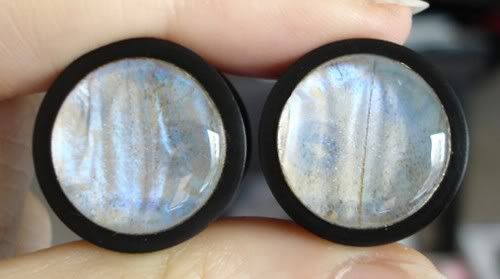 i made you a video!


the pearl morpho match is a real piece of wing. it's a very different process than my blue morpho match, & i think it came out better. i masked the center of the plug & built up a height of clear nailpolish on the edges; in removing the masking, i then had a place to lay the wing. (melissa's instructions worked perfectly & helped a LOT in working with the wings.) i cut a circle of medium-weight clear plastic & applied that over top, which touched only the edges of the nailpolish "wall", & then sealed it up. a ton of clear coats later: boom, an encapsulated piece of wing to match. :)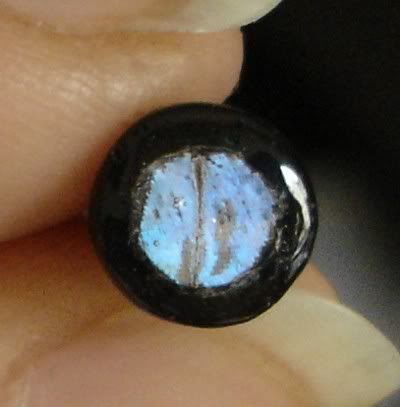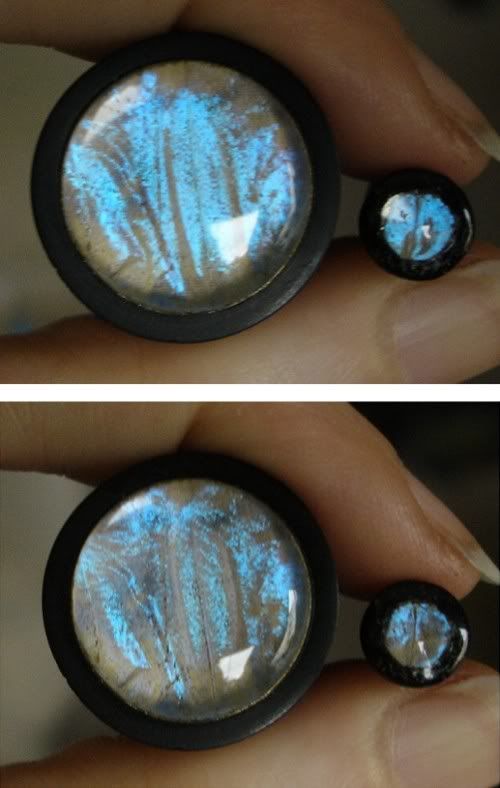 & the long-anticipated & delicious in-ears, in low natural light: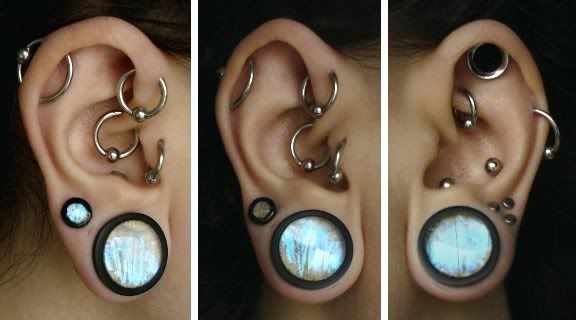 since the second pair was a surprise, melissa didn't send progress pics or make mention of it, but the letter she sent also had a bit of information about each insect. of this one, she wrote, "The black/white butterfly is called Idea Idea Idea (ha!) and is from Indonesia. The particular part of the wing I cut out for your plugs reminded me of a dental x-ray." we all know how much i love teeth, including joe's molar (#19) which i wear around my neck, so this was very special to me.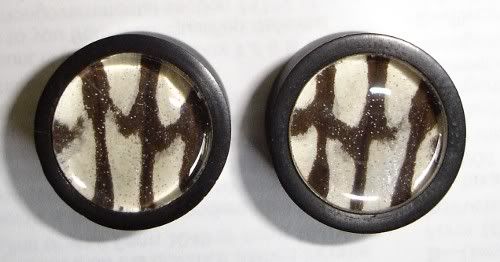 i was going to make another true match, & she included plenty of good wing to do it, but since this butterfly doesn't have crazy reflective properties, i decided to go the easier route & just paint it. for both matches, i heaped clear towards the centers in many layers, like i did with my moss agate match, to make the tops domed to match the big plugs. this is acrylic on horn: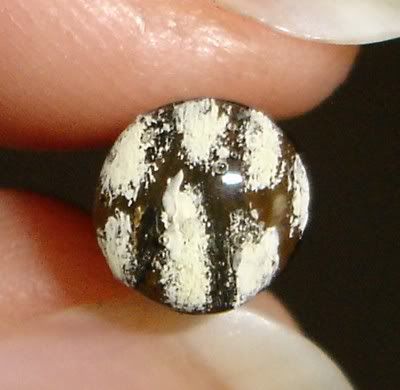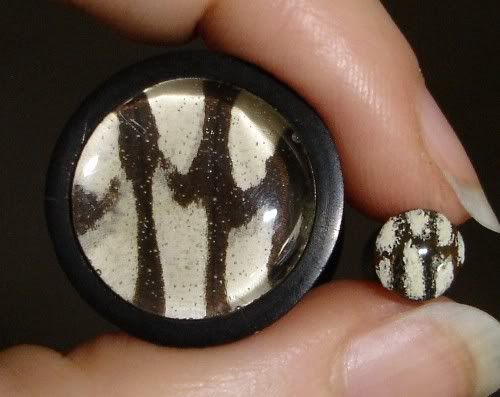 & more wonderous in-ears: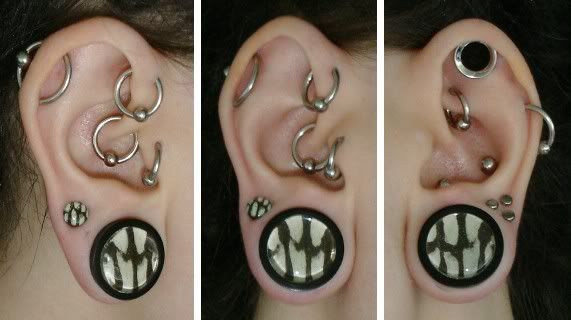 so i say FUCK YES HOLY FUCK YES to this chick
xsourkittenx, all the way forever. i had a positively delightful experience the ENTIRE time, even when there was an issue (which is the real test, of course). she's responsive, friendly, & honest; she keeps high standards & does excellent work, & stands behind her product. she can do any butterfly that can be purchased (& probably a lot of other materials too, have you seen her washi paper plugs?), & obviously she's going to start getting orders like mad, so get in early & order often! i even made a new
stretched tag for her brand, as at least
atrophie &
saramwrap have commissioned work from her already. you can find her at http://aurisdesign.etsy.com or email melissa@trueloveclothingco.com.

melissa, thank you again, so much, for your work on the entrancing "Morpho Sulkowskyi Selenaris from the Huallaga Valley in Peru", as you wrote, & your beautiful gift of indonesian butterfly teeth. :)

& the latest in dreadposts for you: some buns, some variousness, & a woven pic.