first off, how the hell did i forget to post photos of joe's cake?!@!# i edited the previous post to include this wonder of artistry, & here's your direct link back to the pics.

second, for those keeping track, my $747 ambulance ride from july came to only $74 after insurance, & my $4700 hospital stay is about $450 for me to pay. ahhh, insurance. i hate/love having/getting to use you.

thirdly, so many fun guests lately, & SO much good food.
atrophie came back from california, & we took this fun picture together at a free seattle event. then
iphise made her second appearance in two months from colorado, & we had a fantastic dinner at the 5 spot - mine being a fresh salmon burger on a brioche bun & mashed yukon golds, & we three split dessert of the "520 floating bridge": an in-house curved chocolate cone, almond roca pontoons, & local raspberry ice cream. joe & i split this once before, but it was much more manageable with three. (we took corey to marrakesh last time, which i've written up before.)

we also hosted jessie, who we've missed terribly, while she was back in town from graduate school in ohio. we ate at the coastal kitchen, where i had a seared ahi tuna & arugula appetizer, then an absolutely delicious opah with a lemony yogurt sauce & rice pilaf, & finished with their "ambrosia" dessert of semolina cake, warm custard, candied figs, & sesame-anise biscotti. the opah - i could easily eat that opah every day, especially with that thick yet somehow light sauce. for jessie's last night with us, we went to volterra, & i enjoyed a stupendous slow-cooked wild boar with polenta & spaghetti squash, & a flourless chocolate orange cake topped with semi-sweet chocolate mousse, mmfph. we hadn't been there before but we will certainly be back.

& finally, i set up another silverwood trip, like we took last year except with different people since the lesbetereers are busted broke - christopher d. & chris m. went with us. everything went smoothly last year except for finding food, so that was planned in advance this year. we stopped at these two zagat-rated restaurants on the way through spokane each direction, & i was as excited for them as i was for the park itself.

the trip to silverwood, though well-planned, wasn't expected to be nearly as great as last year for one major reason: thunderstorms. all day. & i mean the hourly forcast for athol (YES, SILVERWOOD IS LOCATED IN A LISPING ASSHOLE & IT RULES) showed serious lightning & thunder from 7am straight through 7pm with no relief. in 50 degree temperatures. & it had only gotten worse as i'd been monitoring weather.com all week. blech. but since half our party was busy next weekend, we decided to risk it. we loaded up on ponchos & extra warm layers, & drove through a fair amount of rain to our first dinner stop.

at mizuna, joe & i started by splitting the ahi tuna shiitake poke' in roma cups - raw tuna with scallions & hazelnuts on tomato. delicate flavor, i liked it more than joe did, but he tends to favor a single bold element in his dishes. we then split both: the brandt ranch 10oz NY strip (i always give the temperature option to the chef, who claimed "medium-rare" but only just barely got it that warm), with truffle-mashed yukon golds (omg) & veggies; & the pan seared halibut with saffron butter, herbed risotto, & arugula. fucking delightful, those - i think i preferred the halibut actually. i couldn't resist their flourless dark chocolate hazelnut pave with port pear conserve for dessert, & it was perfectly tiny & utterly phenomenal. (i also had a bite of christopher's crispy banana lumpia, served with candied cashews, warm chocolate ganache, & house-made ice cream, which was concurrently excellent - & i don't much care for bananas.)

the next morning it was gray at our hotel in coeur d'alene, half an hour from the park, & we didn't bother checking athol. we just got there as close to opening as traffic allowed, figuring more time at the park = more potential time for rides between downpours. but though it was completely overcast & dark, it wasn't raining when we arrived... & it wasn't raining by lunch... & in the late afternoon we started seeing tiny bites of blue sky through the clouds. cold & windy, yes, but it didn't rain on us all day! i deeply appreciated this, but there was blood to be paid:

just before lunch, i had an Incident. for $5, you can play "battlezone", where you actually climb into enclosed toy boats & shoot CO2-propelled rubber balls at each other. hitting the other's targets kills their ability to fire for ten seconds. spectators can also shoot at the boats for $3 per bucket of balls, or two for $5. christopher really wanted to go, so i went in with him. he was in the lower section which controlled steering, & i rode in the upper turret, which could spin 360. it was fun enough, & we kicked the other boat's boat ass. on the way back to the dock, the other boat rammed us (unintentionally, i'm sure - steering was for shit) just as we were about to hit the wall, & my chin was slammed into the metal gun mount. it was pretty fucking painful, & i was bleeding. i was holding my chin hard to curb the pain, & couldn't move my jaw, but i had the wherewithal to check my bottom teeth with my tongue. thankfully, they were fine. EMTs came & steri-stripped me, & put a giant ugly bandaid on my chin. the pain started to fade after a bit, & though i expected a giant bruise, my jaw didn't seem to be fractured. on the way out of the attraction, i said to the terrified guys running the booth, "i think if i bleed on your ride, we get our money back." the dude who'd initially taken our payment was shaking & pretty much leapt to hand back the $15. i Strongly Encouraged them to put some foam on the gun mount, or at least warn their fucking customers to always sit back as far as possible.

we went right from battlezone to lunch at lindy's, the same delicious place as last year. i milked the waitress for sympathy about my chin & she gave me a free huckleberry smoothie, which was yummy & cold & really did make me feel better because i am five. i also had a lovely turkey burger with avocado on a whole wheat bun, & they have excellent fries.

as the day grew colder still, one particularly awesome note of schadenfreude is that people were still going on the "bumper boats", & were getting pretty wet. not only does each boat have a squirt gun on it, but there's a row of "water cannons" along one edge of the pond where passersby can pay a quarter for thirty seconds of continuous soaking power in a 1/4" stream. they're easy enough to avoid, but people aren't that skilled - or necessarily that smart. so chris & christopher had decided they wanted to go on the boats, & despite his efforts to the contrary, christopher ended up 50% drenched. thus, they headed directly to the cannons & proceeded with several dollars' worth of retaliatory terrorism. the boys soaked the everloving shit out of several people, including some chubby, trailery, over-processed mom-type wearing only a low-cut tank top. she was so shocked by the onslaught that she couldn't even steer her boat away from the barrage - she sat in place, bent over, trying to cover her face with her arms, just taking it. from dry to pneumonic hypothermia in ten seconds, go team asshole!

other than incurring an amusement park injury, which was a whole lot more minor than, say, a scalping, the rest of the day was great. the aftershock remains my favorite ride, with panic plunge a close second. we stayed until closing, bought cotton candy, then drove out to vin rogue.

i was having trouble deciding between the duck breast with a sweet mandarin chili glaze, or the sea bass. i asked the waiter, who noted their sea bass is flown in from france for them, & i could hardly say no to such a pompous fish. it was served with diced tomatoes in a lemon caper white wine butter sauce, roasted yukon gold potatoes (clearly they're my favorite tuber as i keep ordering entrees that contain them), sauteed spinach, & a new taste on top: caper berries. i never again need to put a caper berry anywhere near my mouth. texturally fantastic, but not a flavor i ever want to experience again. the sea bass though: exceptional. the edges were crisp & it was spiced beautifully, & the capers in the dish were cooked to be quiet & not overpower the fish. for dessert, they offered a chocolate raspberry mousse with chocolate cake base, covered in ganache, plated with raspberry sauce & fresh slices of strawberries. mmfph. i ate half & took the rest home.

the whole ride home poured rain, all the rain we were supposed to get at the park. what a great trip.

IF YOU READ THIS FAR YOU DESERVE A SHINY REWARD

peppermint coffee? - http://community.livejournal.com/stretched/5463532.html:
i spotted a pretty outstanding pair of brown/turquoise power plugs in a local shop a while back, but since i didn't care about that combination of colors, i gave someone else the info to buy them from the shop. here was her post; you may remember.

a year & a half later, she offered them back to me. in the interim, i've come to have a much headier love of power plugs, & i accepted.

melty discontinued goodness: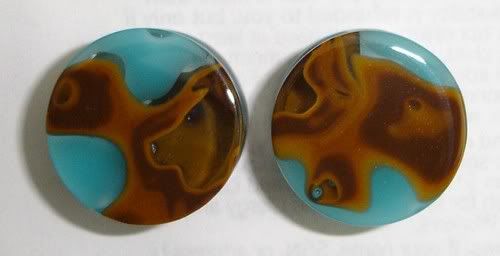 the backs - this side is like ethereal turquoise clouds: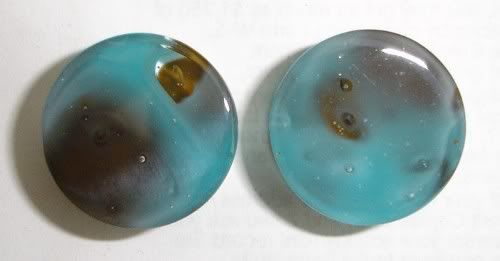 ayanamisama had sent me three random 4ga GG colorfronts for DIY purposes a while back, & it just happened that i'd used the two purple plugs (for my jellyfish match, & to go with these red/black power plugs which i'm now selling) & still had one in agave. it's not turquoise, too green really, but i was able to re-tone it with my usual tricks. before/after retoning: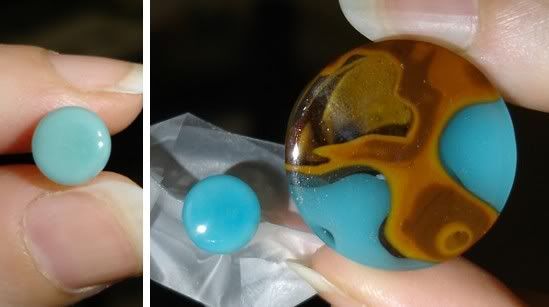 then came acrylic paint, & the usual clear coat to finish: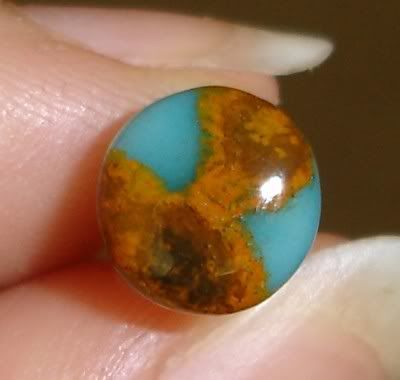 i'm getting pretty good at this, eh?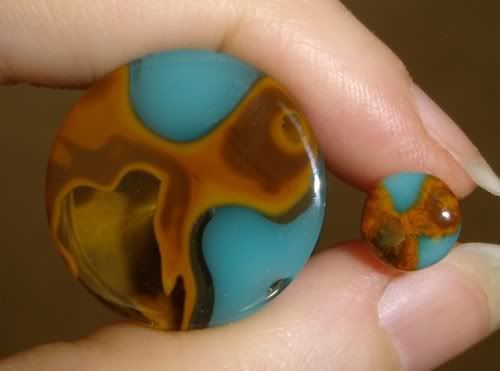 & in-ears: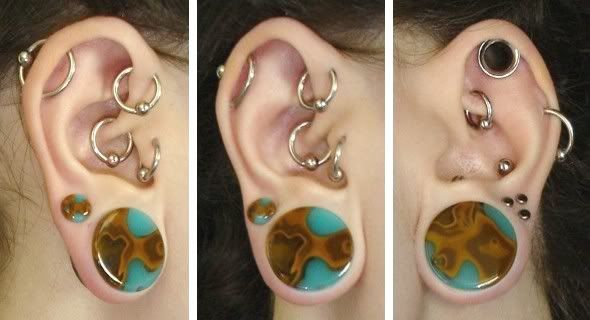 is five pairs of power plugs enough? IS IT?



the everest of stone - http://community.livejournal.com/stretched/5478589.html:
oh, it was way back in january that
middlewoodland first posted about his flashy green calcite, "the same material that forms stalagmites and stalagtites in caverns". i was excited about them immediately, as you can see from that link, but brian's notes said it's "extremely difficult to work with and very hard to accomplish the requested size". undeterred by his disclaimer that "NO CUSTOM ORDER REQUESTS are being taken", i continued to bother brian incessantly about a pair. despite my insistence that he climb this everest, i didn't believe they'd actually happen.

behold the power of annoyance! it took nearly ten months, but brian somehow figured out how to work with the material. he made one successful 3/4" pair, & it went so well that he decided to seek out flash, "which is a totally foolhardy thing to do with this stuff." he ended up with two pairs within my wearable range, & of their eight sides, only two had strong white/rainbowy oilslick flash - so you know which pair i went for!

brian said, "they just explode with platinum brilliance. there are also rainbows in both of them." :O

oh i'm sorry, am i keeping you from PICS? here's a compilation of the shots brian sent: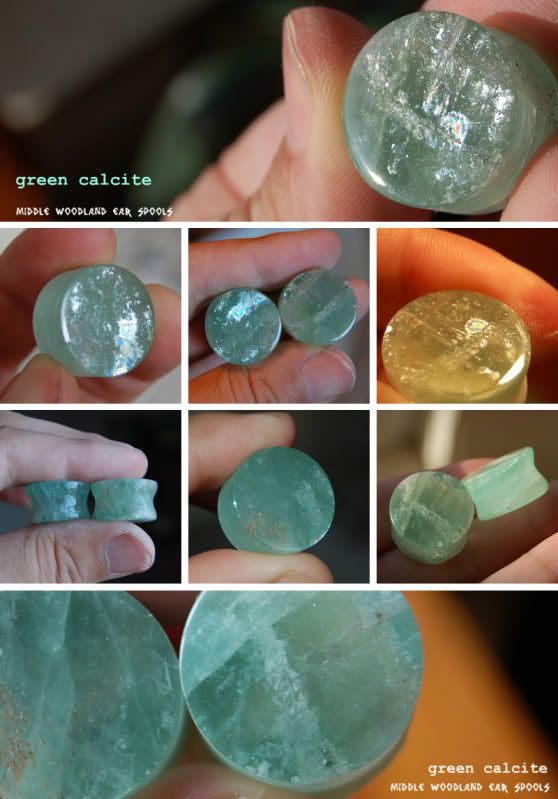 & showing the flash: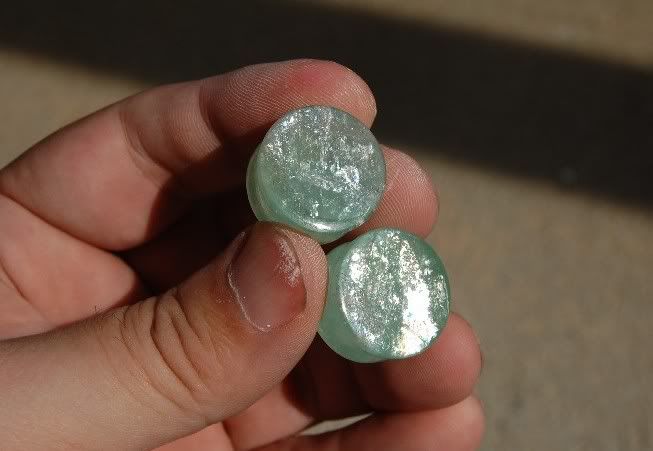 holy fuck, right? i was so astounded that i took a video for you guys:


& here are a slew pics i took to flaunt them: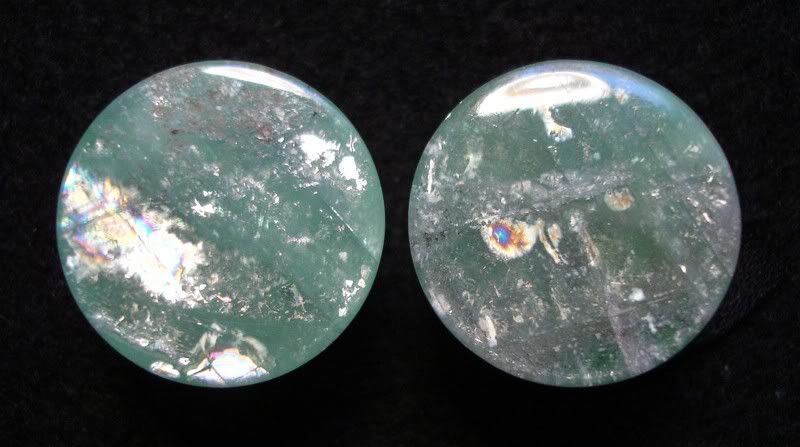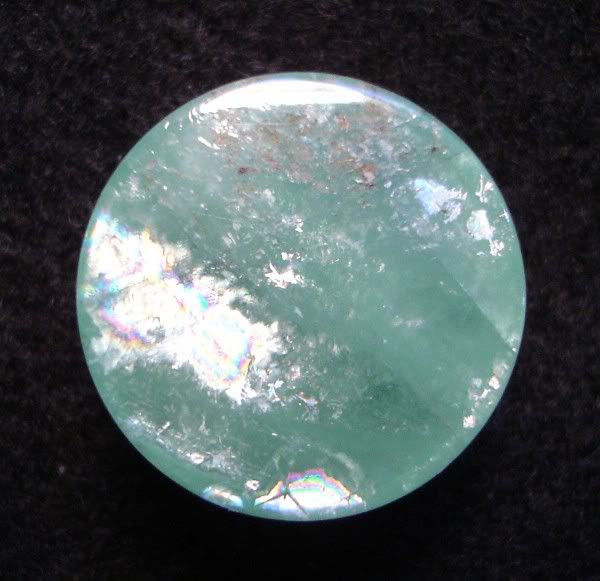 here you can see their rainbows pretty well: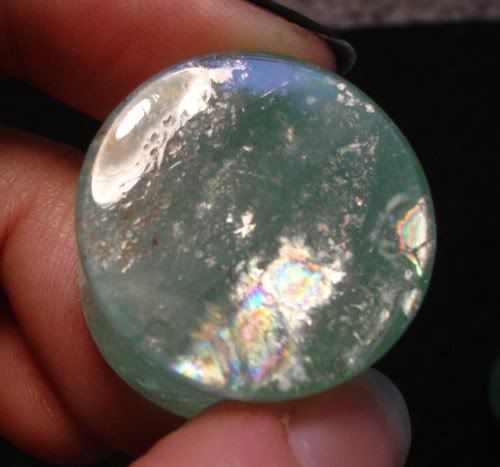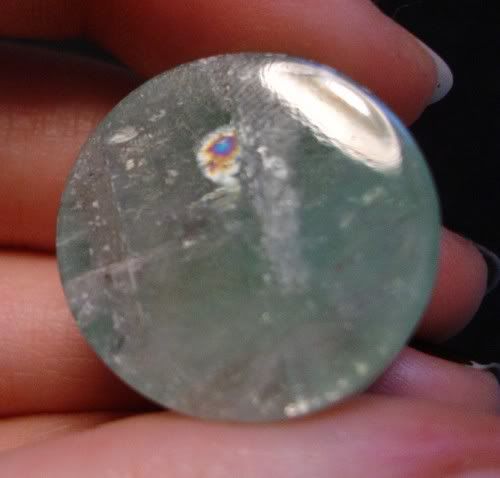 the backs have beautiful clouds in them: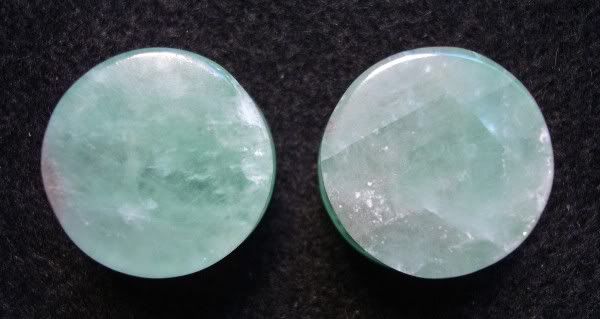 & a little flash too: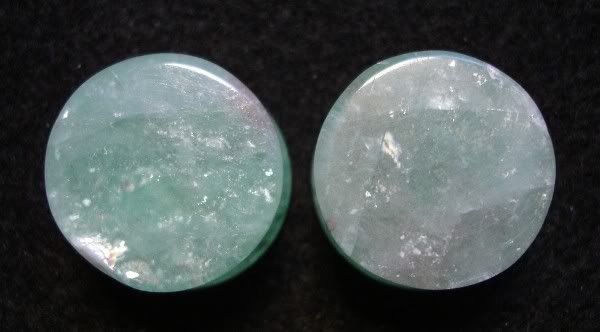 as do the sides: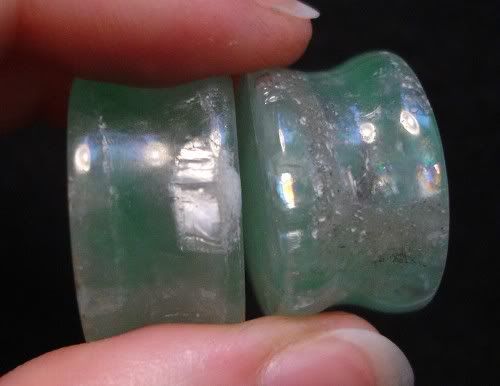 when not flashing, the fronts are soft & pretty: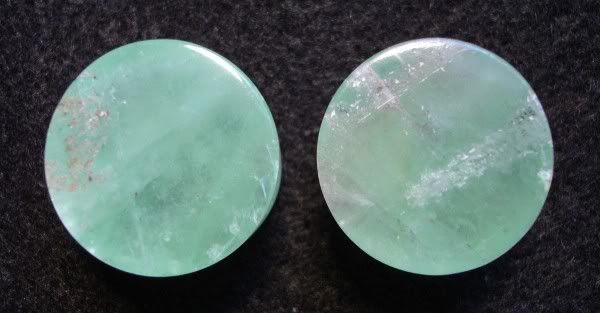 brian was making a 4ga match before i even asked him to do so. (i love when our artists are involved in our lj communities!) i have no clue how, but he made a green calcite CAB & inset it into a base of black canadian serpentine. his pics:




& my shot with the 3/4" pair: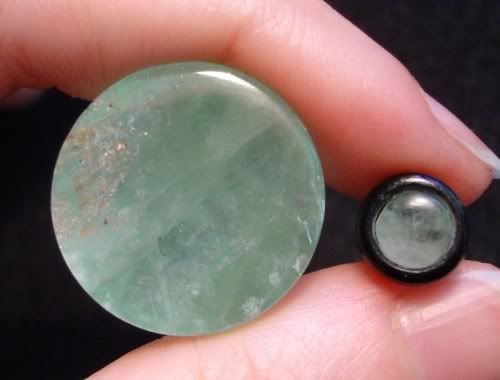 close-up. i love the clouds in even that tiny cab: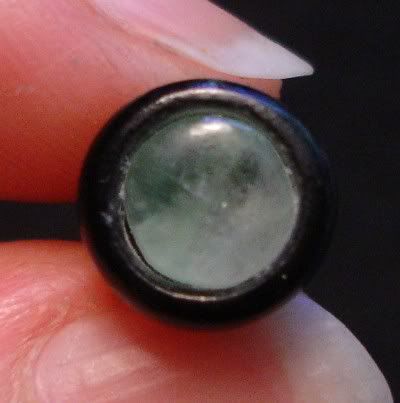 brian's comments:
I'm really out of words and overwhelmed with the completion of this set. So much energy put into these with every step filled with hope until the very end. I feel like I battled a dragon in a way and in some other way, they were very fun and somewhat relaxing with all the hand sanding and hand shaping that had to be done.

I have many many hours into these.. Even that small 4ga piece took me over 4 hours to make. The tiny cab had to be hand sanded to its final state which took a really long time of trying to get it as right as possible being that small. I think the whole set came out super!

i couldn't agree more.

finally, the in-ears: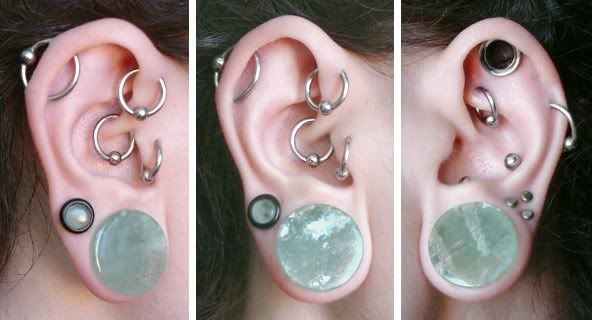 brian was kind enough to veer away from his usual MO & make me a pair with normal flares: 22mm on these. the big spool fronts he usually does look great on a lot of people, but not me. :)

when asked how the hell this all happened, he replied: "I made a peace accord with the Spirit of Calcite." clearly so!

brian, these are SO AMAZING. they feel just like glass, super slippery & wonderful. their perfect flares & nice short wearable make them fit like a dream. thank you sincerely for slaying that dragon... or at least domesticating it. :D

if you're interested in owning some of brian's beautiful art yourself, you can contact him through his lj:
middlewoodland. enjoy!


just another dichro post - http://community.livejournal.com/stretched/5482342.html:
it's a lot easier to photograph dichro with a full spectrum bulb. my camera's not fantastic, but i think i got some decent in-ears of some difficult pieces today. some of the out-of-ears i've posted before, but some are new.

IS blue opal + blue trans match with white nailpolish: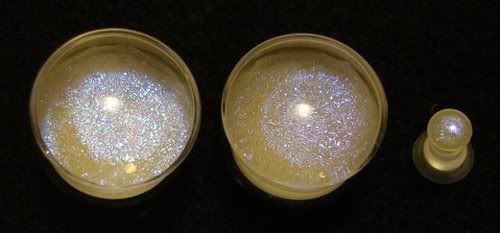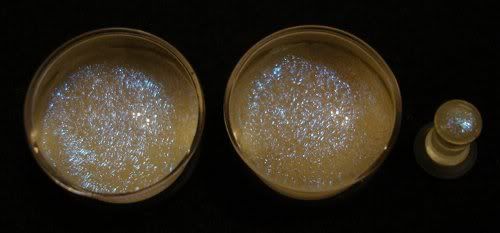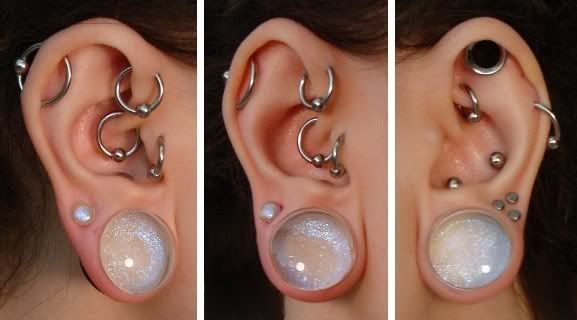 FF orange opal + match: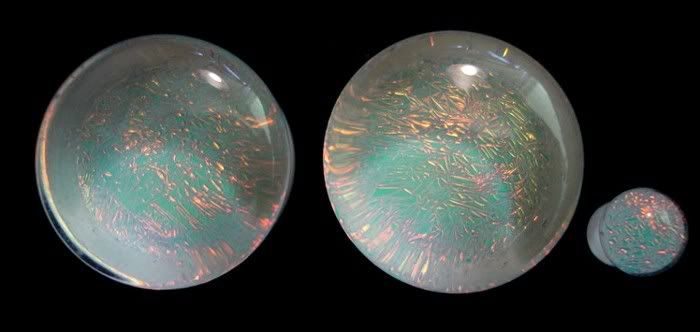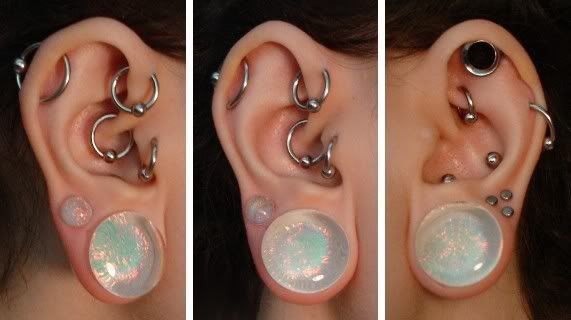 IS red trans + match: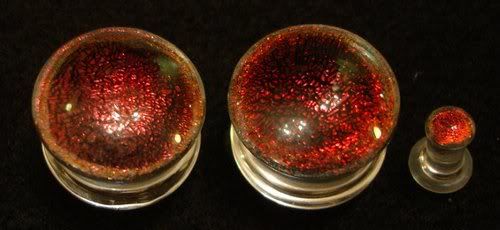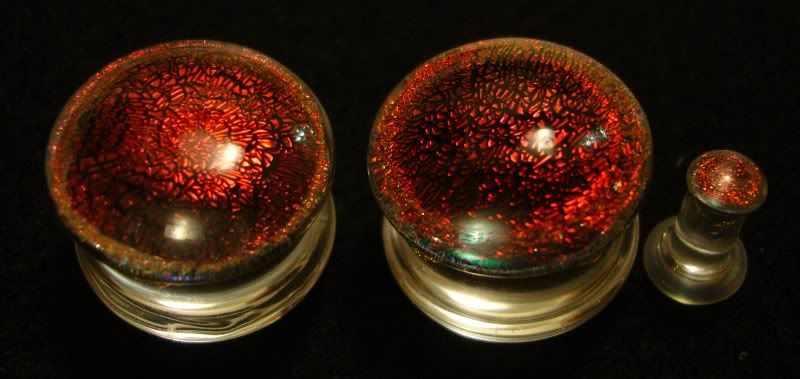 IS silver-blue opal + silver-blue trans match with white nailpolish: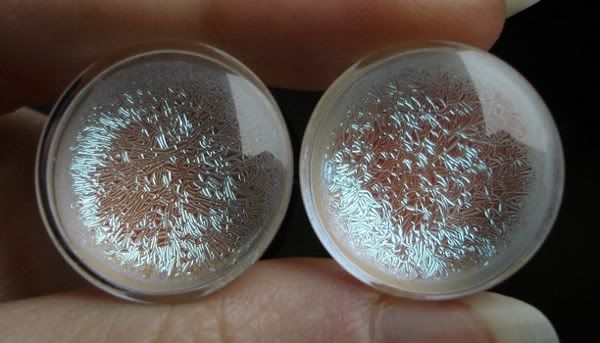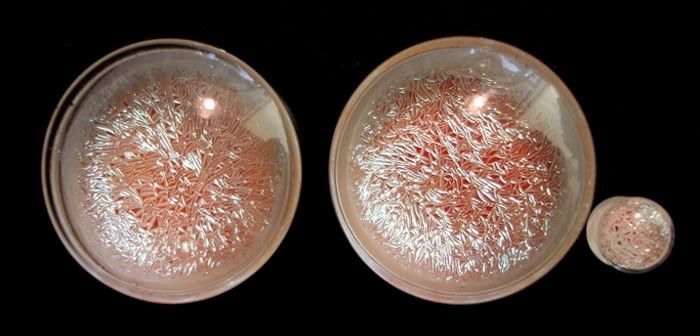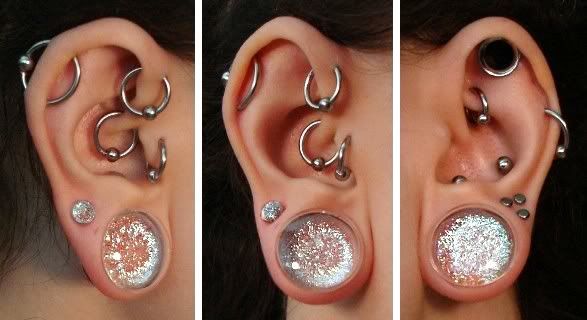 enjoy.


whatever's clever - http://community.livejournal.com/stretched/5483695.html:
i made a coordination post recently, but this one's about clever pairings: do you have plugs you wear with certain clothes because it's amusing to do so? how about jewelry that goes with a specific event?

it's fun to wear gws planet plugs with space invaders. i'm wearing these today, but could easily choose neptune or mars instead: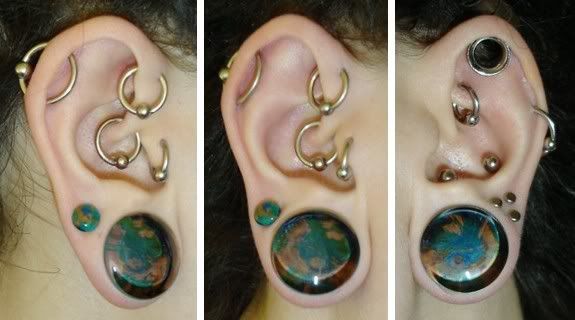 elektroplugs go so well with this xkcd shirt: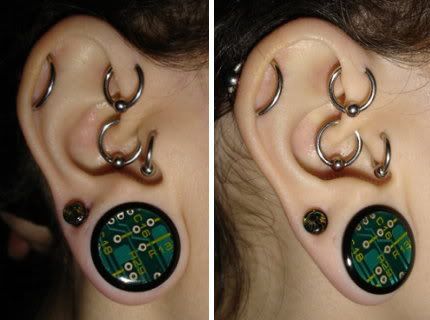 i love to wear video eye plugs to the optometrist: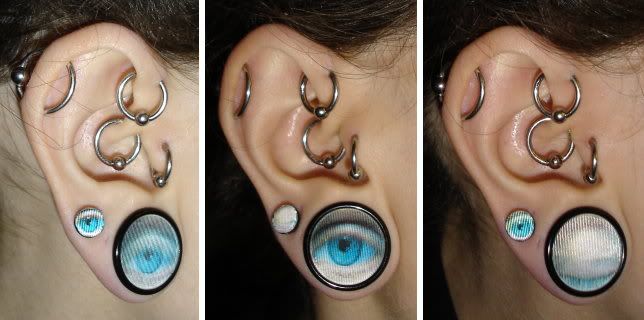 i once wore my fractal spinal captives to a chiropractor: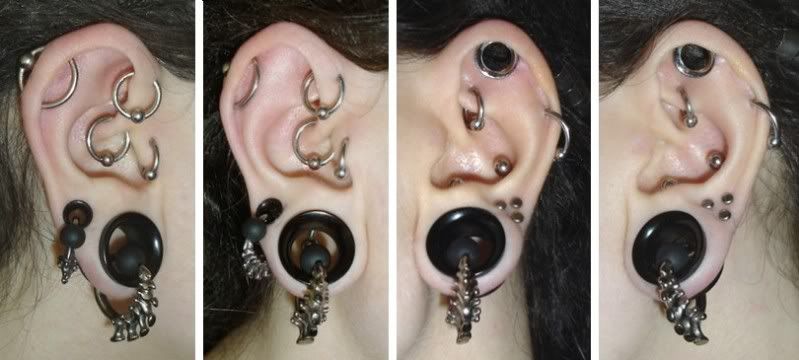 & have worn both of these to dental appointments - lish baby teeth plugs by me &
atrophie: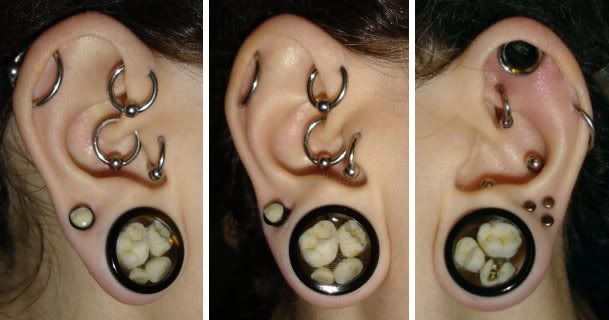 & idea idea idea butterfly plugs by auris: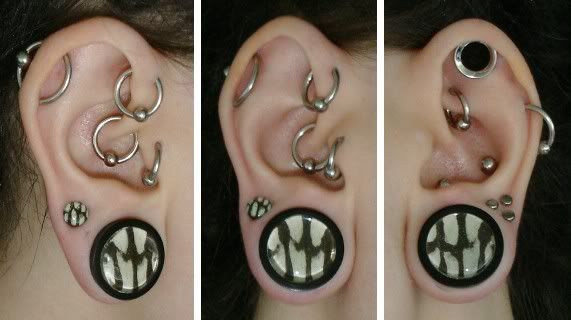 i also wore my ladybugs skydiving, since they're a flight species: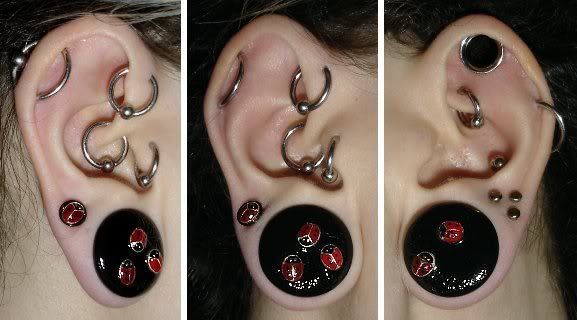 & though i haven't done these, i think it'd be fun to wear amber to a dinosaur exhibit, jellyfish to the aquarium, lizards to a reptile house, dime plugs to a bank, green calcite spelunking, & maybe i could wear time tunnels (new pic)...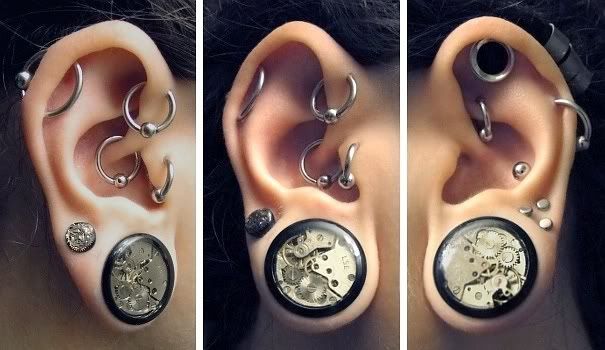 to... switzerland? :)

show us your clever matches!


don't stare too long, you'll go blind - http://community.livejournal.com/stretched/5487022.html:
so i bought these. holy shit. for anyone whose computer crashes at relic's site, they're dual-sided chunks of sexy magic stone. the below photo is leo's; click for full size: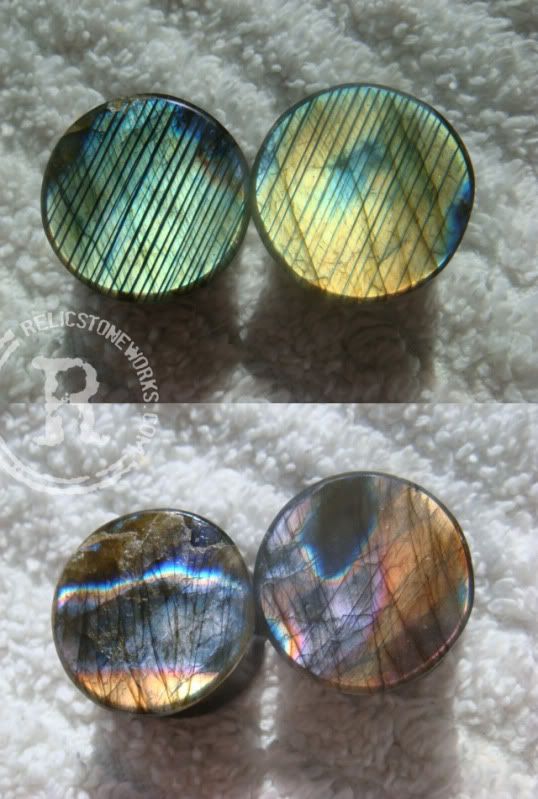 they're green spectrolite on one side, & purple labradorite on the other. according to leo's writeup, spectrolite is the term used for "gem grade labradorite with an extremely strong flash. The main difference is that Spectrolite exhibits a full spectrum (get it?) of color instead of just one or two. The saturation and depth of color is also greatly increased in comparison." so i bought them directly from the website - the only non-commission pair i've purchased from relic. & considering i have two other pairs of gorgeous, bright relic labs, i was very interested in owning something deemed somehow EVEN FLASHIER.

since i'm a strong supporter & had even just bought from relic, that conniving little sweetheart leo gave me a hefty discount on these plugs, & then peer pressured me into buying a 4ga match for each side. well come on, he kept going off about how the spectrolite is SO incredibly flashy, & he'd love to make a match for it, & he has some purple lab too, & & &... well what was i SUPPOSED to do? :D

i debated on these at first - i don't like stripes, i don't like striped lab, & i don't wear purple - but i knew there was something special about this pair. & seeing them in person, i'm SO pleased i snagged them. huge pics follow - most shots were taken under a full spectrum bulb, as they were actually TOO shiny to photograph in sunlight!

the spectrolite side is a gorgeous spring green with drops of blue & copper tones, like a sculpture left in the rain to patinate. the stripes are a lot softer in person than the pic, & look basically solid from two feet away. they're a wonderful treat & i love them more than i expected to.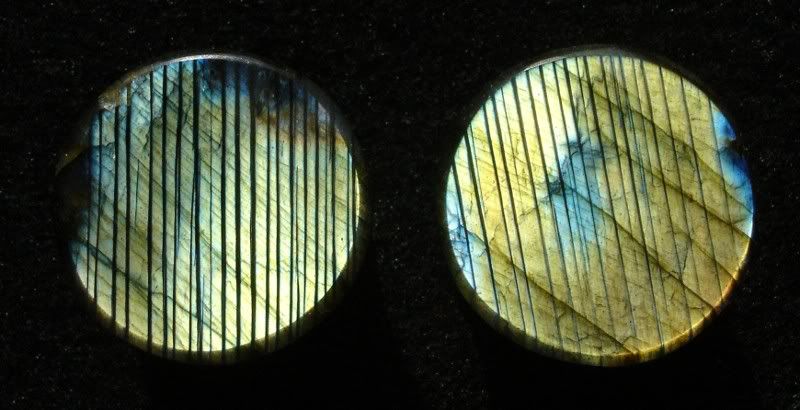 what's interesting about striped lab is that the "dull" parts flash when the lighting source's angle is reversed! it's like the whole structure is going /\/\/\/\.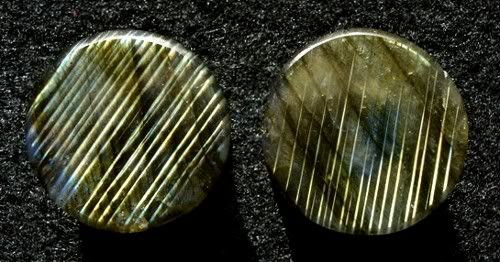 would you like to see them move? :) there's only an overall, static light source, by the way - that shine is what they do.


the labradorite side has a wonderfully grayish-purple flash with patches of coppery orange & white. man, white labradorite. (i have some of that in my relic rainbow labs too. & didn't i just post about how much i love white flash? :D) the purple absolutely shimmers behind the glassy surface. the left plug has crazy depth too - at the right angle, you can see rainbowed crystals of stone. it's funny - i never would have ordered purple labs, but i adore these.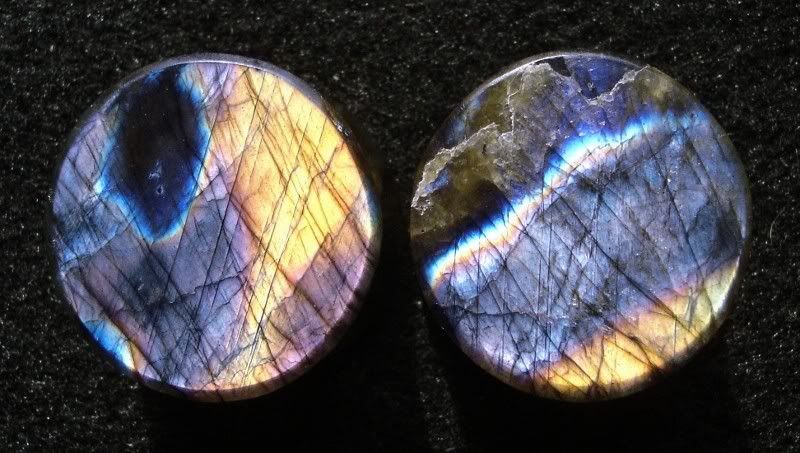 i made a video of the purple sides too:


so about those matches. a week & a half after buying the big plugs, leo emailed me excited about this pair...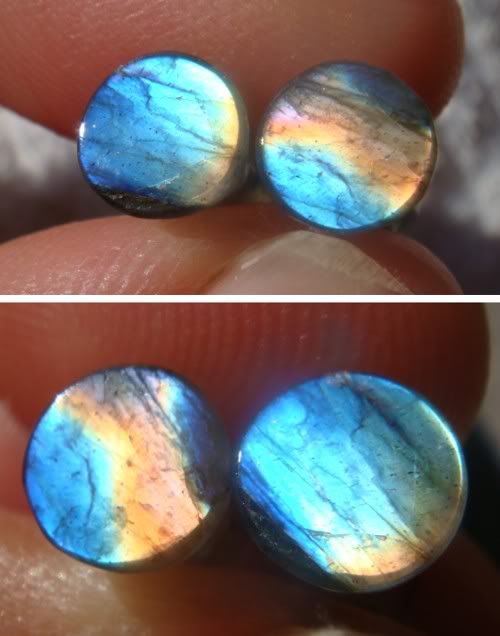 but while they're clearly amazing representations of labradorite, it seems leo focused on the degree of flashiness & not on the color sense. though the orangy plug would go okay with the purple sides, i couldn't fathom wearing bright blue with striped green... or really, bright blue with that great gray-purple, either. it was the first time i've been uneasy about a relic purchase.

i discussed with him that our conversation made me think he was going to do color matches for each side, & i clarified that the level of flash or patterning in the stone is much less important to me than having the color tones match. leo was as sweet as you'd expect/hope/dream, told me not to worry, & said to give him a little more time to get something worked up for me. ah, relief. though, i didn't feel all that bad considering that he could easily sell that 4ga pair for way more than he was asking from me... & in fact sold them to
deadlyrhythm for a very reasonable price. :) (okay, maybe i forwarded her the pics!)

barely a week later, i got a shipping notification. no pictures this time, so i figured leo was confident in his product - as well he should be! i raced home from work & opened the box. the big plugs - well, you've seen them, you know how amazing they are. they're at least 150% more so in person. i found the green match, & it's PERFECT. it's striped the same, it's the same color as the plug i prefer (& the preferred plug always goes in my right ear), the flares are precisely as i requested for my finicky upper lobe... couldn't be better. miraculously, it even flashes at the exact angle needed to see both plugs flash in-ear at the same time! (how leo pulled that off, i'll never know.)

green match pics omg!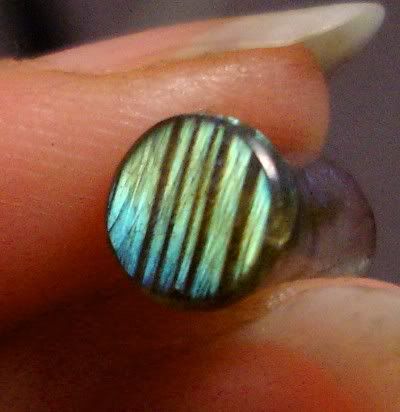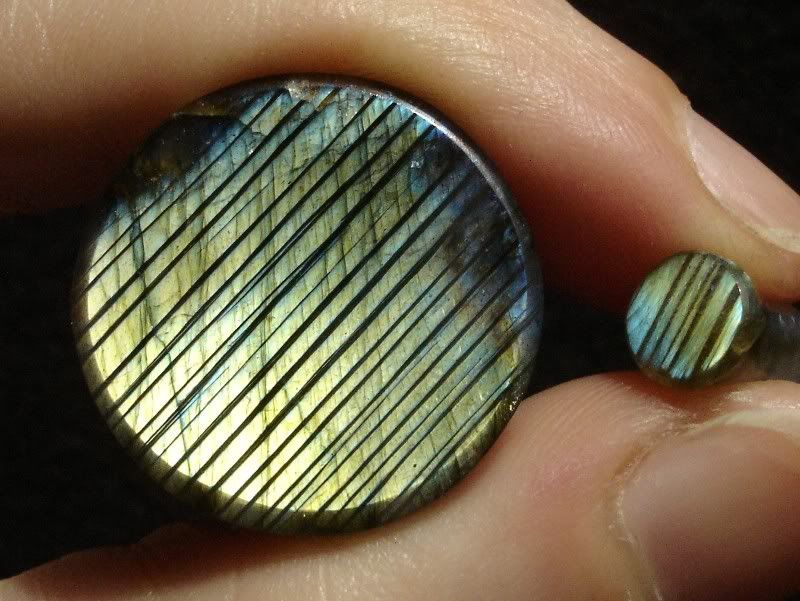 & then i found the plug for the purple match. it was... striped & green.

WHAT?!

i emailed leo highly complimentary of the greens, of course, but asked what became of the purple match. he has my ears on his site in a couple of places, plus i'd recently shown him the condor agate post & two others he'd missed recently, so he's well familiar with my ears. this was the email:

me: [after highly pleased paragraphs about the spectrolite & its match] but leo, i'm still confused here - the other 4ga is also striped & green. what happened to the purple match? i only have the one 4ga hole...

leo: Oooooooohhhhh! That makes a whole lot more sense. I was thinking you only had one smaller piercing, but in my head I for some reason pictured two matching sets. Oops! Just go ahead and keep the extra one and we'll send you out a 4g purple guy on our dime asap! Glad everything else is up to par! talk to you soon and thanks again.

me: *facepalming to the point of bruises while laughing so hard i might pee*

so THAT happened. clearly poor leo has been run so ragged by the folks in this community that we BROKE HIS BRAIN. this is the result of 542375 custom orders & <2 week turn around times! THIS IS WHAT WE GET! :)

after another bit of waiting, the below showed up at my door... one hour after we left for vacation in hawaii. 9_9 tearing open the package was my first priority upon returning home, & ohhh yeah, it was worth the wait.



& the now long-anticipated in-ears for each set:

green sides, normal triptych. i got these to flash decently in the usual shots: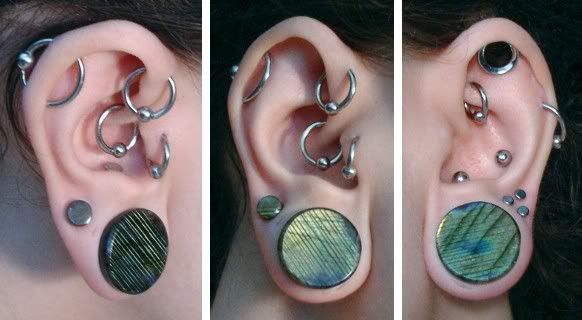 boom, hi little guy!



& the "front flash" shots. these pics prove they're positioned in-ear for the greatest visual effect: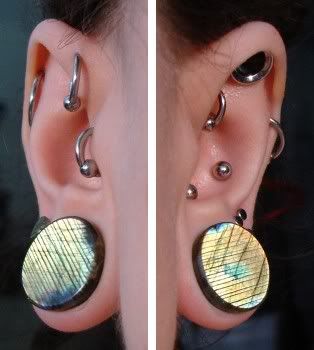 purple sides, normal triptych. even harder to shoot straight-on than the green, but i captured a bit of flash there: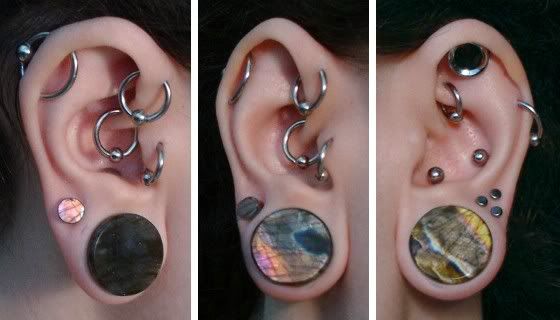 & the purple "front flash", yum: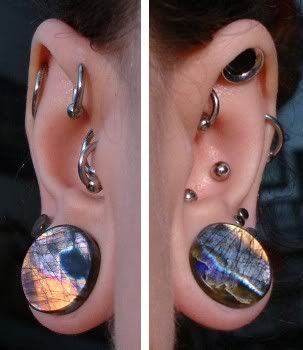 leo also sent a certificate of authenticity, which i found quite charming, & he noted "Annual Lish Appreciation Day discount" on my invoice. :)

now to see if i can swap the extra striped green single for a 4ga blue or rainbow lab, as my oceanic blue labs are quite jealous of these matches! :D

next post: updated full collection. O_O

IF YOU READ THIS FAR YOU DESERVE A SEXY REWARD, TRIPARTITE

1. mostly joe
2. milestones
3. i have too much hair.

coming up next: hawaii 2010!