i fucking love all these 50% gift certificate deals that've been going around. i'm signed up for groupon, living social, & voice, & each site has been ridiculously beneficial. (use those links to sign up if you do; i get a kickback.) i'm also signed up for a local paper's deals, which is a ton of half price gift certificates for seattle stuff. so i spent
greenwellies's birthday cash on these, & took/am taking joe out to eat:

already used:

coastal kitchen: where i had a lovely grouper with fennel-lentil cakes from normandy & an excellent apple tart. we even went back during the same menu for their marmite dieppoise with seared arctic char, mussels & shrimp in a fish fume broth. mmmmmmmm, i'd never had char & it's delightful. that second visit produced this shockingly perfect receipt that we couldn't do again if we tried.

still to come:

avalon: helo to dishes made with sunchokes & dandelion pesto

cafe paloma: anything with lamb is a-okay by me

ohana: i've heard good things about this place, & i can't possibly consume enough sushi in my lifetime.

wtf, man. free is the new black?

beyond jewelry, an abundance of which follows, i don't really have much to type about. i've generally been working too much at the day job, dreads, &
luciferins to have good stories. still, you may have some bullet points on my minutiae:


i liberated my full spinal x-ray from a local chiropractic office, & i look forward to getting that scanned in. i'm also planning on building it a light box display with
sic737's help. remember, i don't have scoliosis, it's just that i'm part snake.

the other day at QFC they said over the loudspeaker, "produce, please come pick up your load. produce, come clean up your GIANT LOAD." everyone in line, regardless of age or social standing, chorlted.

putting 5k into an IRA last year increased my tax refund this year from $850 to $2100. fucking awesome. go economics.

seeing a hipster load his stupid fixie onto the bus to go up capitol hill seriously made my day. GEE, I BET YOU COULD MAKE THAT HILL IF YOU HAD GEARS.

on friday, i made a dinner so lovely i photographed it. seared wild-caught swordfish with coriander, garlic sauteed mushrooms & wilted spinach, & a big ol' pile of yam mashers (skim milk, no butter); icewater with fresh lemon juice (unsweetened) to drink. all organic veggies & high grade olive oil. 375 grams, 380 calories, 8g fiber, 6g fat (monounsaturated, from the fish & oil), 32g protein, 49g carb. :D LOOK AT IT: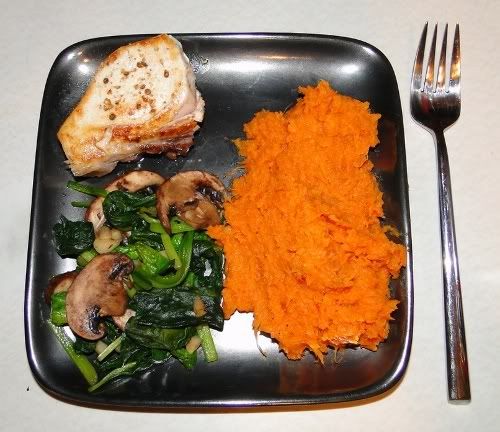 joe & i went to volunteer park to take photos of the perigee moon on saturday. i was pretty happy with what the hx1 can do with its telephoto lens. click for the huge version:

& some dreads pics i've posted lately: my dreads collection; animated campics & such; random shots of me & joe; & an entertaining joe story not to be missed.

next up: those holes you care about.

i accidentally my septum - http://community.livejournal.com/stretched/5527394.html:
well, the plan was to wait two months between stretches, but i've been doing this for a long time, & i know when my skin's ready. so i went for it earlier tonight.

i'd been weighting my septum daily, as noted, & slowly came to find that the 21g keyhole weight i was using was feeling lighter & lighter. at week 3, i couldn't feel it unless i shook my head back & forth. at week 4, i was pushing on the weight to increase its effectiveness. when week 5 hit & i found myself hanging other items off the stone, i decided to make an attempt.

it went beautifully. from what i can tell, there was no backwards movement at all, which was the whole intent of the directed stretching. i let the taper work its way through over about forty-five minutes, employing positioning & gravity to make the job easier, & had only the barest pinch when transferring the jewelry. it's been pain-free since, just like the last stretch.

the pics look pretty much the same since it's all black glass so far, but i promised to document, & so i am. sneer ahead: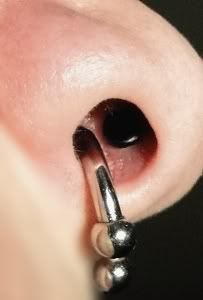 don't let the pics fool you - the piercing is perfectly straight & even, but the o-ring side of the jewelry is a few millimeters away from my septum to allow for the o-ring on my circular. plus it's somehow easier to take pics of the left side than the right, idk what that's all about.

here's a weird double side-shot (from pretty close to 90 degrees, anyhow). it can't be seen, but i'm feeling just the *tiniest* bit of droop start, so i figured it's time to start documenting that, too. & people were wondering if the forward septum can normally be seen. answer: nope, it's a perfect little secret... so far, at least. :D



i'll return to the weighting in a week or two, & we'll see how long it takes to get to 6ga. go stretchy skin! enjoy.



new jellyfish! - http://community.livejournal.com/stretched/5528368.html:
so i fell in lust with the improved GWS jellyfish. not only are they much more realistic now, with delicate tentacles that truly appear to float, but the examples on GWS's site of other backing colors completely sold me on going non-black. the trans sparkle blue background specifically caught my eye - the light blue reminds me of seeing jellyfish at aquariums, & the sparkle aspect recalls looking up at the water's silvery surface from beneath.

i posted this teaser during group wear week 6: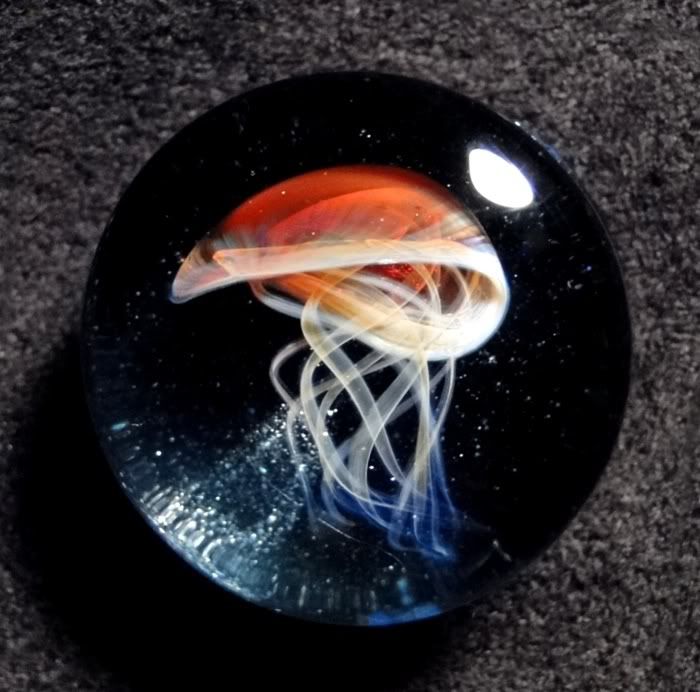 & here's the pair, on black & on white backgrounds:



how they look with a flash: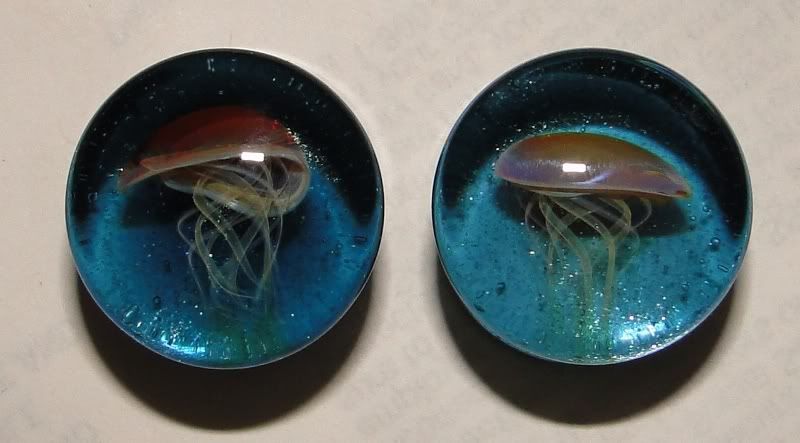 & the change when backlit:



i like that they relate well, but aren't perfectly identical - the left jellyfish has his reddish tones on top of his bell instead of on front:



they're unique little creatures & i love them!

as for the 4ga, i went all out & bought a TSB colorfront to paint on. like my old pair, i opted for the same jellyfish food match, but i lightened up the coloring from last time. i also made him match the jellyfish in color, as it bugged me that the last pair didn't. here's the new zooplankton:



always swimming away from the jellyfish!



the whole set:



i actually had to try a couple times to get him right; my usual acrylic paint came out way too vivid next to the soft jellyfish. so i took advantage of having purchased a pair of TSBs, & gave it a second go without sacrificing the first. for those interested in my ridiculous artistic process, here are the three little zooplankton i've painted: old on-black acrylic paint match; first try TSB with acrylic paint; & the final winner painted with less opaque mixed nailpolishes, then overlaid with tinted clearcoat:



& can't forget the in-ears!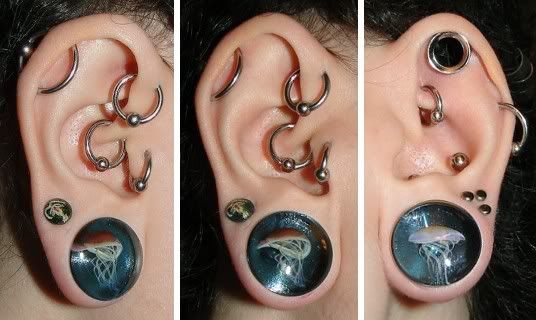 the trans sparkle blue is so interesting a background i even took a video (fancy new camera HD helo). here i stuck the camera on a tripod & moved the light source around to showcase the sparkle:


i looooove them, & hats off to
ryangws for tolerating me so well as to make this post happen. :) enjoy!


what would make me send this email? - http://community.livejournal.com/stretched/5532238.html:
Date: Sat, 29 Jan 2011 17:09:54 -0800 (PST)
From:
lishd
To:
ryangws

HAHAHAHAHAHAAHAHAHAHAHAAHAHAHAHHH OMG

O M G

ahahahahahha YOU DID THIS JUST TO PROVE YOU CAN hahahahahahahaha

STRETCHED WILL HEAR ABOUT THIS, YOUNG MAN

lish

THIS is what made me send that email: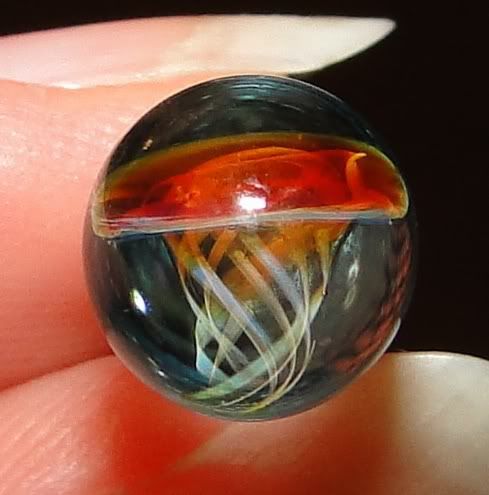 :O

so when i posted about my trans sparkle blue jellyfish, ryan replied, "i am suprised you haven't asked me for 4g jellyfish....hummm....probably in a Ball flare???...need to try this when i get a chance ;)" & i laughed & said he's welcome to try & i promptly put the idea out of my head because

I TOTALLY DIDN'T EXPECT HIM TO DO IT. & i sure as shit didn't expect him to SEND IT TO ME UNANNOUNCED & COMPLETELY BY SURPRISE. the packaging didn't even have a return address on it. RYAN, I HAD ABSOLUTELY NO EXPECTATIONS THAT YOU WOULD ACTUALLY MAKE THIS HAPPEN, & THIS IS FUCKING AWESOME!

the fact that it's a little round jellyfish in a ball flare is genius, because he's visible from every angle. & i mean it. check out the in-ears: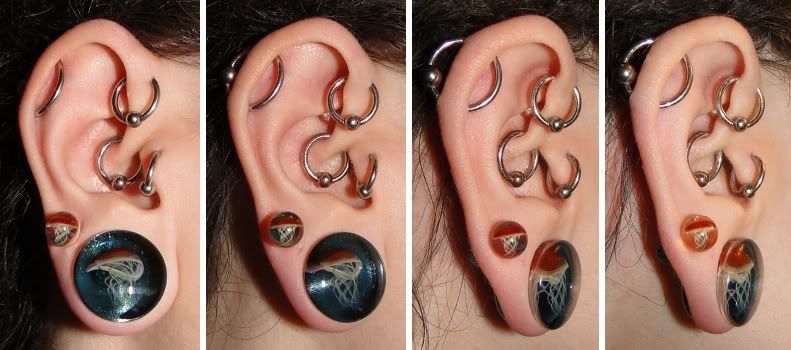 edit: omg i just noticed i can see him in the mirror from head-on, too.



edit 2:
gorthok's 2ga conch will fit the 4ga DF, so i took in-conch pics too, mostly for
disgorge. :D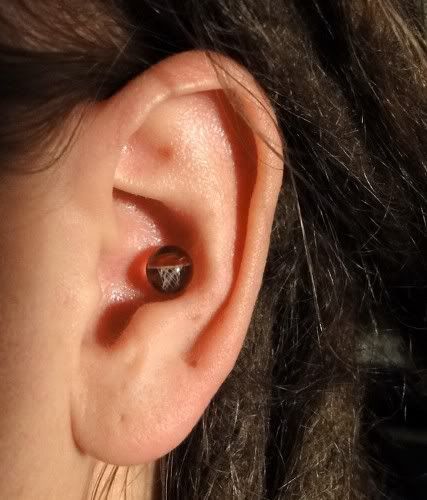 & a close-up in-conch because of how awesome he looks: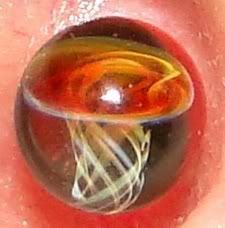 seriously. he's even on trans sparkle blue! HE EVEN HAS A RED BELL. i laughed for a good five minutes straight before i could even tell joe what the hell's going on.

HE DID IT JUST TO PROVE HE CAN. & ohhhhhh, make no mistake: HE CAN.

ryan: THANK YOU.
the rest of you: GO PLACE ORDERS WITH THIS CRAZY AWESOME ARTIST.


FRACTAL DEMONTAILS. - http://community.livejournal.com/stretched/5533047.html:
i made another pair of these emerge from the ether.

so i was a little bummed when i missed these on the time-explosive, non-auction fractal sale a while back. i wasn't even 100% on wanting them, but everything had aligned so well that i thought i might have them - i got out of work a few minutes early, the elevator was already at my floor, i caught perfect transfers on the metro, & got up to my apartment with two minutes to spare. i pulled up a graphical browser (i normally use text-based), refreshed lj, the post was up!, i clicked "comment on this"... & livejournal did its stupid "Once the ad ends you'll be returned to your LiveJournal experience" thing. even with a fast F5, i knew it had killed my chances. things might've gone differently had i opted for lynx, or lynx might've done its "hm livejournal is taking a long time to resolve! i'll just sit here & wait" thing, & i could've had the exact same result.

ANYHOW, i ended up snagging a giant 4ga 1" demontail single through someone else a bit later, & it was fun to have around, but i didn't exactly have a use for it. since i always keep my eyes open for fractals, i recently came across someone trying to sell a 6ga set of demontails for way more than they're worth as "second line" fractals. i talked him down to about a third of his original asking price, & so these came into the collection.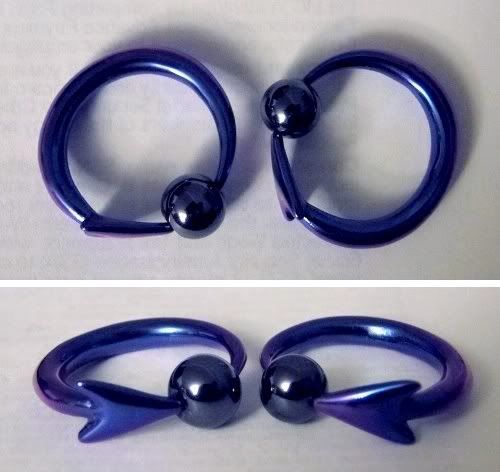 i'll probably leave them anodized - they're quite varied between purple/blurple/bluish, & i'm kind of digging it.



& the 4ga i de-anodized from fuchsia: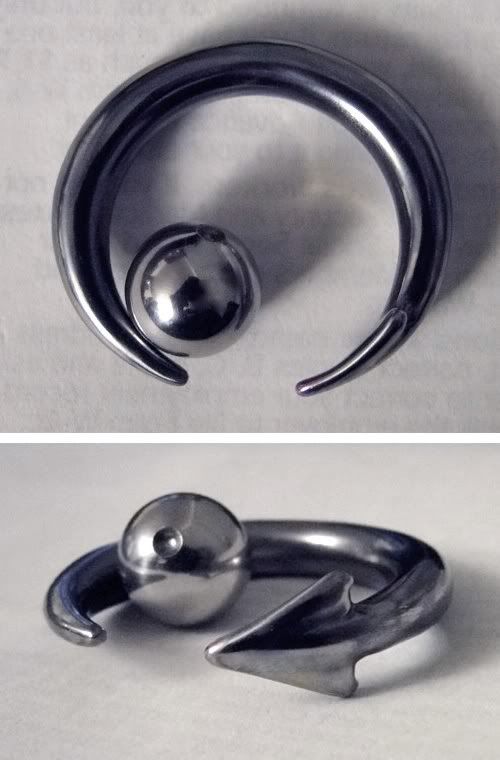 if i had been able to purchase the 8ga pair, i was considering making a second set of outer labia piercings for them, in front of my 6ga Ti circulars; though, with these at 6, i could feasibly wear them through the existing piercings for... special occasions? ;) you don't get pics of that, so here are some in-ears instead, through my custom paul's plugs ebony.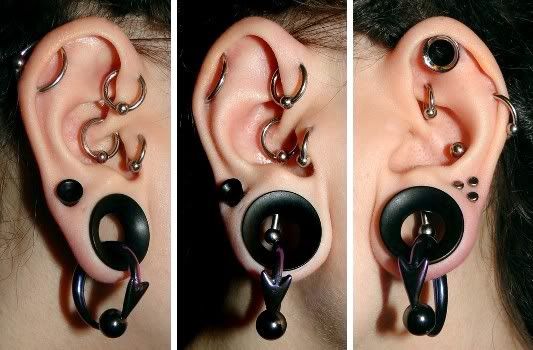 either way, i'm at a loss now for what to do with the big 4ga single... well, i suppose this is an option!



or maybe not. :D

enjoy.


kambaba baby & bloody bloodstone - http://community.livejournal.com/stretched/5535427.html:
so i totally sniped some poor girl's birthday post on gt to acquire these, but you gotta be fast when requesting a popular size! :) thanks to the lovely
hollzilla's obese lobes, she was forced to have a set of sacred organics plugs remade with thicker wearables, leaving these nice skinny ones for me.

first up, kambaba jasper!



i've had my eyes open for a pair of kambaba since
leomentlines posted her gorgeous teardrops. it was on my relic wishlist, but leo never seemed to grab any, & i don't trust oracle with commissions. hollzilla's pair was beautiful & sans bullseyes, so i snapped them up too. the library of google says it's fossilized sedimentary stromatolite algae from madagascar. HOT.

i had a lot of trouble photographing it - the green just would NOT show up except with a flash, so you get blow outs, har. sorry; suck it up.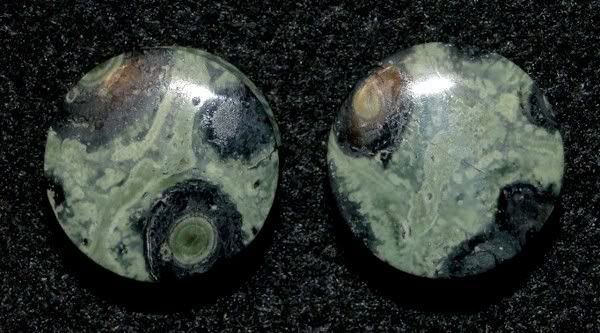 backs: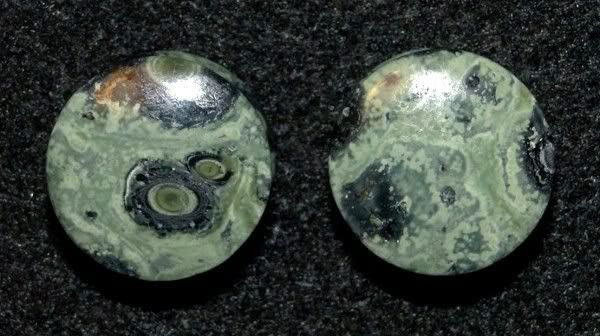 the match for these is straight acrylic over the pink/purple dyed howlite i recently sold. recycling is good. :) i'm quite satisfied by the amount of detail i was able to get into the light areas.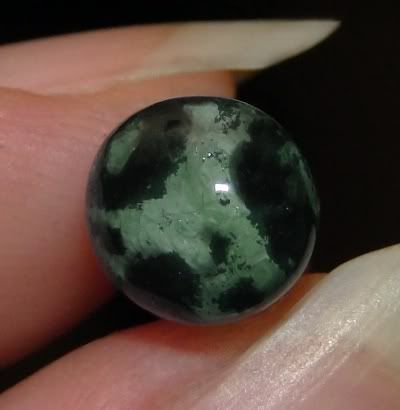 with the big guys:



the in-ears:



next up: the african bloodstone, from this sexy hunk of rock:



i love these particularly. hollzilla linked me to the post on their facebook, & i was stunned by the translucency & inner movement. i'd only seen bloodstone that looks a lot like watermelon jelly bellys - an ugly dull green with equally ugly red flecks - & apparently that's the difference between indian & african bloodstone. the google also taught me that bloodstone is a type of chalcedony, & what i have is also called seftonite. i call it delicious. this is SO's pic:



& my shot. i love how well matched the fronts are: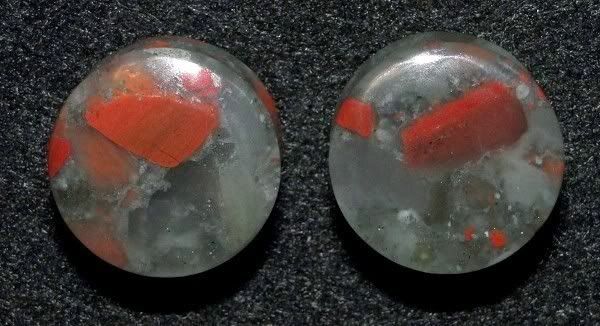 backs:



backlit. this is the more translucent of the two plugs: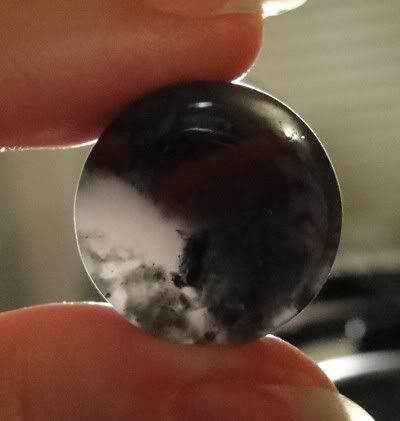 BY THE FUCKING WAY, did you notice there's some marcasite in them? shiny :)



the match is on 4ga white jade, the big set of which i also recently rehomed from disuse (but not lack of love, so i'm glad to be able to rework the 4ga). i used a bit of acrylic paint & clear coat i tinted to mimic the spots & translucency. it took four layers to accomplish, which is pretty involved for a painted match, but i'm very pleased with this outcome:



see? white jade. :)



all together: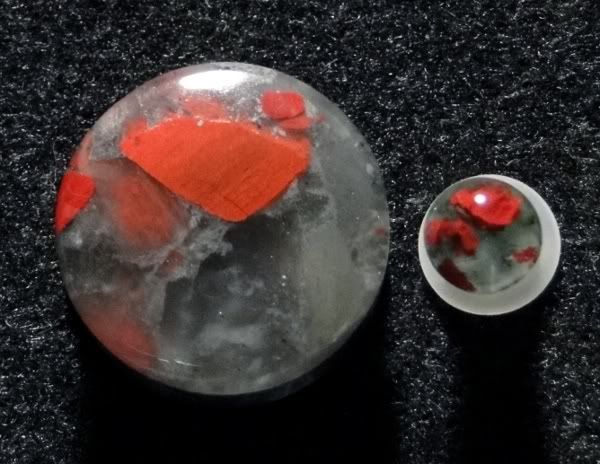 the in-ear shots accented the slight greenish tone to the stone (& my match!). their true color is between the gray & green, but changes with different lighting.



thanks for selling to me,
hollzilla! i hope you love your new rock crystal as much as i love these. :D


FMX - http://community.livejournal.com/stretched/5539473.html:
because this is awesome, i present my recent dental checkup x-rays: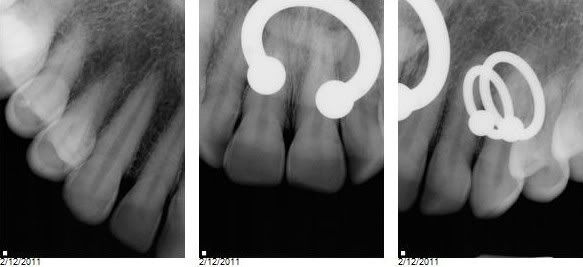 you can see the 10ga circ in my back (older, cartilage) septum, double 16ga nostrils, & if you look carefully, the 8ga glass plug in my forward septum is visible, too. :D

---
testing4l had something particularly amusing to say about that last one:

[12:32] <phil> Oh!  I just oriented my brain around those x-rays
[12:32] <phil> and yeah -- there's the plug.
[12:33] <phil> right in the center one.  it's like you were playing X-ray horseshoes.
[12:34] <phil> I'm making out with my monitor because that seems to be the closest I'll ever get.  =(
[12:34] > ahahahahahahaha
[12:34] > hahahah

ohhhhhhhh fuck, obsidian - http://community.livejournal.com/stretched/5543444.html:
man, i don't even like rainbow obsidian. i've passed on several "good" pairs of it because they look like mud to me, &, from all reports, end up looking like mud except in bright sunshine... at which point they look a mess. this is a great example of what i hate.

but if you'd like to see what i loooove - well hey, i'll just quote
middlewoodland here: CHECK IT THE FREAK OUT. this is my new VELVET obsidian.



one of the things i really like about brian is he always knows where his materials come from, & sources many himself. of this pair, he wrote:
These are made from Davis Creek Velvet Obsidian from Davis Creek, Oregon in the Northeast corner of the state right near the border of Washington. So far the only velvet obsidian is found here and in Mexico which goes under the name of Royal Velvet Obsidian and is pretty much exactly the same in character.

Being that it is in fact in the family of rainbow obsidians, in low light they are dark 'with something going on' and in any other outdoor light, they freak out. They never go 'black' and the color is always there. It's a very gentle, slightly rolling, almost three-d/depth beauty. It is somewhat rare, somewhat hard to get and is more known in small lapidary cab making circles as well as flint-knapping circles. They look like VanGogh painted them. ;)

to start, brian sent some procedurals. you can see the plug-to-be in the first pic is the one he's holding up in the second, making sure both are visually weighted to match. he's excellent at this!



a montage of the finished pics brian sent a few weeks later:



once he got my enthusiastic & overwhelmingly positive response to the pair, he made the 4ga. while waiting, i researched velvet obsidian. i found this page, which explains the visual effects: Obsidian may contain patterns of gas bubbles remaining from the lava flow, aligned along layers created as the molten rock was flowing before being cooled. These bubbles can produce interesting effects such as a golden or a rainbow sheen. i also found this page which details a lot of the awesomeness in my stone drawer.

& you want to talk about confirming visual weight? check out the full set:



there's no seattle sun & i'm too excited to post these to wait, so it's mostly brian's pics for you... but i did find that, with a flash, they look a lot like abalone. what crazy stuff this obsidian is!



brian makes his plugs to exacting specifications, & omf, they fit like BUTTAH. like BUTTAH i say. this could well be my most comfortable set, with a perfect 13/32" overall length. & while the front flares are a bit larger than i'm used to, they still show a good amount of lobe:



oh hey, would you like a video? be sure to up it to HD quality. ;)


as brian promised, these NEVER look muddy or ugly. even in my dark office they look like water in a midnight creek. they're just amazing. & i didn't contact brian to find them. i didn't ask him to hunt down a material i nearly always hate to find the ONE piece of rough that would suit me perfectly. brian's a generous, genuine, sweet, thoughtful person & sent me the initial pics just because he thought i'd like them.
atrophie said they have spirits in them. i say they also have brian's spirit in them.

obsidian is glass, but it's also classified as a "natural gemstone" - so i'm putting it in the stone drawer with my other middle woodland pairs.
splendidgeek of the splendid geekiness has already blessed this decision, so i'll hear none of your flimflam, poppycock, or horsefeathers. :D

so... brian does have more rough, & he's reading along in comments... feel free to try to sweet-talk him into posting pics if you're interested in a pair of these for yourself.

to brian - thank you once again for creating something amazing for me to wear. :)

& to the rest of you - go commission something delightful from
middlewoodland!


six videos - http://community.livejournal.com/stretched/5545063.html:
hi kids. i had some extra time last night, so i took a bunch of videos of my "moving" plugs. be sure to select HD quality if you have the bandwidth!

one of my DIY red mirrorbacks (trans red paint over true silver mirrorbacks) next to an emblem red flashback. they match quite well... but mirrorbacks come out on top. :)


an updated recording of the first pair i captured in motion, blue/red acid plugs. i still adore wearing these:


frozenfire's copper sparkle dichro, made of magic color-shifting wonder:


one of my favorite gaugetrade snags, flashy sodalite (DIY inlaid):


relic blue labradorite. you may recall i already owned the plug on the right, & had leo match it with the one on the left. the original plug isn't 100% flash, but i just love the way the deep blue shimmers. it's unique in that.


& my relic rainbow labradorite, hanging around being proof of nature's sentience:


i plan on recording my hardass disappearing spirals too, but you have to wait for a sunny day in seattle for those. (good luck.)

enjoy!


two more videos - http://community.livejournal.com/stretched/5548352.html:
since i finished packing the
luciferins order last night, i had the time (& daylight) this morning to take two difficult movies. these are the six i took last week, for anyone who missed them; remember to bump up to HD quality for these two new videos!

gg blue/green/peach trichro, purchased in 2008. seems the 2011 pairs are getting pretty sad - mostly just blue/peach from multiple reports. don't settle for less than awesome with trichro, 'cause they're amazing when you get a good pair. the video's a bit dark, but i wanted you to actually see how the green dichro lays on top, & not just be blinded by ~omg~sparkly.


& hardass glass disappearing spirals. i had to dress like a ninja for this video since they're just like mirrors, but i think i was able to show their magic pretty well.


enjoy!


oh hi! it's another septum update - http://community.livejournal.com/stretched/5550090.html:
guess who hit 6ga last night. :)



my forward septum was a bit sore when removing/cleaning/reinserting the jewelry for about a month after my fast stretch to 8ga, but there's been no issue. know your body, folks. :) & in knowing my body, my septum requested some time to sit at 8ga before returning to the directed weighting, & i gave it.

so a month & two weeks after the 8ga stretch, it felt fully back to normal, & i recommenced daily weighting. on the last stretch, i was using 21 grams for ten minutes a day. this time, i had to progress to 42g for it to feel heavy, & i went for twenty minutes a day. i also modified the paperclip brace to make the angle more extreme. two weeks later, the first day 42g felt like nothing, i went for it.

the 6ga taper was decently comfortable to wear (& i recall a lot of folks having issues going to 6ga), so i really took my time with it. i used an o-ring on the small side to keep it in place & spent three hours slowly moving it through.

the result: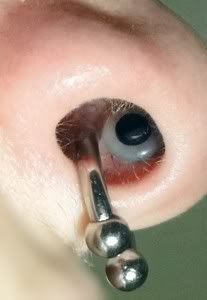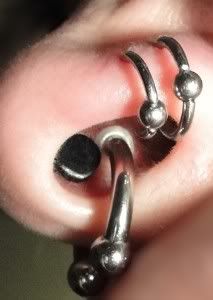 i'm definitely feeling the plug causing some distortion now, though i don't think it's visible (which is fine by me, as i'm indifferent to droop - if it happens, it happens). here're the side pics at 6ga. maaaaaybe just a tiiiiny bit of change seen from the left?



compared to 8ga:



so! a little sore this morning, but i have full "range of motion", as it were, in my nose & upper lip. i don't feel any pressure on my cartilage, & both pieces of jewelry still fit in my nose, so i'm calling the directed stretching a continuing success.

so yeah, 12ga to 6ga in 5 months - to the day - & aiming for 4ga by june. why yes, it IS awesome being this stretchy-skinned! thanks for asking. :D

that's enough for you for now.