hi. i'm currently enjoying sofa wifi while recovering from surgery i had today. no, i didn't really tell the net about it, & i'm not going to go into many details. it was somewhat major (full knock-out anesthesia, sterile room, bunches of doctors - but outpatient), planned, non-cosmetic, & fortunately regarded quality of life, not quantity. it went really well. i'm off work for a week, which is nice, but am posting primarily to call out some friends for being particularly awesome today:


atrophie for actually sending me flowers! i can count on one hand the number of times i've received flowers, as i strongly discourage this practice as any kind of romantic/apologetic/otherwise stereotypical gesture - but from a friend they take on an entirely different & much more touching meaning. she just wanted to do something for me from a thousand miles away, & this beautiful bouquet of all red flowers totally surprised & pleased me.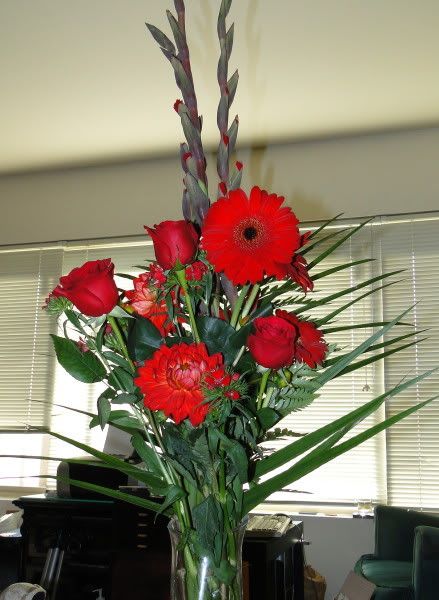 it's not a great pic, but it's pretty okay for being taken from a prone position, heh. they're just next to the sofa & i keep seeing them & smiling. thank you lindsay!


testing4l for making magic happen with a reluctant netbook & NFS, & for patiently handling same via a sleepy & understandably-stupid-today lish. i didn't even consider that NFS would be a Thing Highly Useful in this situation, but now i don't have to wait for scp (though 1.7mbps isn't too shabby) or convince joe to boot up sneakernet (ie walk over with a pendrive) - i can watch movies directly from my machine via sofa wifi. :D thank you phil!

rich,
sic737,
journalface,
hannunvaakuna,
girlgoth, mika &
sheeep for asking after me & making sure i'm taken care of. sorry if i forgot anyone, y'know. thanks all!

&, of course
gorthok, for his continued triumph as best boyfriend on the planet. aside from being my ride & such, he's on general beckoned-call duty - he got wifi working in the apartment (on a hacked fon router!), set me up with technology, remotes, pillows, water, & lindsay's flowers; he's made the apartment warmer or cooler or breezier as needed, ran to glo's to fetch a delicious breakfast, & trooped all over until he found a metro market with a fresh slice of lemon meringue pie (a favorite) as a surprise. thank you babe!

joe's napping now, as soon so shall i, but i wanted to throw this post together first because today has just gone as exceptionally well as could be asked for. & hopefully i'll be in the percentage that has full success from this surgery.