so this past week i was on the east coast, & in the most pain i've been in since the time i had to call an ambulance.

but it was totally worth it.

i flew out on the 10th to PA to hang out with
jesuscrux, see my wonderful, perfect grandmother, & then drive up to NH with tom. all of this went quite well, despite having to regularly slather myself in 50 SPF since tom refuses to keep his miata top up during daylight like i do mine. LIKE NORMAL PEOPLE DO. i had some excellent general tso's on wednesday at a place near tom's house (man there is just NO good chinese in seattle; fucking thai & pho everywhere), a very nice lamb pita with hummus & parsley quinoa on the drive to NH saturday, & two mediocre dunkin donuts somewhere in there (i rarely eat donuts, but i might finally relent that top pot is superior - or at least more consistent). i also bought a reasonable amount of tastykakes, which i continue to lament are not available here.

tom & i made it to our first hotel in lexington MA before shit went sideways.
gorthok &
atrophie were both scheduled to take redeye flights - lindsay to o'hare & then NH; joe to PA & then a quick jump up to NH. joe overslept his alarm despite constant reassurances to me that he'd be to the airport well ahead of time & i didn't have to be a nag. so i didn't worry until a half hour before he was supposed to be AT the airport for check-in, & my call found him sleepy, pantsless, & not packed. bitch somehow got his shit together, booked out of the apartment, caught the bus, caught the light rail, got through security, & made it to his seat on the plane with EIGHT FUCKING MINUTES to spare. exhausted from worrying for hours that my upcoming modification would only serve to remind me of joe's HORRIBLE FAILURE, i quickly fell asleep.

...& woke in the morning to the following text:
I'm off the scheduled plan. The co-pilot's seat belt broke. There was rough air predicted so we turned around to land and fix it. However: we couldn't land because we were too heavy so we ran in circles to burn off excess fuel. They say they are going to reschedule connecting flights. Will keep you posted...

!@#!@$!@#!$#!$!

they flew in circles for FOUR HOURS. on what would've been a FIVE HOUR FLIGHT. what the shit kind of logic is that? oh we can't fly across the country with a BROKEN FUCKING SEATBELT but we can CIRCLE SEATTLE for 80% of the original flight time & fuck everyone up over a SEATBELT!@#!@ ugh.

by the time i read his texts, joe was nearly to PA. i called the airline to find out when he'd be coming in to NH & was told he'd be on the 4pm to arrive at 7pm - potentially missing the whole cutting. he was originally supposed to come in at 11am, & my bodywork was scheduled for 3pm. my response to the airline chick was, "that is INCREDIBLY inconvenient. is there anything you can do?" & i must've been just beseeching enough without being her typical screaming customer, 'cause she somehow found joe the last seat on a tiny commuter plane set to arrive at about noon. she even kept his 4pm reservation just in case he didn't turn his phone on or had a dead battery when he landed. i took the time to compliment her to her supervisor, & was indeed able to get joe on the sooner plane. (joe reported later that the check-in folks were astounded that i'd gotten him a seat, & they asked if i worked in reservations to've pulled those strings, haha.)

so instead of joe waiting a half hour for lindsay's flight & then coming to meet me & tom, we went & met lindsay & waited together for joe. (just as well, since lindsay was too young to rent a car on her own - though apparently the guy at national just wanted my WORD that she'd be okay, since he didn't take my license or a cosignature or anything.) lindsay had her own ridiculous flight experience, having been shuffled to the international terminal's security since SFO was packed, & then having to race back to make her flight. but she was generally just fine.

so beyond that, everything went pretty okay - we had a decent lunch together & found precision easily & right on time. ryan & i spent a while fucking with my hawk stencil, & then he went to cutting. he took two hours to do a once-over, which was pretty painful but tolerable, then applied the lidocaine gel - which hurt like FUCKING HELLFIRE. for those unaware, lidocaine always burns wildly & then numbs out beautifully after a few seconds... but the sheer quantity of it going into so many tiny cuts was horrendously intense. by the time one area started to go numb, another was just being touched by the gel & the pain seemed unending. i actually had to stop ryan twice while he was applying the gel so i could catch my breath & not pass out.

the next three hours of work were spent carefully widening every single cut. i didn't want any flesh removed, & ryan agreed that cross-hatching looks like shit when healed, so it's allll linework. (he did end up removing the hawk's talons, though, since there would've been no bloodflow to sustain those tiny pieces anyhow.) after a dozen blades or so, we ended around 10pm. ryan cleaned me up & took a ton of pictures, & we woke poor lindsay who was asleep on the sofa.

i'll show the end result first:



(yeah by the way, i've posted some more of my tattoos now. you can go find them in the expected place if you're not an idiot. don't make a big deal of it.)

& here are some procedural pics. cutting the first pass:



first pass finished:



& cleaned:



starting the second pass:



ryan said the second pass is "where the magic happens", & that's clear to see:



ryan using me as an armrest - i said this was fine 'cause he's nice & warm. :D don't judge me, it's fucking cold to be shirtless & bleeding!



one more hour to go. (i'd just gotten back from the restroom, we didn't have the barrier back up yet):



finished!



& cleaned:



five hours of cutting - this was definitely my most painful modification. but it was so, so worth it.

we'd kept tom's car with us in case he got bored & wanted to split (he was too entertained by joe & lindsay & my pain to go, yay!), so we caravanned to our hotel in salem NH where i was nearly crying & in astounding amounts of active pain. the trick about lidocaine is that it works great when it's working, but it leaves my skin hyper-sensitive when it wears off - i would've been in less pain at that point had we not used it, but then i wouldn't've been able to make it through the entire cutting. so it's a trade-off that i knew was coming, but it still completely & utterly sucked. advil helped a bit, & after a couple hours i was able to sleep.

the second day was like nothing. others had warned me of the first shower, & even ryan said to sit down & have someone on guard, but it barely hurt - just a mild stinging from the pearly green antimicrobial soap ryan gave me at the shop. we went out for breakfast (mmmm eggs benedict with pesto & spinach in lieu of hollandaise & ham, & the peach melba tea cake that came with joe's order was amaaaazing) then drove to salem MA to fuck around & visit rita's water ice, which is right up there with tastykakes on the scale of "shit i would very much like to import all the time". we saw a silly witch trial dungeon thing & then drove to the atlantic so joe could touch it. we found some glorious tide pools there, enjoyed by three while i stayed safely at the bank, as i have poor enough balance without five hours of fresh bleeding rawness on my ribs. tom brought me the tiniest hermit crab (& joe returned him safely to a pool before we left). the video of the hermit crabs crawling over joe's feet somehow didn't get saved, but here's a smattering of photos of joe being a tide pool hippie: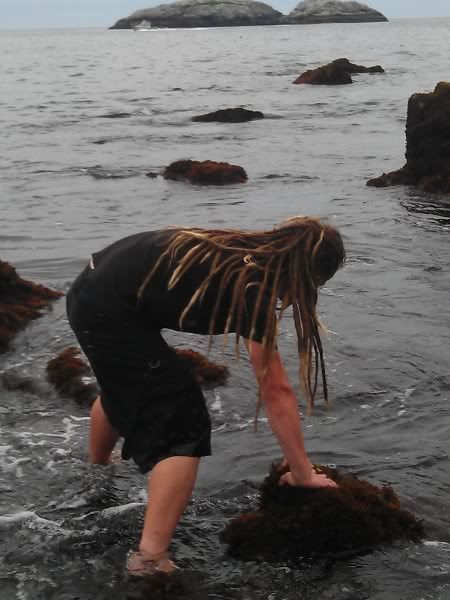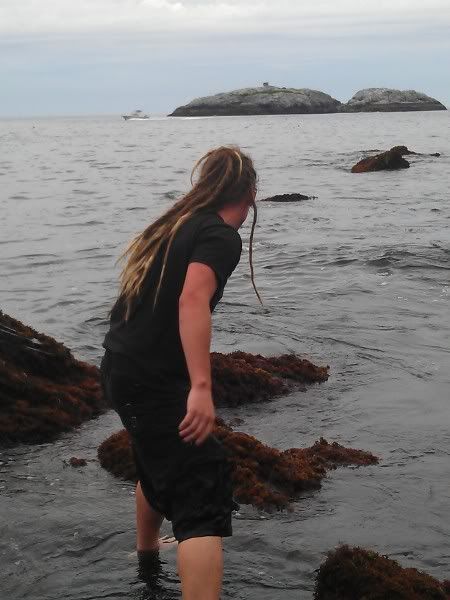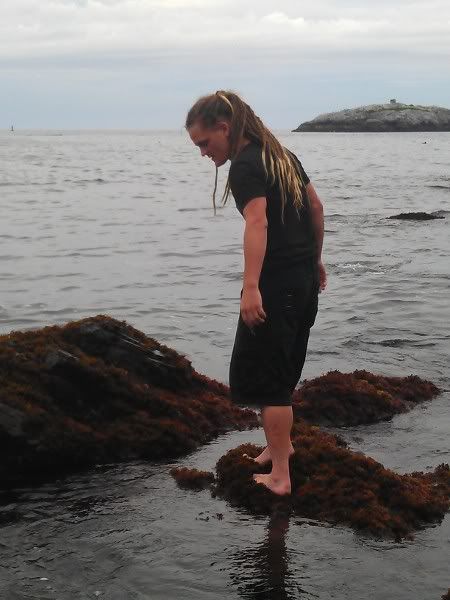 oh hey, thanks lindsay XD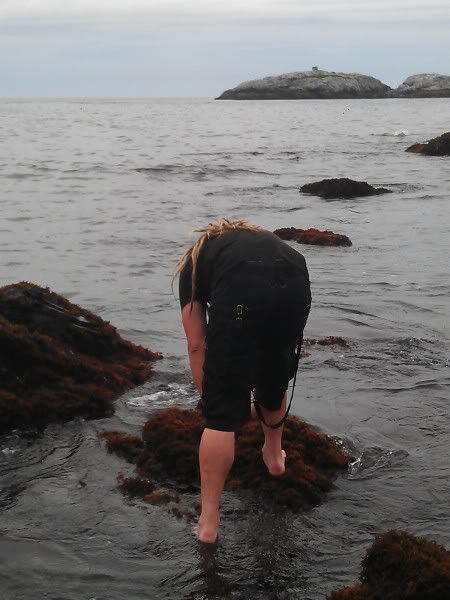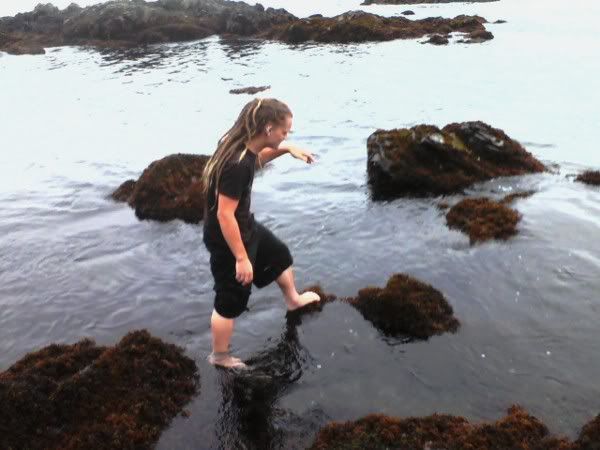 edit: oh! four more surfaced. :D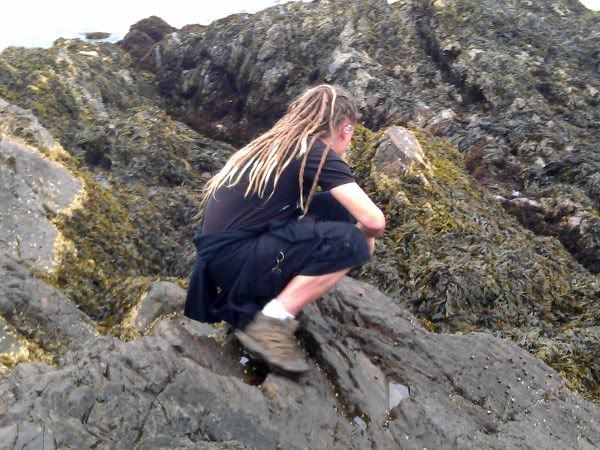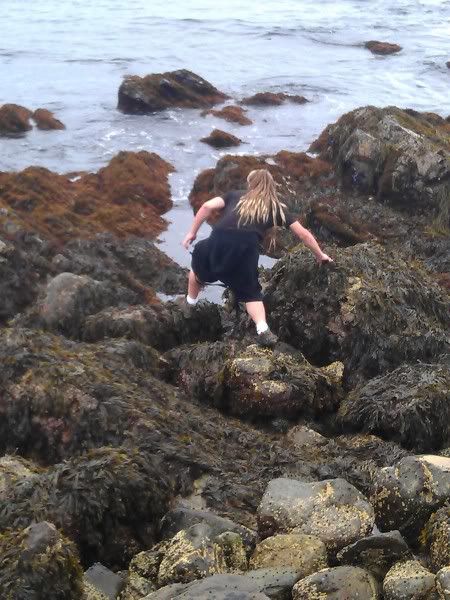 there's tom: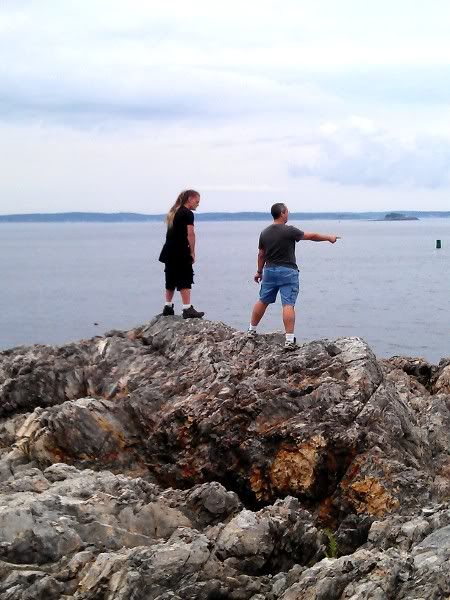 oh lindsay, your butt fetish continues: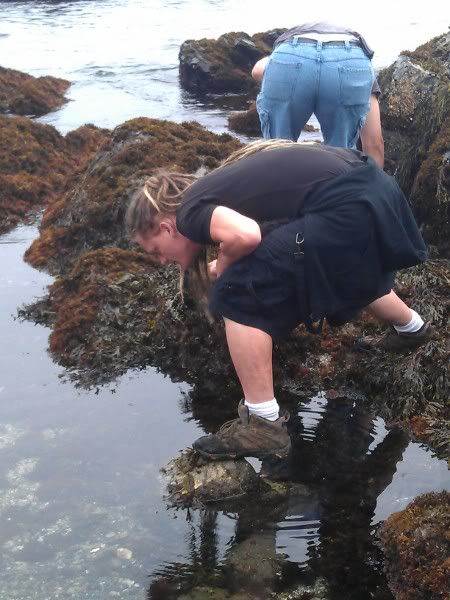 edit 2: & now with a starfish video. :) they were taking drying starfish off the rocks & putting them back in the pools. to their delight, the starfish came back to life, & this inspired tom's comment of "i am jesus christ super starfish!"


since we were right on the coast, we decided to have a particularly good meal, & found caffe italia. joe & i split their pan-seared atlantic salmon encrusted with roasted pistachios, served with risotto primavera and a lemon sauce, & the day's special (which i can't pull from the website) of sea bass on spinach in a tomato chickpea sauce. both were absolutely delicious. i also ordered the flourless chocolate torte, a C+ at best, but the chocolate mousse they put on top of it was an A, & the smooth dark chocolate drizzle a stellar A+. i saved most of my salmon & almost all of the torte (minus mousse) for the flight home the next day.

after digesting on the drive back to NH, lindsay drove us to a grocery store so we could engage the surprise we had for the boys - a mini taste-tripping party! we bought a lemon, a lime, a kiwi, a granny smith apple, plain yogurt, & a giant bag of salt & vinegar chips. tom had tried miracle fruit before, so it wasn't AS much of a surprise, but it was definitely a fun "last night" event. we'd had some of these before, but the kiwi was fantastic, tasted super ripe & really sweet; the granny smith missed the tartness - which is what makes me dislike them, so that was great; they liked the yogurt & said it sweetened up, but i still found it gross either way. afterwards, we stayed up late watching archer together, as tom hadn't seen any of the second season before this trip.

there was no significant drama on the way home, though tom was rained on for his entire drive, & i inadvertently left joe's hoodie on the plane. (i feel terrible about this, but am trying hard to get it back or will replace it with a better one, much like joe's done with all of MY shit that HE lost or accidentally threw out or ate, AHEM, GRRR.) i've been carefully healing since, & have been taking daily progress pics to eventually post in the aforementioned expected location. the first set is already up:



so that was last week, & that was fucking awesome.