august 31 ROCKED. i made jewelry happen that i thought i'd lost forever to someone else; we got free ice cream at the office; i made a work thing happen for a customer that there was no precident to believe could occur (& it solved their problem);
middlewoodland emailed me AWESOME pics on a commission regarding a mechanism that neither he nor i thought would be possible;
gorthok gave me a ride home from work for no real reason, just to be delightful; then everything was going so well that i went & bought $5 of lottery tickets... & won $7!

& then, just after midnight on september 2nd, my grandmother died.

please don't comment with sympathy or sorrow; acknowledgment is great (especially if you knew her or knew of her) but she wouldn't want more tears. she was nearly 96, an independent, vibrant world traveller (57-some countries she saw!) & her body had badly broken down over the past year. if you've seen "dogma", think g-d at the hospital: stuck. she had to get out, & while of course it completely sucks, it's also a good thing that she's free. the most amazing part is that i just saw her in august, less than a month ago, noted in the entry just before this one. she waited for me, she recognized me, & it's SO classic her to've done so. (& yes, i do attribute my super lucky happy day to her, & i don't care if anyone thinks that's silly.)

she was a great homestyle cook & an exemplary baker; i have several of her recipes via my cool aunt & am thinking of organizing a pot luck where everyone brings something based off her recipes. we'll see.

my company gives me three bereavement days, & i'm taking those next week. it's too short of notice to go out of the country in my grandmother's honor, since my passport expired in 1987 (seriously - i'm looking at it, heh), but joe & i are going to the DMV to get started on our enhanced driver's licenses during my leave. part of why we went to hawaii last year was because we didn't get our asses in gear to travel internationally; the option will be open soon.

in brighter news, joe & i were at bumbershoot yesterday, & it was actually really fun. we were able to see all of the things we wanted to see: kristin hersh being insane with some really electric spoken word interspersed with snippets of her songs; NoMeansNo's usual high standard of performance - & they ran a quarter hour long & i loved every second; the improvised shakespeare company's performance of "the unfortunate mustache", which was fucking hilarious & successfully referenced "mortal kombat" twice, including a live action "unbreakable block"; & most of the butthole surfers' set before we got bored & left. we also found the tastiest gyro stand & split a strawberry shortcake before the day was through. i'm glad to have labor day off work to recover.

we might head to a movie later; for now, here's the recent food log: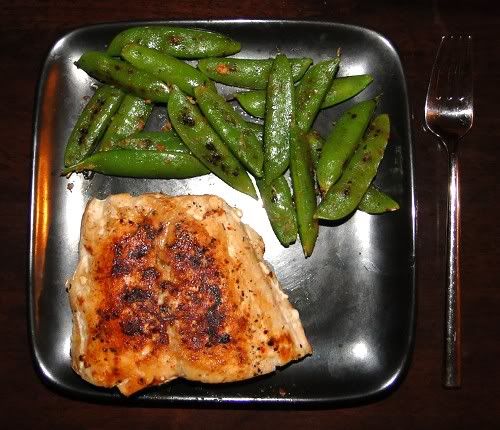 i had a high-carb lunch, so i had a giant slab of fresh ono & garlicked snap peas tonight. ono's much easier to keep together in the pan than other fishes. :)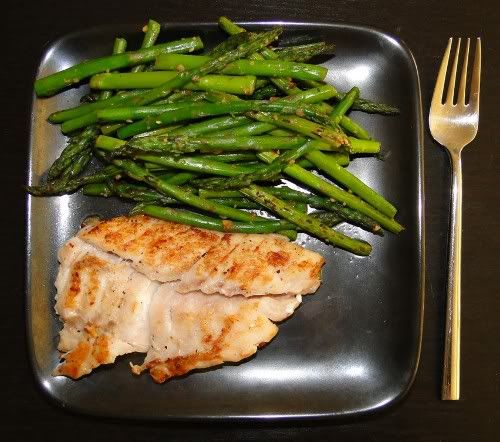 lemon pepper rockfish with garlic roasted asparagus. i fucking love rockfish, & i'm pleased to have another portion for tomorrow. 181 cal, 5g carb, 34g protein.



another giant salad of organic green leaf lettuce, radishes, red pepper, celery, cucumber, heirloom tomato, criminis, & bean sprouts - with a nice piece of peppered tilapia on top. :) 209cal, 24g carb, 26g protein, 8g fiber, all my A & C & a third of my potassium for the day.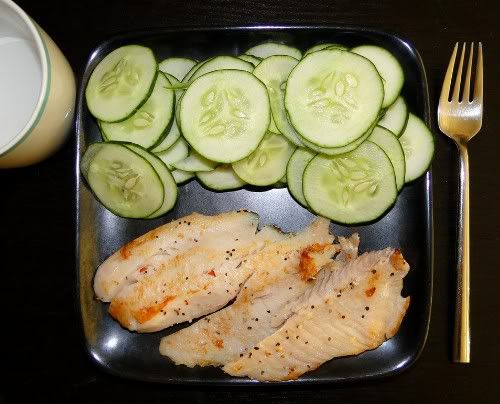 it's hot in seattle, so today i made garlic peppered tilapia with cold organic cucumber. the cup holds a tablespoon of sugared vinegar for the cuke. 188cal, 8g carb, 34g protein.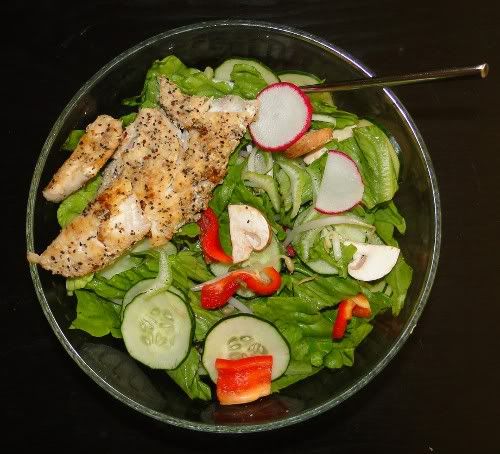 it's still hot this week, so tonight i made a giant salad with peppered snapper. the salad aspect stirred poorly - it looks all lettuce-y, but involves only three leaves of romaine, with three huge criminis, half a red pepper, half a cucumber, three large radishes, a handful of bean sprouts, & a rib of celery. 248cal, 22g carb, 36g protein, 7g fiber, all my A & C & almost 2g of potassium.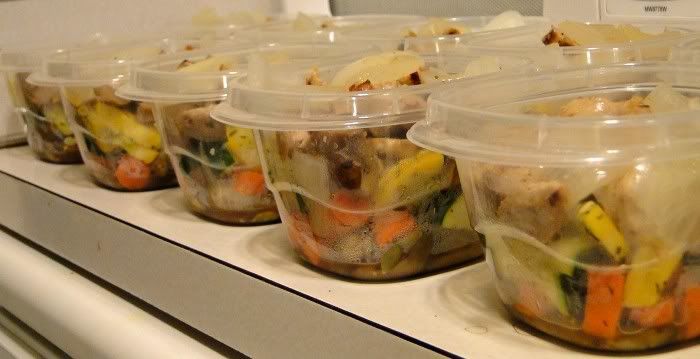 finally back in the kitchen after my cutting, & i made ten meals today. apple chicken sausage, eggplant, carrots (thyme), zucchini (garlic & pepper), yellow squash (parsley & a prepared spice mix), criminis (more garlic!), sweet onion, & pumpkin seeds. 405g, 206 cal, 19g carb, 21g protein, 6g healthy fat, 6g fiber, full A & half C. it was so much food that i doled them out as each component cooked, hence the side-shot - strata food. :D

& on to jewelry posts:

copper on baby blue - http://stretched.livejournal.com/5593103.html:
this started when i saw
disgorge's april 2011 plug tracking post reply regarding her FF pink & copper galaxies painted with orly snowcone. i was charmed by them, & had nothing similar in my collection - i didn't even own any galaxies.

here's amber's pair: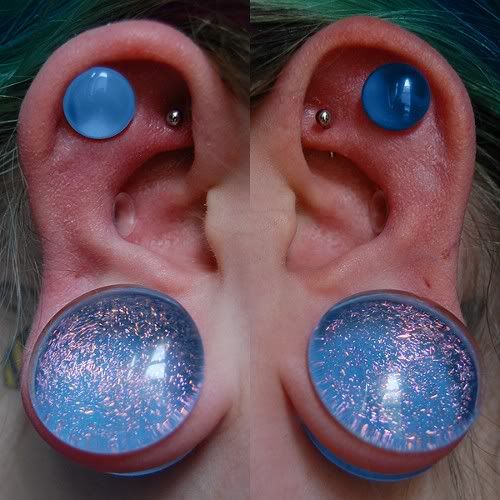 photo used with permission

though i couldn't bring myself to order anything with pink in it, i decided to do my own take on these & go with copper galaxies on baby blue. bill warned me that his baby blue was paler than the orly, but i was very pleased when i opened them.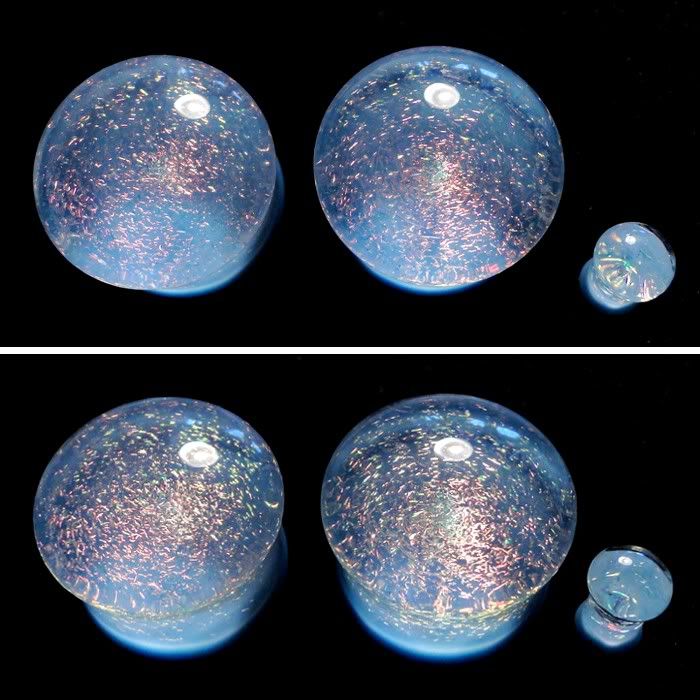 amber's pair looks more sparse on galaxy, & i think the thickness of mine helps to make the backing appear darker. here are mine in-ear: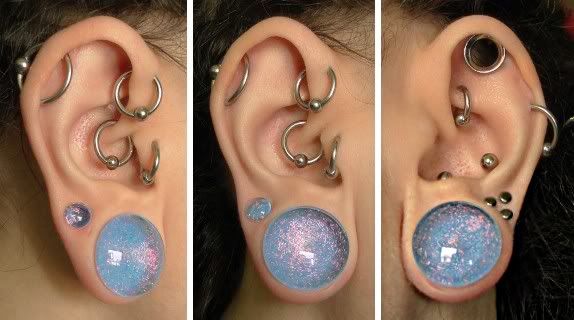 & since it's my first pair of galaxies, i went ahead & took a video too:


enjoy!

relic amber, holy fuck - http://stretched.livejournal.com/5594270.html:
well uh, i uh, wasn't going to buy more amber, 'cause i already have a pair, see. & i really like that pair, even though i can't get them to flash their green in-ear, probably because of them being so slim overall. but then i saw this: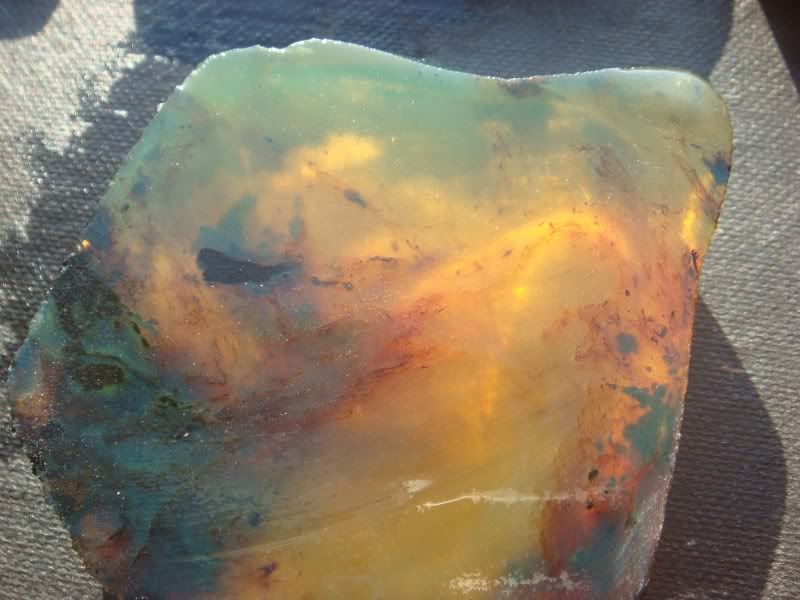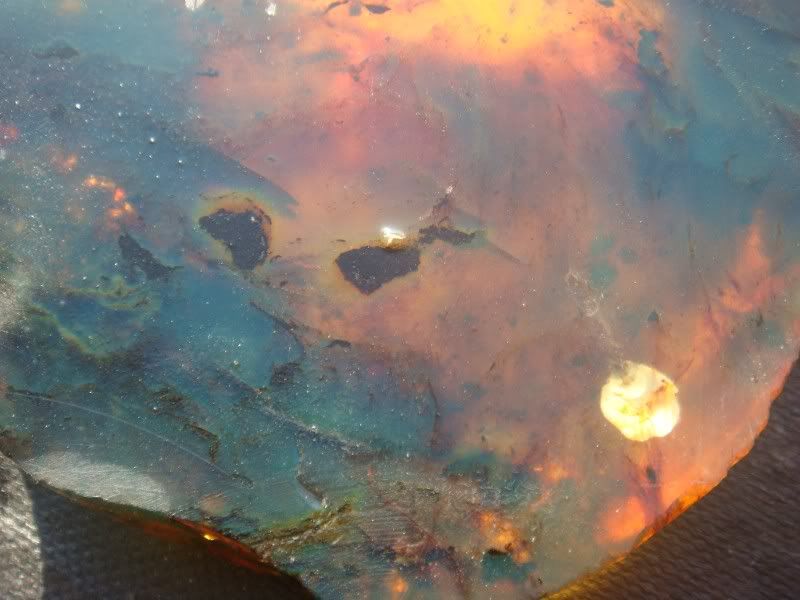 & while it's an exceptional piece of material, i was all, no way, dude, it's not going to look that way once it's cut. & then, y'know, a photo of a finished pair was posted: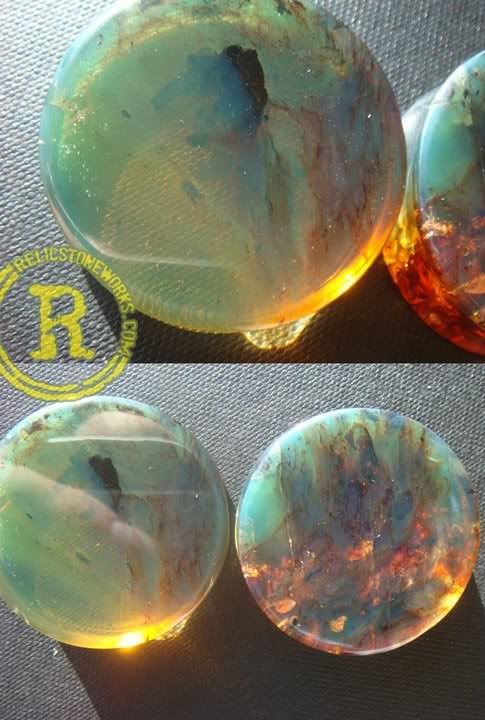 & i was all, well, maybe i could just ask leo for a price...
& then that price was all, like, reasonable & stuff...
& so i figured, hey, why not commission a 4ga match, too...

<_<
>_>

it ended up taking a piece of forever to get them done, but leo knows i'd rather wait for the perfect rough to come up than have a good pair fast. when he sent me these pics, it was love: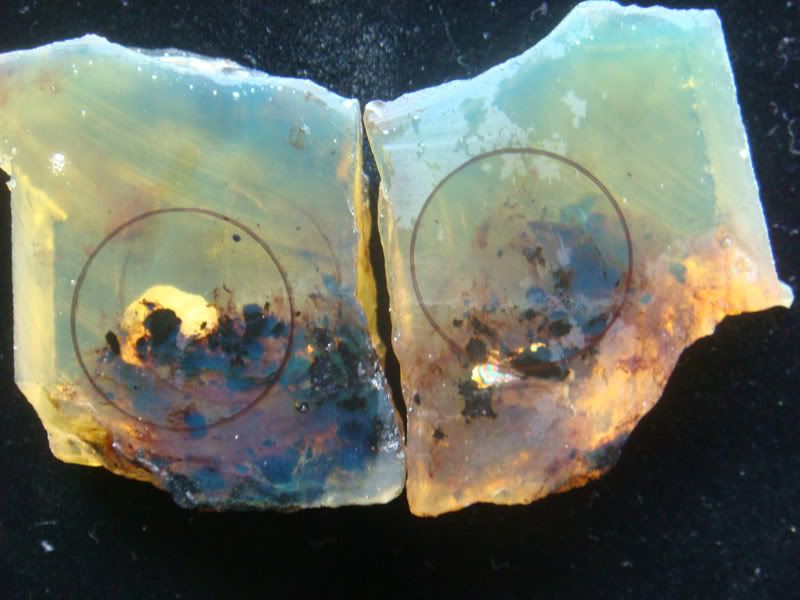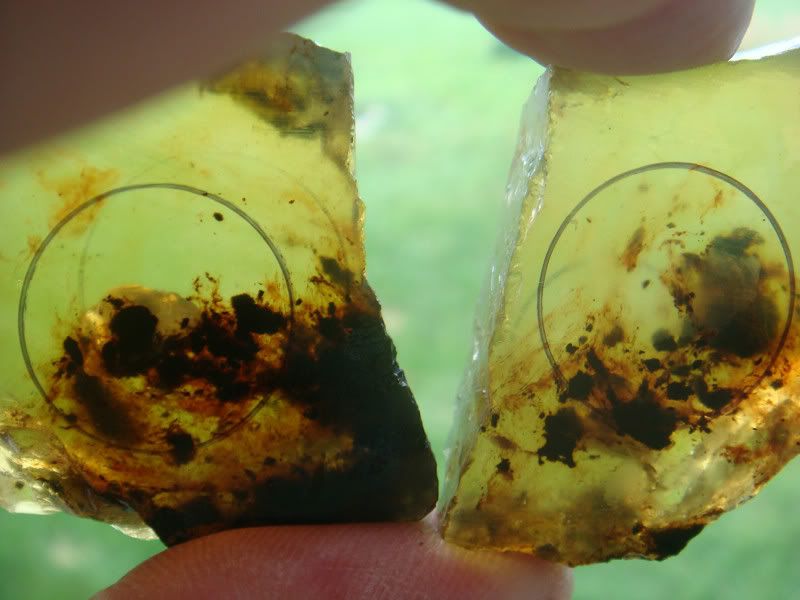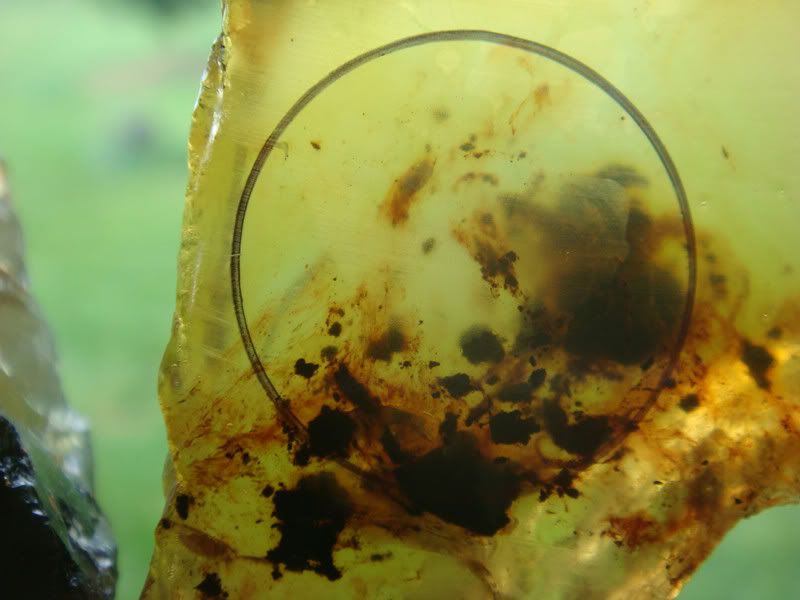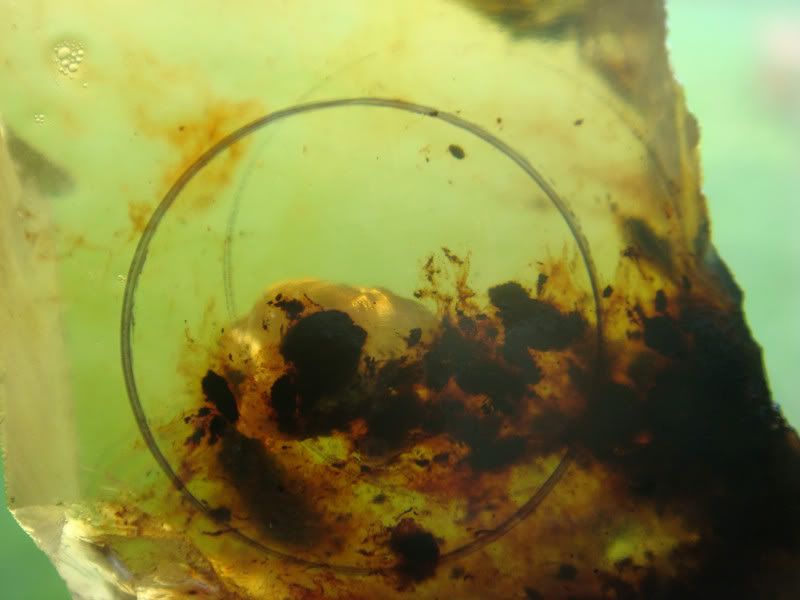 soon after, he showed off the finished pair on his facebook:



but in taking my own photos, i discovered THIS. they're not just green amber, they're BLUE-green!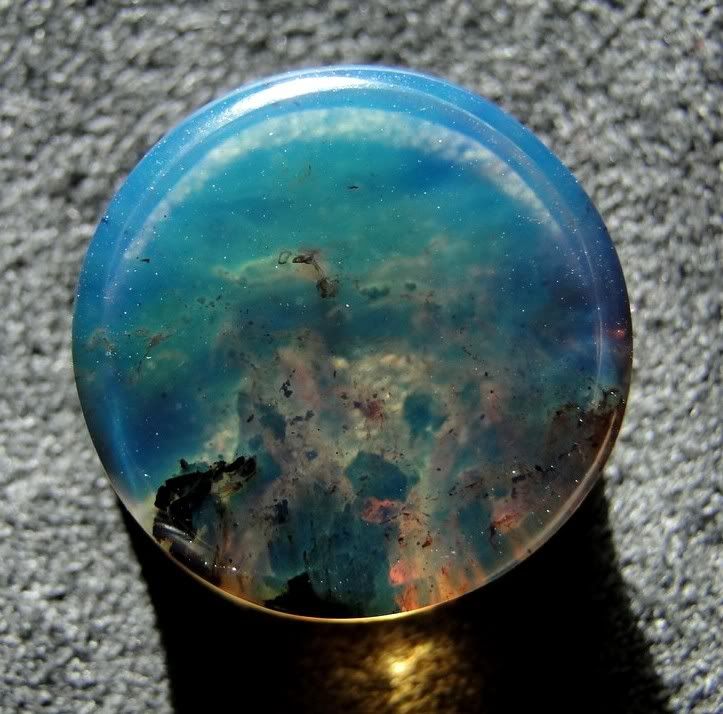 none of these have been color retouched.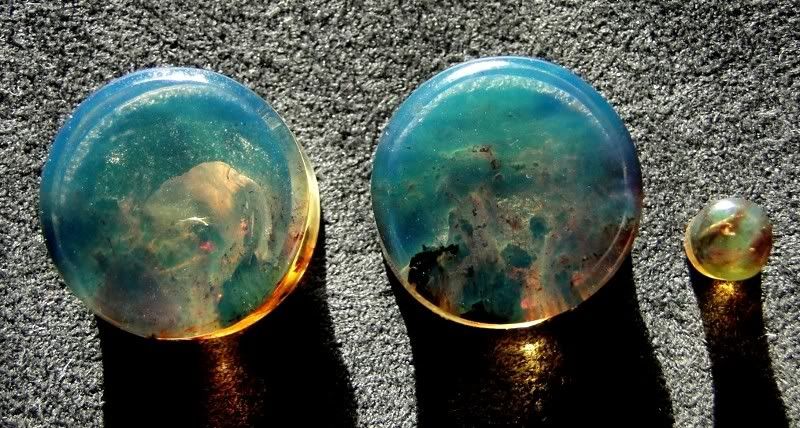 i love the bit of red this one shows: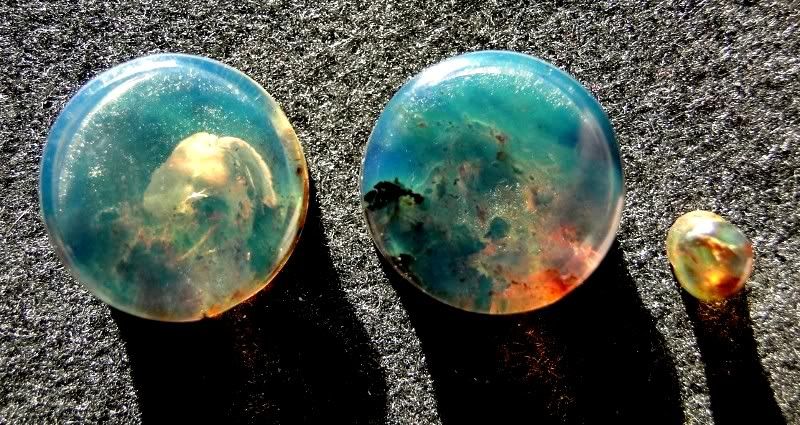 & a close-up on the 4ga: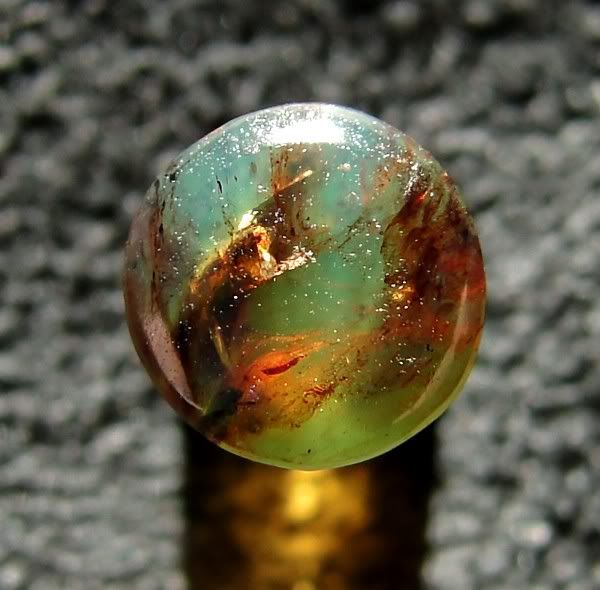 :D

i showed leo, & he posted my pic here. someone compared them to the pillars of creation in the eagle nebula, & i can't disagree:



so happy! here are in-ears with normal lighting: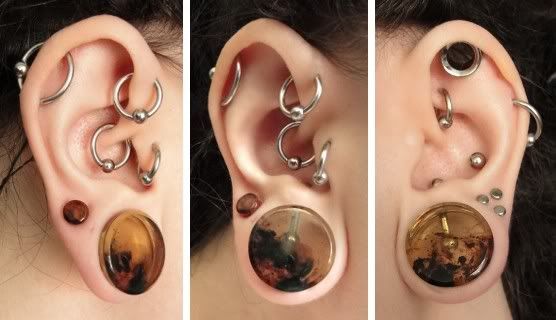 backlit: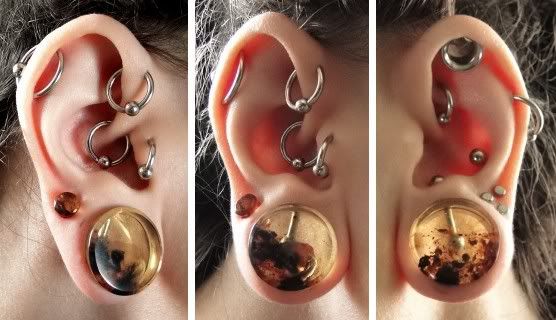 & flashing blue with my dreads behind them: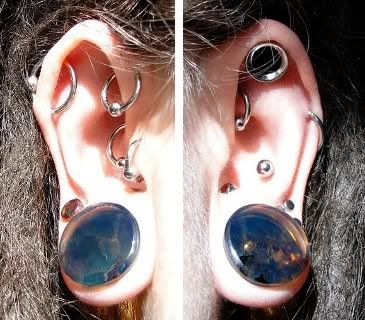 looooove them. & the polish on them is STUPENDOUS. i was debating keeping my onetribe green amber when i commissioned these, but the pairs are very dissimilar & ARE DIFFERENT FUCKING COLORS, so both deserve a place in my collection.

ok, i'll leave you with this bit of awesomeness: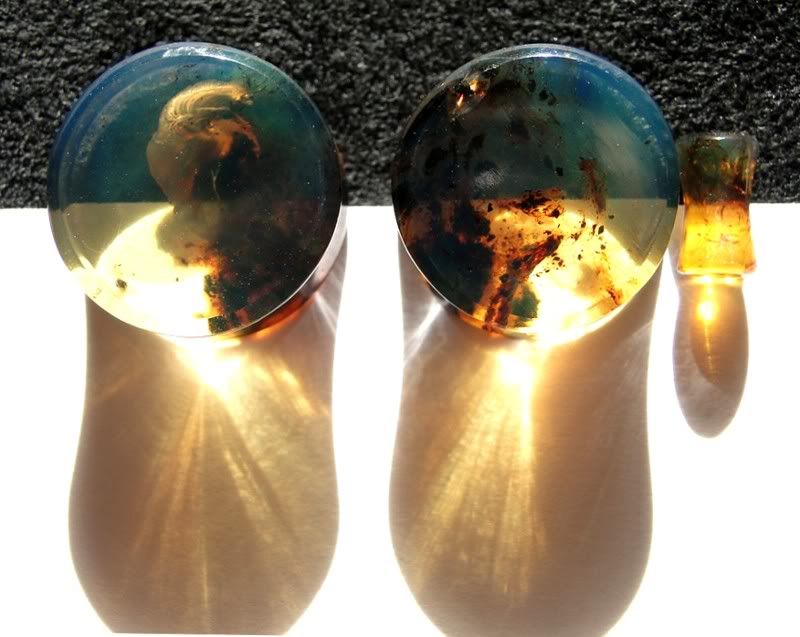 When natural light strikes Blue Amber on a white surface, the light particles pass right through, and then are refracted off the white surface. Result: the Blue Amber has a slight blue hue. When the same natural light particles strike the Amber on a black surface, the light particles don't refract off the black surface, thus refracting off the actual Amber. Hydrocarbons in the Blue Amber turn the sun's ultraviolet light into blue light particles, resulting in the famous glow of Blue Amber.
- http://www.blueamber.info

enjoy!

cathedral agate! - http://stretched.livejournal.com/5595407.html:
i saw these on aesthetics for too much cash, but i kept thinking about them over the next month or so. eventually i mailed marea, & was able to talk her down on price to something i considered more reasonable.

i later found them posted on facebook, so i have two studio pics to share: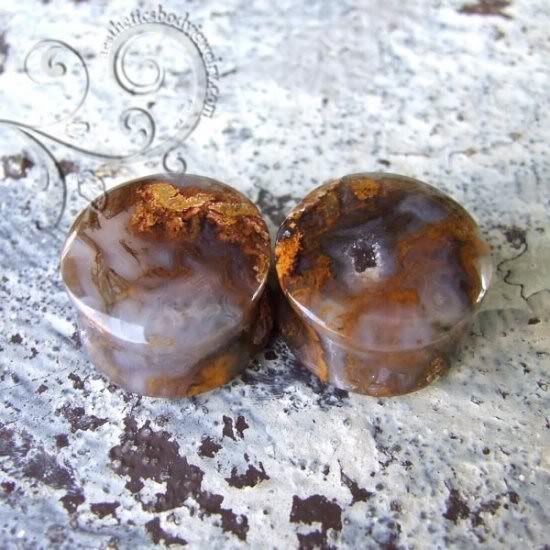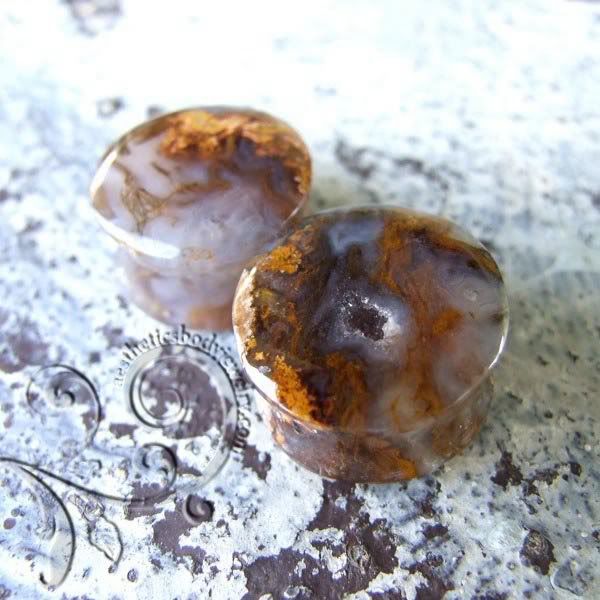 however, turns out i like the "back" of the non-drusy plug more, so this became my pair: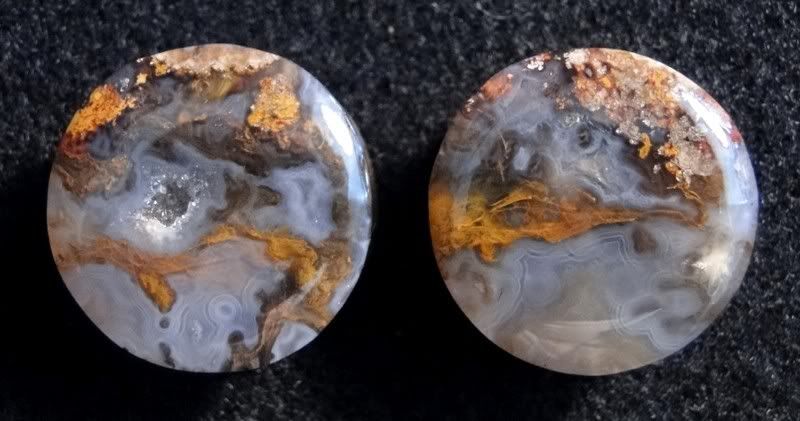 & both "backs":



there was also this little guy: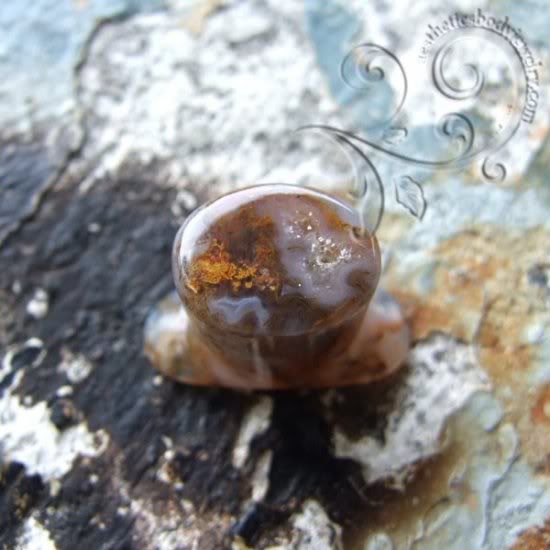 i choose to believe that this piece wasn't large enough to use for a matching drusy pocket on my left plug, haha. & anyway, i like natural materials to NOT be mirrored; instead, visually weighted the same & with the same sensibility, as nature simply isn't exact. but it's a good thing i can DIY like no one's business, since it could feasibly have been a perfect 4ga match. :)

inspired by the labret, i painted my match using drusy as the base. actually, i had a "rainbow drusy" plug on hand, which translated to a sparkly green-orange. (my pic came out terrible, so 1 & 2 are crops from BAF that pretty well represent it). using my dremel, i polished off enough of the titanium to make a plain spot (3):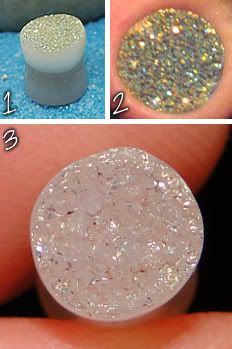 then i layered on some acrylic paint to match the big plugs. i used chewing gum to keep the drusy spot free of clear coat during sealing, heh. i ended up going back in with a super fine-tipped paintbrush & clear polish to seal the sides of the drusy pocket, & then used acetone on the same brush to perfectly clean the drusy.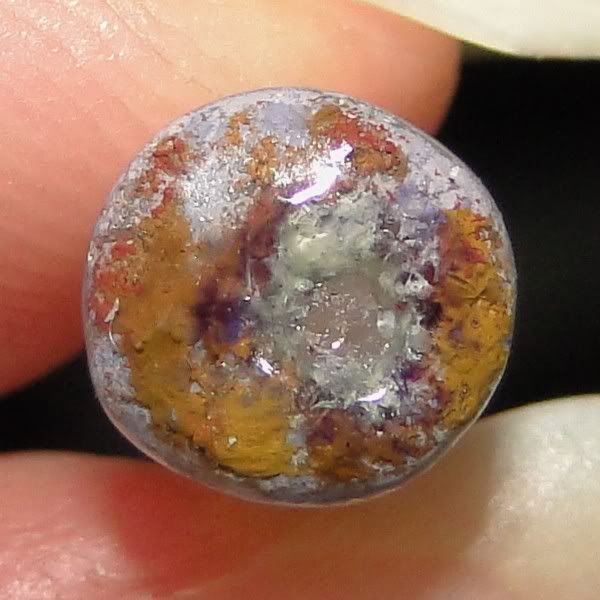 the finished match with its counterpart: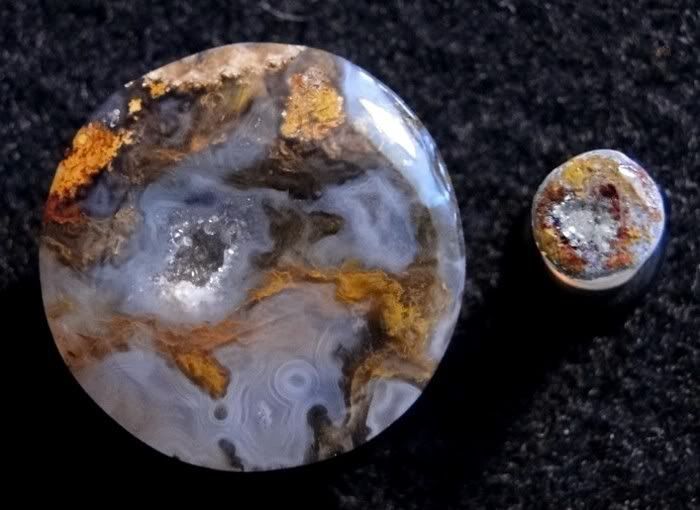 & in-ears: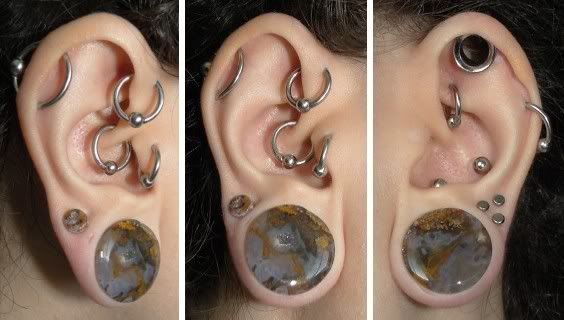 joe was both stoked about & pained by these, & commented, "you bought plugs made of thunder eggs!" heh. ah, my silly mountain boy.

it took me a while to decide on them, but i'm really glad i went for it. note that the studio photos were either taken with a red filter or corrected to same; the coloring is accurate in my shots. amusingly, it's the vividness of the reds & oranges in the studio pics that made me waver on these!

enjoy.

gws nebulae - http://stretched.livejournal.com/5596455.html:
i've been vaguely interested in pair of GWS nebula plugs for some time, but they're usually so dark that i'm left wanting. so when this pair of nebulae came up on BAF, i took the chance. you tell me if i chose wisely...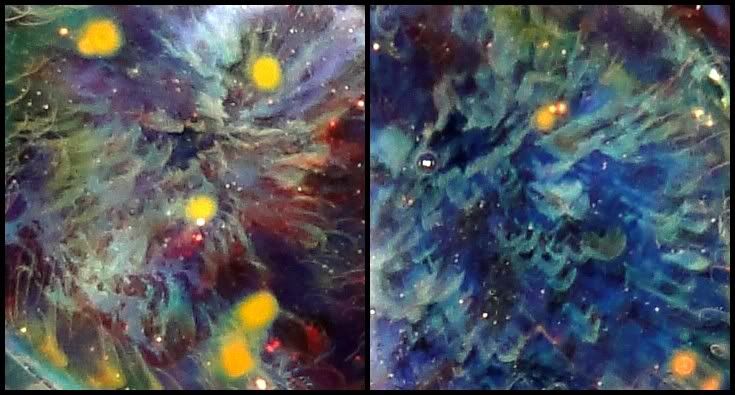 :D

i love how they're dark enough to bring "space" to mind, but still are plenty vivid: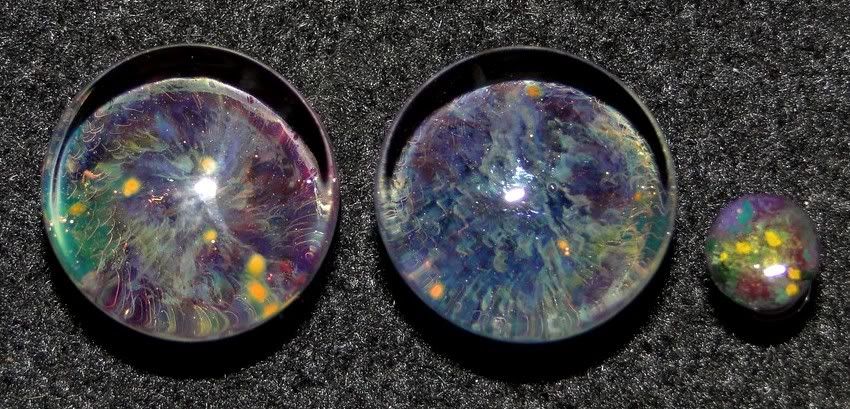 i painted the match over a larger-flared crystal GG plug i had laying around - it's just acrylic paint & clear coat: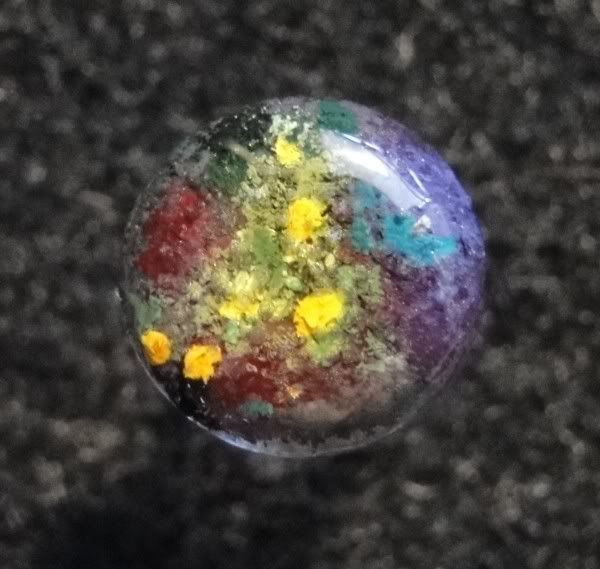 i think i did a pretty good job on this one, & it was fun to paint. :)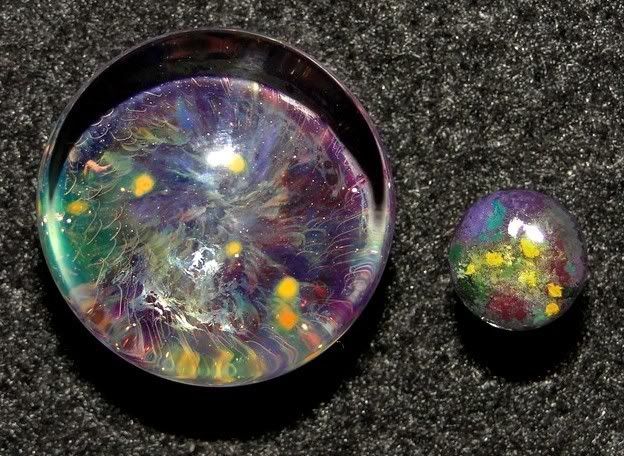 the in-ears are a little off in color since i captured them in natural light (the pics above are more accurate), but here you go: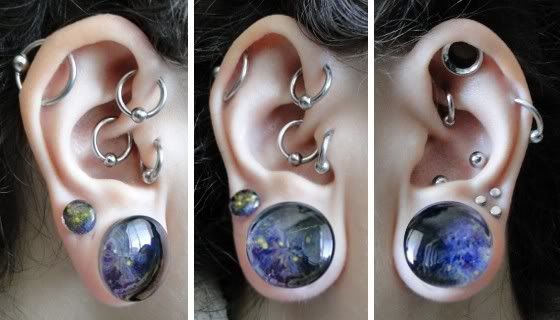 i'm pleased with them. :)

iridescent power plugs, whaaaat - http://stretched.livejournal.com/5598428.html:
i'm pretty sure i first saw these in one of
atrophie's collection posts; a couple years later, she brought her entire amassment to my house & i was able to see them in person. being a huge fan of power plugs in general, the search was on.

the shop where lindsay found her pair was sold out, & gorilla had no more material. i was actively seeking them out, but the despair of limited items was all i could find. i generally gave up.

in april, i hosted plug tracker 2011 where
disgorge posted her pair. i was re-energized to look around again...

...& it paid off! while randomly searching BAF, i came upon these: what BAF listed as "white dichro" in an odd size with a terrible picture. my eyes went big & i contacted relic about carving this 1+3/8" pair into a set for me. leo responded that he generally doesn't take on projects like this, but he'd do it for me. :)

since the carving would be fairly expensive, i waited impatiently for the next 20% off BAF sale. in the meantime, i ended up snagging an $80 BAF gift certificate for $60, which essentially meant that i got the plugs as if they were 40% off. (i considered waiting another two months for the 30% off sale, but the extra $10 off while worrying someone would buy them wasn't worth it. :) ) i had them shipped to me just to make sure i liked them enough to invest more, which i did, & then off they went to relic.

& this is the beauty i received back! the first two pics are shaded, photographed in situ in my jewelry box. the iridescence washes out SO easily in pics that i even included a blurry shot because it helps to demonstrate what they do. the blues, pinks & yellows all come through like an oil slick on a snowbank.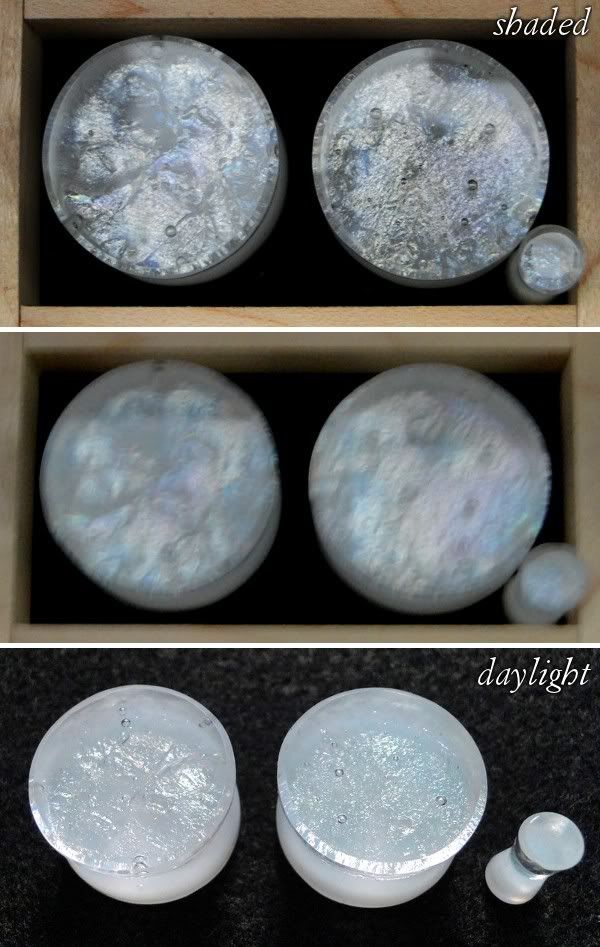 i also made a double video. the first perusal is shaded, & is the better representation; the second pass is in daylight, & is more understandable after watching the first half, i think.


& simple daylight in-ears: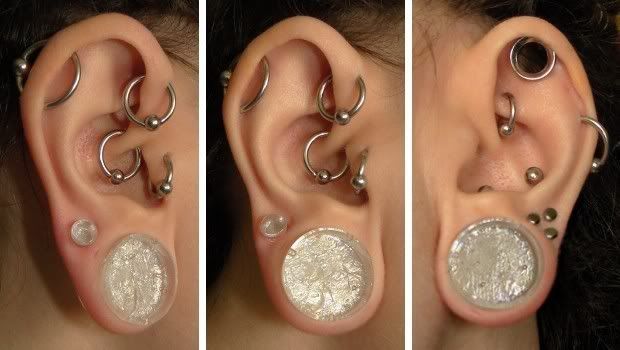 after the discount & gift certificate, i paid decently less than $200 for the full finished set, which is at least what they would've commanded at auction. plus there's no other way i would've acquired a real match. :) so i'm pretty happy!

enjoy!

it's of note that this will brighten anyone's day who isn't
testing4l. & for those who love it, here are the latest pics of my hawk cutting, taken this weekend at week 3 of healing:

quarex commented, "That is so beautiful. It just looks like someone set your torso on fire and it became a beautiful raptor!" :) still more pics are at http://compunction.org/art.html.

ttyl, lj friends