silverwood happened again! we basically did the same trip with the same boys as last year - same restaurants & everything, except the weather was 85 degrees & perfectly sunny this time. we got off to a bit of trouble initially when poor christopher's brand new tires, fifteen minutes out of the shop, wouldn't stop scraping the wheelwells, but we swapped to joe's car & all was well.

we went to mizuna on the way out, & started with their delightfully light french bread with rosemary olive oil. joe was going all crazy vegetarian tofu hippie boy (though it was really GOOD tofu with a surprising tomato sorbet on top), so chris m. & i split two dishes: the grilled rare ahi tuna, with olive oil whipped yukon gold potatoes, & an asparagus, arugula, pistachio & black pepper-lemon vinaigrette salad; & the day's special, monkfish with italian sausage spinach tortelloni & mustard crème fraiche. the ahi was SO soft & perfect, & the monkfish was buttery, firm, & perfectly delicious. i wish more places would serve monkfish. for dessert i figured why not tie in a characteristic from each plate, so i called on the sundried cherry, amaretto, & pistachio bread pudding with crème anglaise.

suffice it to say, it was a very, very good meal, & soaking in the hot tub at the hotel was a lovely follow-up.

it was interesting riding coasters with my recent wounds, exactly four weeks old to the day, but most of the pressure from lap belts & stuff only ran into the hawk's tail, which is somehow the least painful part despite it being on the boniest area. i wore a "safety first" dreadstyle (pics here) & we bookended the day with the aftershock, my favorite. i had my usual at lindy's: turkey burger with avocado & garlic fries, & a repeat of the wonderful huckleberry smoothie they gave me last year. (yes, lindy's fries are so good that even i deem them worth the calories.)

christopher's ankle was bothering him (he destroyed it a few months ago & it's quite full of pins now) & my back was generally sore, so we decided mid-day to take in the magic show, "mysterium". we weren't expecting much for a ticket price of FREE (especially considering travis got us free admission to the park again this year), but it was actually really good! the magician was clever & tricky but also funny & enthusiastic, & seemed to honestly enjoy his gig. it wasn't cheesy at all, & we found the hottest part of the day had passed while we sat in the air-conditioned "theatre of illusions".

when the park closed, we moved on to vin rouge, where i had the center-cut kurobuta pork loin medallions, sauteed with sweet peppers, roasted garlic & sage, served with heirloom potatoes & various veggies. the meal was flavorful & felt pleasantly light, a feeling i completely destroyed by homphing down an entire apple crisp afterwards. :D mmmmmm worth it. i was so stuffed i barely ate the next day, haha.

on that note, on to examples of daily foods that allow me to eat as above on vacation & not gain weight. :)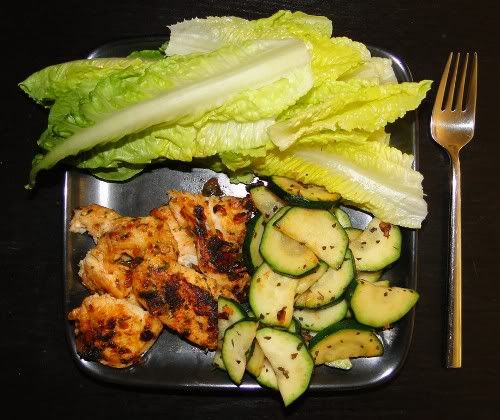 i had roasted fajita chicken lettuce wraps with sauteed zucchini. i wanted to put more color in it, but the fridge only had carrots, & i had a carrot-heavy lunch. so just green & tan for me tonight. 246 cal, 9g carb, 40g protein, 4g fiber.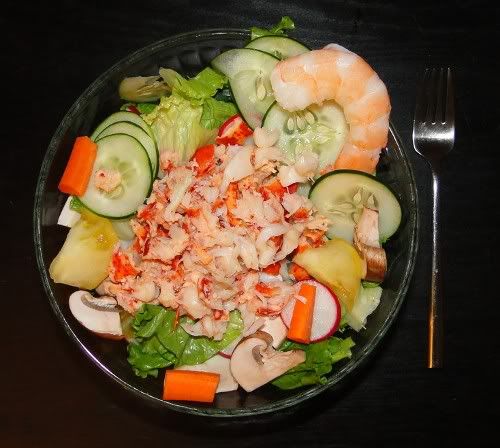 i had a terrible reaction to crayfish a few months ago, & finally had an appointment with an allergist yesterday. with clear results, i went a bit overboard on crustaceans tonight, & bought a whole lobster & a half pound of colossal (11-15 count) shrimp. fortunately, my eyes shrunk back to their normal size by the time i'd stripped the lobster & peeled & deveined the shrimp, & i managed to serve myself only one of the latter; the rest are for tomorrow.

so the above is a small lobster in organic green leaf lettuce, yellow heirloom tomato, criminis, carrot, cucumber, & radish... & one colossal shrimp. :D the lobster was so sweet i didn't even need to dress the salad! 256 calories, 21g carb, 40g protein, 7g fiber, & 1642mg potassium. :)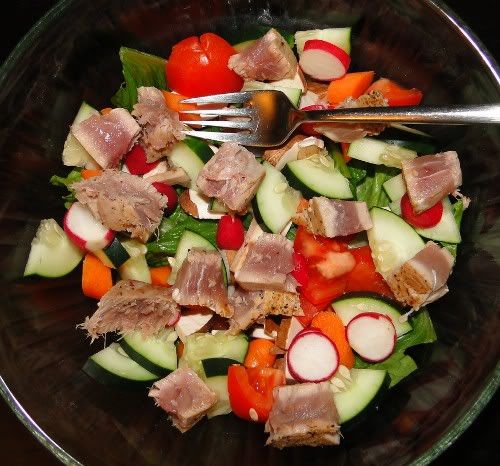 seared ahi tuna over a salad of organic romaine, romas, baby carrots, criminis, cucumber & radish, with fresh basil chopped in there, too. i seasoned the fish with lemon pepper & used a balsamic salad spritzer very sparingly. 206 calories, 18g carb, 31g protein, 6g fiber.

the tuna was too pretty to skip photographing before i chopped up my 4oz. mmmm, heart-shaped flesh.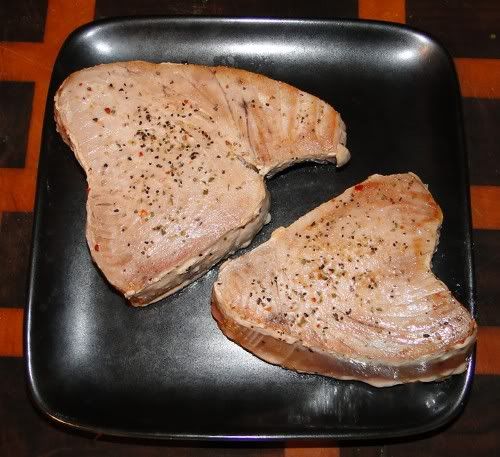 so i took my bereavement leave & made it to the DMV as detailed in the last post... & they turned me away for a stupid social security number issue. i went straight to the SSA office & had that corrected, but it took 24 hours to update in ~the system~, so i couldn't get my enhanced license during my grammy leave, boo. but we did make it back the same week, early saturday morning (fuck yeah i knew to get there at least an hour before opening, & we were first in a line that wrapped around the block by the time they opened. & joe doubted me!), & mine's currently in the mail. joe couldn't find his birth certificate, so he sent away for that, & he'll trek back to the DMV for a third time when it comes in. i'm thinking of spending grammy's birthday (december) in canada - it would've been her 96th. can you fathom being born in 1915?

speaking of my grandmother, the Grammy Memorial Dinner is happening mid-october. i invited
sic737,
impatient_hands, &
robinhoodvandal, three of my closest friends in the area, though only chris & joe had met her. everyone's being super cool about obliging all the details i remember - joe even agreed not to improvise on the bread item he's assigned, which is a huge feat of discipline for him, heh. i hope everything comes out close to my memories.

a particular high point this week was that joe finally posted his reaction to his surprise birthday party. i've updated my write-up, & i'll leave the subject with this related bit of google disappointment: No results found for "ancient african battle fork".

on to a few jewelry posts, & updates on my hawk.

the sweetest of combs - http://stretched.livejournal.com/5598940.html:
remember when i posted about my GWS honeycomb image plugs? & how i so loved
disgorge's super sexy 1" pair? i never fell in love with mine the same way. i wore them & enjoyed them with a "they're better than not having a pair at all" attitude, but two main issues haunted me:

1. the color. as honeycomb image plugs are fumed, the color is inconsistent & unpredictable across batches. you can see they range from an ugly yellow to a pretty-ish yellow to silver/gray to blue. mine were the pretty-ish yellow, & fairly pale, but that's still yellow. & as much as
atrophie fights me on this, yellow sucks. :D i'd be happy with anything off the yellow scale.

2. more importantly, the closed cells on the outside edge. the way these are made means the outside edge melts a bit & doesn't stay crisp - which, if the cells are closed, translates into honeycombs looking like flowers. & i'm not the flower type. i either wanted open cells, like amber's pair, or enough cells that the edge blur didn't show.

compounding the annoyance was that the match ryan made for my 4ga was PERFECT - silvery gray, open cells, gorgeous. but again, they're not made in 3/4", so i couldn't ask for a picky commission. i just plain had no hope of an upgrade.

but then along came
sukidesu, & her decision to move up to 1"... & my unattainable dream saw fruition. :D

mmmm note the blue tips to the cells :D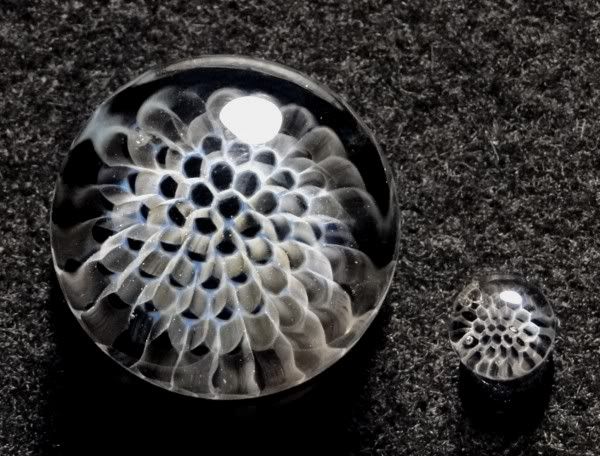 the 4ga macro shot again: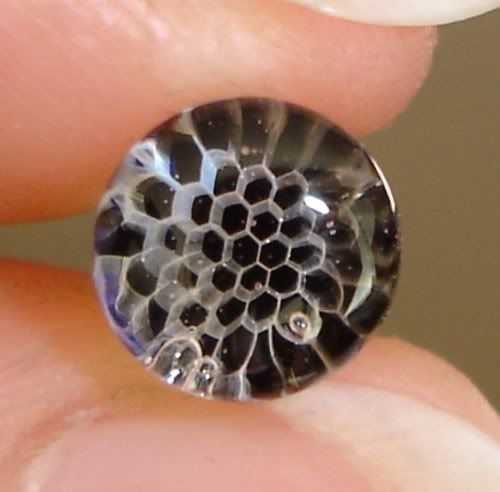 the really amazing thing is that the honeycomb section isn't as flat as most that i've seen - it's actually got height, which makes it somewhat 3-D. so i HAD to take a video:


jamie commissioned these ages ago, apparently before ryan decided not to make 3/4". she said of them, "out of all of the honeycombs I've ever seen, regardless of size, this is the absolute most perfect pair, hands down." i can't say i disagree. :D

& the in-ears: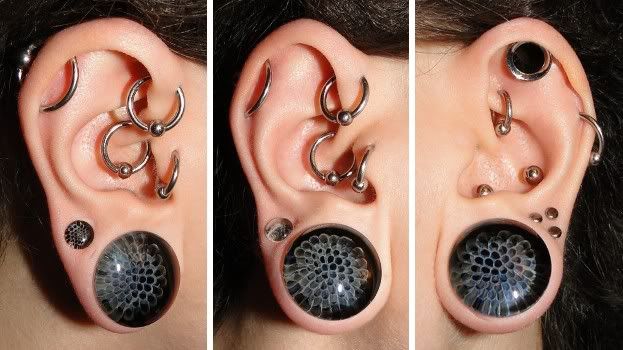 there was maybe some wrangling done to acquire them, but i think i made it right by selling
holesandcuts my old pair. (amusingly, i realized this week that they're actually represented in both of GWS's product photos, so that's neat!) i hope he loves them more than i did. :)

jamie, thank you SO MUCH! may 1" be as good to you as you've been to me.

ebony & silvery - http://stretched.livejournal.com/5599444.html:
i've had these for ages - you can see them way back in my early 2008 collection post, & notes on my lj show i picked them up in mid 2007. they're just nine25ag's ebony stash plugs from ebay, inexpensive, but the movement in the wood is wonderful. when the stash "lids" started popping off, i sealed them with wood glue. i wear them mostly on sunday trips to the grocery store, & it's about time they got their due.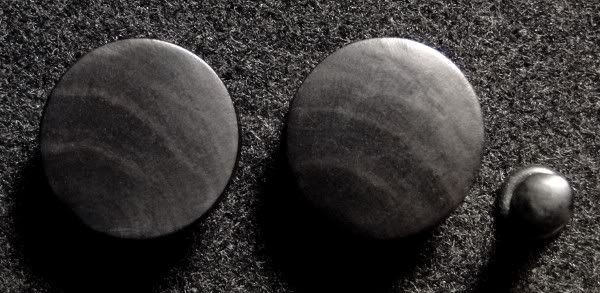 the match is ebony too.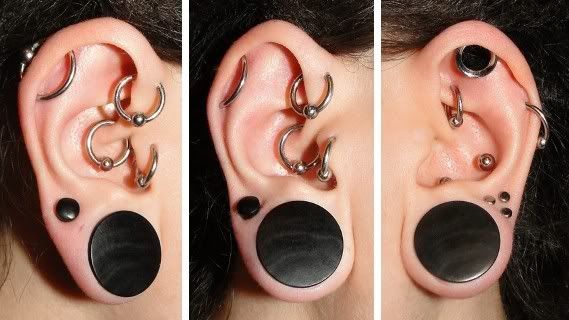 & i really only wear earskins to the amusement park, but during last year's trip, i decided i may as well have a more fun pair than black. so i upgraded to silver.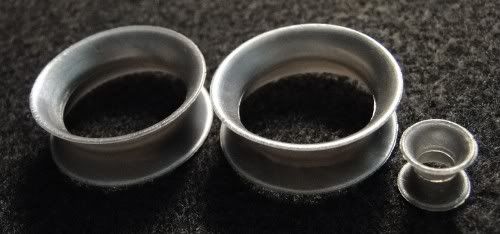 i have 0ga for my helix too, but didn't bother to photograph it in place.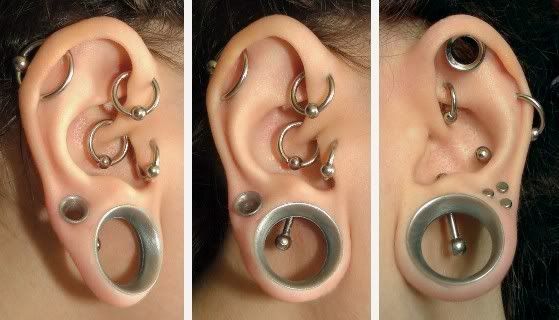 by the way, for anyone who never figured it out: i rotate the images to make tidy triptychs, but my conch barbells are quite correctly vertical in reality.

this post brought to you by "completionism before this year's collection post". ;D

hypersthene - http://stretched.livejournal.com/5600941.html:
i fairly badly wanted the hypersthene that
middlewoodland posted here, but some miscommunication took 'em away from me. brian showed me some other options, but i loved the not-quite-parallel lines of that pair, & found the other suggestions a bit like flashy zebra print. le sigh.

but ohhhh brian must be an empath, 'cause he found a pair that's not only aesthetically pleasing, but also switches its schiller.

what am i talking about? well, brian had noted in the above post that the hypersthene he had on hand would flip flashiness when inverted, & he showed shots of the same. i asked in email if these plugs, placed vertically in-ear, would switch as the wearer shakes their head "no". as expected, the answer was negative... but much to brian's surprise & my delight, that wasn't the case for the next piece of rough!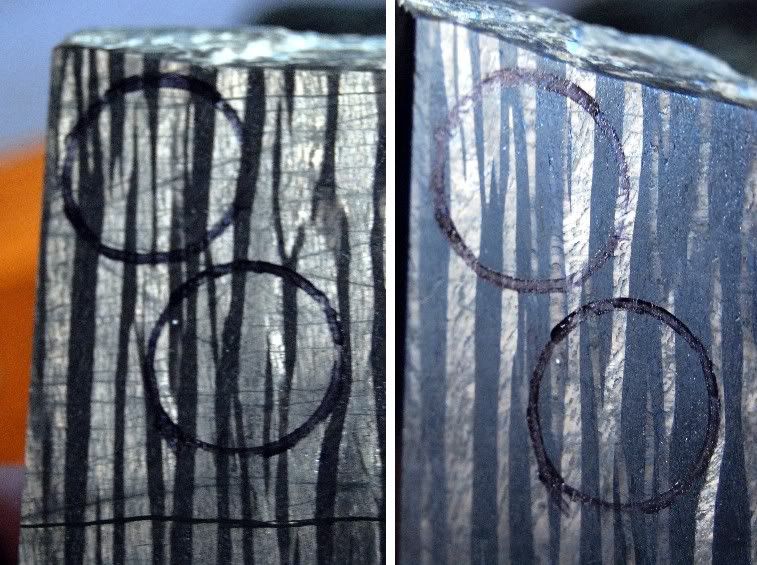 you see how it flips?! here's a sexy hunk of the stuff: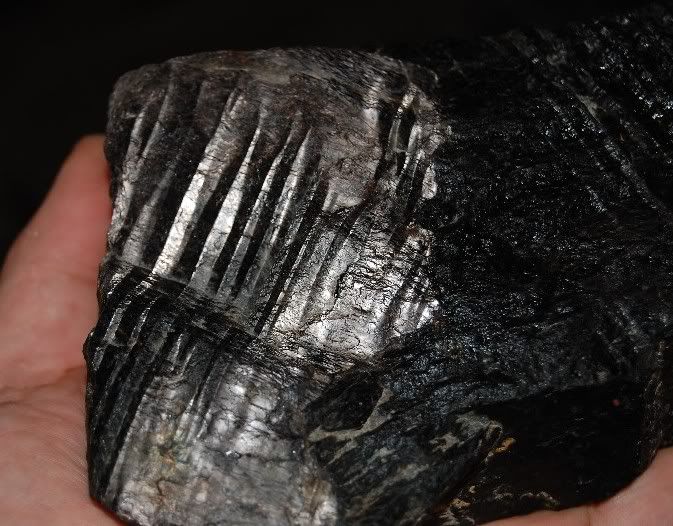 as with any new material, i was a bit concerned by its body-friendliness. hypersthene is 11% magnesium & 24% iron (the rest is silicone & oxygen), but peridot is 25% magnesium & hematite is 70% iron & we wear both of those, so i'm probably okay. scientists, feel free to chime in, but it seems the reason hypersthene isn't seen on the market is strictly due to its intense difficulty level. brian noted it took him twice as long to make these over the black moonstone, but he must've been counting from AFTER the initial cutting of the spools, as he had a LOT of broken rough. in brian's words:

Your first plug broke while cutting out. Your second one next to it broke for the same reason. I moved to a different place on that slab and broke a third. It appears this rough is riddled with weak fractures that either break the plug in half horizontally or vertically. A FOURTH plug came out, BUT the material is just WAY TOO grainy and will not polish. I mean, hypersthene is a bit grainy and has hairline fractures throughout but this whole slab is like 50% AIR.

This material is NOT as 'exacting' as obsidian, jade or agates for example and furthermore, hypersthene hates edge work. Meaning, any attempt to round out the edges has a high degree of chipping even with the lightest pressure of the diamond file. The trouble comes from the black stripes being a softer material than the silver and those black stripes obviously go to the edge of the plug.

any ONE of these issues - internal fractures/gaps, inability to take a polish, edge chipping, different hardnesses 2mm from each other - would cause another lapidary to bail on the material completely. why pay for rough that can't be worked? why spend so much time & energy for just one pair? why look for new flashy materials when people are perfectly happy with labradorite?

well, by now we know that brian likes to take on the problem children, but the real answer is because brian is an artist & this is what he does. true artists don't see that they have a choice in whether they create something. they see the potential inside a material & are compelled to bring it out, whether the medium is a twenty-ton slab of marble or an airy bastard block of hypersthene.

yes, i did just compare brian to michelangelo. but check this out: "The block of marble from which MichelAngelo carved David was rejected by other sculptors because of the numeorus veins that ran through the stone, where the stone could fracture easily making the work of the sculpture almost impossible." SOUND FAMILIAR? yeah. (brian, you blushing yet? :D )

so the rough pics above didn't end up becoming my pair, but mine still flip flashiness as described. feast upon the glory that is hypersthene: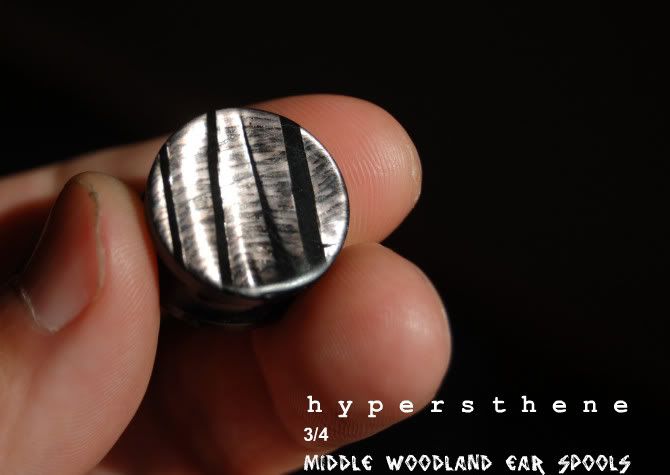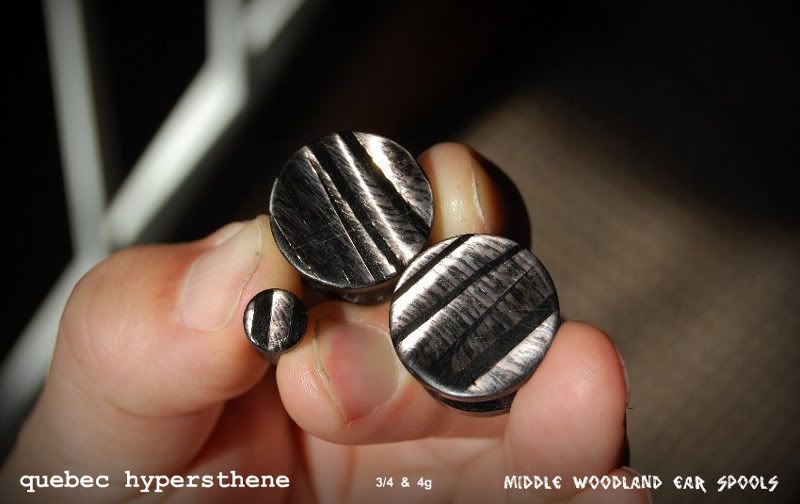 brian's pics are better than mine, but i tried too: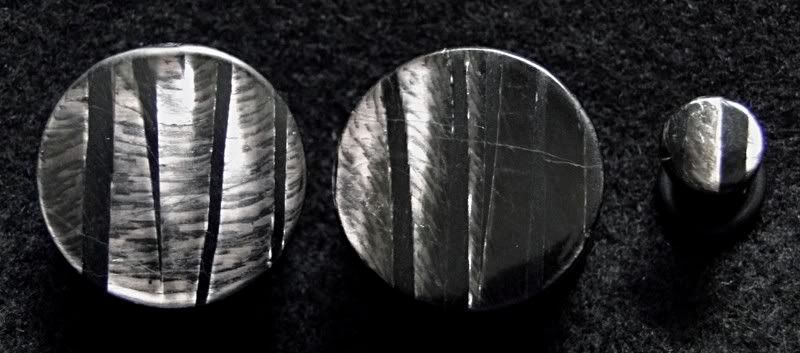 here are side-by-sides to show the schiller switch. yes, i considered this when i decided which plug would suit each ear. :) right plug: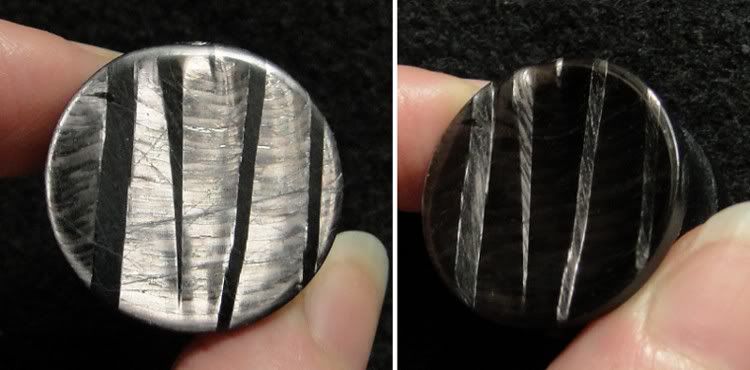 left plug: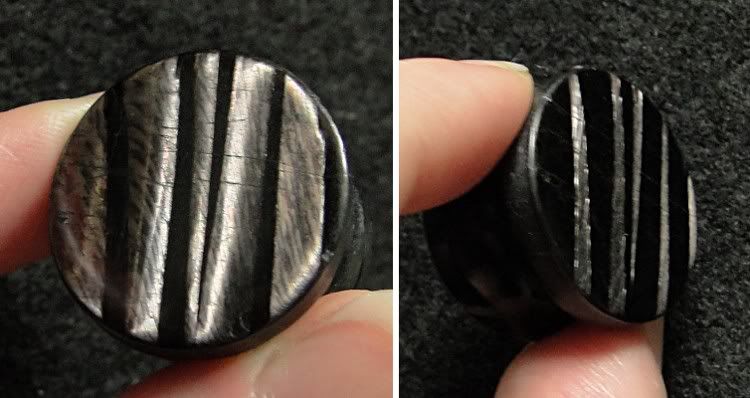 4ga: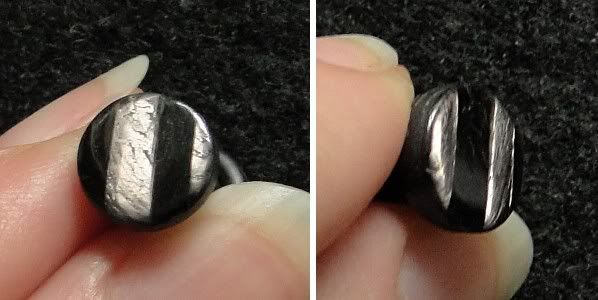 yes, you may have a video. sorry for the shakiness, i had to reshoot about twenty times before i got it the way i wanted it, & it was super awkward to stay out of the light without hitting the camera. :)


& the in-ears, which were relatively easy once i grabbed a second light source, haha.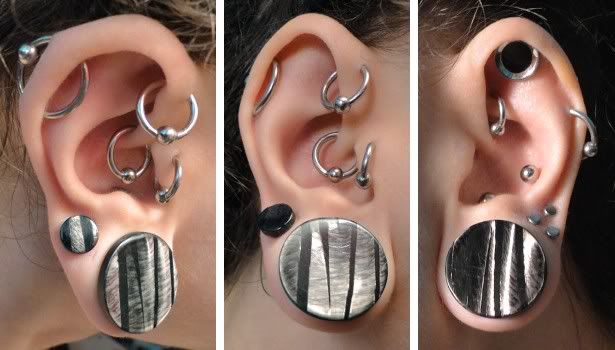 this is a clear example of why i'm so picky about which plug goes in which ear! :)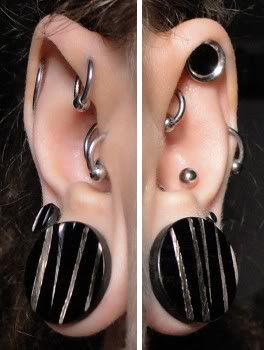 the name hypersthene apparently has been formally replaced by orthopyroxene, but that's not nearly as pretty. "hypersthene" means "over strength" in greek, from the greek hyper (above) and stenos (power), because it's harder than another more common material that mimics it. i wonder how you'd say "over flashiness"? i already know how you say "over achiever": brian. :)

& here's the hawk update at week four, still clear differences from week 3. i'll keep doing these weekly until there's little or no visible change, & then they'll come monthly.



& a small video showing how he changes his tail as i move my leg:


week five pics aren't terribly different from week four, but there are still good changes as the legs & secondary wing feathers fill in (xref wing anatomy). i'm glad to say they're coming up nice & even. i'm especially happy about the legs & far wing, as they were still vaguely concave even at week three. it's amazing how it all looked the same depth when fresh, but ryan had told me he put a bolder line around the legs, head, & top of the front wing, the main anatomical lines of the raptor... & so he did.

it still hurts fairly considerably, especially with the stretch when going from sitting to standing, so i started taking l-lysine, potassium, & higher vitamin E supplements. they're definitely helping the new nerves to calm. the entire scar has sensation & it's not entirely unpleasant.

i saw a dermatologist this week for a regular check-up (skin cancer is common in my bloodline), & i showed her the cutting. she's pretty square, but she got big sparkly eyes like she couldn't believe it's real. her first comment was to exclaim on how creative it is to use scar tissue this way! i loved that reaction. :D

without further ado, week five pics:



as i think it's raised enough to show with normal light, i only took one hard-light pic this time, in my favorite stance for it:



enjoy.