THIS IS A LONG POST, FOR MUCH HAS HAPPENED. you may read it if you like; i post for my own memory augmentation, so your tl;dr can be stuffed right up your cunts. :D

to begin, the briefest of thanksgiving writeups: we roasted an 18lb turkey with thyme/lemon zest/sage under the skin; garlic sugar snap peas; olive oil basil brussels sprouts; butternut/russet mashed squashtatoes; cinnamon straw-blue-cranberry sauce; & crescent rolls because we were foregoing stuffing & i hadn't had crescents in about a million years. we didn't go all out since it was just me & joe, though
sic737 stopped by for a plate. (chris has been working 10h days & schooling 5h/day too, so SOMEONE had to feed him.) i am pleased to have new stores of home-roasted turkey in packages in the freezer.

beyond the normal thankfulness shit, yeah yeah, i'm thankful that my second-worst boss was fired this year. this is the moron who, among a great number of other idiotic regulations, refused to let me take my break just before leaving. the only rules in the company handbook were 2 breaks a day totaling 30 minutes - & i preferred to take one of mine at 4:45pm so i could leisurely get my things together & relax before running off to the bus at 5. he kept telling me that doing that meant i JUST SAT THERE NOT WORKING for 15 minutes, whereas everyone else had to WORK UNTIL THEIR SHIFT ENDED. what the fuck kind of logic is that? it's 15 minutes NOT WORKING now, or 15 minutes NOT WORKING earlier in the day - that's what a BREAK is. & it actually worked BETTER for the COMPANY for me to break late since business was reliably slower closer to 5pm. i'll never understand the reasoning, but he nearly wrote me up over it several times. said i was "violating the spirit of break-taking". ridiculous. he hadn't been MY boss for a couple years, but i was still pleased to see him tossed out on his ass.

speaking of schadenfreude & other things that make me happy, we had a visit from
testing4l earlier this month. his write-up is here, but the highlights were playing king's quest (obviously), the lethal weapon marathon i threw around his trip since neither phil nor joe had seen them (in attendance: me &
gorthok,
testing4l, chris m., landon, mika & an uncomfortably pregnant
sheeep who didn't stay long), a lot of frozen yogurt (omg red mango's limited cinnamon apple), the very cool oldschool geek book phil gave me, & - oh yeah - dead rising 2 on the new xbox360 that phil gave joe. :O joe's old 360 had finally RROD'd, & phil's solution has also served to bring more phil into our lives, as the boys are now playing via xbox live. this is a much better "gift that keeps on giving" than herpes would've been.

for xmas, we took an awesome trip up to canada. grammy's birthday is the 28th, & world traveller that she was, i figured a good way to celebrate her would-be-96th was to be in another country. she was also a big fan of christmas (especially decorating for it), so since her actual birthday falls on a wednesday, we took the weekend before to hit british columbia - which happened to be xmas weekend. we didn't do anything particularly grammy-centric; just kept her in mind as we visited & shopped vancouver & ate.

oh yes, i said ate. my breakfast was extremely light & nutrition-dense in preparation for a very special two & a half hour dinner extravaganza at five sails for xmas eve. here's a copy of the menu with my notes:
Christmas Eve Dinner - Saturday, December 24th 2011
CHEF ERNST DORFLER'S HOLIDAY MENU

Five Sails rolls & Christmas stollen
the "rolls" were actually a nice crunchy-crust wheat bread with pumpkin seeds, but the stollen was my favorite. it's what all fruitcakes should be. the fruit wasn't chewy, just smooth & flavorful & sunk into a delightful soft bread with a crust dusted in fine-grain (not powdered) sugar. i could've eaten several more pieces of the stollen, but refills on bread were the house rolls alone. (we stayed firm to just one refill. :) )

Amuse Bouche
& so it began. this was a two-bite smoked salmon sashimi on a tiny flatbread, garnished with grated egg white & herbs. it melted as we ate it & tasted strongly of hickory or cedar smoke - as a sushi lover, i found this the perfect start to the meal. with it was served a few ounces of the silkiest butternut squash soup with cream & nutmeg on top, in a tiny handled cup. they complemented each other so well.

Fraser Valley pheasant & duck foie gras terrine
quince & balsamic gelée
creamy & smooth as expected, but packed with a good array of textures (hence terrine & not simply paté). the gelée was placed around the terrine like a clock face - we had dabs of soft & hard balsamic jelly, but the quince was my favorite.

Local caramelized scallops
a mousseline of cauliflower, caper & brown butter emulsion
this was probably my favorite course. the plate was arranged like pisces, colors swirling with scallops at the centers. i tried each ingredient separately before making whole bites, & i found the mousseline too fishy (anchovy perhaps?)... but when combined with the emulsion & a bit of scallop, it was stunning. the fishiness completely elevated the scallops, which were perfectly cooked & wonderful on their own - but the full bites were just incredible. we each had two scallops, & even joe found himself making smaller & smaller bites to draw out the course.

Homemade Dungeness crab ravioli
maple glazed Kurobuta Berkshire pork belly
warm artichoke salad
according to wiki, berkshire pork is "prized for juiciness, flavour and tenderness", & it certainly was. the plate came with three ravioli & two 1" cubes of pork interspersed, & it was exactly the right proportion. the crab mixture had a touch of lemon that went beautifully with the sweet & fatty pork.

CHOICE OF MAIN COURSE:
Duo of Arctic char & half Atlantic lobster
orange & squash butter sauce
compressed baby spinach, almonds & asparagus bundle
OR
Our traditional roast free range turkey, cranberry glaze
roasted Winter vegetables with pancetta
whipped Ratte potatoes & giblet gravy
OR
Filet of "PRIME" ALBERTA BEEF
braised Oxtail, confetti of glazed vegetables in season
golden potato galette & port wine sauce
i had the char & lobster, obviously, & joe went for the filet. we swapped bites to each other, but were ultimately happy NOT to split both meals as we usually do. his filet was ordered rare, & never have you seen a more exactly cooked "rare" - photos in cookbooks are less precise. my char & lobster were equally well-prepared & luscious; not one second over- or undercooked. the spinach was lovely, & my white asparagus was tied with a chive to look like a little bundle of firewood. there was also a phenomenal purée on my plate (i think parsnip) that was the ideal accompaniment to the seafood, & the orange/squash butter sauce was a gastronomic shock that rocked my world.

Coffee or tea
served while we waited on our tarts, joe had coffee & i had mint tea. the best part was the dressing set that was presented with it, because the sugar was basically brown & white rock candy. :) i was charmed.

CHRISTMAS WISH LIST
Warm apple tarte tatin & cinnamon ice cream
holy hell, five sails. the tarte tatin was served beneath a tall nest of super-fine caramel strands. we were advised by the waiter to put the cinnamon ice cream in the middle of the nest, then drizzle it with a brandy caramel sauce served alongside, & we did so. the needles of the nest poked our mouths devillishly & immediately melted away deliciously; the ice cream was strongly spiced & obviously made in-house; & the tarte tatin was sweet & soft & crunchy & all together stupendous.

there were two additional bites served to each of us when the check was presented: a tiny raspberry (or perhaps marionberry) linzer cookie (which joe & i both thought had been called a LINDSAY cookie, hi
atrophie!) & an even tinier dark chocolate truffle - no chocolate coating, just pure truffle - topped with a miniature dollop of whipped cream & miniscule shavings of pistachio. they certainly know how to take the sting out of a $250 bill. (!)

yes, it was utterly amazing. words cannot even express.

we stayed at the cassandra hotel that night, where i'd snagged a 50% off deal on expedia - definitely appreciated after the most expensive meal we've ever eaten! yelp reviews were split between "it was very nice for the price" & "holy shit do not stay here, it was awful", but i took the risk. totally worth it - we got a free upgrade to a mountain view room, the bed was SUPER comfortable, & we spent an excellent night in canada. (of course, it probably didn't hurt that i mentioned the bad reviews to the front desk chick, who begged ignorance & then tried extra hard to make sure we had a good experience. ;) as if the main staff doesn't know how their hotel is rated on major websites, heh.) we couldn't find a good movie to close the night, but there WAS a mythbusters marathon running (kind of "our show" since i first saw it with joe when a similar marathon was running during our first anniversary vacation together), so we watched the boys rebust while i enjoyed the decently quick hotel wifi & joe dozed in food coma: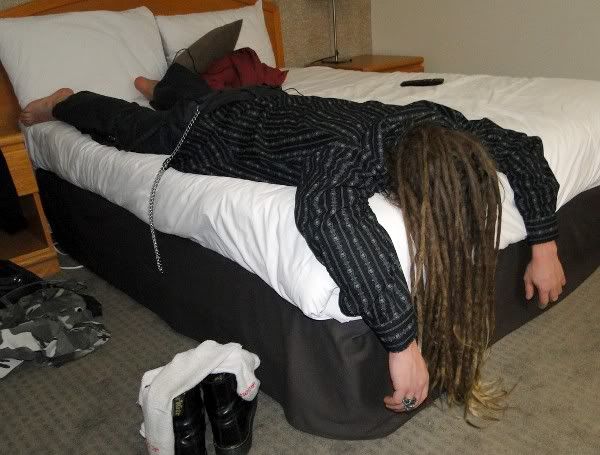 on xmas day proper, we missed free hotel pastries, but i had a few bites left of my main course from the previous night. even reheated, yum. we lounged in the hotel room until check-out, then visited the vancouver aquarium - partly because it was the only thing open, but also because the last time i'd been to an aquarium was monterey bay with cody, back before i even signed up to lj. they allow photography, so i took some pics. the place was dark & the flash bounced off everything, so the photos aren't fantastic, but i did the best i could with a high ISO.

joe pointing at seattle on the british columbia map: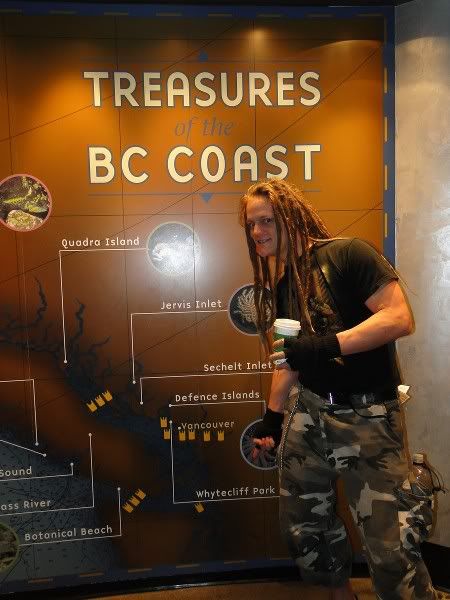 trying to adjust settings, this came out too cute to rm: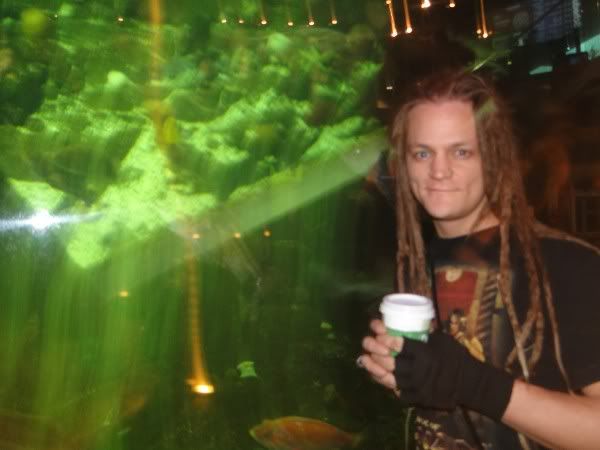 joe's raver side coming out: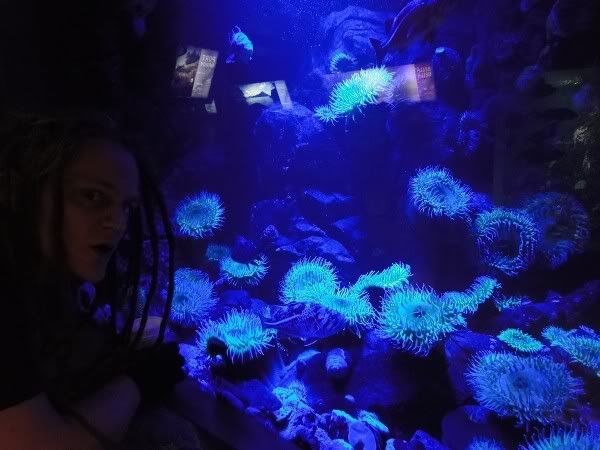 as i was photographing a hermit crab for joe, it became clear that this fish needed attention: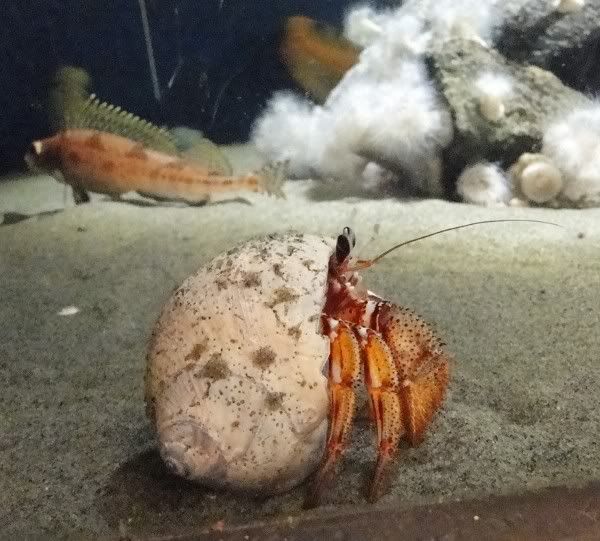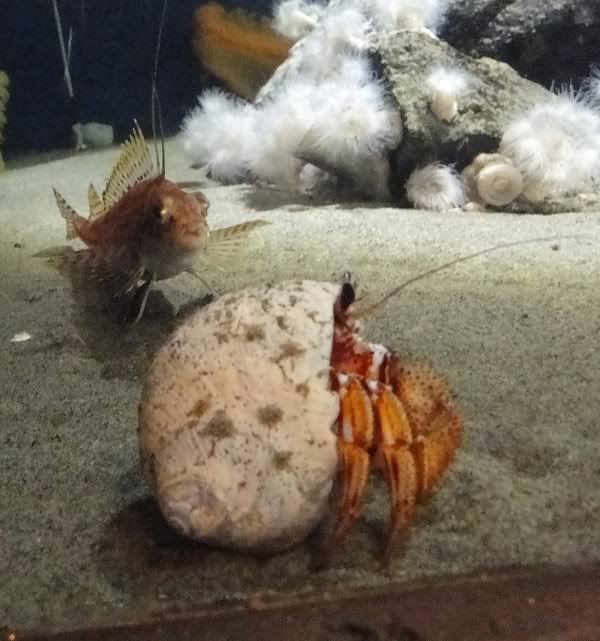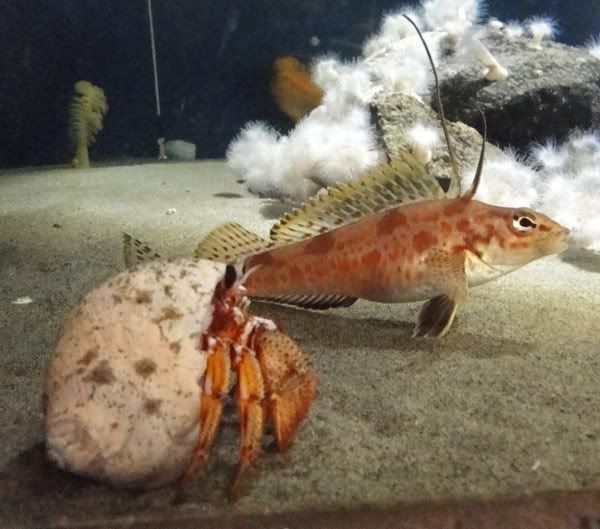 a fish as long as joe is tall: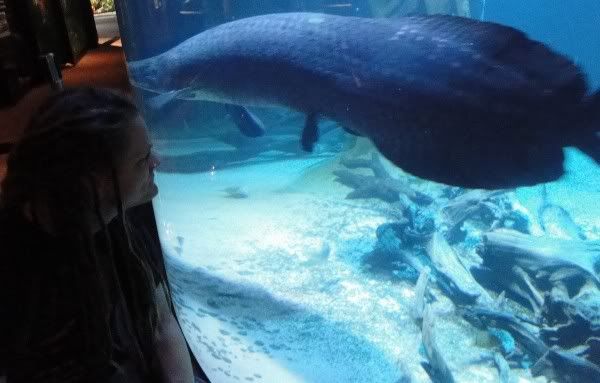 rocking out with a lionfish: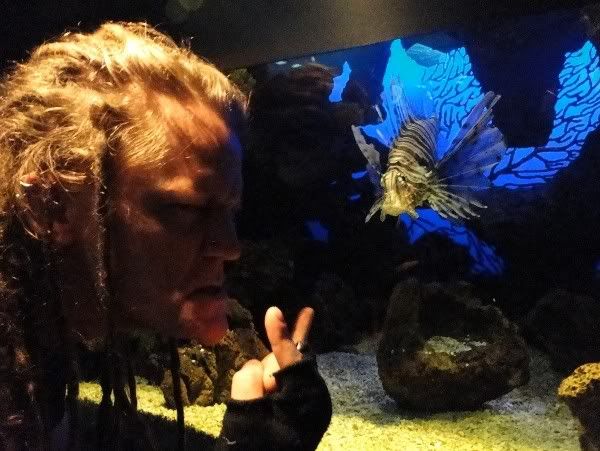 continuing to rock out with fish: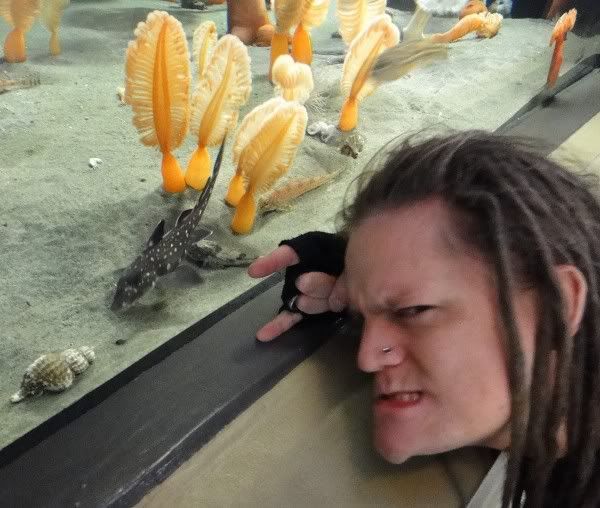 the electric eel tank had an inset to put your head in! so joe rocked out with it: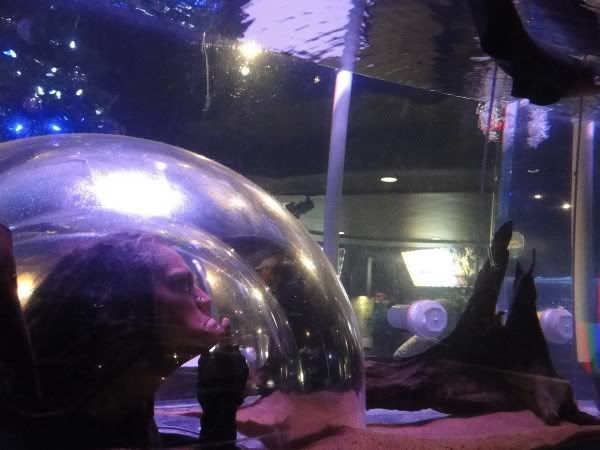 i love this fish! he kept posing for me to photograph his teeth.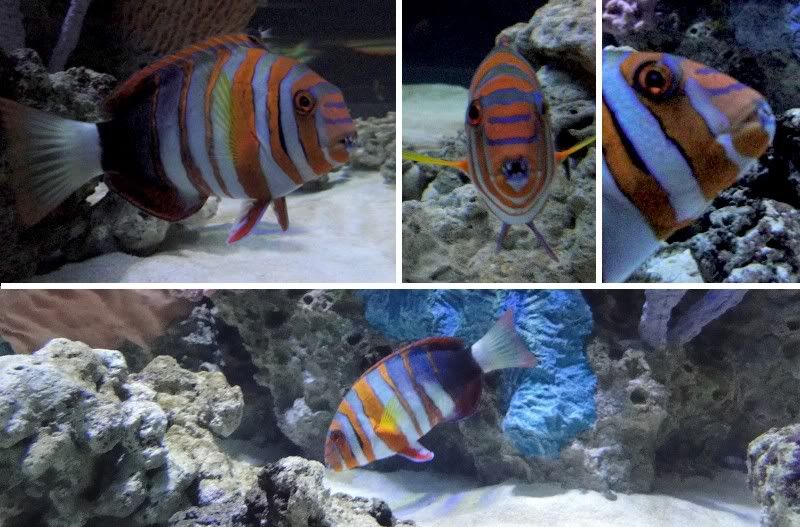 & for those who follow my lobe jewelry posts, yes, this happened: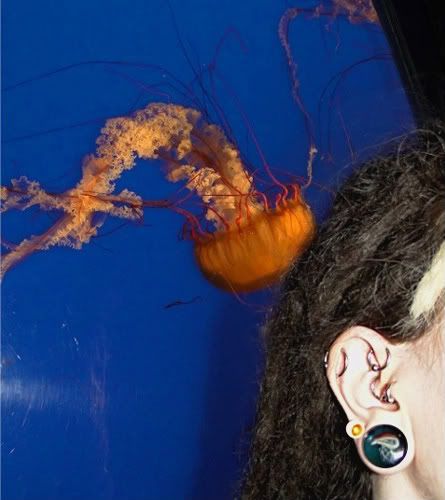 headed back to ca-99 & i-5, we found an eastern european/russian deli that had a TON of crazy chocolates & pastries. i snagged a small slice of fruit bread, & we each picked five or six individual chocolates based on the wrapper & our instinct (as everything was cyrillic or some shit). we sampled each as we drove out of canada, found a lot of winners & a few mediocres, & were thus able to declare "a bunch of half-eaten chocolates" at the border.

speaking of, we also picked up a shitton of canadian candy bars, just for the fun of the new: wunderbar, kinder bueno, after eight (i was disappointed that the filling wasn't goopy like their thin mints), mr big deal (which i had before & really liked), sweet marie, crispy crunch, & a kit-kat toffee that joe went wild over. plus i found a package of peach/wildberry nerds, which i'd never tried - nerds were my first favorite candy as a kid & i'll always have a soft spot [in my teeth?] for them. this much sugar & junk will probably last us several months, heh.

joe & i hit half a decade together on the 26th, so i gave him this present while we were at five sails. (fuck christmas presents - there's nothing special about those, but anniversary celebrations are a requirement!) here are some of the things i've learned from joe in the past five years:

a pre-warmed bed makes for the best sleep.

meats should always be seared & then simmered for two-plus hours.

double-paned windows make a huge difference in my overall happiness.

there is a lot of vampire smut in the literary world. i mean a LOT. more than anyone could ever stand to read, much less own.

a dominant/dominant relationship totally works & is awesome.

the more estiferous the flatus, the more puissant the mephitis.

final fantasy X is stupid, but less so than FF VII.

boys are messy.

we are fucking genius together & i look forward to the next five years.

& yes, i made a montage, as per the usual:



next comes a bit of food log: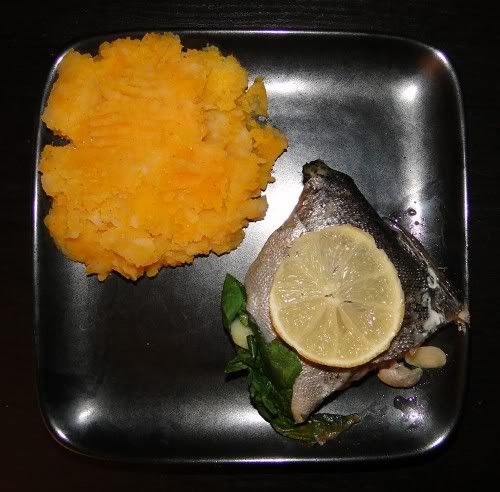 taking a break from turkey, tonight i steamed trout stuffed with spinach & garlic, & reheated some of the butternut-russet squashtatoes i made for thanksgiving. this was my first time steaming fish, & it came out just right! 303 cal, 21g carb, 33g protein, 10g omega 3 fats, & 100% vitamin A.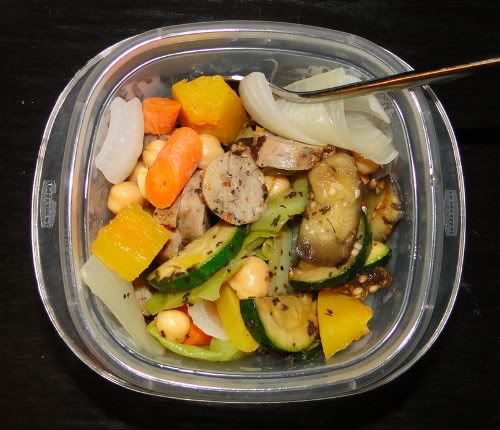 meals for the week! basil & sundried tomato chicken sausage, organic eggplant (thyme & coriander), zucchini (basil), sweet onion, carrots, cabbage, chick peas, & delicata squash. i'd never steamed squash before, & it came out very nutty & delicious. 381g is 192 calories, 23g carb, 19g protein, 7.5g fiber, 119% vitamin A, 61% vitamin C. i love having ten portions (nine now) prepared in advance.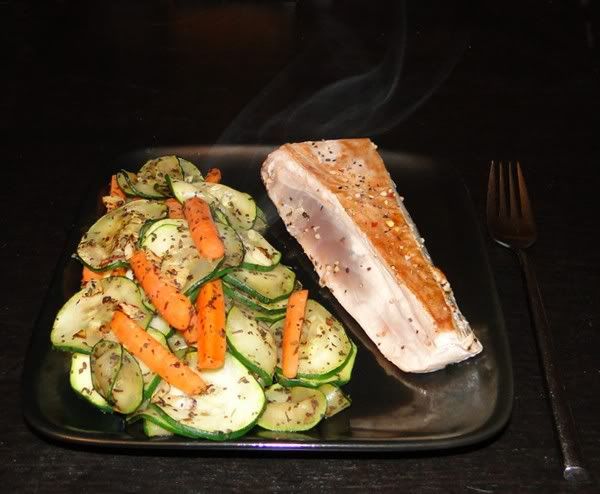 yum, seared ahi with garlic basil zucchini & carrots. simple & effective. 246 cal, 13g carb, 43g protein. the fun part, though, is this is the first pic where the steam coming off the food is actually visible. :) bonus shot: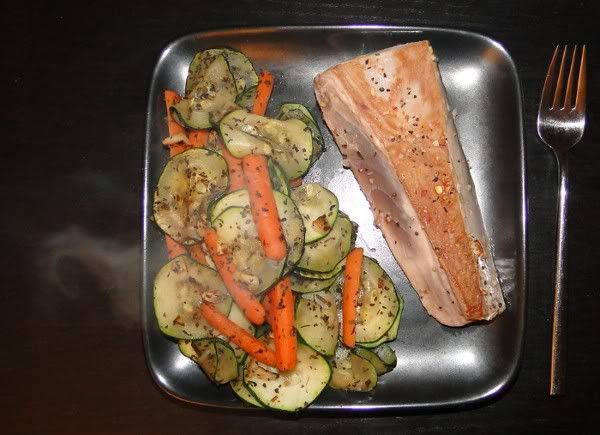 & some dreads pics & a few other posts:

blacklight collection - http://stretched.livejournal.com/5614009.html:
while i had the blacklight on loan for another photoshoot, i figured why not see what else glows in my collection?

auris leaves & butterfly plugs fluoresce a bit: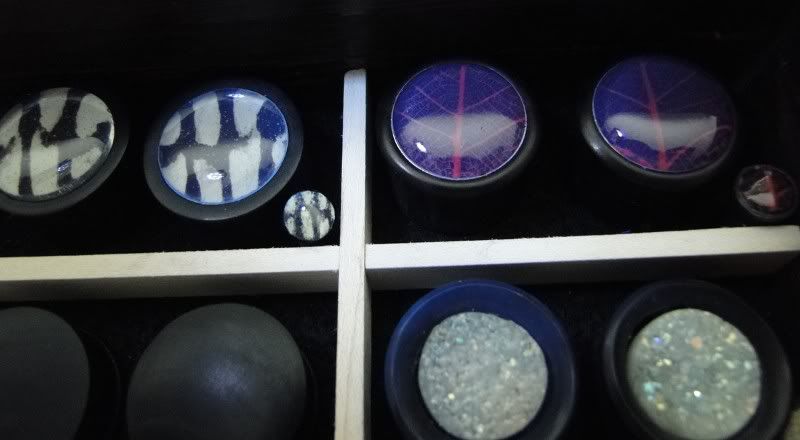 & yep, the resin around my bismuth plugs & trisk match does too: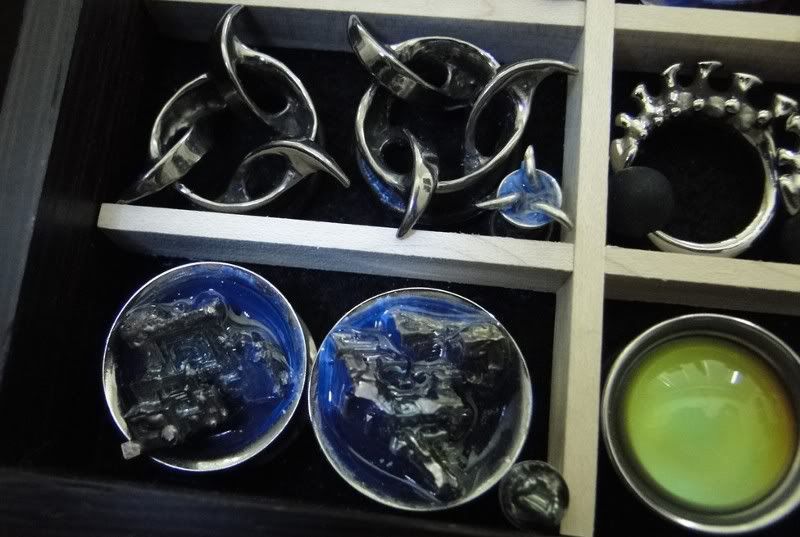 of course, you know the scorpions glow. the resin
atrophie used for my baby teeth plugs does NOT, but holy hell do the acrylic plugs i bought from wildcat light up! you can't even see that they're actually my DIY heart plugs.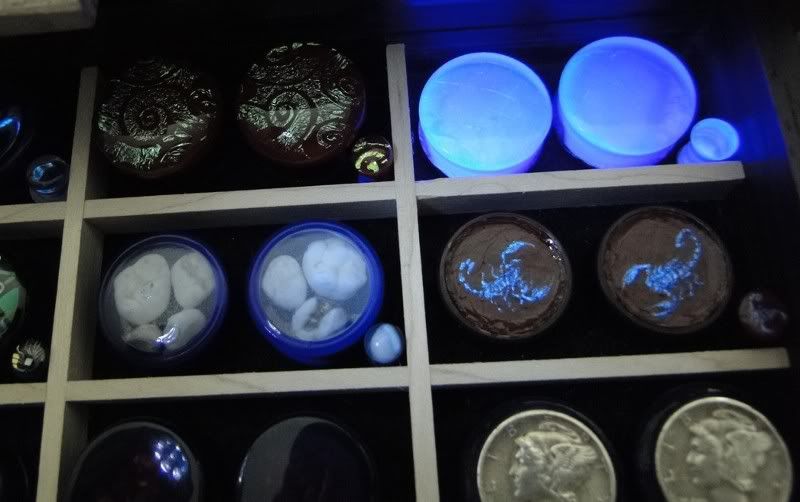 you can see in the first pic that black horn goes a bit greenish, but golden horn is VERY luminous.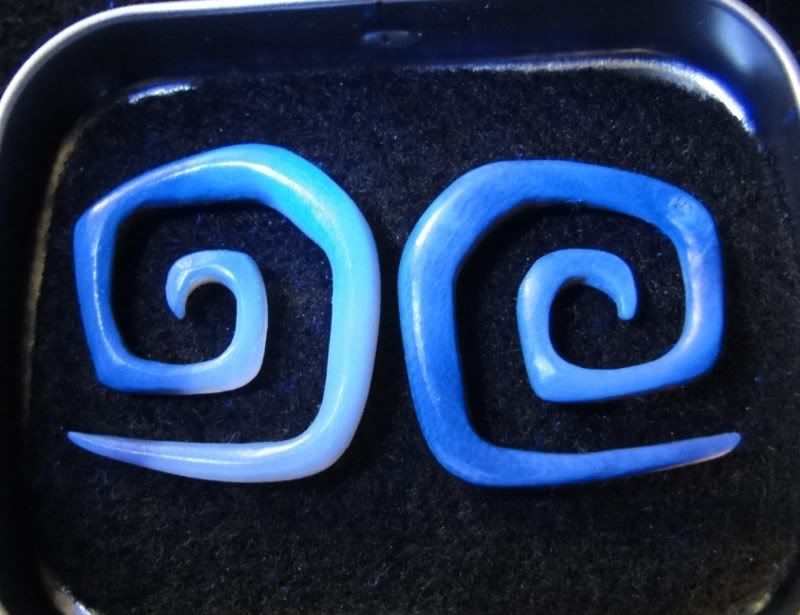 the nailpolish i used on my DIY serpentina match isn't reactive, but the acrylic base is bright enough to shine right through it.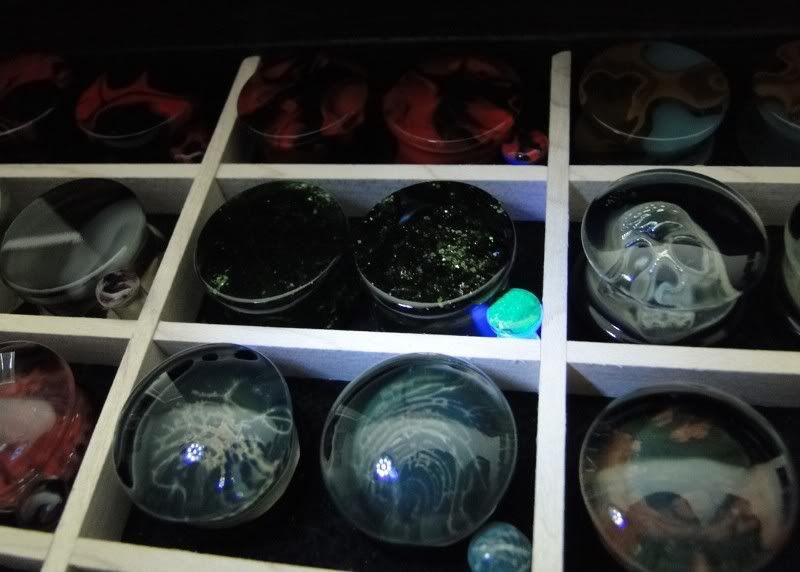 clear superglitters reflect so much UV that they could be a nightlight: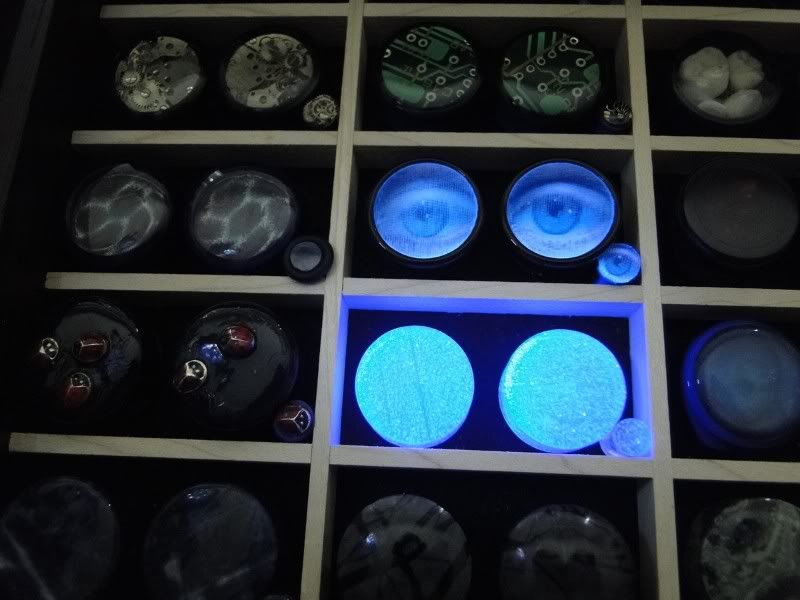 but the best part is amber. relic on the left, onetribe on the right - BOOM.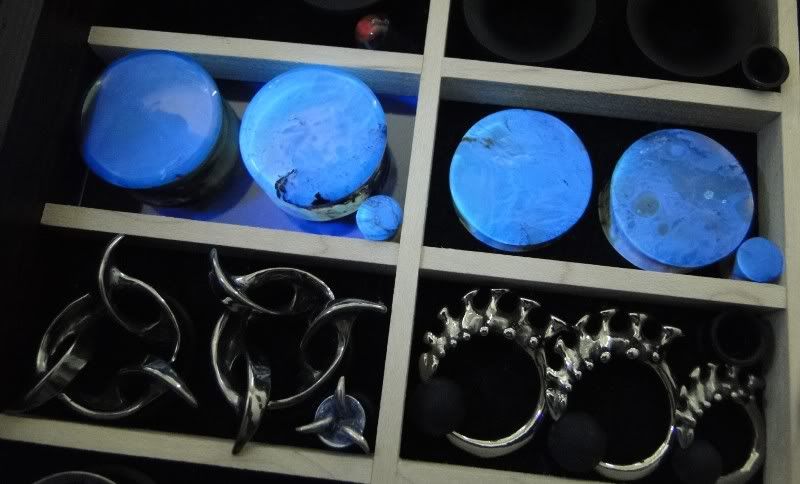 this site says that while dominican amber glows as above, baltic amber doesn't. weird! wiki continues on that blue amber glows in "natural sunlight and any other partially or wholly ultraviolet light source", so that makes sense.

as an aside, i also discovered that honey looks absolutely disgusting in UV.

anyone else have a blacklight around? snag some quick pics & let's compare! :D

who needs anything BUT flashy stone? - http://stretched.livejournal.com/5614299.html:
oh, brian. brian brian brian.

he's done it again, you know. &, delightfully, they were finished just in time for my birthday. :D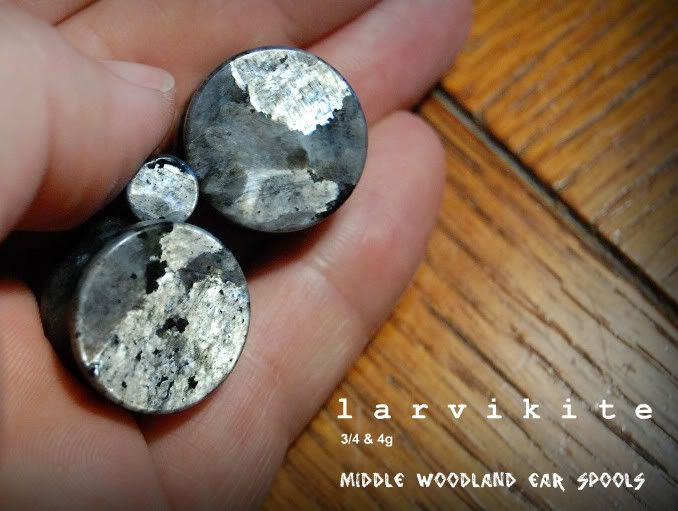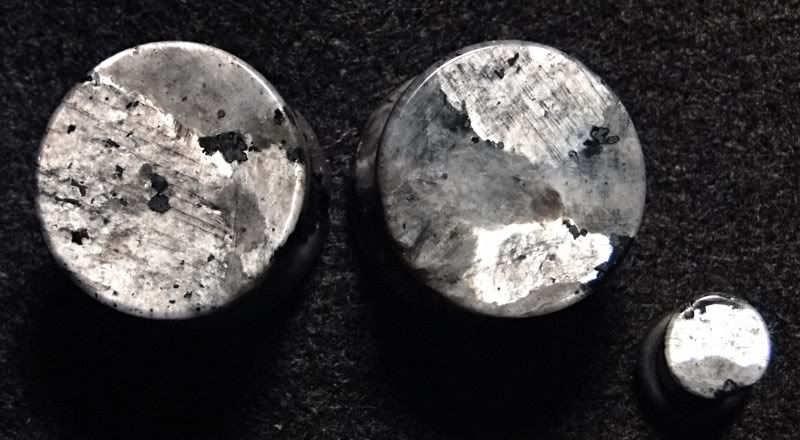 a macro on the 4ga: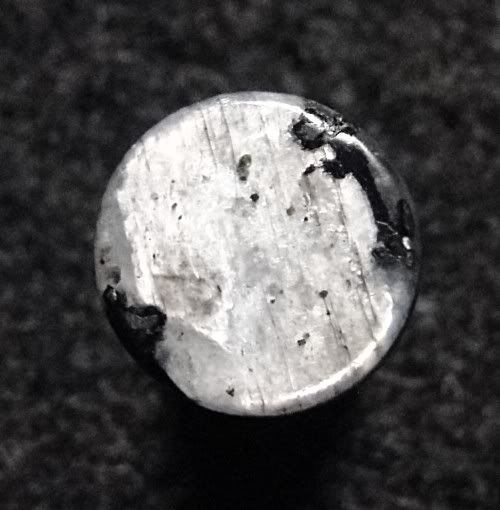 so this is yet another amazing flashy stone brought to us by
middlewoodland, this time from larvik, norway. apparently it's popular for countertops & knife handles & such, though that grade isn't nearly as fine as what brian has acquired. it's called anything from pearl granite to black moonstone to labradorite (!) depending on what it's being marketed for, but i'll stick with its proper name, holyshitbriandiditagain larvikite.

apparently it IS structurally similar to labradorite, according to this guy:
Larvikite is a soda, lime rich Feldspar, also known as a plagioclase. In this grouping of Feldspars the sodium aluminum silicate and calcium aluminum silicate combine into a three way crystal system. This crystal formation contributes to the flashes found in Larvikite and other plagioclase siblings like Labradorite and Rainbow Moonstone.

a bit of reference for the science geeks:
larvikite: (Na,K)AlSi3O8
labradorite: Na0.5Ca0.5Si3AlO8
also, this hippie shit says the stone's astrological sign is scorpio JUST LIKE MINE, so, uh, there's that science too. whatever. hippies.

my favorite part is that the faces are full flash, but not from the same angle: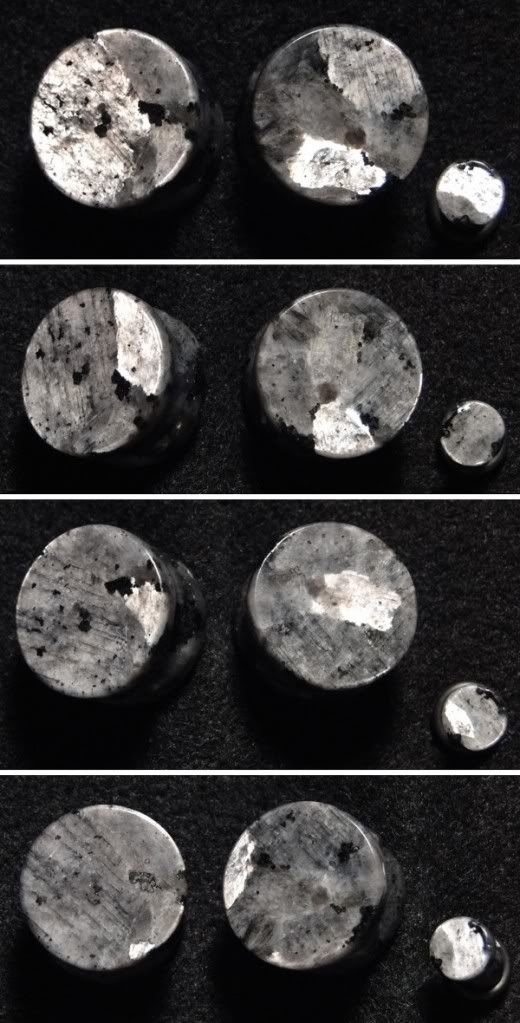 those plates depict how the stone formed. it's the same kind of effect that my relic condor agate displays (especially in this pic), & i think it's completely rad.

they look just like dirty snow when not flashing, i love it:



y/y?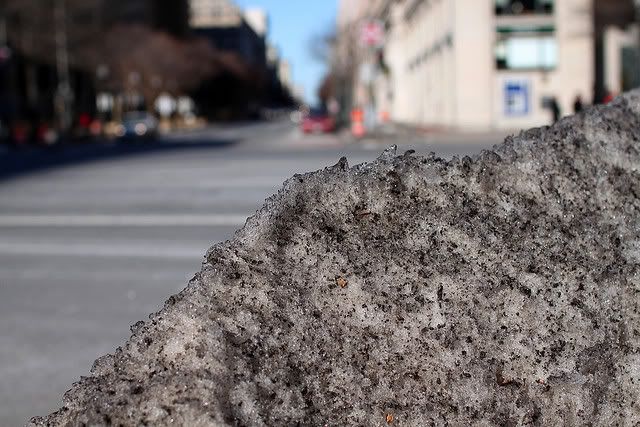 there's something about the schiller that just looks velvety. i tried to show this in a video, but it's tough since it's exceptionally bright. :)


the visual angle to see the flash is so wide that both side-on & front views show the same plates lighting up! crazy.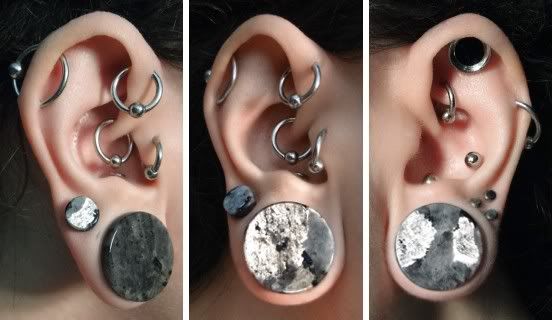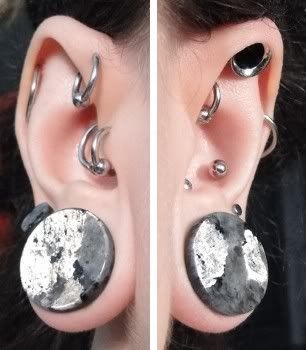 & brian made a video on these, too, just before finishing the second plug:


well? go on, go place your order. :D

saltwater lobes - http://stretched.livejournal.com/5615125.html#cutid1:
yeah, well, i was iffy on these from the product photo, but i was thrown off by the macro shot; when i realized the thumbnail pic was about lifesize, i started to come around. with that, the 30% off thanksgiving sale, *&* a gift certificate i picked up on the cheap, i figured they were worth the risk.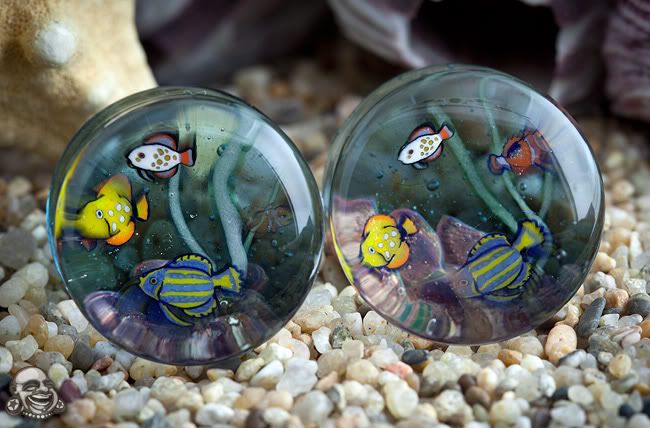 you know, they're actually pretty great, considering the size. some aspects are a bit weird - one of the blue fish is kind of missing his face (cut too thin), the other looks smeary (from being cut on an angle); one clownfish is half lost in the flare, the other is a merest wisp of a ghostfish (poor little amphiprion); & the pebbles on one plug are decidedly piled against the wall of the "aquarium" (which i didn't even notice due to clever placement in the BAF photo, hah)... but on the upside, the fish are VERY detailed for being such tiny murrini, the pebbles & the sparkle background both lend realism, & the best part: the fish are placed at different depths in the plugs so it's not just a flat appearance. all in all, i like them!

i entertained purchasing this pair instead, but someone made my decision easy by buying them. just as well - i prefer my pair overall, but was only wavering because i didn't necessarily want another pair on trans sparkle blue. but i found they're much easier to see on a solid background instead of the trans, so i painted the backs silver. :) there was only a mild difference from painting them white, but it was enough to matter - & now they definitely differ from my jellyfish.

choosing the TSB pair gave me an opportunity to rework the TSB colorfront i'd painted for the jellies, & haven't worn since ryan surprised me with a true match. so i stripped the zooplankton & turned it into...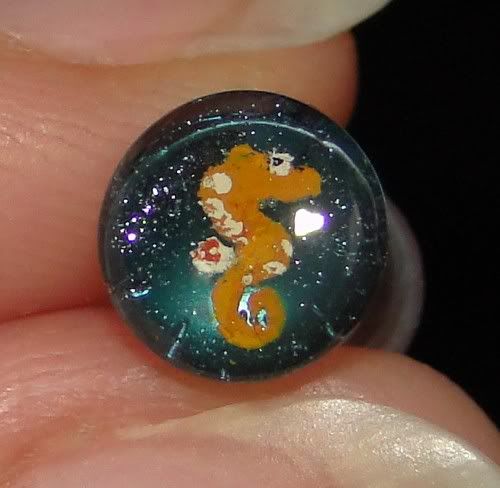 yep, a tiny seahorse. :) it has a silver painted back flare too, & i painted him facing the fish on purpose.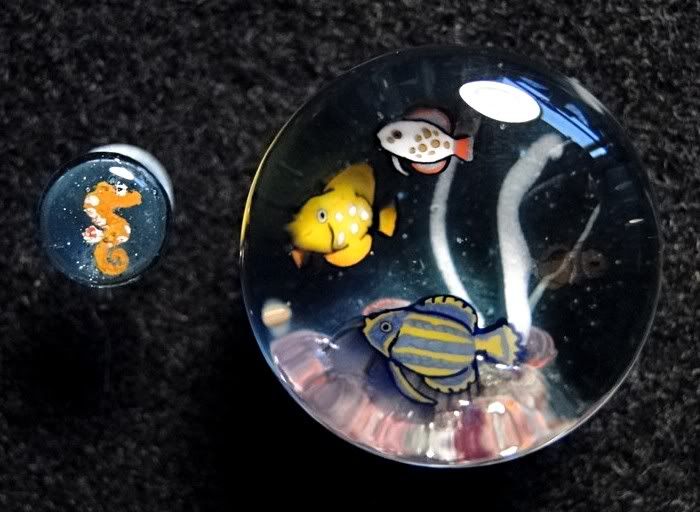 you can also see in this pic how the ghosty clownfish could be believed to be swimming way at the back of the plug.

GWS has put glass seahorses in aquarium plugs, but definitely not in a 4ga. & i'm not holding my breath on another surprise delivery. :) here's the full set in natural light:



with a soft flash: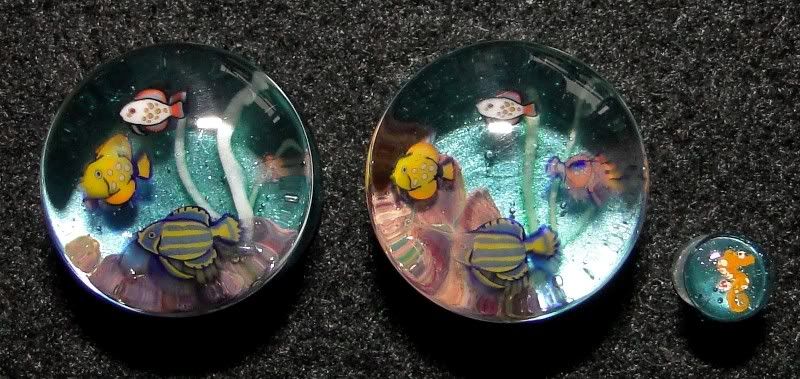 & a hard flash: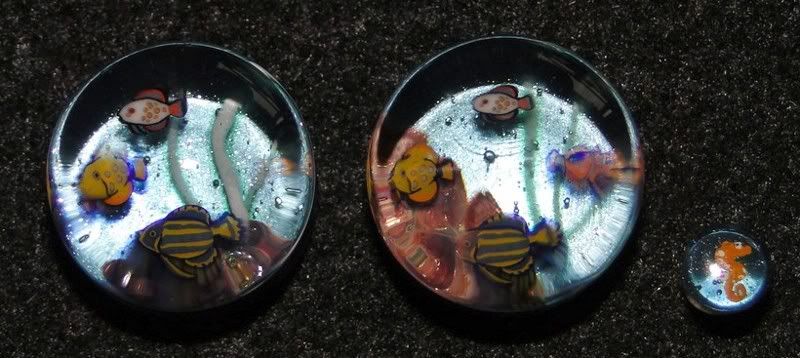 due to the flaws i mentioned, it was tough to decide which plug was visually stronger for my right ear... but i realized that the in-ear front view makes all the difference. the plug with only three obvious fish goes in the right. if that were in the left, then from the front it would appear to only have two fish, & this way the corporeal clownfish gets to come out & play. see what i mean?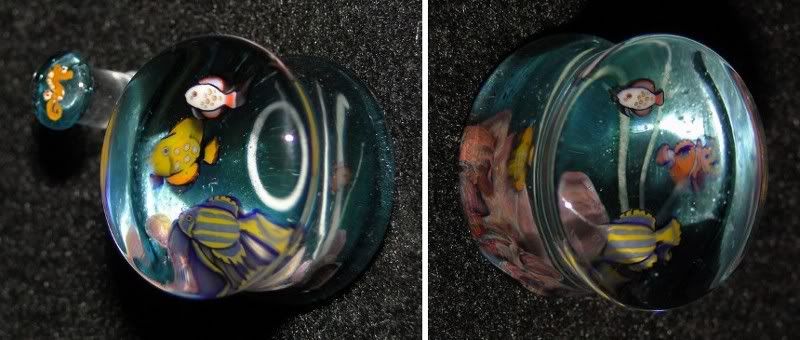 additionally, if the heaped pebbles were in my right ear, the little seahorse would look beached! :)

in-ears: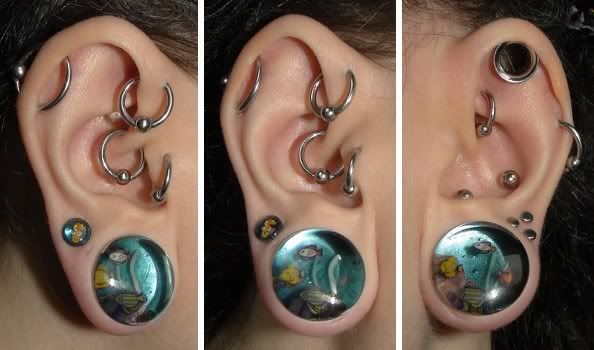 & being me, just for fun, i had to identify the fish - or as close as i could get. this is the best i could do for saltwater (though the gourami & discus are fresh):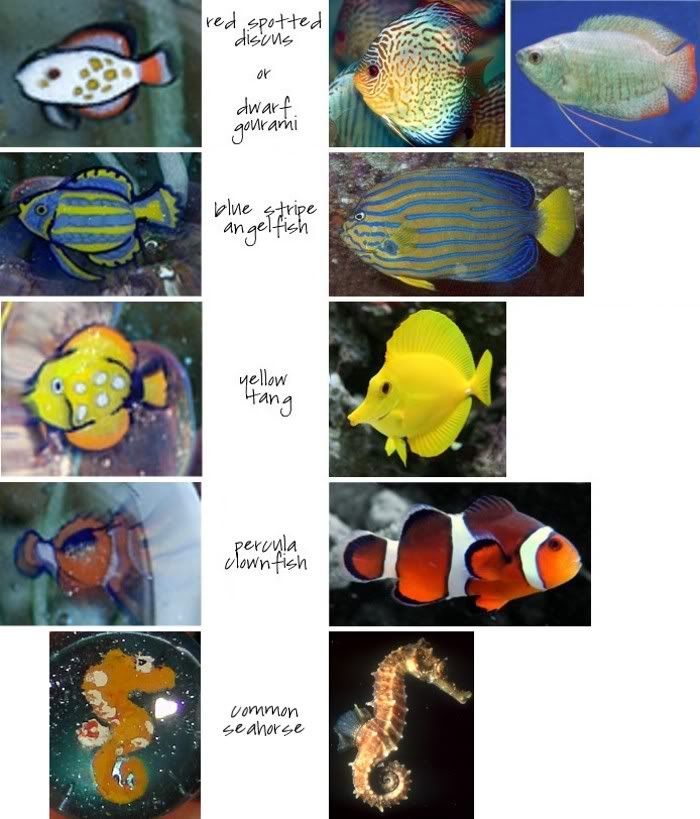 one last bit of amusement - when i showed joe the plugs, he asked about their construction, & i started explaining how murrini are made. he looked at me & deadpanned, "that's not a word." he never questions my vocabulary, so i was a bit taken aback by this - until it was realized that he thought i was saying marine-y. like fish in the ocean are marine-y. @_@

ok, that should be it on new stuff for a while, unless brian finds time for more alchemy. ;) enjoy!

oh hi! it's been four lovely months since ryan carved a raptor into my torso. it hurts almost not at all now - i haven't had to do further hard massage - & is only tight near the apex of a standing backbend/cobra type of move. the itchiness is still present, but reduced, & i continue to moisturize him with pure coconut oil daily.

visually, the healing isn't much different from 3 months, but i did notice something awesome: when under tension, all of ryan's original cuts show perfectly. i tried to capture some of that in a couple of pics. note especially the plumulaceous barbs near the quill of the loose feather:



& all the breast & body feathers i feared had molted:



this makes me really excited for a special photo session i'm planning for a year or two from now when the scar's fully white: sunless tanner. :D

i'll probably do a full photoshoot next month.

looking back over 2011 in general, i'm proud to say i've put out a lot of fires this year!

i handled a friend's voluntary committment to a mental health facility at my behest & with my encouragement;

i bullied a hundred twenty pounds off a friend & then saw him through a[n unrelated] deep vein thrombosis that nearly killed him, & probably would have had he still had the weight on;

i suspected & then encouraged treatment of a friend's wife's previously undiagnosed anorexia;

i began the turning around of another friend's dietary & exercise habits, which at only a quarter of his goal met has already made major changes in his health & degree of daily pain; &

i was the only one to step forward for a friend's currently-still-a-bitch wife's treatment of him to make sure that he's not being abused by her & that she's aware of her issues.

plus some long-burning fires have been put out on their own - the best example being that my brother is now in shape & gorgeous. i couldn't be happier for him. 2011 has been a good year.

the next most exciting thing happening: TICKETS TO CAVALIA. omg. OMG. joe made us buy the second-most expensive seats, when i was totally going to mostly cheap out for his benefit. we'll be five rows back, in the section just left of center stage. CANNOT WAIT UNTIL JANUARY!