most life-improving news: we bought a GIANT FUCKING 55" LED 3D FULL HD FANCY-ASSED FLAT TV. it was listed at $1599 on sony's website, but we also wanted a wall bracket ($129, $149, or $399), professional installation ($300), & a five year warranty ($250), so i geared up to negotiate with the boys at the sony store. i'd been doing Negotiation Math all week, & decided i'd open with buying the tv, bracket, & warranty, & ask for the install free. that'd be $2000 before tax, saving us $300. my backup offers were to buy the install & warranty & ask for the bracket free (total $2150), move to buying the next model up in 55" if they'd throw in the bracket *&* install ($2250), or leave & buy the refurb of the first model & extras on sony.com ($2000).

though my sales guy said he couldn't give me anything free, somehow the exact model i most wanted was on "in-store special" that weekend & he could take it down $300 for me. well imagine that, the exact amount i'd hoped to wriggle out of paying! there was, of course, no mention of this "in-store special" anywhere near the tv or placard for same. i didn't check if there was an actual store flier to back it up - i just beamed & shook his hand & complimented him to his boss. he also beat the bracket price we expected - we got the froufrou tilt bracket for $79 instead of $149, as he explained we could use the smaller version not offered online.

i'm not saying that it helped to wear a low-cut tank top to the sony store, i'm just saying i got exactly what i wanted. XD plus the fucking thing fit perfectly to the quarter inch (!) into joe's car without having to move either seat one bit. double plus i got the sony guy to put $501 of the purchase on my brand new slickdealt credit card, which gives me a magical $300 back without even trying (& makes it so i don't have to single & fin my way there within three months). AN EXCELLENT WEEKEND.

here is a picture of me cuddling the new tv box: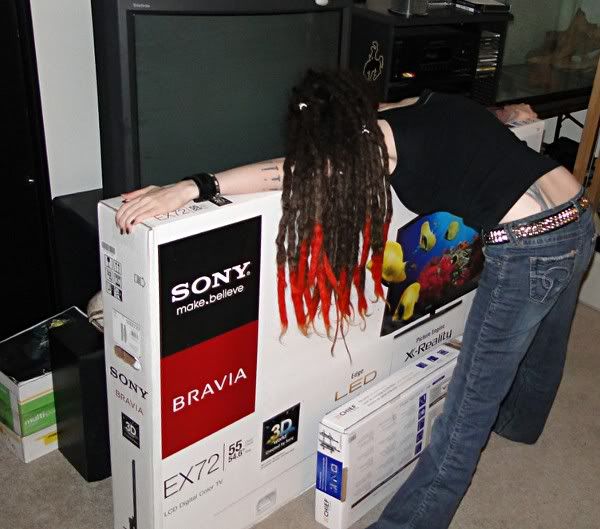 for those who've been here: some items in the front closet went down to storage; the sewing machine & stand went into the closet; the boot rack turned 90 degrees against the sofa; the 75gal reptile tank moved to where the sewing machine & boots were; the dvd cabinet went where the 75gal was; the stereo cabinet moved down a foot; & the wall is thus opened for the unreal TEN & A HALF SQUARE FEET OF VISUAL EPICNESS to be installed saturday. :D & yes, there will be a major movie night coming SOON.

new computer news: the list of broken things from the last post: higher resolution x, quite probably cups. also high ascii has been added since that was determined broken when phil tried to show me a ± sign. X) we haven't done much fixing lately since phil sort of has a life, & i'm basically uar.

news from 1992: i've been playing a lot of DooM. i'm glad to note that prboom works just fine on the new box, & midi plays without the weird sound-server package that only kind of worked on the last box. it's still my favorite, & some of you know i have a rather large doom tattoo, yet somehow i never really played anything beyond "ultimate doom". turns out that "final doom" was made up of a couple of amateur megawads ("tnt: evilution" & "the plutonia experiment"), & it's been okay to play. the levels do have some nice complexity to them, though there are still some bugs that were apparently never fixed. an unexpected upshot of all this is that joe is oddly turned on by watching me play, haha. that in mind, anyone want to go coop? :D

on to tattoo news: i scanned the grammy letters at high res - after three hours, i finished the first six country names, the ones that we visited together: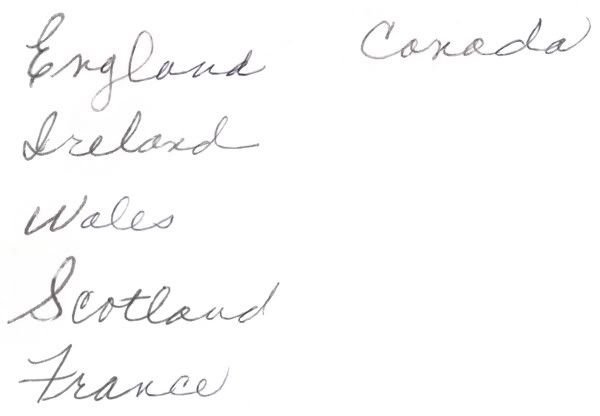 i'm SO happy i've so many letters to work from - i was able to judge proper spacing, how she connects letters to each other, & i was even able to use end-of-word letters to finish each country's name. plus i've been marking "used" letters (on a transparent layer) so i can keep it from ever looking like a font. :)

continuing on the treasure hunt, i pulled a free trial to ancestry.com & found her as a child/teen in the 1920s & 1930s censuses, but those were handwritten by the census takers. i also found mention of grammy's marriage certificate, including the number, but with no image. i was going to order the marriage license online, but the order came to nearly fifty bucks & it wasn't guaranteed they'd find it - with no refund if they don't. so i wrote an archivist at the Register of Wills & Clerk of Orphans' Court Division, & he replied, "By the 1940s, most county clerks were using type writers to complete the marriage application. So, you are unlikely to find anything more than her signature." i thanked him for saving me fifty bucks & disappointment, though that may be something to pursue if joe & i want to visit another E country aside from England & Egypt. but i was able to order my mother's birth certificate, which should provide a V & maybe another signature, too. if i'm really lucky it'll be fully handwritten like my uncle's...!

i then struck out at one of my most exciting leads, AARP. i thought she'd used them to book all her travel, but the chick on the phone said there was no account under her name. damn, i was hoping that'd be a really easy way to get a full list... oh well, i guess it's less frustrating to hear "sorry, no account" than "yes but i can't give you the info", right? that night, i went home & just had a feeling i'd missed some letters... i went very carefully through one particular box, & found SIX MORE CARDS! they provided K O q V x (& multiple "x"s at that, so we can go to Mexico & Luxembourg without a repeat, haha). the O was random because she unnecessarily capitalized Ocean, & the V is so fucking cute, it came from this:

Did you know the state flower of Illinois is the (Violet)
Penna is the Mountain Laurel fun letter yes.

she wrote O & V for no good reason except that i'd need them twenty years later. :) so i'm down to needing Q U X Zz 8, which means we can go anywhere except Qatar, Uganda, Ukraine, Uruguay, Uzbekistan, & a bunch of places with Zs like Zambia, Zimbabwe, Belize, Brazil, Czech Republic, New Zealand, Switzerland, Venezuela... but knowing her handwriting this well now, i'm pretty sure i can comfortably draw her U, Z, & z if i have to. (U is just the top of her Y, & judging by the rest of her script, Z & z would be like this.) i don't know if her Q is O-like or 2-like, but i don't care about going to Qatar anyhow, so that's moot.

i can't wait to see what the birth certificate adds to the collection...

food log: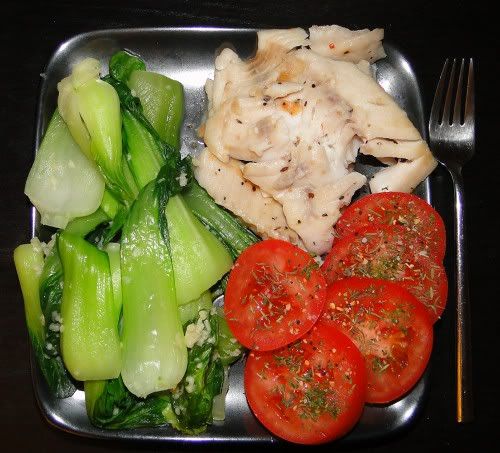 leftovers from yesterday's rockfish, with freshly steamed garlic baby bok choy & a raw tomato with parsley, thyme, & the same seasoning mix as the fish. 223 calories, 11g carb, 38g protein, 5g fiber, full A & C & surprisingly high in calcium.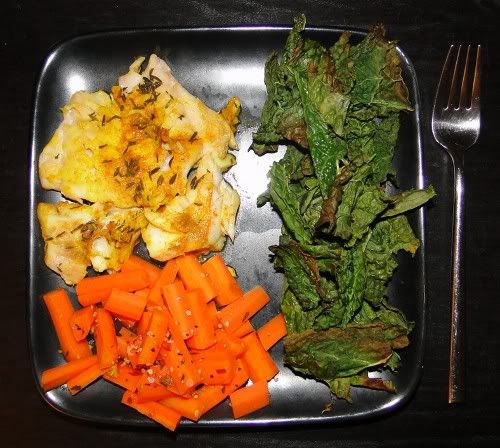 rockfish with lemon, thyme, & tumeric. i tried something different & it was okay. i lightly steamed some japanese imperial carrots & made kale chips to go along. 178 calories, 12g carb, 27g protein, 4g fiber, 4xA & 1xC.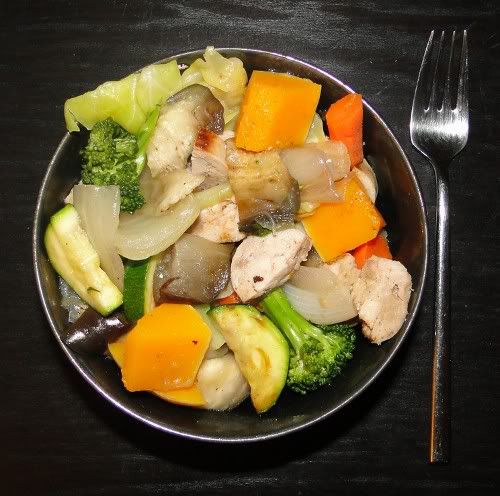 i've been eating these this week, but only just got around to photographing one. chicken apple sausage, organic eggplant, sweet onion, japanese imperial carrots, broccoli, zucchini (with fresh oregano), cabbage, & butternut squash. i left the peel on the butternut & it steamed nice & soft. i should've used more oregano, but this turned out well with a splash of worcestershire. 208 calories, 26g carb, 21g protein, 8g fiber, 200% A & 130% C, 849mg potassium.

joe & i don't celebrate VD (except for that one awesome time we did), but we did take advantage of coastal kitchen's celebration of VD. this was the meal:
Sensuous flavors of the heart
are yours at Coastal Kitchen

Join us on February 14th for a romantic 'Tasting Dinner' for two.
Chef Todd has created five courses of dining pleasure sure to arouse the
palate of your inner Cupid (the heart) & Psyche (the soul)

Baked Oysters Rockerfeller, Totten Inlet, WA
with creamed leeks, pancetta, pernod
delightful & light. i'd never had oysters rockerfeller, & two made a lovely appetizer.

Chilean Sea Bass, MSC Certified
Crispy polenta, wilted spinach, herb beurre blanc
the sea bass was cooked PERFECTLY. the polenta was wonderfully crisp & the full bites worked so well.

Artichoke Soup
with basil chiffonade
i've never had an artichoke soup, but i do like artichokes. this was such an interesting flavor on its own, but what made it was the fresh basil on top. grinding one of the leaves in our molars & then taking a spoon of the soup was stupendous.

Grilled Beef Tenderloin, Painted Hills, OR
'Faux-tatoes', three peppercorn bordelaise, mushroom duxelle
i'm not usually much for steak, but this one was absolutely heavenly. i actually preferred it to the sea bass! the faux-tatoes were creamed cauliflower, & it's a good thing - actual potatoes would've been much too heavy & starchy for this late in the meal. their texture was similar to the polenta from the second course, & the sauce was phenomenal.

House made Limoncello
Chocolate Crème Brûlée with fresh fruit
i'm not usually much for crème brûlée either, but this was one of the best. it certainly helped that it was studded with dark chocolate! a few raspberries & blueberries (joe let me steal his, too) topped.

more tasting menus in our future, yes yes.

the hawk is six months old! again, there wasn't enough change since last month for a full update, but i have a couple of close-ups for fun.



dear raptor, hurry up & turn white. thx luv lish

in body news, i've been booted for the past few weeks - my hoof had been hurting so i went to the farrier, & he decided to immobilize it instead of shoot me. so that's good, i guess. i'm four weeks down & probably two more to go, so clomp clomp clomp ttyl