the major news in may is that i started going to the gym with joe. the reasons are multiple, but centered mainly around physical upkeep & a continued ability to eat desserts without repercussions. i began training on may first (coincidentally; i don't do resolutions or "ok the diet begins the day after thanksgiving") & have taken to spending 30 minutes (plus five cooldown) on the elliptical daily minus sundays. i'm now able to keep my heartrate at 145-165 with RPMs at 50-65, i'm regularly hitting 1.8-2 miles by the end, with my fastest one-mile time at 16:15. this is a pretty big deal as i've never been very physical (partly due to my scoliosis) & certainly have never had an active physical stamina. passive stamina, sure - eight hour tattoo sittings are no problem - but i call this an achievement.

i'm proud of my consistency, & am being rewarded with mild enjoyment - the more i go, the less i hate going. i'm still well in the "not happy to get started" zone, but it's becoming easier to actually get started, & less torturous to complete. it definitely helps that the folks at this particular gym all seem to avoid eye contact & therefore avoid leering, & are clearly there to work out, not hook up. after the first week, i was comfortable going on my own, though i think it's great that joe & i use each other for motivation & generally go together.

i started on a 2-week free trial under joe's account, & this deal came up just as i was discussing membership. so i'm able to put off actually joining for another month, & i like having a couple training sessions to use if i decide to do more than run the gerbil wheel. it'll only be $25/mo when i do join, since i've been promised the same promotional rate that joe snagged, so that's reasonable - a buck a day to use their equipment isn't bad.

on to nutrition. to clear up a misconception, i log my food daily. i simply feel better when i'm getting the proper amount of fiber & other nutrients in a day, staying within sodium & carbohydrate levels, et cetera. using a tracker site makes that easy. i don't, however, always photograph what i eat - that's only done for fun. without further ado, quite a lot of recent food logging follows.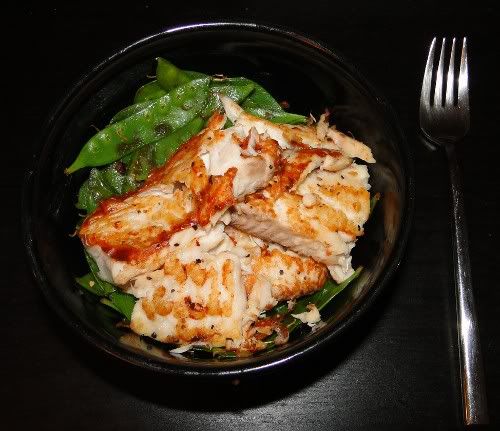 pan-seared tilapia over grilled snow peas. this filet was particularly wonky in shape, so i broke it apart in the pan so it'd cook evenly. 322 cal, 51g protein, 19g carb, 7g fiber.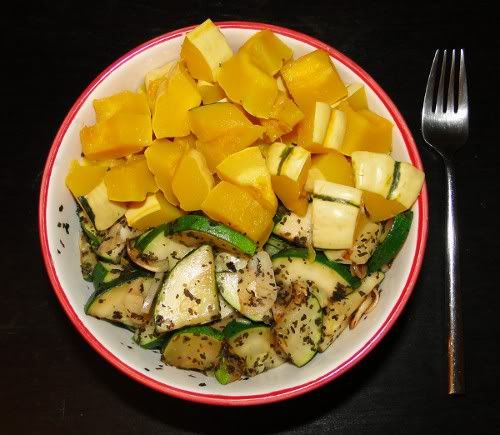 garlic basil zucchini & steamed delicata squash. the squash was so good it needed nothing else. 93 cal (heavy lunch), 6g protein, 15g carb, 10g fiber.

4-20-12 - i neglected to photograph my whole roasted branzino, stuffed with garlic & black pepper, & served with a dry green salad. the fish was so perfect & rich that the raw leaves were just right to balance it. i LOVED it & wish that branzino were more widely available. 137 cal, 23g protein, 5g carb.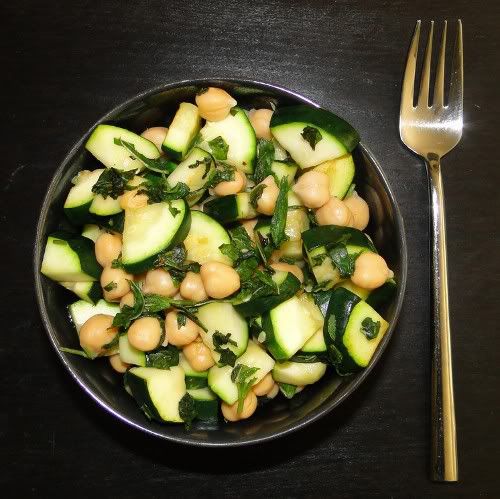 garbanzo beans & zucchini with fresh mint. it was an interesting experiment, & it did better the next night adding basil as well. i paired this with a lemon-thyme chicken sausage wrapped in romaine. 267 cal, 28g protein, 30g carb, 9g fiber.

4-25-12 - coastal kitchen, marseilles menu, logging this for my own benefit: potato-crusted costa rican ono seared & served with saffron fingerling potatoes, lardon brussel sprouts, & tart apple gastrique. joe had the bouillabaisse (lobster/fish broth with mussels, oysters, clams, snapper, & cod, & a fried macrina crouton with rouille), & we split a macerated berry parfait with cassis whipped cream & meringue cookie crumble for dessert.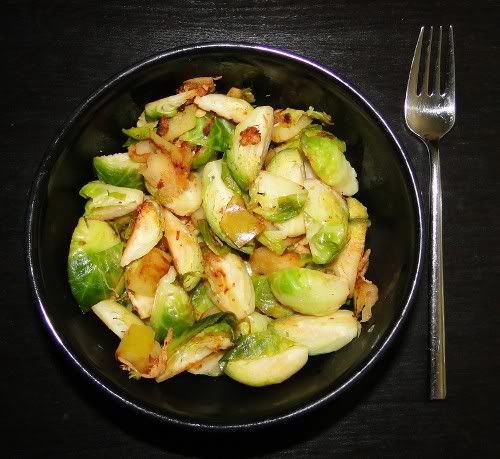 brussels sprouts, granny smith, & a tablespoon of real bacon bits. this was my first time cooking brussels sprouts, & they came out very nice - a bit caramalized, not too soft (i like crisp veggies), & with enough apple to have a piece with every bite. i'm not much for sauces, but i might try a honey sauce next time. 172 cal, 13g protein, 32g carb, 13g fiber.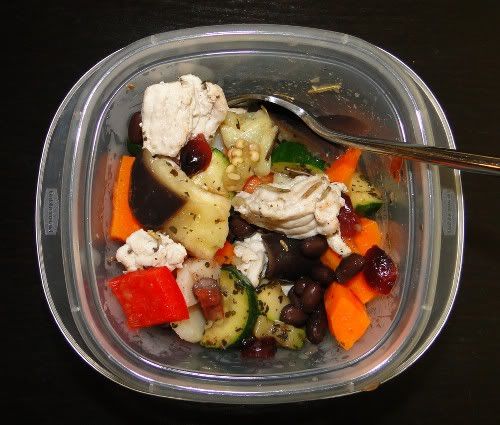 99/1 turkey with a ton of rosemary, organic zucchini with basil, carrots, eggplant, the reddest of red peppers (raw), black beans, water chestnuts, & a sauce i made by macerating 200g craisins in water & cinnamon with a half cup of natural applesauce. i put the turkey in first so it'd suck up the cranberry dressing at the bottom, & it came out pretty nice. 186cal, 28g carb, 18g protein, 7g fiber, 10k iu A, 50mg C, & 724mg potassium.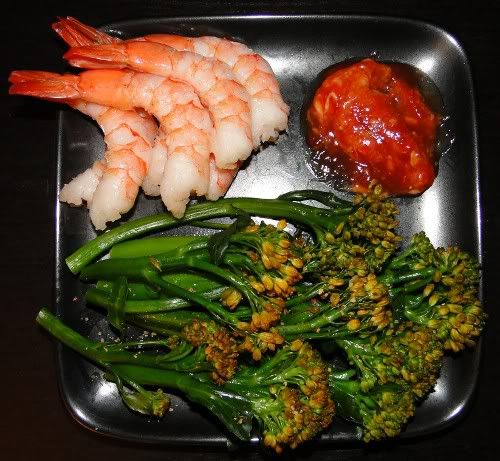 four lovely ounces of prawns, a heap of crispy steamed broccolini with whatever spice mix i grabbed first, & a simple cocktail sauce. 191cal, 16g carb, 27g protein, half A, full C.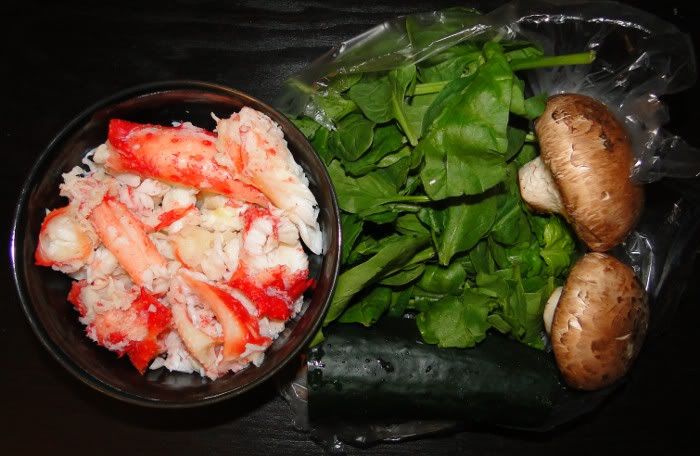 the local grocery had red king crab legs tonight, & i've never tried that particular variety. in the interest of TASTE EVERYTHING, & ignoring the $18/lb cost, i went for it. it's DELICIOUS, much better than the king i usually see, which i don't often buy as i prefer snow. shown is a leg & full right claw, though i put three ounces of that in the fridge for tomorrow. after stripping the legs, i didn't feel like standing in the kitchen any longer, so i'm having the Super Lazy Salad with it - organic spinach, half a cucumber, & two giant criminis. (i'll note that it also makes salads more interesting to vary the format they're presented in - sliced mushrooms taste different to me than biting into a whole one.) my meal was 235 calories, 13g carb, 40g protein, 4g fiber, 155% A, 57% C, 26% iron & 1542mg potassium (pretty significant!).

i also took a photo of the beautiful red crab shells: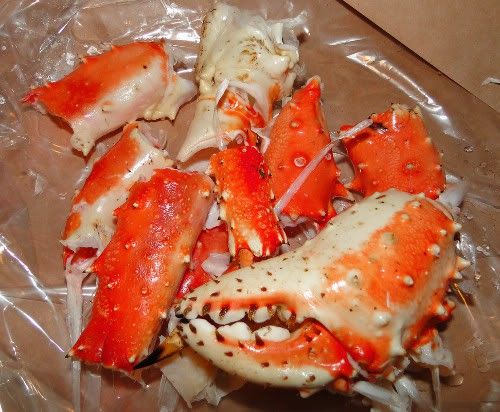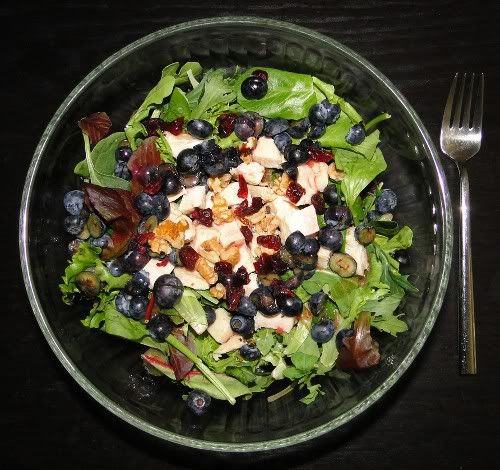 i had a wonderful salad at nordstrom's the other day, consisting of organic mixed greens, grilled chicken, red grapes, craisins, pistachios, & dark cherry balsamic dressing (totally delicious but very strong - i only needed about 1/4 tsp). it was SO good that i decided to mostly replicate it for dinner. tonight's version has blueberries instead of grapes, walnuts instead of pistachios, & a tablespoon of light raspberry vinaigrette - changes made only from fridge availability. 302cal, 30g carb, 22g protein, 12g good fats, 5g fiber, 145% A & 41% C.

regarding the grammy tattoo project - i've chosen an artist for the memorial tattoo: joshua carlton. he does a lot of gory work, but it's pieces like this & this that make me think he'll be great for the goldfish. plus he's nearby in eugene, oregon, so it'll be an easy weekend trip instead of the flight+hotel+rental car+vacation days i was expecting to invest. i actually didn't know he'd moved to the west coast from indiana until i started checking the extra-high-listed artists on my approved artists list!

i REALLY wanted stéphane chaudesaigues, who apparently works in philly a few times a year, but neither he nor the shop in philly have responded to my repeated inquiries over four months. i loved the idea of having a french artist start the piece, since france was grammy's favorite country, & especially having it done IN philly where grammy's from... but it's not like every tiny aspect of the memorial has to be replete with ~deep meaning~. the lifelong additions to the piece are the most important part, & i'm okay with just making sure the fish is as beautiful as she was.

so that's scheduled for the end of august. i'm pleased to get it done (the image part, that is) within the first year of her absence. joe & i will be driving down to eugene & potentially staying overnight to make a fun weekend of it.

other neat things:

andromedas! - http://stretched.livejournal.com/5637700.html:
oh hey, a jewelry post with no wild backstory. ;)
allinyourorgans stretched up, & i snagged these on
gaugetrade.

GWS andromedas: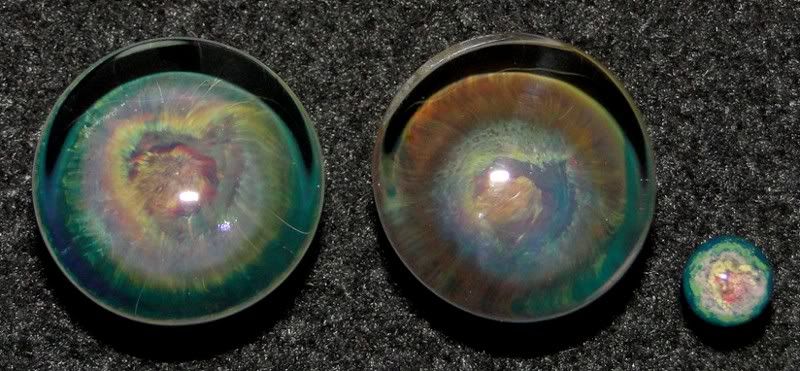 i painted the match on GWS glass - actually on one of the two tiny pluto-type pieces that ryan made me ages ago. (for those wondering, this one used to be my ff blue glass match, & the other became my neptune match.)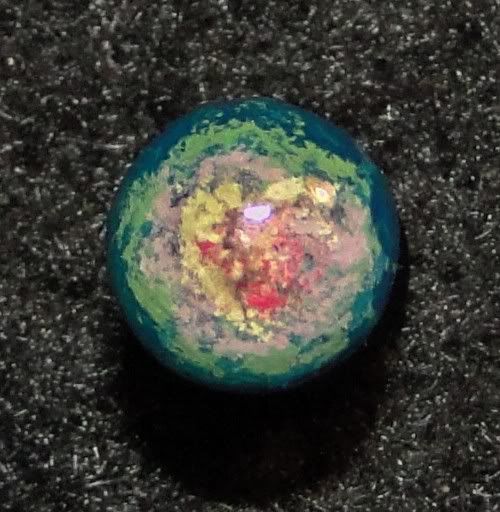 i love how one plug has such a defined heart in it. you can see i took pains to replicate it: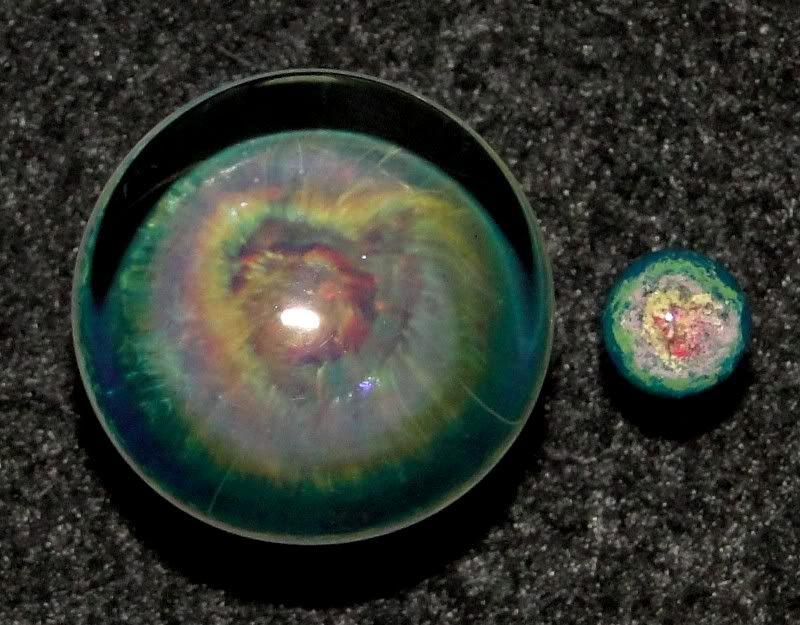 the other plug has a heart too, but it's smaller & more subtle. that's what makes this pair a "good match" to me.

in-ears: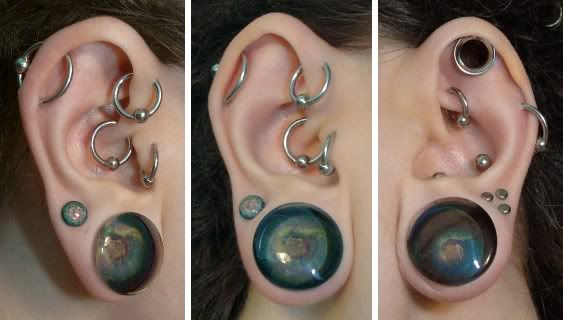 i think they make a nice addition to my GWS planets collection: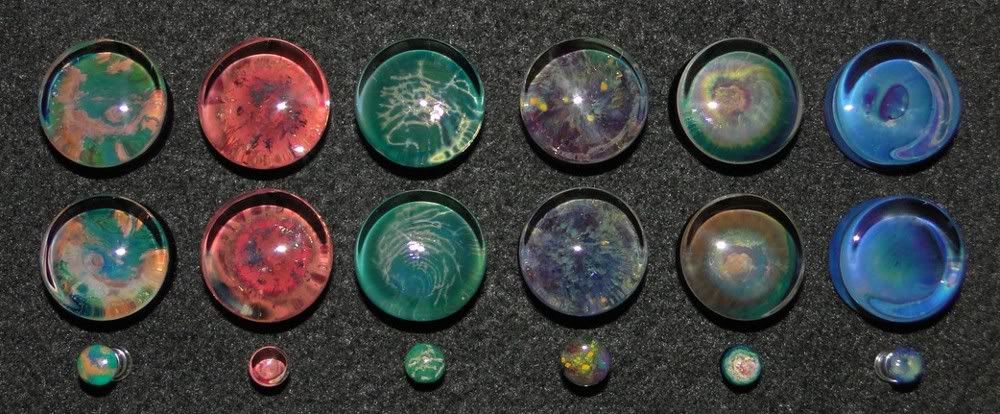 l-r: earth, mars, neptune, nebula, andromeda, diy supernova
listed generally according to their distance from the sun. X)

enjoy!

a couple more videos - http://stretched.livejournal.com/5638282.html#cutid1:
the seattle sun came out this past weekend! i'd been waiting for this opportunity to video a couple of pairs...

up first: relic condor agate. the "flash" on this pair is so odd that i really wanted to capture it in motion, but needed full sunlight to do so. you've seen this picture before: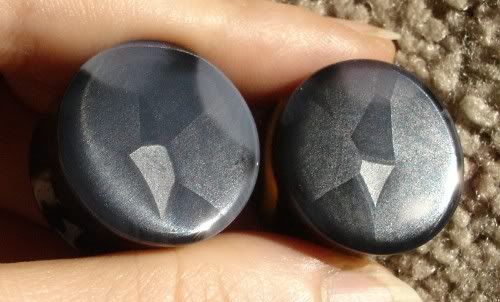 & now you can see it on the video:


& the sun was so strong that i had to play with my relic blue-green amber:


enjoy!

eight months last weekend. i love him so much i can hardly stand it.



copied here in its entirety for sheer awesomeness:
my dreads are 4.5 years old today, so i thought i'd celebrate by flinging them all over the place.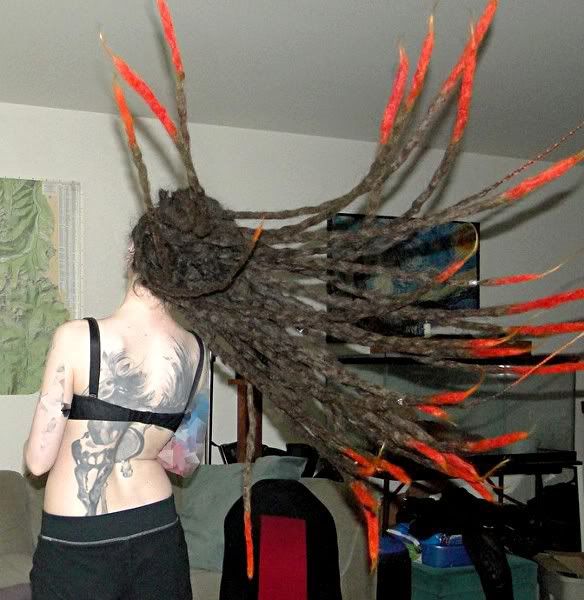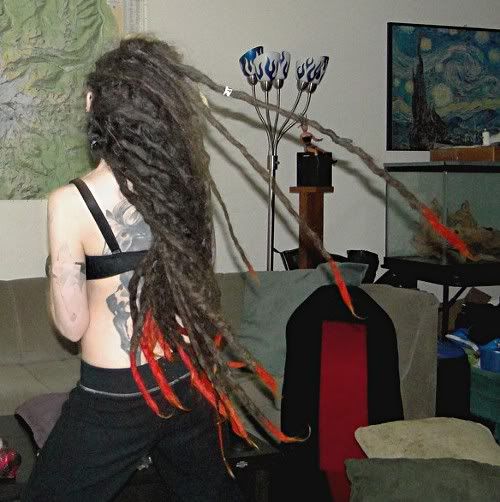 hay did you need us to change that lightbulb for you?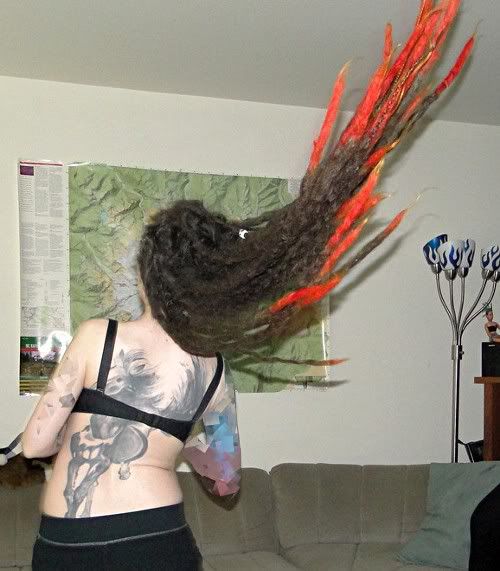 go kinetic energy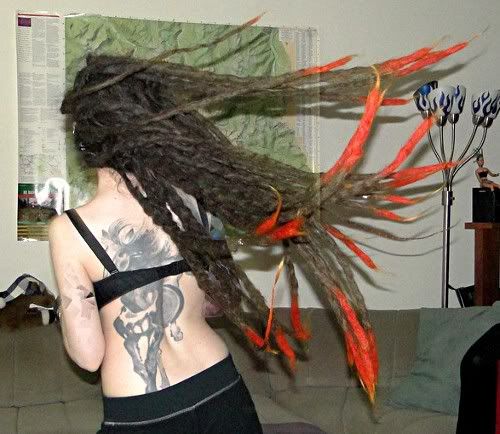 & a shot of the length - they cover my butt now: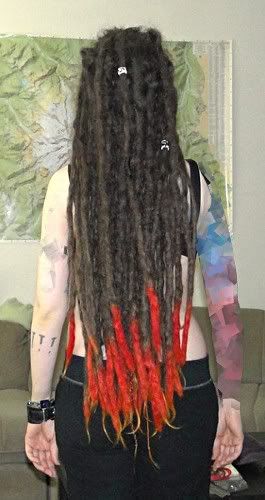 enjoy!

the hawk turned nine months on may 13th. the primary feathers are finally starting to go white, so i mostly showed those in this update.



as an aside, he is my favorite area to loofah. X)

& also this silly milestone. that's all for now, for there are two people who will be thoroughly ripped new ones if i don't stop typing soon. with luck, i'll forget who i'm referencing by the time i reread this in the future. HI FUTURE LISH, HAVE YOUR SELF-DESTRUCTIVE PSEUDOFRIENDS WISED UP??? I AM SURE YOUR LIFE IS STILL AS AWESOME AS EVER, TTYS