oh, i think this year was especially cruel.

i started torturing joe in january, & began giving him hints in april. actually, i gave him the choice of a hint or a yes/no question, & tried to give as useless of answers as possible. :D

april: "you'll need equipment for your birthday!" (refused: whether or not he already owns said equipment)
may: a choice which day he'd like a hint about, noting that he'd get more information about july 27th than the 28th, & more info about the 29th than the 27th. 29th chosen, two-part hint granted:
- "the equipment needed will be needed on the 29th." (he [accurately] considered this may mean the whole weekend is celebratory)
- & my favorite hint of the lot: "when you think it's over, there's still one more thing to go."
june: "you will be financially responsible for your meals & nothing more." (this directly stated this is at least a full-day event, & he [accurately] assumed it's an overnighter)
mid-june bonus hint: "i hope you haven't been there, but i'm sure you haven't been there or there."
july: "you will have decisions to make on friday the 27th which affect sunday the 29th." (this finally confirmed the length of the celebration)

he tried to squeeze additional hints, but just got stuff like this:
[09:13] > oh shit i just learned something which is going to make one of your decisions much easier for you hahahah
[09:13] * crank2319 notes it.
[09:15] <gorthok> what did you figure out?
[09:15] > i learned that one of the somethings you'll get to pick for something has something on something that you'll want to something

XD

so what happened? WELL I'LL TELL YOU.

friday, july 27
6:00pm: i sit joe down & let him decide where he'd like to hike on sunday. actually, i read the descriptive text to him, minus all park & water & trail names, for the advanced hikes on this page. he has to know this much in advance, as it's not fair to take him to a great hiking destination without making sure he has the gear he needs, & i'm way too hiking-dumb to pack for him.
6:20pm: joe unsurprisingly chooses the most intense hike, the grouse grind (also known as "mother nature's stairmaster"), & sets out his equipment.

saturday, july 28
6:30am: i start joe's favorite coffee & pour it into a thermos.
6:35am: wake-up calls commence.
7:00am: pack joe into my car & set out to parts unknown. all he really knows is that we're headed north & will not be home tonight.
8:30am: the garmin announces that we've reached SECRET LOCATION #1, a theme that will continue at every stop. this one is the daisy cafe in bellingham. it's the galbraith quesadilla for joe & a half plate of orange french toast, eggs, & chicken apple sausage for me.
9:15am: back into the car, still going north. i pull over after a mile to get something from the trunk, which piques joe's curiousity. an hour later when he realizes we're definitely entering canada, he informs me that we'll have to stop so he can get his wallet from the trunk. i pull it out of my pocket & say, "oh, you mean this wallet?" he laughs & i explain that i checked to be sure his enhanced driver's license was in it before he woke up, & i handed him his wallet & specifically watched him put in his bag this morning, all to make CERTAIN we wouldn't be refused at the border for something silly like forgotten ID.
10:00am: we hit the border. i explain to the border guard that it's joe's birthday weekend, & i hand her a written list of answers to the usual questions, so as to keep joe fully in the dark. she reads the answers & accepts them, then opens the paper & asks what else is written on it. i tell her that's our itinerary & that i've been planning this for MONTHS, & she's welcome to read it. the very stoic guard skims my work, & i watch the corners of her mouth turn up involuntarily. she returns the paperwork & sends us through.
11:00am: arrive at the capilano suspension bridge, which presents a gloriously foresty day in the treetops, just up joe's alley. i hoped he hadn't been here before, but i at least knew he hadn't been in the past five years! considering how much we enjoyed ziplining, i figured this'd be a big hit.

amusingly, joe had no idea where we were going until we were about ten miles away. this was the conversation:
joe: "there's some sort of hiking path in the trees around here."
lish: "hiking path? what do you mean?"
joe: "yeah, i found it when i was researching ziplines; there's some bridges & someone started a path through the trees. i was thinking of taking us to it but i completely forgot about it."
lish: "wow, that sounds awesome! it's around here?"
joe: "yeah, it's somewhere just north of vancouver in the mountains, somewhere near whistler, i think..."
lish: "are you sure it's not on capilano road? the road we're currently on?"
joe: "i don't know..."
lish: "you think maybe it's called the capilano suspension bridge, on capilano road, in vancouver, BC?"
joe: [totally not getting it] "i don't know the name."
lish: "you think maybe we're going to the largest suspension bridge in the world to spend the day in a rainforest together? you think maybe that's what i planned as the main event for a joe birthday weekend?"
joe: "wait... what... !#@!$!"

he finally gets it, & is SO buzzing to go in!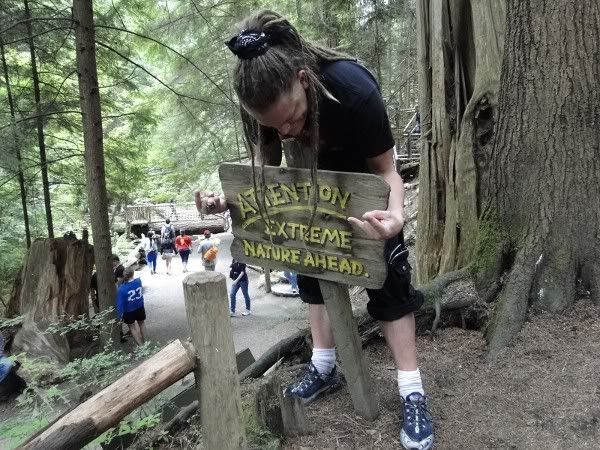 joe communes with the aforementioned extreme nature: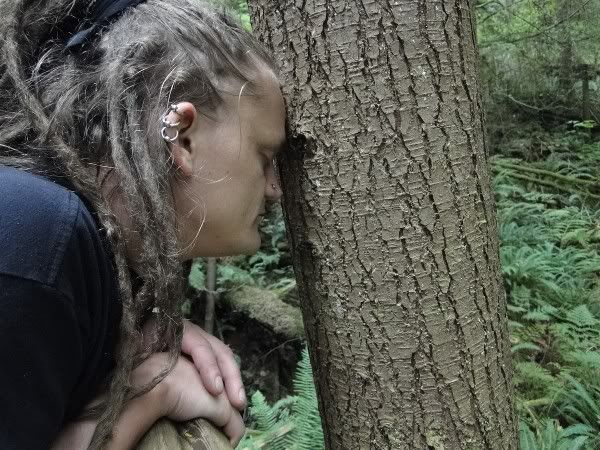 here's a video of us on the capilano suspension bridge. joe spots a hawk around the two minute mark. (i sped it up 2x because it's otherwise very boring.)

music: bouncing souls, "the messenger"

12:00pm: the big bridge leads us to the treetops adventure feature, which was the "hiking path in the trees" that joe had mentioned. it is awesome, basically a bunch of platform treehouses connected by tiny suspension bridges.
2:00pm: break for lunch at cap bridge's own restaurant, the bridge house. we split the buffalo shephard's pie, a field greens salad with apples & cranberries, & a bowl of ginger carrot soup with just a few bites each of melty foccacia bread. we then give in to the ginger & toffee spice cake; it's small & well-balanced, perfect to share after lunch. the waitress likes us, & tells us about another suspension bridge (with free admission) & local swimming hole nearby. we promise to go.
3:00pm: back into the treetops to surmount the cliffwalk:

music: "run lola run" soundtrack, "wish (komm zu mir)"

4:40pm: just before leaving, joe runs across the bridge again. i stay behind & play with my 20x optical zoom:

music: catherine wheel, "something strange"

5:00pm: since it's a local treat, we split a tiny nanaimo bar on our way out of capilano. the chocolate is quite nice, but the custard is far too sweet & i scrape it off.
5:02pm: joe notices my discarded custard & double-stuffs his half. -_-
5:10pm: we get into the car to head to the second suspension bridge. my miata gives joe a birthday present of... his old set of keys! he's very happy to have his massive bottle opener back, as well as a [now backup] set of keys with a gym fob.
5:20pm: we locate the second bridge easily, in lynn valley park. i do some fairly-strenuous-for-lish hiking & climbing around while joe does some pretty-easy-actually hiking & climbing next to me. we cross the bridge:

music: the pixies, "la la love you"

we eat some wild huckleberries & even find a few ripe salmonberries: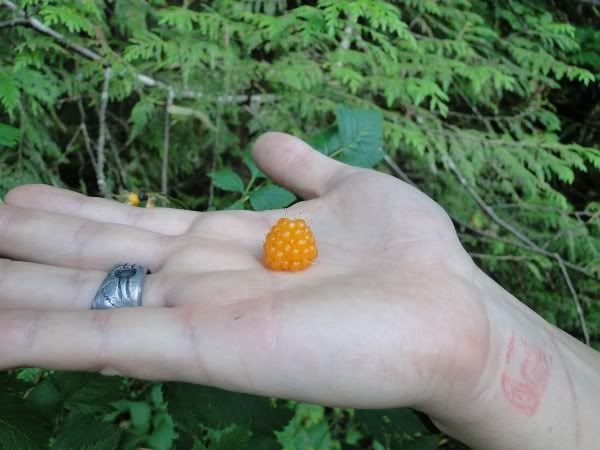 of course joe drinks from the river, as he is wont to do: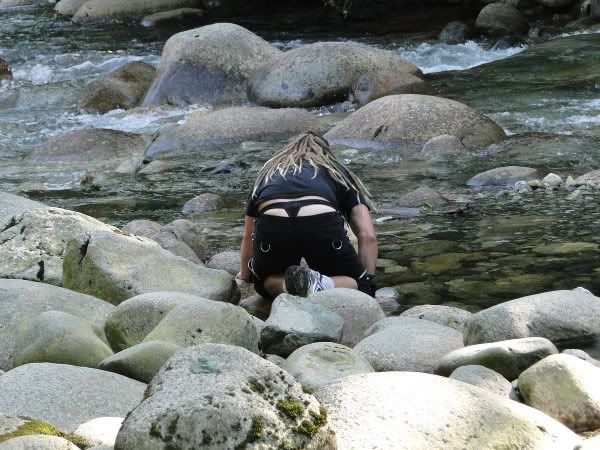 & he displays his ridiculous degree of surefootedness:

music: nomeansno, "the night nothing became everything"

7:30pm: leave the second park to drive around a bit & buy some canadian treats.
8:30pm head to dinner. i have three places prepared for joe to choose from: outstanding sushi, a delicious mediterranean place, or an interesting "modern tavern" which serves pan-roasted elk aww, it was off the menu. but the alibi room has fifty taps, many of them local, so - i know - why even offer the other two options? the restaurant is off the beaten path, definitely a local's spot, & it's perfect. joe dines on a delicious bison cheesesteak & four unique brews on the sampler tray (plus a fifth the bartender brought over as a birthday present) while i enjoy a green salad of baby lettuces with smoked albacore tuna, pumpkin seeds, & miso dressing.
10:00pm: dessert at sweet revenge pâtisserie, where i select the apple custard crisp & steal bites of joe's "smooth operator", a chocolate raspberry sponge cake with layers of mascarpone & whipped cream, white chocolate shavings, fresh raspberries, & raspberry coulis. neither dessert is too sweet, & both are delightfully complex - mine even has nutmeg in it, which is unique. joe also orders a mint mocha coffee, which doesn't help too much to keep him awake after the excitement of the day.
11:30pm: off to sleep at the vancouver lion's gate travelodge. it's a pretty great room, only made better that i snagged a sweet 30% off deal from expedia back in may. the sheets & blankets are surprisingly soft & luxurious.

sunday july 29
9:30am: use hotel wifi to plan the day's hikes. turns out we drive right past the capilano bridge & the same road ends directly at grouse mountain - easy!
10:30am: roll out of our comfy bed & have breakfast at paul's omelettery. we both have excellent egg-white omelettes, joe's the 1306 (shiitake, oyster, & button mushrooms sautéed with garlic & onion, cheddar, edam, & cream cheese) with pan fries, & mine the devon (smoked salmon, pacific shrimp, onions, nix the brie & swap out asparagus for avocado). both come with crunchy multigrain toast (mine dry, thanks) & a dollop of raspberry jam, joe's favorite.
11:30am: vancouver hiking at grouse mountain! i happily watch movies & lounge in the car while he stomps. joe's plan is to destroy the grind, then summit three peaks.
6:15pm: he ends up ridgewalking five peaks & gets back earlier than expected. yay!
7:00pm: return to euro food plus deli, the crazy little russian-ish place we found last time we were in the area. we buy ample snacks to last us for months.
8:00pm: head back south to seattle. we always seem to get home faster than we got to canada.
11:30pm: arrive home to immediately tell joe, "GO FIND YOUR PRESENT". savvy readers will remember the last time i told him that, & how he wandered for ages with no clue. i expect it'll be easier for him this year, & indeed it only takes him three minutes. X)

what was the present, you ask? well, recall the four single-hair gouache paintings i gave him for the first four birthdays we spent together. recall that they're viewable in any direction through full inversion, & that every angle will conjure its own set of demons. joe's always said he wanted to have them re-strung so they could be hung in any number of ways. way back in february, i found a groupon for picture framing (i'd been waiting for one of these since doing a similar thing last year), & the shop said they'd be more than happy to add a bunch of extra picture wire to the back of each painting.

while we were up in BC,
sic737 entered our apartment, took the paintings, transported them to the framing shop, retrieved them when finished, & re-hung them wildly. it went off without a hitch, & he even emailed me a photo of them hung back on the wall all askew. & THIS was what joe thought the hint, "when you think it's over, there's still one more thing to go," referenced. he thought the weekend was over at hiking, but came home to the re-stringing present. little did he know...

joe's birthday was on a tuesday, & so i used the weekend before to inundate him with awesomeness, but i couldn't let his ACTUAL birthday pass without recognition. months after the other ideas all came to form, he happened to mention a tent that he really wanted, but was well out of his price range. my usual response was given, which i'd been giving for ages whenever he mentioned wanting something: "too bad i already have your birthday present!" ...but i started thinking. i sent an email to our friends to see if anyone would be able to come to a low-key, nearby, inexpensive dinner on the 31st... & if anyone would also contribute to a $200 community gift. the response was vast & surprising, & we hit the total in about three hours. :)

i collected the money, ordered the tent to my office, wrapped it, & gave it to jesse to hide. dinner was held at a favorite local sushi spot, & attended by me &
gorthok,
sic737,
quarex,
impatient_hands &
robinhoodvandal,
sheeep & mika, jesse &
keonei, landon & the cute blonde chick, travis, christopher, megrey, & webster. joe was shocked that so many people showed up - he actually wasn't expecting ANYONE. i waited until we'd all ordered, then stood up & gave this little speech:

friends, thank you all for coming to this little shindig. as many of you know, this is the sixth birthday i've celebrated with this man. that's six years of escalating ridiculous torture, luxury, & love lavished upon our dear joe. this weekend, without forewarning or proper hint (though many IMproper ones given!), i took him to vancouver, to the capilano suspension bridge, to many delicious meals, to canadian hiking, & then home, where he found his four art paintings, all previous years' gifts, restrung across the back to fulfill a long-held desire of his to hang them in any number of directions. (thanks to chris for his sneaky role in that.) & joe thought that ended the celebration of his existence until next year.

*turn to joe* you were wrong.

remember when i gave you the hint "when you think it's over, there's still one more thing to go"? you probably thought the "one more thing" was the framing present at the apartment. it wasn't. nor is this dinner the "one more thing", which was honest when i said it. THIS is the final "one more thing".

*jesse brings out the present from a hidden bag under the table*

i arranged this to happen, i herded the cats, but this present is purely from your friends who love you - those around you, plus lindsay b., raven & nessa, & lily & magnus. may it protect you from wind, rain, sun, snow, mosquitoes, bears, & - at this price - nuclear collapse of society. enjoy!

joe was so floored he barely knew what to say. he just kept looking at the tent & saying things that implied unreality, like it wouldn't sink in that he suddenly owned this item he so wanted. it was amazing. & drew even had a present for joe, too - a stack of metal CDs that joe had tried to buy from him in 2008 (including one for me, too!), now made free & hand-delivered, haha.

we went around the table, telling how we each met joe (here's mine if you didn't know - he came over for dread maintenance & pretty much never left), ate our delicious sushi, had a lot of laughs & hugs & a great time. some other friends of joe's wanted to get a drink with him after that, so he split to a local bar for a couple hours & i went home to finally relax from all of this insanity.

the next morning:
[08:27] <gorthok> i keep smiling when i remember all my friends there last night
[08:27] <gorthok> and also, every time i think about that tent

& later:
[14:42] <gorthok> you kicked waaaaaaay shitloads of ass on this birthday
[14:42] <gorthok> i'm still sort of reeling from it.

what more could i ask for?

so yeah, super extended weekend awesomeness created by six months of planning is how i outdid myself this year. (previous years: 2011, 2010, 2009, 2008, 2007.) you're worth every minute, babe. happy birthday! :D (as usual, his write-up will be linked here when complete.)