so the last time i bought a car was october 2004, & it was my well-loved little '99 miata. i truly enjoyed that car & it held up surprisingly well in the twelve years i owned it.

but recently i came to realize that i'm at a place in my life where i could maybe possibly perhaps theoretically consider buying my original dream car, a porsche 911. the full dream was an '85, red with black interior, but i scrapped that since i didn't want to own a "classic car" as my everyday vehicle. insurance was quoted at about two hundred a year more than my miata, & i found some semi-reasonable prices on 911s in the area... reasonable enough that i could be a cash buyer.

the two red/blacks i found were both '99s, which the internet (& my mechanic) told me to stay away from. & just as well, since i didn't want to pay what they were asking - low mileage is nice, but letting these cars sit idle for long stretches is Not Good, & they'll live to 200k if cared for. i looked at a few others online but wasn't stoked.

then i found a silver/gray '04 carrera 4S cabriolet (meaning even more car - aj scoffed, "Regular 911 not fast enough? Why not add all wheel drive and more power. O_O"). this dealership was unique in my research as they had it priced at 20k - a thousand UNDER kbb value, & many thousands under what nadaguides suggested (they put average trade-in at 28.8k; clean retail 35.6). i tried to push a little anyhow, because i'm a bitch, & ended up paying asking price/tax/title, squirmed out of the bullshit paperwork fees by having them give me a good amount more than my trade-in was worth, & got a 5yr/100k extended warranty at dealer cost. once we made the deal & shared all our secrets, greg (my salesman) told me they'd just recently lowered it from 26k since it had been sitting for a few months with no bites. works for me!@

the only issue is there's something wrong with the windshield wiper motor or fuse or something, so we signed that they'd pay to fix that for me. i'm dropping it off at my mechanic tomorrow for a full inspection & all, but i'm pretty relaxed with that warranty in place. i can tell you it was ~interesting~ driving home from tacoma in a rainstorm with no wipers. must've been very confusing for other drivers to see a 911 in the far right lane the whole way, doing 20 under the limit. X)

so... wanna see it? :) it was raining when i bought it, so these are the dealer's pics i stole from their website before they killed the listing.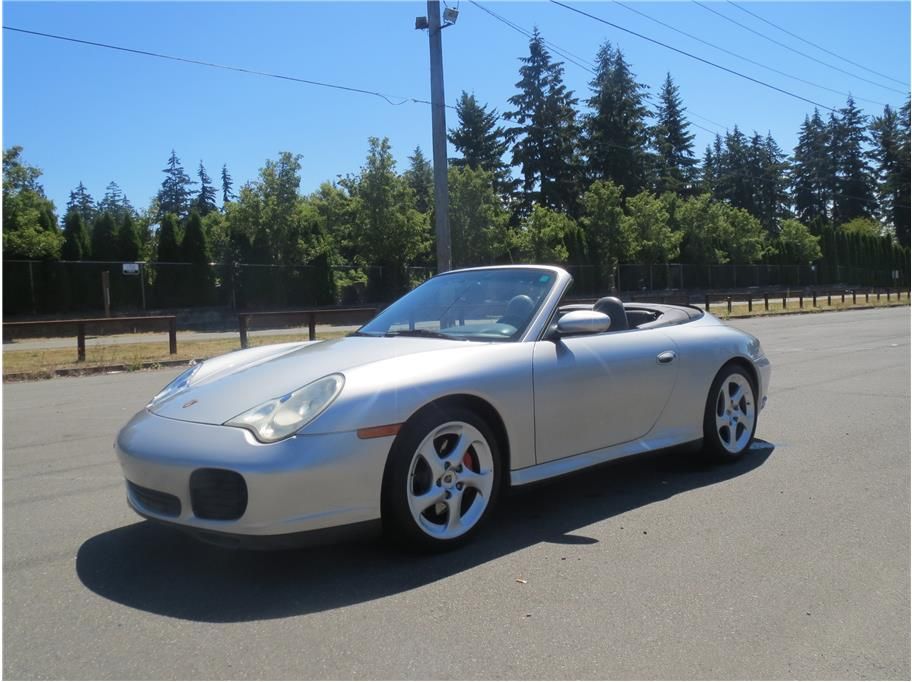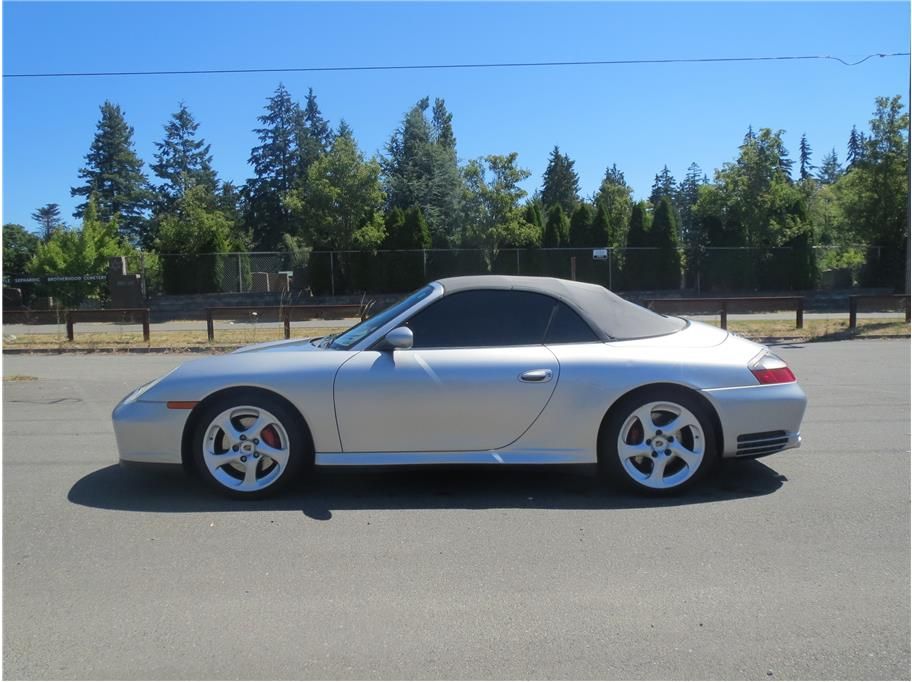 i left the album public if you want to see more bits of it, & here are the specs:

2004 Porsche 911 Carrera 4S Cabriolet 2D
Vehicle Information
Miles: 90,674
Drive: AWD
Trans: Automatic w/Tiptronic
Engine: 6-Cyl, 3.6 Liter
Exterior: Silver
Interior: Gray

Features
Alloy Wheels
Power Windows
Air Conditioning
AM/FM Stereo
Side Air Bags
Dual Power Seats
Full Leather
Ceramic Brakes
MP3 (Multi Disc)
Rear Spoiler
Cruise Control
Power Door Locks
ABS (4-Wheel)
Power Steering
Bose Premium Sound
Dual Air Bags
Parking Sensors
Heated Seats.

so look, i know this kind of post - & indeed much of what i generally post - is pretentious, ostentatious, conceited, self-aggrandizing... all the half-dollar words that basically mean braggy. but keep in mind that i've earned every dollar i've spent since i was 18. i don't have family. i don't receive gifts. i've never had a trust fund. no relative has ever left me an inheritance. my lowest financial point was when i left california for florida back in january 2002, & i ended up with sixty bucks to my name & living with a friend for a couple months to get back on my feet. but i work my ass off, budget carefully, spend wisely, pursue opportunities while minimizing risk, & ...well, now i travel the world & own a porsche 911.

...which i charged, by the way. did i forget to mention that? i fucking put it on my visa. i could not be more entertained by that fact. hey, i offered to pay cash if they'd take down the price another few hundred to offset what they'd pay for the charge... but they wouldn't, so i made 1.5% cash back on the deal. so amused. ^_^

hi. i'm lish & i'm your favorite brat.

amusing postscript: capital one is usually ON. THE. BALL. about potential fraud. i regularly receive texts from them asking me to confirm purchases. but they were just cool with this transaction going through, no question, no problem. i guess they don't expect someone to charge an entire car? or maybe they know i'm the only one with the gall to do so. X)